Fruit Turkey for Your Table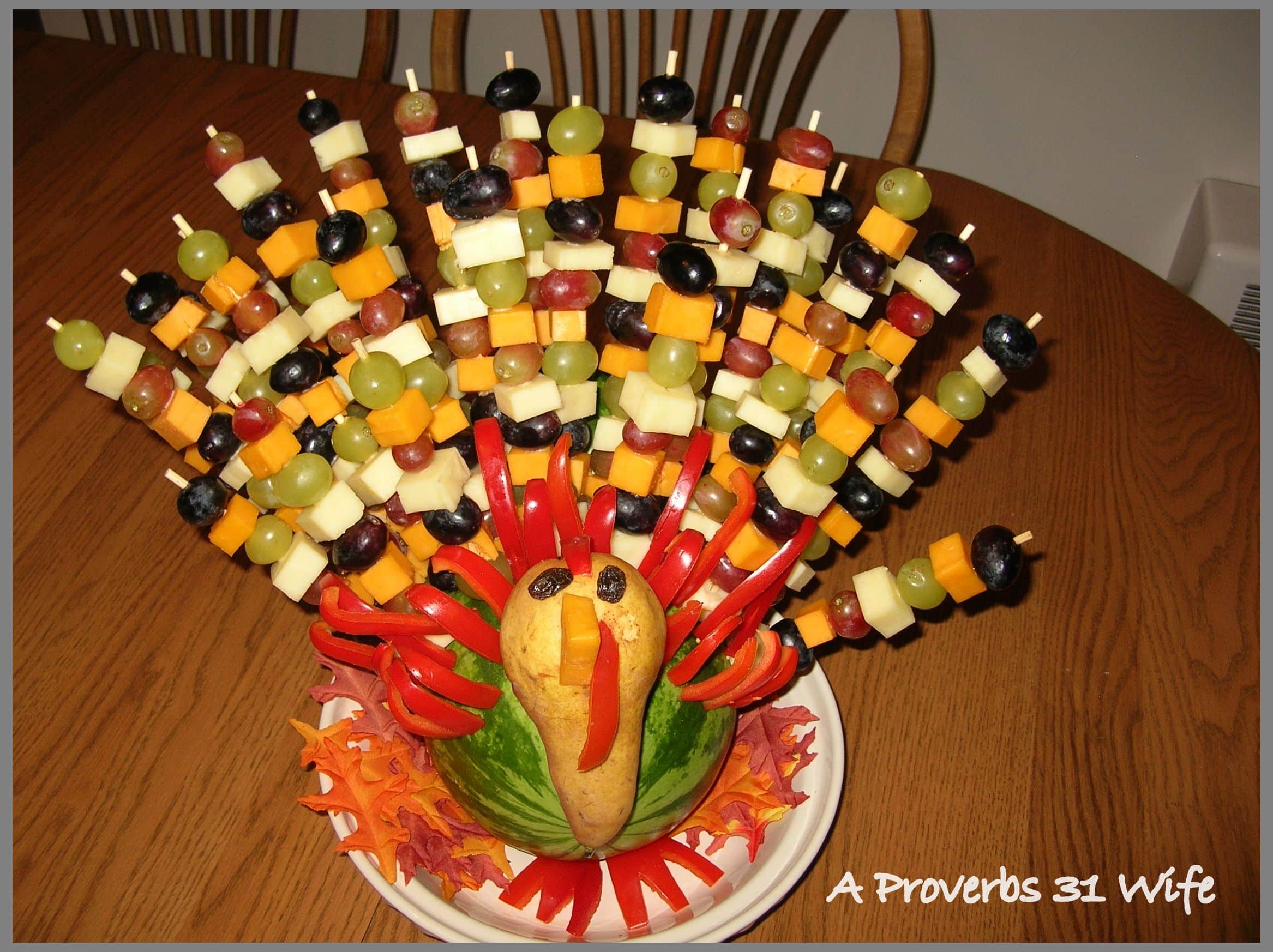 Besides the real thing, decor turkeys are very popular. How about a fruit turkey for edible decor?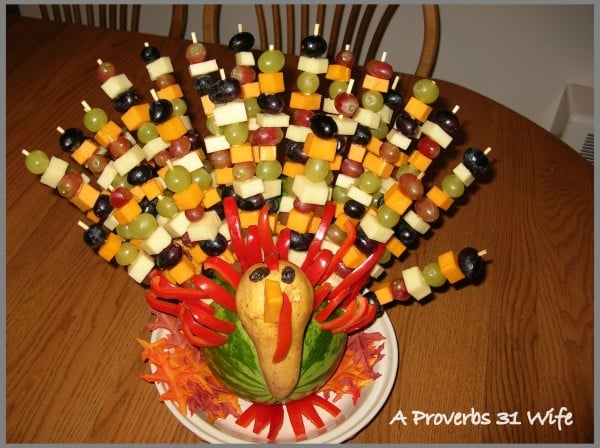 Isn't he cute? (we will just assume it's a tom turkey!)
So I made this decorative centerpiece one year for thanksgiving, and it was a huge hit! Problem is, I made it long before my blog was even a dream. What does that mean? No how-to photos. 🙁  However, I think I can explain it well enough, for those who would like this handsome guy to grace their Thanksgiving table.
How to make a Fruit Turkey
You Need:
A small Melon
1 Pear (head)
Grapes- Red, Green and Purple
Cheddar and Mozzarella cheese (cubed)
Large Red Bell Pepper
2 Raisins
Wooden Skewers
Toothpicks
When I bought the ingredients I actually stood in the store with that little melon and held different pears up to it, until I found one that fit and looked perfect!
I don't remember just how much I bought of the cheese and grapes, but what was left from making it, got gobbled up by the cousins. 😉
Start by cutting across the bottom of the melon so it will sit flat on a plate and not roll. Then fill about 40 skewers alternating cheese and grapes, leaving about 3in at the bottom to stick into the melon.  Once your skewers are filled, begin poking them into the back of the melon to create his tail feathers.
Cut Two feet out of the red pepper and then slice the rest of it into sticks.  Using the toothpicks, attach the pear to the melon. I found it worked best if I poked the toothpicks into the melon and then pushed the pear on top of them.
Again, using toothpicks, put the two raisins on for eyes, a triangle of cheese for the beak and one strip of the pepper for his waddle.  Next poke toothpicks into the melon between the tail and the head. push the pepper sticks onto those toothpicks to make the body feathers. For the front feathers I actually cut the strips in half for shorter feathers.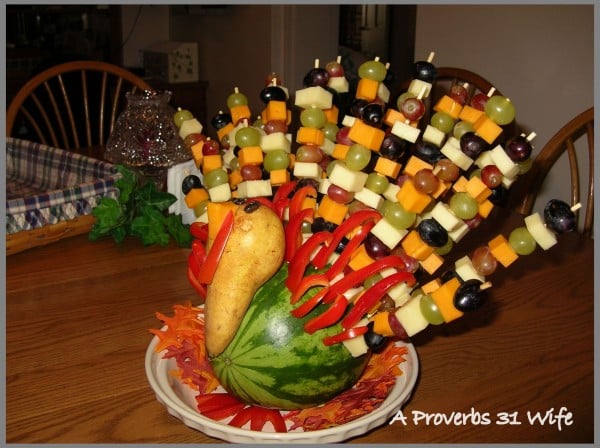 I had some help cutting the cheese and making the skewers, but all told it didn't take more than thirty minutes to make this big guy. And boy was he a hit! The kids didn't even want to eat him. 🙂
So tell me, will you be making a fruit turkey for your table this Thanksgiving?
If your cheese splits as you are skewering it, try letting it soften up a little. When I first started, the cubes kept splitting, but by the time I was half done they had warmed up enough that they went on fine.
 Want some more fun? Check out how to make this caramel apple fruit turkey.