Get the Most out of Your Juicer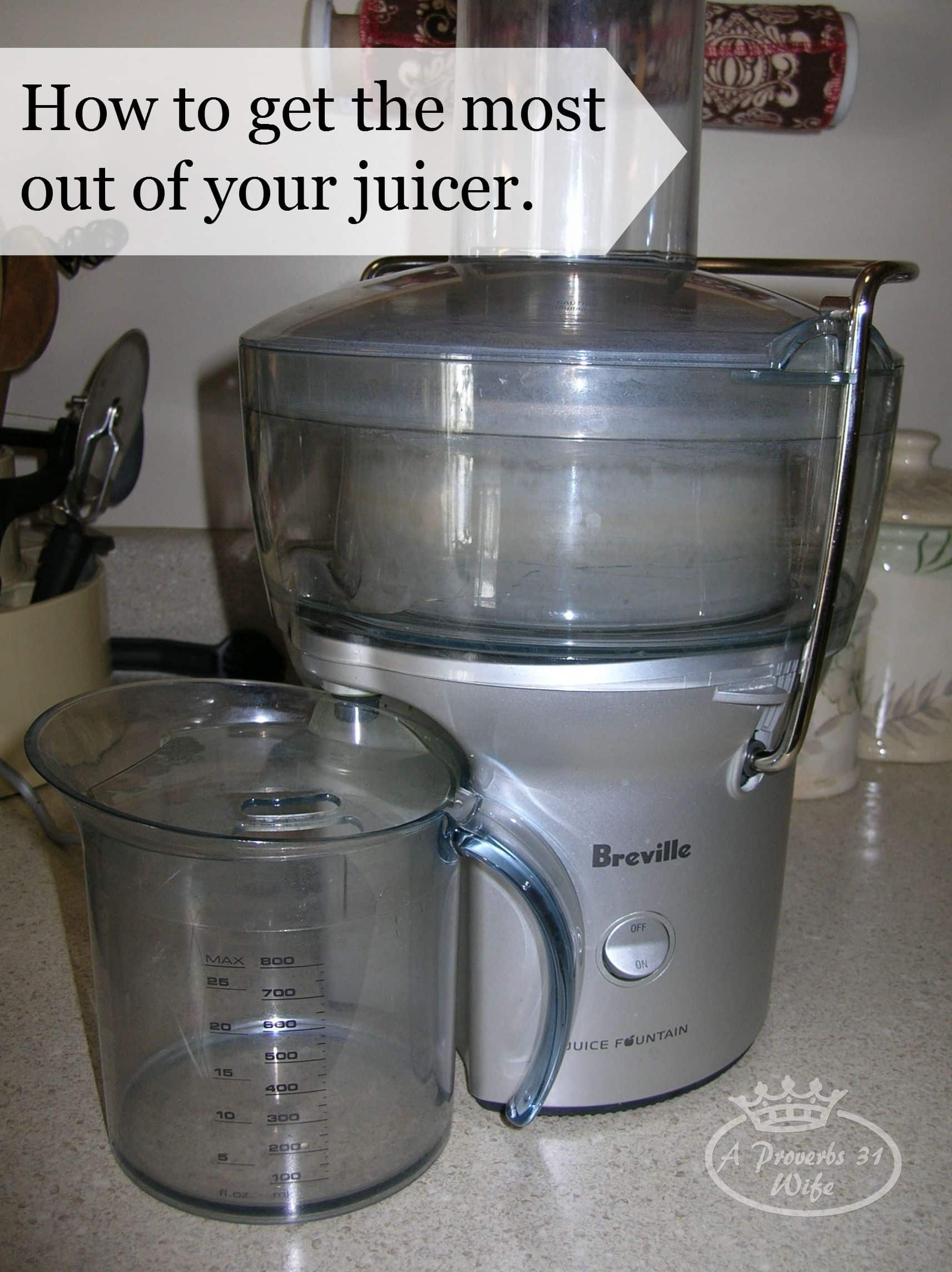 Today I thought I would share a review and how to get the most out of your juicer.
When I was learning about juicing, it seemed the majority of people recommended a Breville. So I went shopping for a Breville. 🙂 I found several on Amazon but because the moo-la is tight (when isn't it?) I went with the Breville BJE200XL Compact Juice Fountain 700-Watt Juice Extractor, it's $99.99 with free shipping.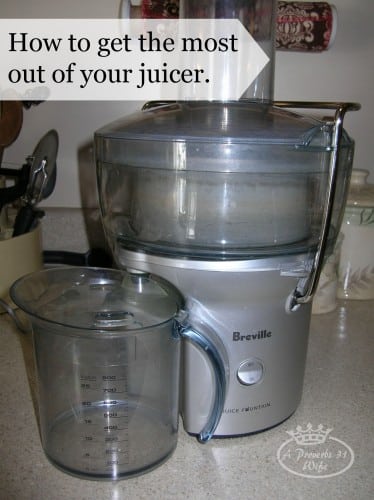 Honestly, I love my juicer. But if I had it to do over I would probably fork over the extra $50 for the next price up. Breville JE98XL Juice Fountain Plus 850-Watt Juice Extractor.
Why? Because it has 2 speeds. Mine has one speed and it's awesome for hard produce like squash, apples, carrots and beets. But, for softer fruits and leafy greens, mine spins so fast that they fly out of the basket before they are completely juiced. The result is often wet and chunky pulp.
Here is how my juicer is set up. The mesh basket in the center spins and tears apart the fruits and vegetables. This is called a centrifugal juicer. The juice goes through the mesh into the collection tank and is then drained into my pitcher. The pulp is flung over the sides into the outside container.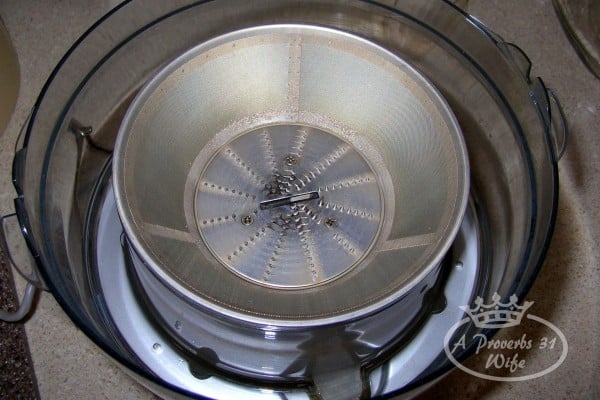 Get the most out of your juicer:
Today I made a juice with celery, apples, an orange, spinach and kale. The celery, apples and orange will juice nicely until the last bit and then it usually flies through in a chunk. The greens are a different story. Loose greens will all fly through in large pieces. Get the most out of your juicer when juicing greens with this one little trick.
Pack your greens in tightly. I usually put a whole (pealed because I can't buy organic) apple in the bottom of the chute, and pack the greens in on top of it.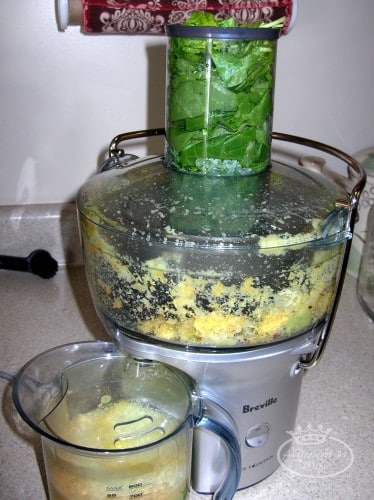 I turn the juicer on and then just slowly tap on the plunger. Being packed in like that the greens act more like a large solid instead of lose and leafy.  Here the produce has only been ran through once. You can see how the pulp is a bit chunky.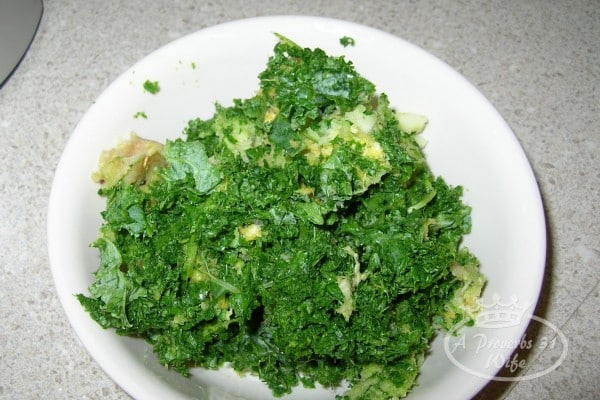 I took it out of the outer tank and put it into the bowl. Then I ran it through a second time. Can you see the difference? It's very dry and almost fluffy. 🙂
That works great for juicing greens. But how do you get the most out of your juicer when you are juicing soft fruits like pears, berries and grapes?
I don't have any photos but let me tell you, they come through as mush. Most of the fruit is in the outer collection basket in a mushy wet mess.  And no matter how many times you run it through it's still wet and juicy.
Pears are easy. Buy them a bit green and put in the fridge. Hard green pears still taste great in juice.
With the grapes and berries, use this little trick. put a carrot in the center of your chute and the berries around it. The carrot helps slow how fast the berries go through the system. It also puts a dry pulp in with all the wet stuff. Then you can run the mixture through a second time and the carrot pulp helps extract more from the berry mush. If you don't want a carrot in your juice you can use a hard green apple.
Bananas and avocados cannot be juiced, they will simply make a mess and plug it up. Put your juice in the blender and add in an avocado or banana if you want a thicker juice. Or if you want something to chew while on a juice fast, just eat a half of one or the other.
Coconut doesn't juice either, if you want shredded coconut though, the juicer works great! lol  While juicing, stick to drinking plain coconut water or if you want, add a bit of coconut milk to your morning juice.
That is how I get the most out of my juicer. If you are considering a juicer I really would recommend the next juicer up if you can afford it. Having two speeds would eliminate a lot of the juicy pulp. But, I'm still happy with my juicer. It fits nicely on my counter, and is very sturdy and does a great job on hard produce.
Disclaimer: You are responsible for your own health choices, and this is not recommended for pregnant or nursing women.