Grandparents ~30 Days of Thanksgiving day 3 +linkup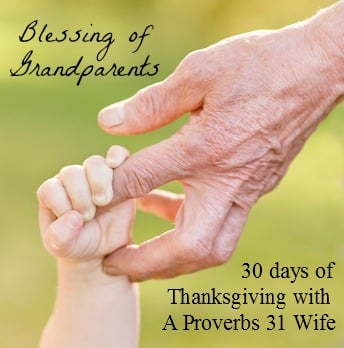 While we are on the subject of being thankful for family, let's look a little closer at some of the older members of our family. That would be our grandparents.
Titus 2:2-4 That the aged men be sober, grave temperate, sound in faith, in charity, in patience. The aged women likewise, that they be in behavior as becometh holiness, not false accusers, not given to much wine, teachers of good things; That they may TEACH the young women…(While this passage mentions the aged women teaching, I believe it refers to the aged men teaching as well.)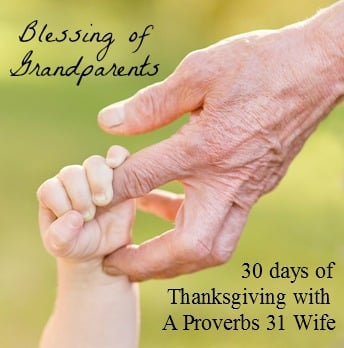 Grandparents are the delightful people who raised our parents and spoiled us as kids. Many of us owe a lot to our grandparents; they would watch us while our mother's worked, or while our parents went out of town for a little time together.
Several skills I know today are a result of my grandmas. As a little girl I thought crochet was so pretty, and said that some day I would learn how. My mother, and her mother neither one knew how to crochet, but my great grandmother did. While visiting one year I saw her making something and I told her that I wished I knew how to crochet. My little ol' grandma got up and left the room. When she came hobbling back, she had a skein of yarn and a crochet hook for me.
She gave me a skill I still use today. I never saw her alive after that visit, but a part of her still lives on in me. I was able to make my son booties, just like she had made for me years ago.
Another grandma taught me soap making. Jason's grandma taught him how to sew on buttons. This is a particularly good skill for him to have today because his wife never gets around to sewing on buttons. He will even sew my buttons back on for me!
As an older teen, Jason and his dad were not getting along well. Jason with the impetuosity of youth was unwilling to listen to his dad, and his dad was unable to recognize that his son was growing up and could possibly have some good ideas. Jason ended up getting a job out of state and moving in with his grandparents. He and his grandpa connected in a way that he and his dad could not at that time.
Those of us who are blessed enough to still have living grandparents can still learn a lot from them. They have plenty to teach us if only we will listen and learn.
What was something that your grandparents taught you?