Host A Virtual Mary & Martha Gathering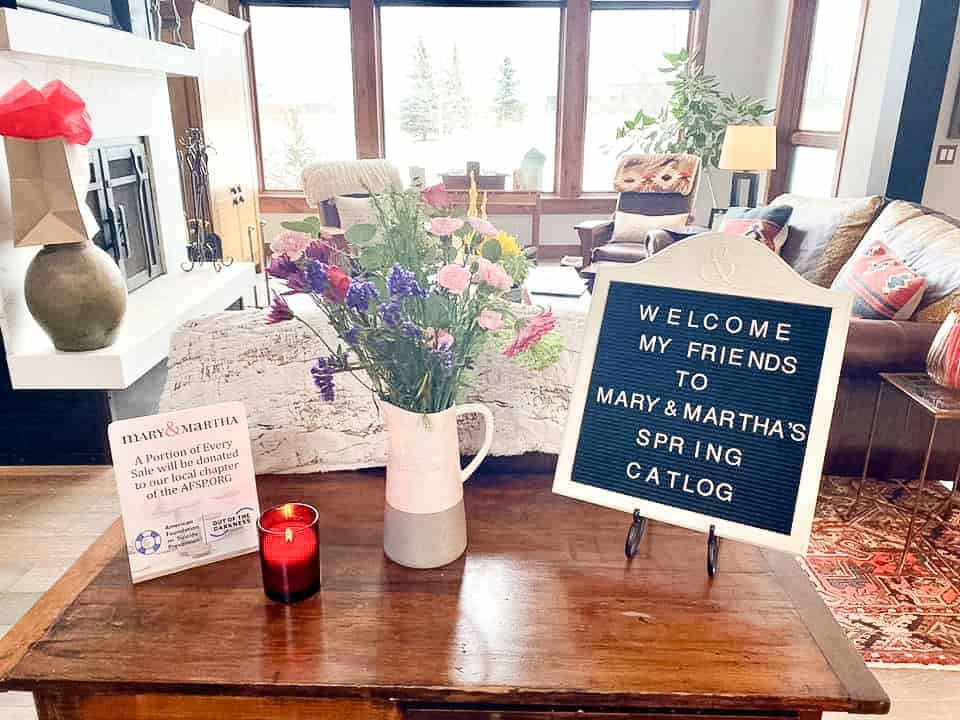 Hello Sensible is supported by its readers. If you click on a link and make a purchase, I may earn a commission at no additional cost to you. For more info, see my Affiliate Disclosure Policy.
There's nothing quite like gathering together with sweet friends and family, fellowshipping and communing together, but sometimes being together in the same room just isn't possible.
Whether you're social distancing, miles-and-miles apart, or find yourself in a busy season of life, at least you can come together online and have a good time even for just a short while!
If you are looking for a fun way to gather with friends near and far, pray together, and do a little online shopping in your PJs with products that share the gospel-message, sister, you need to host a Mary and Martha gathering online!
What is Mary & Martha?
Mary and Martha is the direct sales division of DaySpring Cards, Inc (which is owned by Hallmark) that empowers women to live life together — welcoming, serving and connecting with others in the name of Jesus!
The company is named after two famous sisters in the Bible found in Luke 10:38-42. Martha was preoccupied with hospitality and getting the house ready for her very important guest, Jesus, while Mary sat at Jesus's feet, listening intently to his teachings.
As a company, Mary & Martha empowers women to "live in the &" — meaning they produce meaningful Christian products that empower women to embrace a life full of faith & worship (Mary's world) and hospitality & caring for others (Martha's world).
Mary & Martha products
In the catalog, you'll find high-quality products, such as…
Christian home decor
Kitchen & tableware pieces
Faith-inspired Jewelry
Bags, wallets, & purses
Books & devotionals
Stationery
Seasonal items
Plus a collection just for kids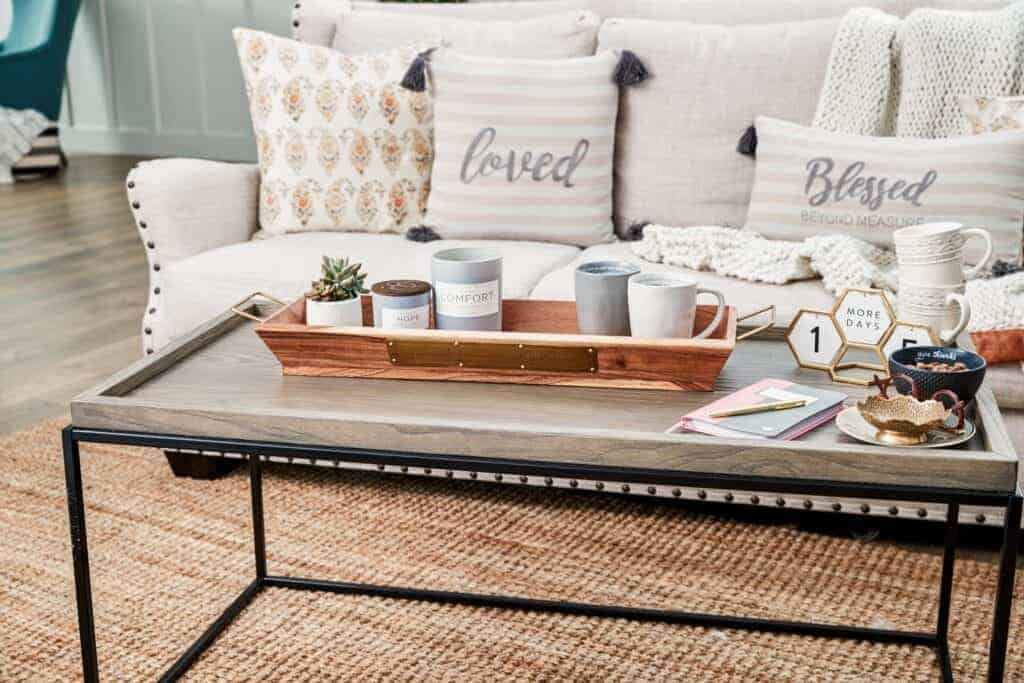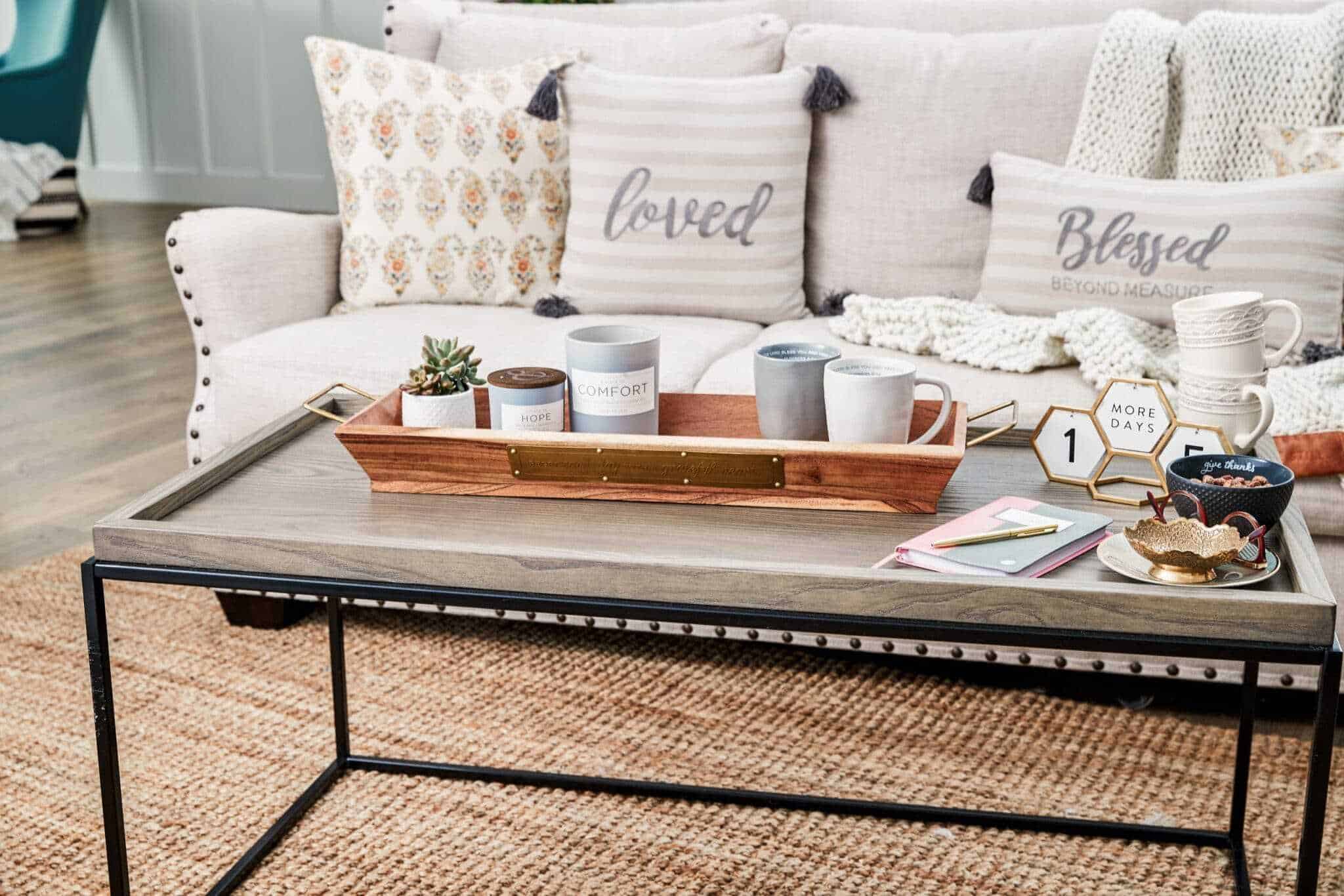 Almost all of the products include scripture or an inspirational message of our eternal hope in Christ, which makes each and every piece unique and special.
The best part is that the catalog has a wide variety of prices with items ranging from $10 to $138, making it accessible for anyone you invite to shop with ease!
Why host an online Mary & Martha party?
Now that you know a little bit about the company and the products, you may be wondering why you should host a party instead of just shopping online.
Of course, parties are fun, but beyond that, I want to share 5 other great reasons you should book an online Mary & Martha gathering:
1. Connect With Friends
Hosting a Mary & Martha gathering is the perfect excuse to get your friends and family together – even if they don't live close by.
You can invite your girlfriends to hang out online in the comfort of their own home with a glass of wine or some hot tea to connect with friends, pray together, and have a little fun shopping online.
2. Guest Specials
It's not a party without specials. For every $35 your guests spend, they'll get access to discounts on select items for that month– NO LIMIT! For instance:
Spend $35 – pick 1
Spend $70 – pick 2
Spend $105 – pick 3
I mean, who doesn't love a good deal? Here's an example of what the guest specials were in May 2020: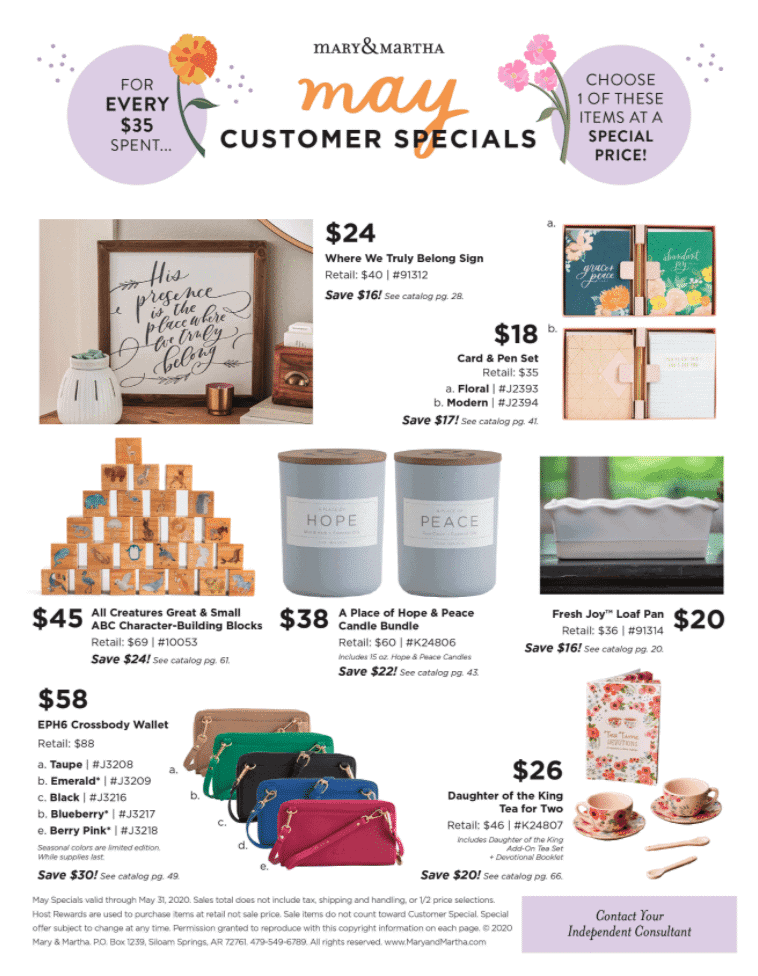 To see the current guest specials, please inquire using the form below.
3. Receive Host Rewards
Another great reason to host a Mary & Martha gathering is that it comes fully loaded with host bonus items, a Mary & Martha shopping spree (hello free products and half-priced items), and awesome exclusive hostess deals.
Here's a closer look at each of those rewards:
Reward #1: Host bonus items
On the day you book your gathering, you'll get to select a host bonus item for just $14 (+ tax and shipping) — all for simply making the commitment and getting your party on the calendar! Once your gathering reaches $200 in sales, I'll ship it directly to you.
Reward #2 & 3: Get free product with host credits + half-priced items
When your party sales hit $200 you're eligible to receive 1 half-priced item. Then, when your party sales exceed $300, you'll also earn a $40 "host credit" that you can spend on anything in the catalog!
As the sales from your gathering grow, so do your free product credits and half-price items. Here's a handy chart showing you how it works: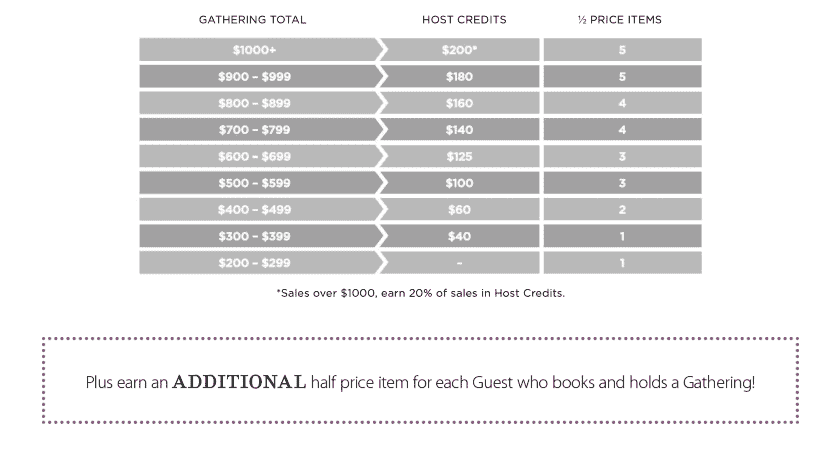 Plus, you'll also receive an additional half-priced item at each gathering booked from yours.
Reward #4: Host exclusives
As a host, you get to choose from one of the host specials for every $500 in sales & 1 booking that comes from your gathering.
$500 in sales + 1 gathering booked = pick 1 host special
$1,000 in sales + 2 gatherings booked = pick 2 host special
$1,500 in sales + 3 gatherings booked = pick 3 host special
Here's an example of the type of specials from June 2020. As you can see, you can score popular items for up to 60% off just for hosting a successful gathering.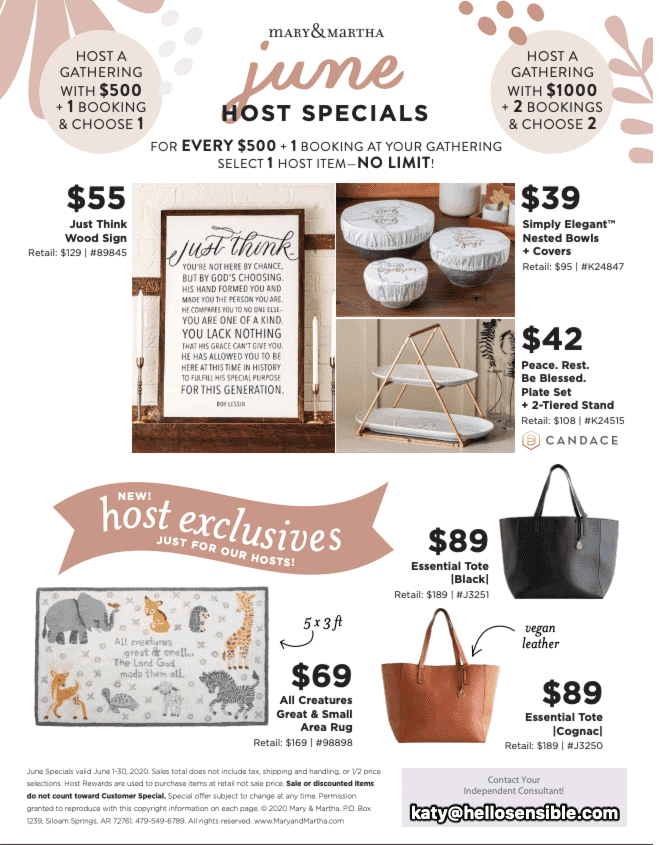 To see the current host specials, please inquire using the form below.
Let Me Show You A Real-Life Example
Let's say you host an online gathering and 15 guests spend a total of $525 (an average of $35 per guest) + one of your guest's books a gathering within 30-days from yours… here's what your rewards would look like:
1 host bonus item for $14
$100 host product credit
3 half-priced items
1 host special or exclusive
1 additional half-priced item at the gathering booked from yours
4. Support A Greater Cause
In addition to connecting with your friends, sharing customer specials, and getting awesome hostess rewards, as your guests' shop, a portion of every purchase will help support impoverished children in Tanzania, Africa through our partnership with Compassion International!
Together, with your community of friends, you'll be able to provide:
Spiritual support
Medicare care
Nutrition – food/ water
Education
Plus many other needs to children in a third world country!
You can learn more about our partnership with Compassion here.
5. Boldly Share Your Faith
Most importantly, a Mary and Martha gathering empowers you to boldly share your faith in Jesus Christ with your friends and family.
As I mentioned before, almost every product dons scriptures or an inspirational message so through simply sharing about the products, you also get to share the good news of Jesus with others.
This is why I personally love Mary & Martha. There isn't another direct sales company that gathers friends and family together to pray and uplift one another as we shop and have fun at the same time.
This is truly a unique experiencing!
The bottom line is this:
When you host a Mary & Martha gathering…
You have a wonderful time with your friends and earn great rewards
Your guests get to experience the inspirational Mary & Martha collection with fabulous customer specials
Each purchase will help children in poverty through our Compassion program!
Plus you get to share the name of Jesus in a new and creative way!
I hope you're getting excited about hosting your own gathering! If you're ready to book a virtual Mary & Martha gathering, please inquire using the form at the bottom of the page.
If you have read this far, but still have some questions, the next section will be really helpful for you. I've compiled a list of the most frequently asked questions to help you get answers quickly!
Hosting FAQs
Is hosting hard?
No! Hosting a virtual Mary & Martha gathering is fun– not hard. You simply plan the party and I'll do the rest. Here's what you'll need need to do:
Book a date on the calendar
Invite your guests
Show up to the gathering online & engage with your guests!
If you've never hosted a virtual party before, don't worry; I'll guide you every step of the way!
When is the best day & time to host a gathering?
We can schedule your gathering on a Monday, Tuesday, Thursday, or Sunday evening after 8:00 PM.
These days and times work best because, usually, your guests will be home from work, dinner is over, the kids have been tucked in bed and your girlfriends have some time to unwind and focus on themselves.
Where will the online party take place?
We'll set up your gathering in a private Facebook group. I'll share a few posts a few days before your virtual gathering takes place to spark some anticipation and excitement leading up to the day of the party.
How long will the party last?
The actual gathering event will last around 30-45 minutes. (8:30 PM – 9:15 PM for example)
I'll share a few posts during that time and will go live on video in the group with a 15-20 minute presentation sharing about Mary & Martha and the products.
After the presentation, I'll share the shopping party link and your guests can order!
Who should I invite?
You can invite your sisters-in-Christ, friends, family, colleagues, neighbors, or whoever else you think would find value in using or gifting Mary & Martha products.
How many people should I invite?
The number of people you invite may vary depending on your goals as a hostess, but in most cases, it's best to aim to have at least 10 people committed to attending your gathering.
What's the best way to invite my friends to my online gathering?
There are definitely right and wrong ways to invite your friends to an online party! When you book, I'll guide you through the inviting process so that you don't scare anyone away and people are excited to attend with their wallets in hand!
What if my guests can't make it live. Can they still order afterwards?
When you book, we can determine the official length of your party. Though the live gathering event happens in one evening, we can schedule the party to be open for 3-7 days to capture any pre-party or post-party sales that may come in from guests who want to order but can't make it to the event.
Will my friends feel pressured to buy something just so I can get rewards?
I'm allergic to sleazy-car-salesman-vibes so, no, your guests won't feel pressured to buy something.
I'll simply share the products and leave it up to your guests to decide if it's the right fit for them. Plus, the rewards you receive won't be the main focal point — the value of the products and difference they will make in the hearts and homes of your guests will be our focal point.
As your consultant, I care more that your guests to get value from their time spent at your party over whether she chooses to buy or not.
Will I have to manage the shipping on my guests' orders?
Your guests will have two choices for shipping:
They can ship their items to the hostess (you). In this scenario, your guests will pay for standard shipping and you would need to distribute their items to them.
They can choose to direct ship to themselves. In this scenario, your guests will pay for standard shipping costs, plus an additional $3.00 fee, but you will not have to manage the distribution of their orders.
If your guests live close to you, you see them regularly and you don't mind delivering their items you can encourage your guests to go with option #1. However, if your guests are all over the USA or you just don't want to mess with any product distribution, encourage them to go with option #2.
How far in advance can I book a gathering?
We can book your gathering 7 to 30-days in advance.
Ready To Book A Gathering?
Please fill out the form below:
Virtual Mary & Martha Gathering
Mary & Martha products are only available in the United States at this time.