How to Freeze Peppers ~Bell, Bananas and Hot
I love peppers. Not raw, but in different dishes. Chillies, spaghetty, stir-fry and other dishes all get a dose of peppers. Bell peppers are my favorite, but bananas and the occassional hot pepper get added as well. Since it's way to expensive to buy peppers in the winter, I thought I would share how to to freeze peppers today.
Since I literally froze a bunch yesterday, I took photos just for you! (you're welcome 😉 )
How to Freeze Peppers!
I picked my peppers from our garden. They didn't do quite as well this year as some years, but we still ended up with quite a few. If you don't have a garden, don't worry, I've seen large red and yellow peppers selling for under a dollar around here lately. Come wintertime you will pay at least $3 dollars for puny little red and yellow pepper.
You can freeze any type of pepper you want. I usually just freeze bell and banana peppers. The hot ones get dehydrated and crushed to be used as a spice.
Start by washing and cutting your peppers. I generally cut in thirds or fourths depending on the size because that's how much I tend to use at a time. The larger your pieces are, the less frost you are likely to have.
Next lay the pieces out on a cookie sheet and freeze for at least 6 hours. Once they are frozen, pull the cookie sheet sheet out of the freezer and quickly bag your peppers. I pull one sheet out at a time and put the bags back into the freezer as I fill them.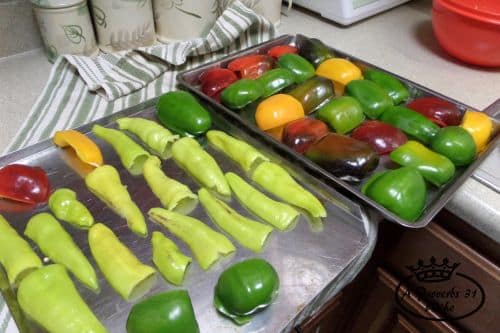 I use my vacuum sealer to bag my peppers because they stay much nicer that way. However a freezer bag would also work fine.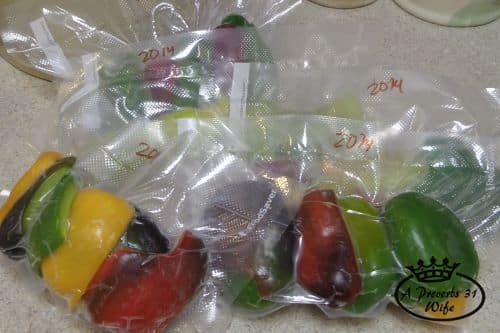 Your frozen peppers will stay nice for 3-4 months if you put them in freezer bags, but if you vacuum seal them, they will stay nice for at least 9 months. I have one bag left from last fall and the peppers are looking a little bit icy, but they will still be fine.
What can you use your frozen peppers for? Basically any recipe where the peppers will get cooked anyway.  I wouldn't recommend them for something like stuffed peppers, but other than that, I use them for just about everything else.
So, if you've ever wondered how to freeze peppers, well now you know!