How to Make a Cloth Diaper ~What we did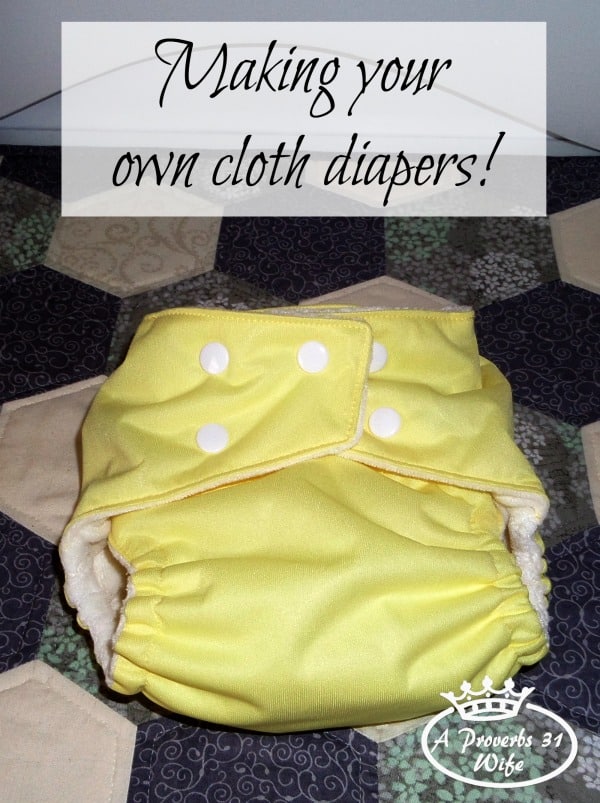 Long before started trying to have kids, I read a blog post about cloth diapering. I realized that today's cloth diapers are nothing like what my mom used. So started my research on cloth. One thing I wanted to know was how to make a cloth diaper. After doing a little reading on it, I decided that I didn't like sewing well enough to try making cloth diapers.
As well, I learned that there were many different styles of cloth diapers to choose from and I wasn't sure which ones would be best.
What I really wish is that I would've had this book: A How to Handbook on the Basics of Cloth Diapering. I've been doing my own research for months, and I still learned a lot!
After doing a lot of reading, I decided that pocket diapers would be the kind I wanted. So I bought a few Sunbaby diapers that were new, they were the cheapest of them all. Then I found some used Charlie Banana, and Kawaii diapers that I decided to buy just to try out.
I really didn't have enough to full time cloth diaper so I was still looking for good deals. My mother discovered I still needed more diapers and because she loves to sew and create she practically begged me to let her make the rest for me. After some discussion I agreed to it. She found this pattern (the original blog this was on was taken down and I did a little digging to find the original pattern, but it appears like it's the newborn version and you won't have all her instructions) and sent it to me for approval, I really liked it, so she got started.
Let me back up a bit to the 3 diaper brands that I already have. I liked the shape of the Kawaii diaper best, preferred the button elastic on the legs of the Charlie Banana and of course loved the price of the Sunbaby diapers. 🙂
So when mom started with that pattern she changed it up a teeny bit to closer reflect the shape of the Kawaii diaper. What we both loved about the pattern though was the button elastic in the leg holes and across the back of the diaper!
If you are wanting to know how to make a cloth diaper, then definitely check out the pattern we started with. It's free and she does a great job of explaining how to do it.
We did make a few changes as you will see in the following photos.
The PUL fabric in the back originally tucked down and if the inside flap slipped down the PUL would be right against the baby's skin. Mother added a small flap of microfiber against the PUL. And as the photo shows, we also added elastic to the inside flap too.
We also changed up the snap pattern just a bit so we could snap over in the front. I didn't want to buy different sizes so a diaper that can be easily adjusted for a newborn up to a toddler was pretty important.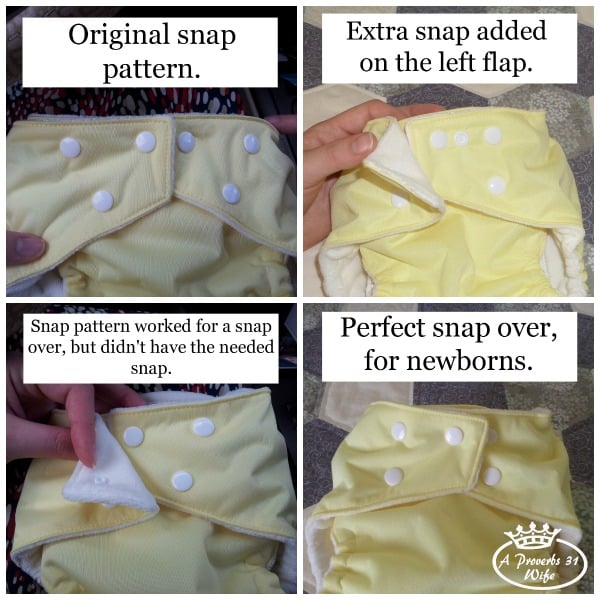 Here is an open photo of the diaper so you can see the snaps.
Following the pattern, mother also made the inserts. She also made some smaller ones to use for newborns, and I plan to use them for soakers later. The diaper in the second photo is at the smallest setting, and the small liner fits in nicely.
The other liners I bought were bamboo and I really liked them. So our original plan was to use all bamboo for the liners. But after some discussion, reading and learning, we actually put a soft bamboo on the outside and hemp on the inside. They are very absorbant (with water) so we will see how they do with pee. 🙂
And if you have scraps left over…. Yes, my mom made a whole bunch of nursing pads for me too! 🙂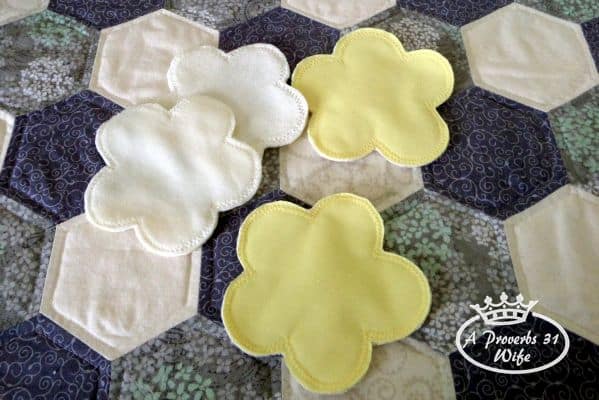 All in all, I'm very excited about my cloth diapers. Hopefully they work as well as I expect them too. 🙂
For those of you who may be wondering… Why do I want to cloth diaper?
Two reasons:
I dislike trash, I especially dislike trash that never disposes. You can recycle plastic, metal, paper and more. But dirty diapers cannot be recycled, they do not break down, and they won't burn. They are nasty and we fill our landfills with those things. 🙁 I feel like we are to be stewards of the earth God gave us and it's important to me to take care of it.
I also dislike spending money that we don't have.  Cloth diapers will help us save money right along with the nursing pads.  Mom did the sewing for free, I simply paid for the supplies. But all told I've paid less than $250 for a diaper stash that should last me for several babies!
To learn more about cloth diapering I suggest Cloth Diapers: The how to Handbook for Cloth diapering. This is a fantastic ebook that sells for $5.99.