How To Start a Gratitude Journal for Kids: A Guide for Christian Families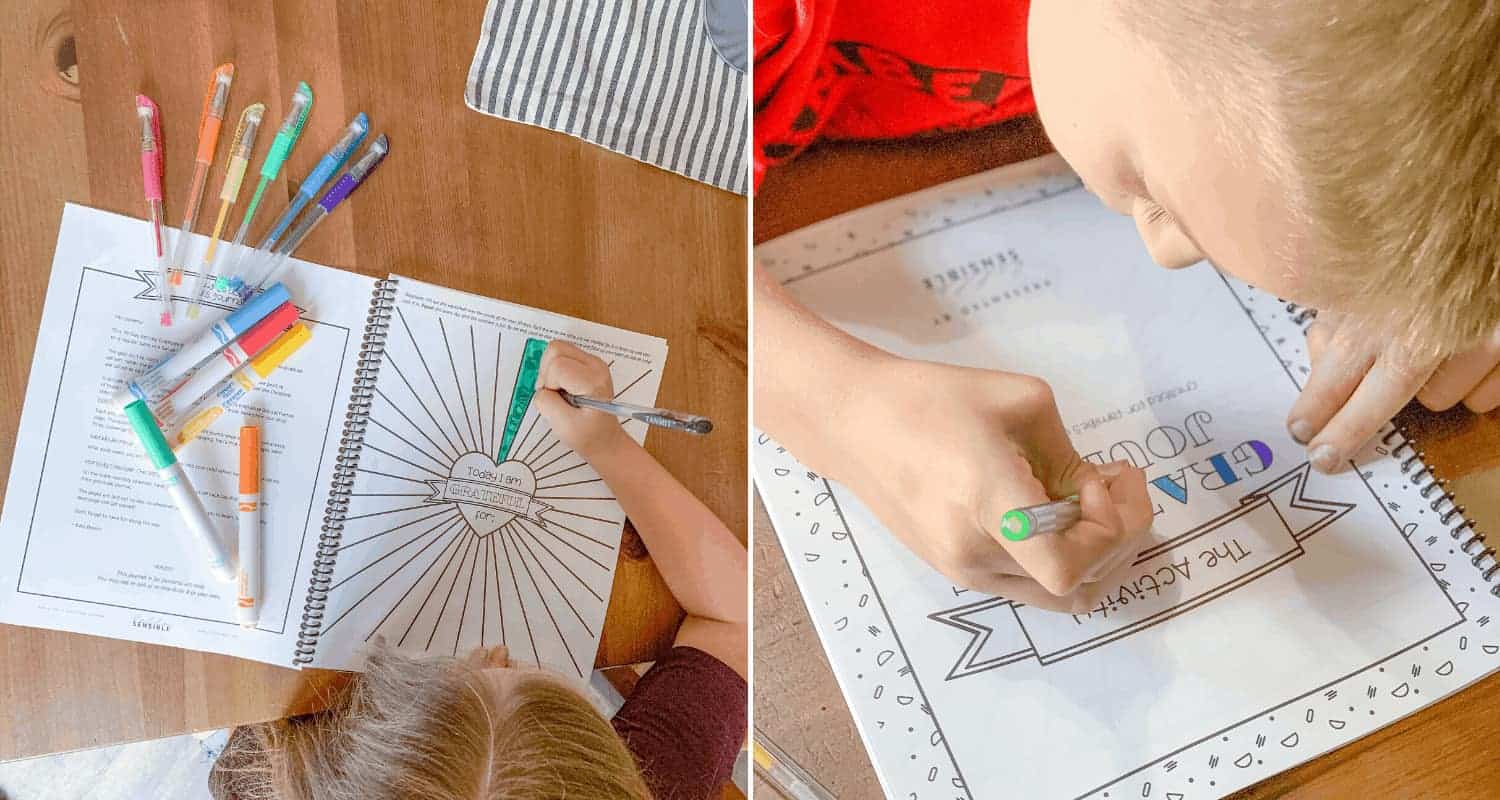 Have you ever wondered…
How do I teach my child to be grateful?
How do I raise a humble child?
Or how do I stop my child from being entitled?
If you answered yes, sister, hear me say: you are not alone!
I've heard from Christian moms around the globe and they're all asking these same questions despite their best efforts to raise Godly children. They're trying to figure out how to stop negative attitudes, entitlement, and materialistic tendencies just like you.
While there are dozens of ways to raise grateful kids in an entitled world, experts all agree that one of the best ways to teach your child to be more grateful is to help them keep a gratitude journal.
[elementor-template id="13253″]
What Is a Gratitude Journal?
A gratitude journal is a notebook or diary where your child can write down and reflect on the important people and things they appreciate in their life.
As your child journals each day, it trains their brain to focus on what's good in the world which can help them feel happier and less stressed over time.
Benefits of gratitude
(backed by science)
Up until 2006, there were no scientific studies that looked at the association of gratitude and well-being in children. Since then, numerous studies have been conducted and have found that making gratitude a regular practice can significantly improve the quality of life.
For instance, gratitude…
Builds a positive sense of self-worth
Blocks negative emotions
Promotes contentment
Strengthens relationships
Minimizes stress levels
Supports emotional well-being
Helps kids pay it forward
Reduces selfishness
Reduces excessive entitlement
Affirms goodness in the world
Energizes & heals from the inside out
Allows your child to savor the moment & be present
What's more, a recent study published in the Journal of Positive Psychology found that participants who were encouraged to keep a gratitude journal showed a significant decrease in materialism and an increase in gratitude and generosity.
While it's nice having scientific-data to validate the importance of gratitude journaling, as Christians we should know that gratitude is important because God's word has a lot of say about the topic.
What Does the Bible Say About Being Grateful?
Even if you haven't read the entire Bible from Genesis to Revelation, you've probably heard of popular Bible verses that talk about gratitude and thanksgiving, such as:
1 Thessalonians 5:16-18: "Rejoice always, pray without ceasing, give thanks in all circumstances; for this is the will of God in Christ Jesus for you."
1 Chronicles 16:34: "Oh give thanks to the LORD, for he is good; for his steadfast love endures forever!"
Philippians 4:6: "Do not be anxious about anything, but in everything by prayer and supplication with thanksgiving let your requests be made known to God."
Colossians 4:2: "Continue steadfastly in prayer, being watchful in it with thanksgiving."
It's clear that the Bible commands us as believers to practice gratitude. It's verses like these that remind us that gratitude should become a way of life and a heart-posture we have as a believer.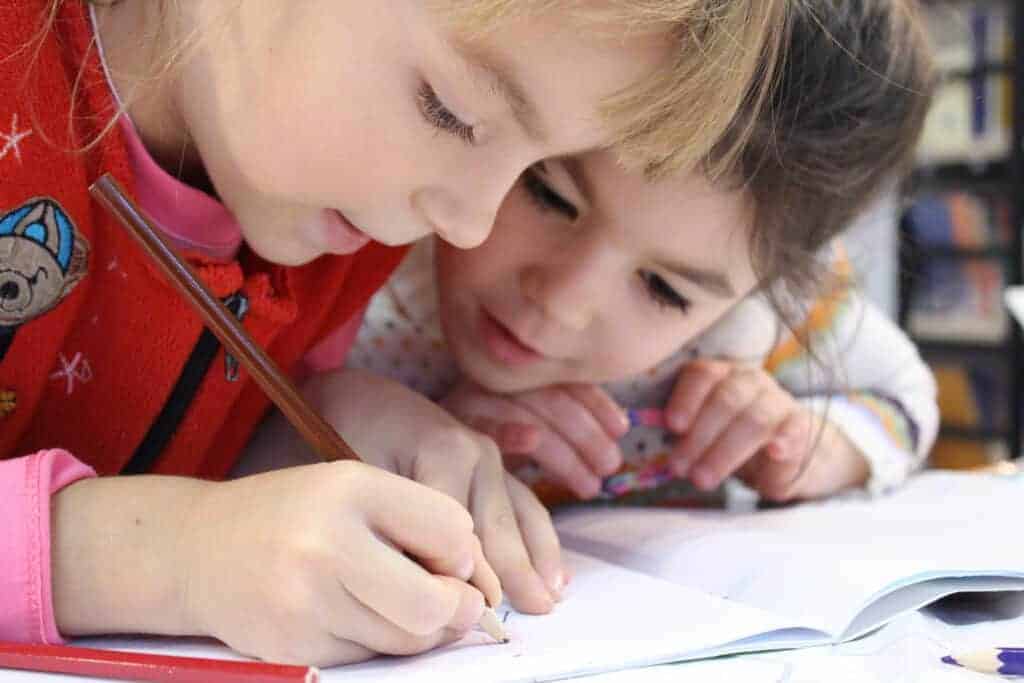 Starting a Journal for Your Child
Now that you know that there is both scientific and Biblical evidence for making gratitude a priority, you may be wondering:
"Can't I just get a blank notebook and have my kids write down three things they're thankful for each day?"
Technically you can, but that can get a little boring. Plus, writing down something they're thankful for is only part 1 of the 4-step gratitude process.
Researchers have broken down the way we process gratitude into four parts:
NOTICE – Becoming aware of the person or thing you appreciate
THINK – Thinking through the reasons behind your appreciation
FEEL – Processing your emotional response to your appreciation toward something or someone
DO – Acting upon your thoughts and emotions
When looking for the perfect gratitude journal for kids, you'll want to find one that encompasses all four parts so that your child adapts their thoughts, feelings, words, and actions towards gratitude.
It's also recommended to find a journal that emphasizes Biblical themes of gratitude and thanksgiving while allowing your child to have fun and be creative. (Cuz' let's be honest, you don't want this to become another thing you have to nag your kids to do.)
The Gratitude Journal I Recommend for Kids
I searched high and low to find the perfect gratitude journal met the criteria I just mentioned, but I came up empty-handed. Instead of settling, I created The Activity Gratitude Journal for Kids.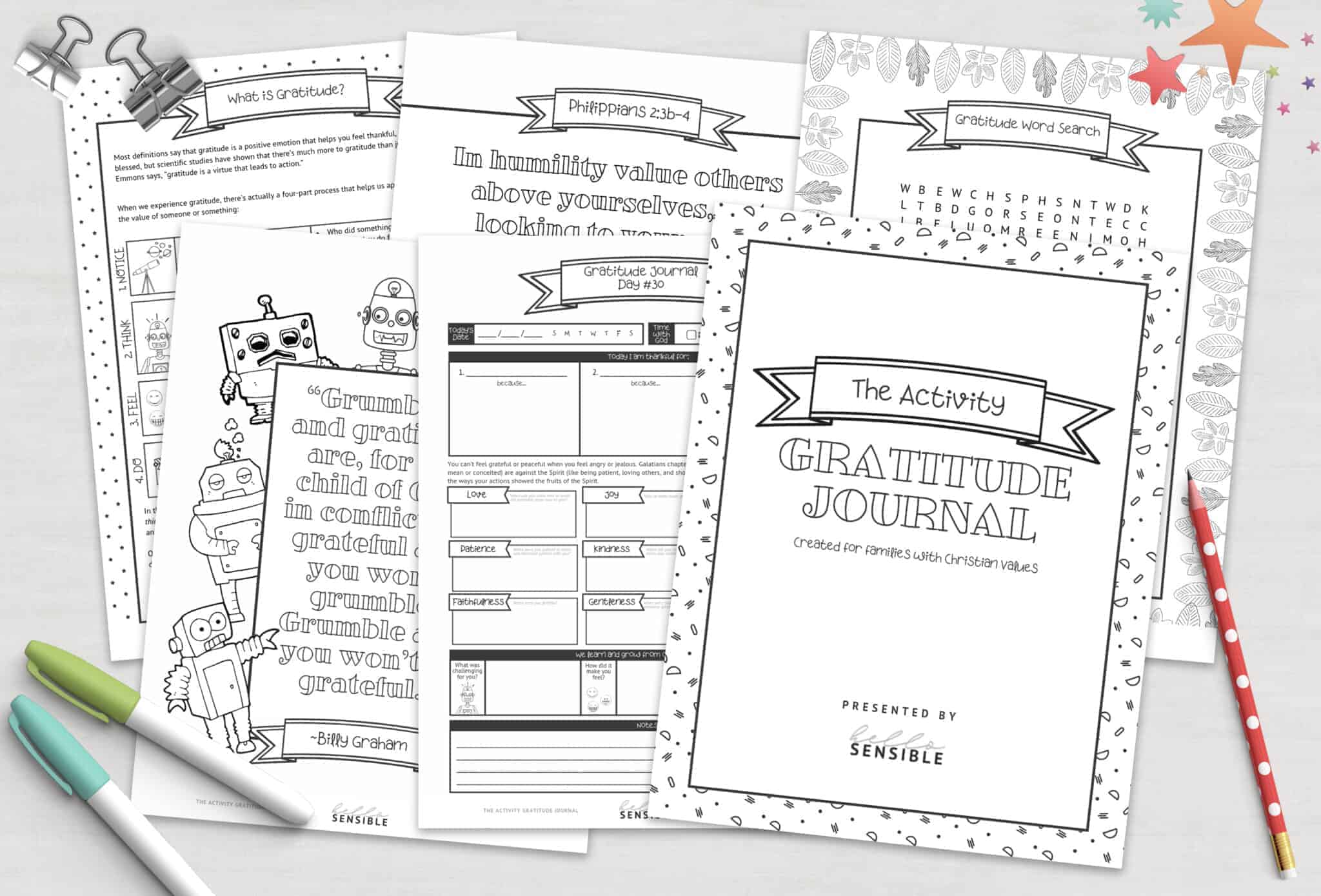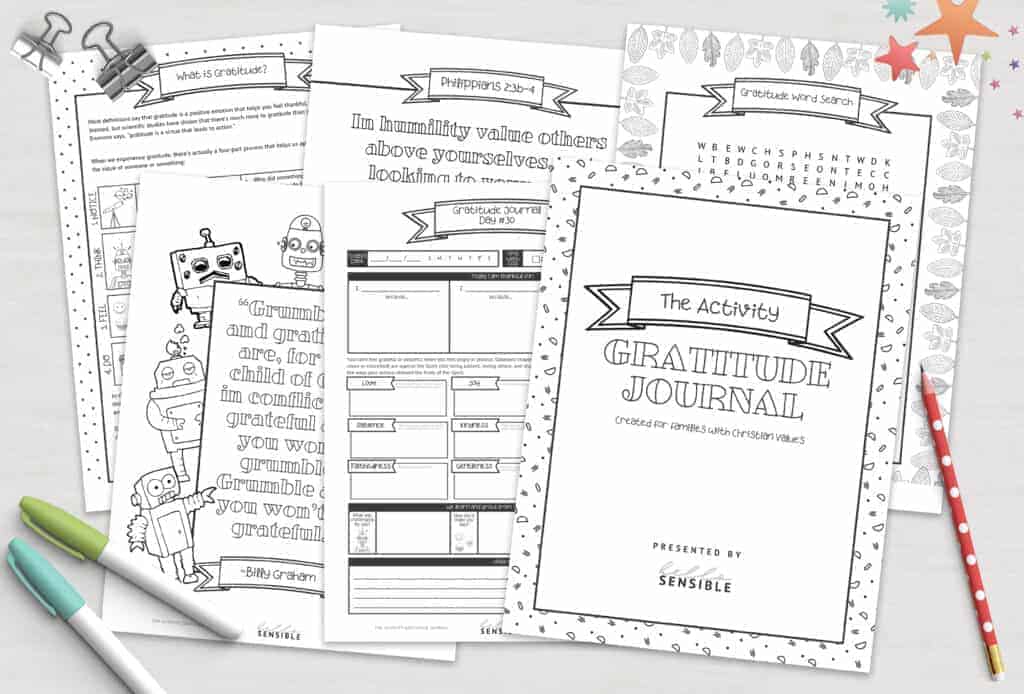 Created for families with Christian values, this 80-page activity journal helps children NOTICE, THINK, FEEL and DO gratitude for the next 30-days in a fun, engaging and creative way.
The goal of this journal isn't just to instill good manners or to help your kid become a more positive person. Rather, the goal of this journal is to help your child become an imitator of God (like Christians are called to do in Ephesians 5:1).
[elementor-template id="13253″]
Gratitude Journal Prompts
The best gratitude journals will help your child to think through gratitude in new ways and that's why I included tons of gratitude journal prompts inside of the Activity Gratitude Journal. For instance…
On the daily journal worksheet that your child will fill out each day, you'll find four sections: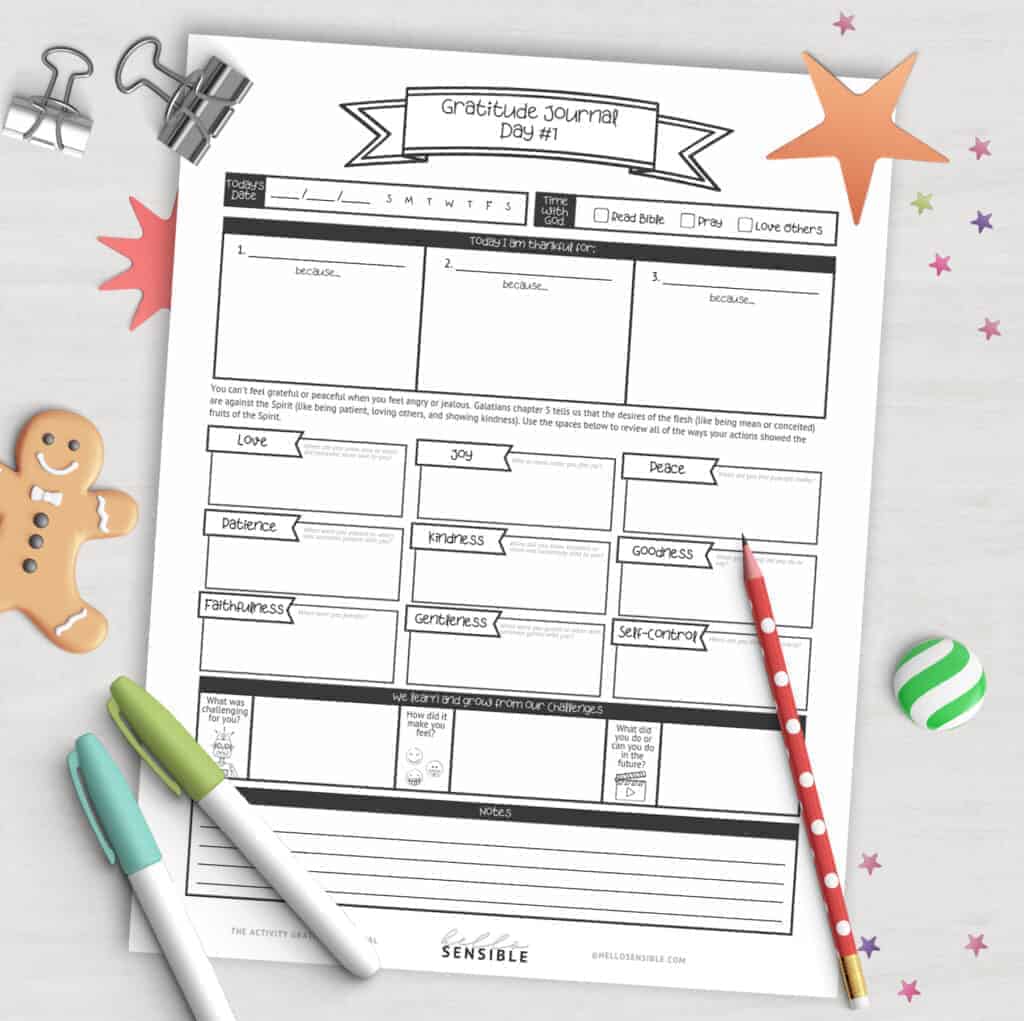 Time With God – This section encourages your child to make their faith a daily practice. Each day they can put a checkmark in the box once they've read their Bible, prayed and loved others.
Today I'm Thankful For – In this section, your child will be prompted to write down three things they're thankful for and write or draw the reason why each day.
Fruits of the Spirit – This section references Galatians chapter 5 and asks your child to review all of the ways their actions showed the fruits of the Spirit. Here are a few example questions found in their daily journal page:
When did you show love or when did someone show love to you?
When were you patient or when was someone patient with you?
When were you peaceful today?
When did you show self-control?
Challenges – The final section is designed to remind your child that we can learn and grow from our challenges. There are three questions to help him/her process their struggles from a new perspective!
In addition to the daily prompt worksheet, your child will also have one unique and fun activity page to complete each day as well.
From Bible verse coloring pages, word puzzles, free draw prompts, write the verse activities, gratitude scavenger hunts, prayer requests, and more, your child will be actively involved in NOTICING, THINKING, FEELING and DOING gratitude in ways they've never done before!
Final Thoughts
There's both scientific and Biblical evidence reminding us just how important it is to practice gratitude daily.
If you want to foster an attitude of gratitude in your home with your child, remember that a gratitude journal like The Activity Gratitude Journal For Kids can help in these three ways:
It helps your child shape thoughts, words, and actions toward gratitude
It emphasizes Christian values
It allows your child to be creative
Get a copy of The Activity Gratitude Journal here in our online store and stop entitlement in its tracks!
[elementor-template id="13253″]