---
My life wasn't working.
I couldn't pinpoint the exact reason, but I felt like life was complacent. Life was happening to me, not for me. I felt overwhelmed, stuck, and out of balance in so many areas of my life.
One Sunday morning, I was confronted with one of the world's most significant questions: "what's God's purpose for my life?" I remember feeling flooded with uncertainty and then shame for not having it figured out by now.
Have you ever felt that way?
That, my friend, is what I like to call your "default purpose."
Your default purpose is what your life has been for up until this point.
If you're not particularly in love with all of your life, it can be both uninspiring and confronting to examine your life and take responsibility for the way it is.
The good news is that you don't have to live a "default purpose" another day. You can start practicing intentional living to design a life that both fulfills you and glorifies God.
What Is Intentional Living?
Literally, intentional living means to live deliberately or to live on purpose.
In a more broad definition, intentional living is about taking a stand for what you believe and pursuing a life that honors those beliefs.
It's about taking leadership of your life rather than coasting on auto-pilot. It's honoring your word, planning ahead of time and being a reliable result-producer in your life.
(And, my favorite definition…)
Intentional living is co-authoring your life with the Creator of the universe to make your highest contribution to yourself and the world.
How to Live Intentionally
If you love this idea of stepping into a higher purpose, there are five practical steps you can take to implement it into your own life:
Know God and how he works
Set goals to live into
Align your day-to-day actions
Think on purpose
Reflect, reevaluate, choose
Now, if you want to make this have a real difference in your life, grab this free printable I put together to help you seamlessly walk through the process I'm about to talk about.
It gives you the prompts and plenty of room to map out your intentional living game plan quickly!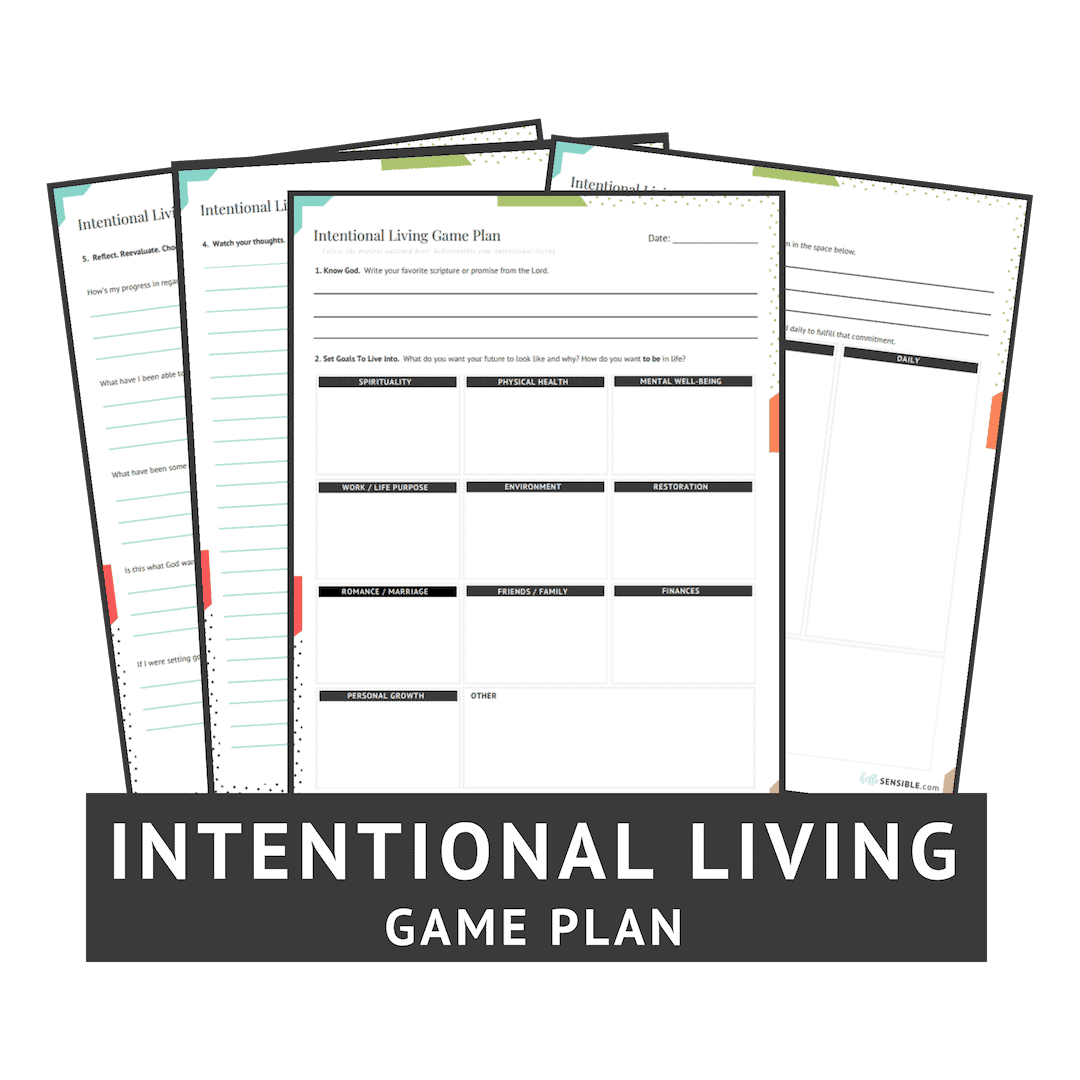 Intentional Living Game Plan
+ GET aCCESS TO KATY'S FREE RESOURCE LIBRARY
1. Know God & How He Works
Did you notice that I said before that you're the co-author and not the sole author of your life?
In Colossians 1:16 it says, "For by him all things were created, in heaven and on earth, visible and invisible, whether thrones or dominions or rulers or authorities—all things were created through him and for him."
And in Proverbs 19:21 it says, "Many are the plans in the mind of a man, but it is the purpose of the Lord that will stand."
Since you're designing your life together with God, you need to know His character, His promises, and His plans. You can't know God without being hungry for His word and developing a personal relationship with Jesus Christ.
Practically, that looks like spending time with the Lord in prayer, reading the Bible, and being in community with believers.
That could look like a 5-minute quiet-time in the morning, listening to a sermon or worship music on your commute, praying with your kids as you tuck them in at night, meeting up with a few ladies from church for coffee and encouragement. There's no "right way."
Just start a conversation with God every day, lean into His word and align your life in accordance with His will for you.
2. Set Goals to Live Into
While you're walking daily with the Lord, I want to start thinking about the kind of life you and the type of like God wants for you.
What do you want your future to look like and why?
How do you want to be in life?
I want you to really pay attention to the word "be" in this sentence.
"Being" is defined as the nature or essence of a person and is very different than "feeling" which is an emotional state or reaction.
For example, to "be confident" is to identify that confidence is part of who you are. Being confident is very different than feeling confident, which is temporary and reactive to the thoughts you're thinking.
Part of starting and practicing intentional living is writing down goals you want to live into.
On a piece of paper, I want you to examine ten specific areas of your life. We're going to look at:
Spirituality
Physical health
Mental wellbeing
Work or life purpose
Environment or surroundings
Restoration (self-care, hobbies, joy)
Romance/ marriage
Friends and family
Finances
Personal growth
For each category, I want you to ask yourself, "Who am I committed to being and what kind of life am I committed to having in regards to my ___________________? (Fill in the blank with one of those ten categories.)
Here are a few examples:
In regards to my physical health, I am committed to being strong and healthy so that I have energy at the end of the day to give my best self to my family.
In regards to my marriage, I am committed to being spontaneous and flirtatious so that I can have fun and grow closer with my husband.
In regards to my environment, I am committed to living abundantly with fewer things so I can spend more time with the people I love and less time managing the things that we have and the messes that we make.
Now, when you write out your commitments, I want you to avoid using words like more, better or different when setting your goals. Instead, I want you to try and invent new ways of being that you may not have ever considered before.
Of course, you don't have to write this out for every area. You can pick your top 3 areas that you want to improve and write out your commitments. You will need at least one to move on to the next step.
3. Align Your Day-to-Day Actions
Once you've created your goals to live into, I want you to reverse engineer the actions you'll need to take monthly, weekly and daily to fulfill that commitment.
For example, if you're committed to being strong and healthy, you could have some broad goals like lose 10 pounds, buy a gym membership or eat healthier.
From there, you'll want to break your broad goals into weekly goals. For example, lose one pound per week and lift weights four times per week.
And finally, go one step further breaking those weekly goals into daily tasks. For example, if you consistently eat 4 cups of vegetables per day, and close all of your rings on your Apple watch, it's almost guaranteed that you'll fulfill on your commitment to being strong and healthy for your kids.
It's the mundane, day-to-day tasks that will add up to your desired result over time.
So now, I want you to pick at least one area of your life and start writing down the monthly, weekly and then daily actions you'd need to take to be strong and healthy, or confident, or whatever you choose for your goals.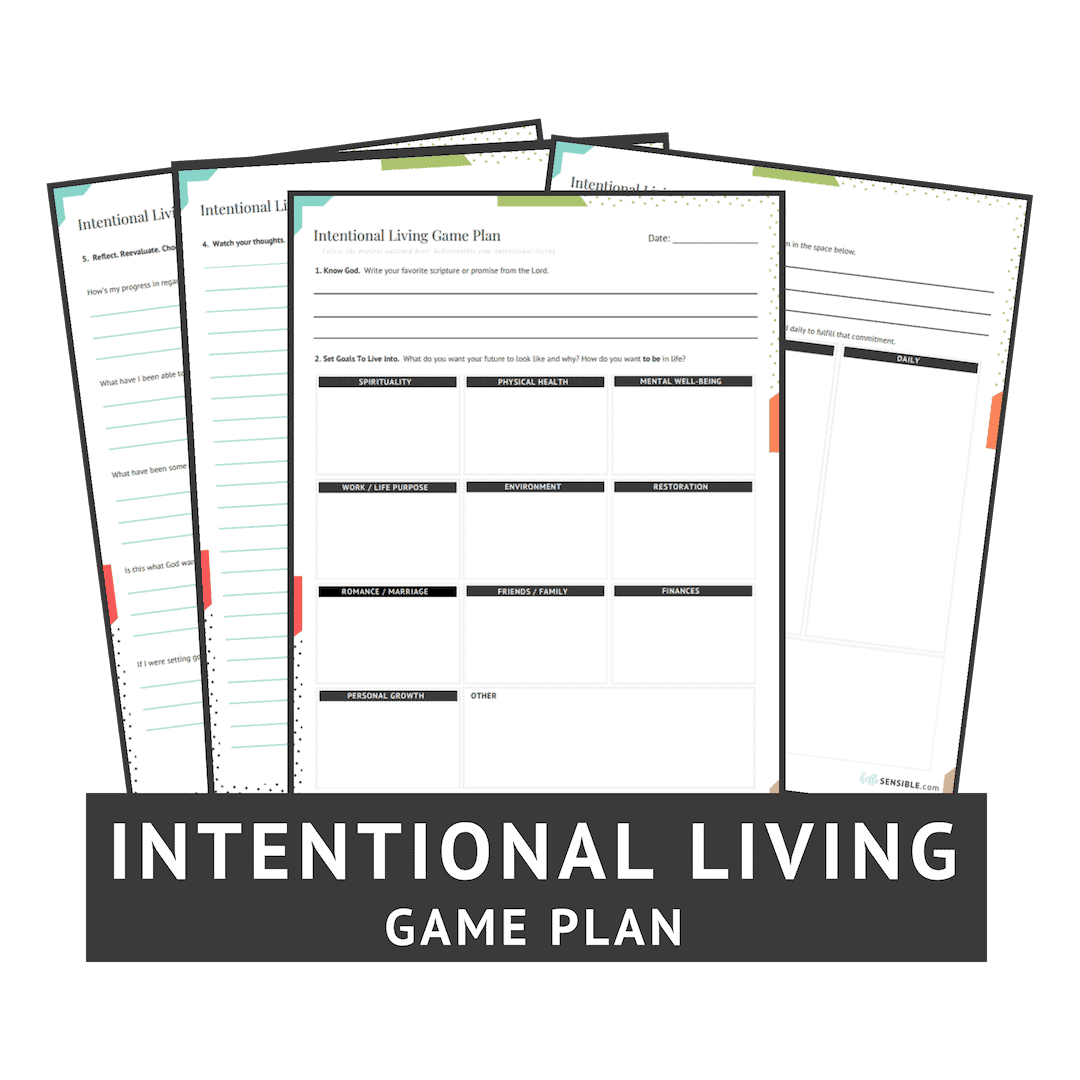 Intentional Living Game Plan
+ GET aCCESS TO KATY'S FREE RESOURCE LIBRARY
When You Don't Feel Like It
I also want to note here that there will be days that you don't feel like doing anything. But by living intentionally, you can move forward when you find that you're not in the mood to follow through on your long-term vision or commitments by:
changing your mood, or
by showing up in spite of your mood.
There will be days that you rise above your circumstances, thoughts, and feelings and do your daily tasks because who you are is strong and healthy. And there will be days when you don't.
Just know that living intentionally is working towards a future God desires for you; it's not about being perfect every single day. It's making commitments and setting goals and watching yourself rise and fall and rise again as you pursue your intentional life. When you live every day with the mindset "I'm on my way," you'll be more willing to embrace every part of your journey, the highs, and the lows.
4. Think on Purpose
The next step to living intentionally is to think on purpose.
Dr. Roger Birkman said, "The reality of life is that your perceptions – right or wrong – influence everything else you do. When you get a proper perspective on your perceptions, you may be surprised how many other things fall into place."
I don't know if you know this or not, but your thoughts are powerful.
How you perceive the world is given by what you're currently thinking. Your thoughts are so powerful that they produce your feelings, and your feelings create your actions, and your actions create your results.
So if you look around at your life right now – from the car you drive to the house you live in, to the job you work at, to the person you're married to – you created all of those results based on your thought patterns.
Whoa.
If you can let that sink it, it can be very sobering to consider.
Seemingly innocent thoughts like "it is what it is" or "this is all there is" are limiting you and keeping you from stepping into God's purpose for your life.
So, when was the last time you paid attention to your thoughts – even ones that seem like blatant observations of the world?
What The Bible Says About Your Thinking
Three verses stand out:
In Romans 12:2 it says, "Do not be conformed to this world, but be transformed by the renewal of your mind, that by testing you may discern what the will of God is, what is good and acceptable and perfect."
In Proverbs 4:23 it says, "Above all else, guard your heart, for everything you do flows from it." The word heart in this verse refers widely to feelings, will and even intellect.
And in Philippians 4:8 it says, "Finally, brothers and sisters, whatever is true, whatever is noble, whatever is right, whatever is pure, whatever is lovely, whatever is admirable—if anything is excellent or praiseworthy—think about such things."
God has a lot to say about how we should think about and relate to the world. We need to turn to His word so that we recognize our thoughts for what they are and how to act or not act upon them.
Watch Your Thoughts
In January 2019, I decided to make it a regular practice to watch my thoughts. Whenever I feel stuck or overwhelmed with negative thought patterns, I write all my thoughts on a blank sheet of college-ruled notebook paper.
This process has been game-changing, y'all!
By writing in my "Thought Download Journal", it gives me the opportunity to become aware of my emotions. It allows me to process them in new and different ways. By having my thoughts in writing, I'm able to observe my thoughts and then intentionally choose to keep thinking them or shift the thoughts to new ones.
Watching your thoughts is a great way to check your thoughts against the truth.
In Hebrews 4:12 it says, "For the word of God is living and active, sharper than any two-edged sword, piercing to the division of soul and of spirit, of joints and of marrow, and discerning the thoughts and intentions of the heart."
5. Reflect. Reevaluate. Choose.
As you walk with the Lord, set goals, and practice your daily success habits, you'll want to stop along the way to reflect, reevaluate and choose.
Intentional living is a lot like taking a cross-country road trip. Along your journey, you'll need to pull over and refuel. You'll need to stop, put gas in your car, grab a bite to each and stretch your legs – not once, but multiple times. On your way to your goals, you need to do the same.
Ask yourself…
How's my progress in regards to the goals I set?
What have I been able to accomplish so far?
What have been some of the most powerful learning moments so far?
Is this what God wants for my life?
If I were setting goals today, would I still choose this goal again?
After a little self-reflection and prayer, decide on purpose to continue pursuing your goals or make revisions to your plan if needed.
Remember, living an intentional life isn't about perfection. It's about powerfully choosing all of your life and stepping into the purpose that God has called you to.
A Final Note
Once you start living intentionally, you'll notice a few things…
You'll become a woman who is hungry for God's word.
You'll create possibilities and goals for your life that fill your cup and glorify God in the process.
You'll live each day on purpose – no more coasting or getting by.
You'll become emotionally intelligent and self-aware.
You'll be able to confidently choose all of your life – even the parts that seem messy and imperfect.
So the final question I have for you is this:
Are you going to take a stand for what you believe and pursue a life that honors those beliefs?
Leave a comment below and tell me about a goal you're living into or what nugget of wisdom you got out of this post.
Don't be shy! Let's start a conversation.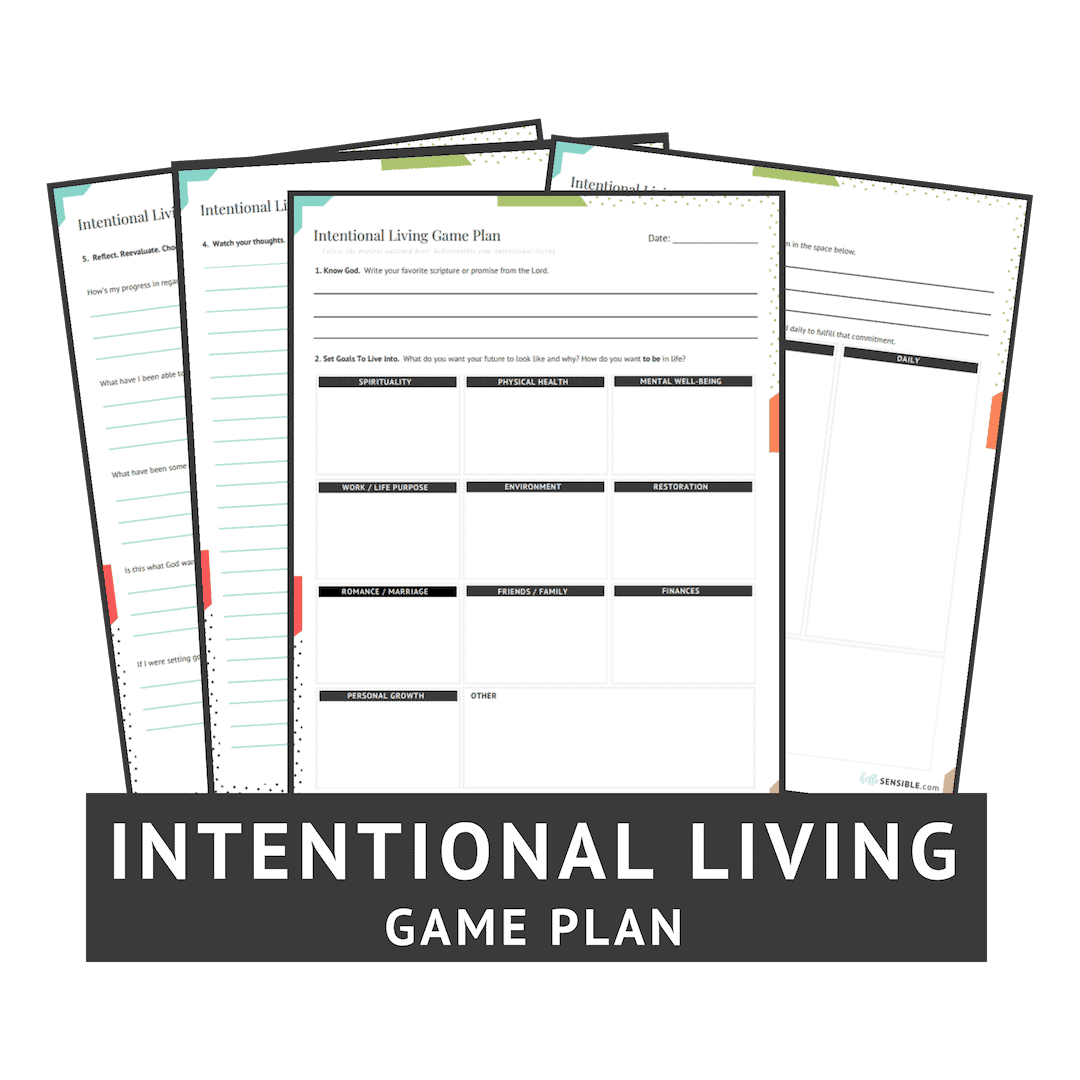 Intentional Living Game Plan
+ GET aCCESS TO KATY'S FREE RESOURCE LIBRARY