Last Minute Christmas Gifts with Walgreens Holiday Solutions.
The post Last Minute Christmas Gifts, is written as a part of the Walgreens #HappyAllTheWay #shop, hosted by media company Collective Bias. As with all my posts, these are my thoughts and experiences.
I love buying unique handmade gifts for Christmas, but when I need some last minute Christmas gifts I have to look a little closer to home.  And I have just the place in mind!!!
Our local Walgreens.  (For some reason when I think of Walgreens, I hear this in my head: "At the Corner of Happy and Healthy!")  You too?
So I walked in, and the first thing I see is the Walgreens Holiday Solutions.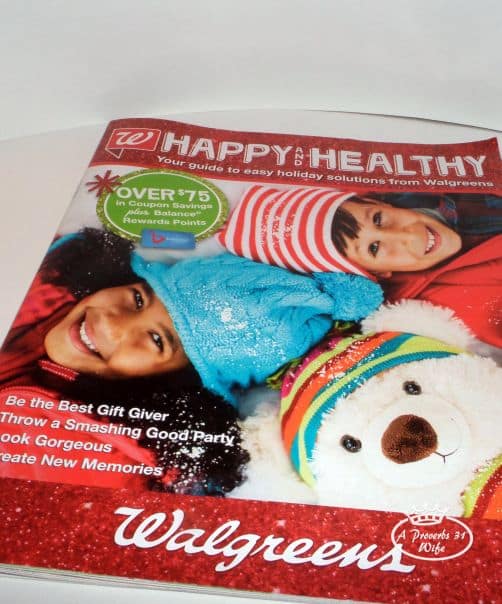 I start paging through it. We no longer do stockings in our families, but I like to give gifts to friends that would be considered stocking stuffer gifts.
There were a lot of ideas in the Walgreens holiday gift guide. I kinda-sorta found myself wishing that I hadn't yet bought for certain people because of all the Christmas present ideas.  I really liked how there was a section with stuffed stockings for the entire family.
Now to start looking around and see what I can find…. Since I have no idea who reads this blog, and it's before Christmas, I'm not going to say who I am shopping for, other than they are close to my age and have their own home.
Because I am a freak when it comes to kitchen stuff, you can be sure I looked for that kind of stuff first. 🙂 I found a nice section with all sorts of kitchen stuff. However, I couldn't decide (maybe a case of too many choices) so I started looking at other stuff as well.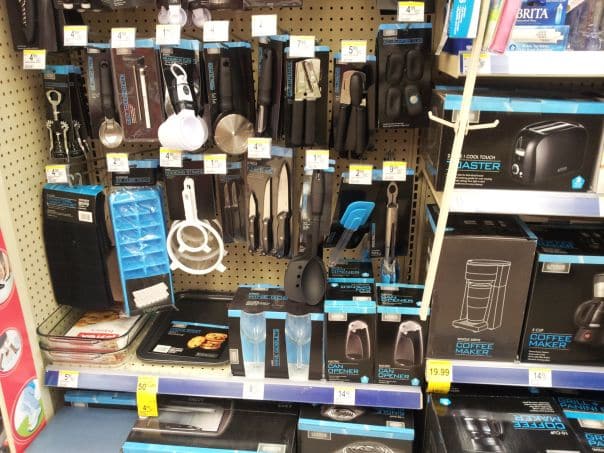 One thing I really liked was the wide variety of gift ideas that were available and how easy it would be to personalize a stocking for any adult in your life. I finally hit upon the perfect idea. Why not give a stocking stuffer that IS a stocking?!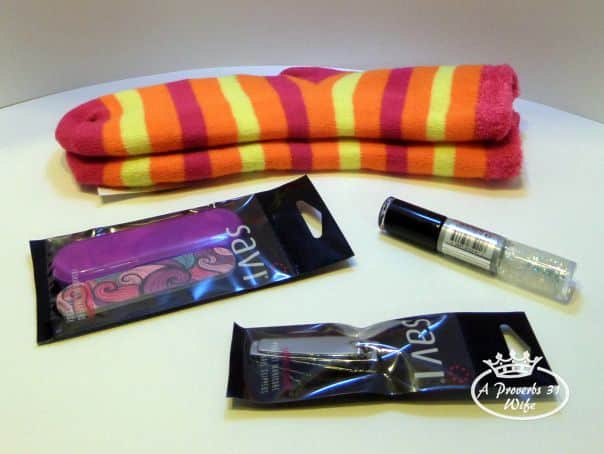 Yes!  A Stuffed Sock Stocking Stuffer! Say that 5 times fast. 😉
The socks that I found were really pretty on the outside and super soft on the inside. I have lots of fluffy/fuzzy socks, but none quite like those. In fact, I nearly forgot I wasn't buying for myself.
So, I stuffed fuzzy socks with nail stuff. Nail clippers, a purse sized nail file with a case; and the cherry on top were these cool duo style nail polishes. A solid color combined with a glitter color for topping.
Okay guys, and here's the clincher: I bought two great gifts, and spent less than $25 total! Of course, I saved over $7 just for using my Walgreens Rewards cards. Made my day!
Aren't they totally gift worthy?
Yeah, I know…. You wish you were on my shopping list too. 🙂 But that's okay, if you really want your own pair of super fuzzy socks, and cool duo nail polish, you know where to go. Merry Christmas to You!