Lies that Satan Tells Christians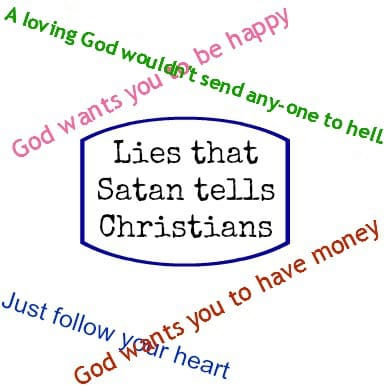 Today I'm going to vent a bit and talk about the lies that Satan tells Christians.
We all know that Satan is the father of lies. From the very first when he deceived Eve in the garden, he has made it his mission to deceive the children of God.
I'm no theologian, I tend to take the Bible at face value and accept it as the pure inspired word of God. I will try and give several Bible verses to back up the fact that what I'm about to share here are common lies that Satan tells Christians.
The other night I found a photo on Facebook that a friend shared. This photo had received thousands of likes and shares. But as I read it, a warning goes off in my heart. "This isn't God's word. This is one of the lies that Satan tells Christians."  I'll be honest when I say I saw a bit of red. This isn't the first time I've seen stuff like this and it seems to be popular. People read something that "makes them feel good" and they like it.
Satan wants us to feel good. He tells us lies to lull us to sleep. He told Eve that she wouldn't really die, she would become like God. Satan tells us what we want to hear.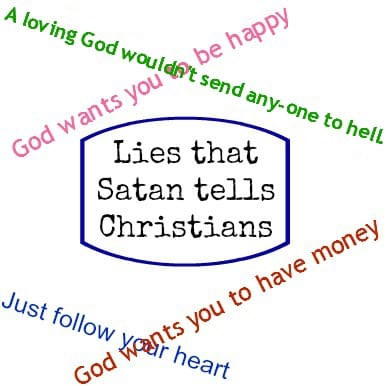 Lies that Satan tells Christians:
God wants you to be happy.
God wants you to be prosperous.
God is love, he wouldn't send any-one to hell.
Just follow your heart.
The quote that made my blood boil just a bit the other night:  "God loves us to much to allow us to stay with any-one or anything that doesn't bring out the best in us."
What does God's word say about these lies that Satan tells Christians?
I'm going to stick with the New Testament in order to totally get rid of the argument "that was before grace/Christ/Salvation".
First off, what is your definition of happy? Merriam-Webster defines it as fortunate, glad and pleased.  When I look up happy in the new testament, every time happy is mentioned, it's derived from the Greek word meaning extremely blessed.
The word happy appears 6 times in the new testament and it doesn't mean happy as this world talks about, but happy as in blessed. Want to know how God wants you to be happy?
John 13:17, If you know these things, happy are ye if you do them.
James 5:11 …we count them happy which endure…
1 Peter 3:14 …if ye suffer for righteousness sake, happy are ye!
1 Peter 4:14 If ye be reproached for the name if Christ, happy are ye.
Do. Endure. Suffer. Be reproached. Those words do not sound like what the world calls happy. God wants us to be blessed!
Jesus speaks about money a lot. Why? Because he knows that we are human and want to serve the flesh. On the subject of finances, I feel he is very clear.
Matthew 6:19 Lay not up for yourselves, treasures upon earth… 20 But lay up for yourselves treasures in heaven…
On one occasion a man said he would follow Jesus and Jesus responded "The foxes have holes and the birds of the air have nests, but the son of man hath no place to lay his head.
In Acts 8:20 we see what money really means to God. One named Simon, wanted the power to give the Holy Spirit and offered great money for it. The response? "Thy money perish with thee!"
As Christians the only thing we are truly promised is eternal life. This life we live here on the earth is not really our life, but it belongs to the Lord. (Remember when you asked him to save you and become Lord of your life?)
I found this post while doing some keyword research and thought I would share it: Prosperity Gospel is a Lie.
God is not willing that any should perish. Why else would he have separated himself from his son and send him here to die a sinners death?
2 Peter 3:9 The Lord is not slack concerning his promise (to return) … But is longsuffering to us-ward, not willing that any should perish, but that all should come to repentance.  If you do not come to repentance, you will perish, but it's not God's will that any perish.
John 3:16 …That whosoever believeth on him should not perish but have everlasting life.
At this point, God has done his part, he sent his son to bridge the gap between God and man, it is now up to us to believe, repent and follow him.
Should you really follow your heart? I am going to pull a verse from the OT for this one. It's pretty straight forward and I don't think man has changed all that much in the past 4000 years.
Jeremiah 17:9 The heart is deceitful above all things and desperately wicked.
Matthew 15:19 For out of the heart proceed evil thought, murders, adulteries, fornications, thefts, false witness, blasphemes…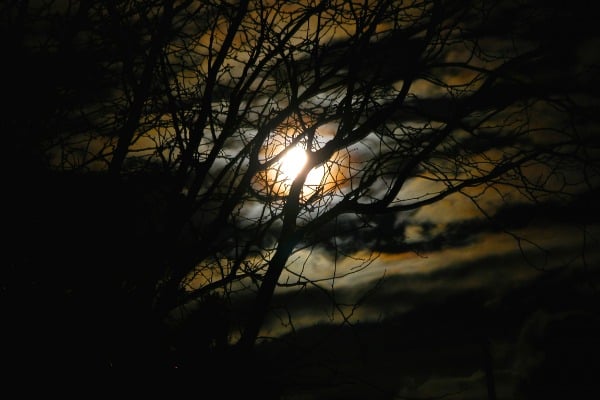 Our hearts are so wicked they cannot be trusted. Why else did David cry out, "Search me oh God and know my heart, try me and know my thoughts"? We must allow God to always know our hearts and thoughts and allow Him to guide us.
And as for the quote that triggered this whole post in the first place:  Nowhere in the Bible does it say followers of Christ will have it easy. We are made strong through our sufferings and in our weaknesses He is made manifest.  This life is fleeting and short; and while we as Christians, live here on this earth, our primary calling to worship our creator God and draw others unto him.
We are so blessed to be living as we are. I could sit here all day and tell you what is wrong with America and trust me, it's a lot. But, we can still go to Church and worship God. We can meet with fellow believers and not fear a raid. While the number is growing that dislike us, we are still allowed to worship freely. Can we really ask for more?
These lies that Satan tells Christians are just that, Lies. Pray and ask God to give you a discerning heart. Read his word and learn the truth. That way when the father of lies tosses a tickle-your-ear lie your way, you will know that it is untruth at best.