Line Drying Clothes Saves Money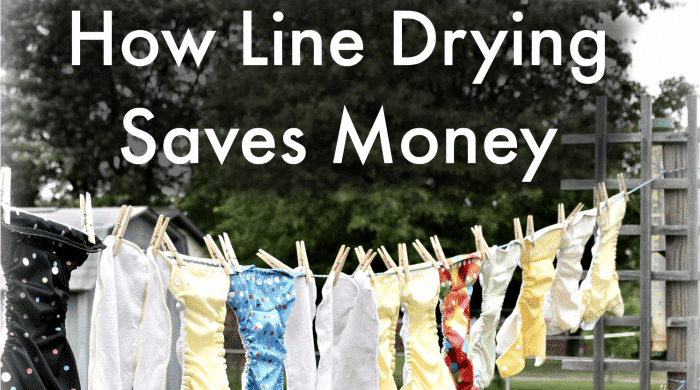 My work schedule and the weather doesn't always allow it, but when possible our laundry is line dried. (Not the granny-panties or whitie-tighties but everything else!) Today I want to share how line drying clothes saves money.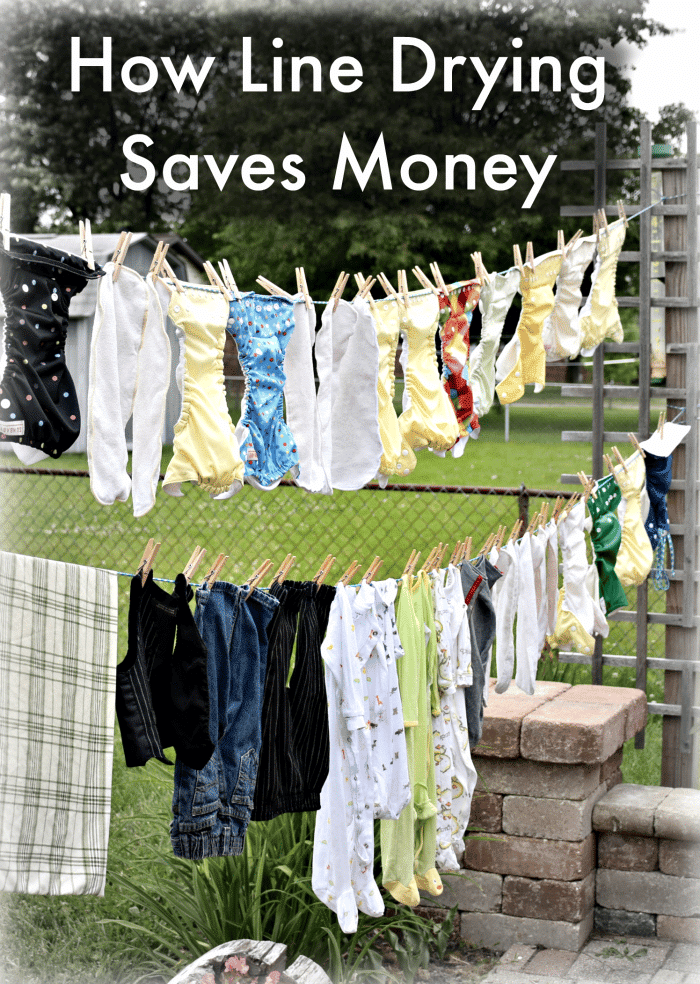 How Line Drying Clothes Saves Money
Your dryer takes a lot of electricity. An ehow article from 2010 states the average family spends 44 cents to $1.32 per load of laundry dried. Considering how the cost of electric has went up in the past 4 years, I imagine we spend at least $1 per load around here.
On average I wash 5 loads of laundry a week and 2 loads of diapers. That's at least $7 a week we are spending to run our dryer, and $364 a year. I don't know about you, but I could use an extra $364.
Clearly Ohio isn't all that friendly towards line drying in the winter, but if I were to line dry my clothes even half a year, the savings still add up.
The dryer eats your clothes. I know we all joke about it eating socks (I mean seriously, where DO all those missing socks go?), but every-time you clean out your dryer's lint trap you are throwing away your clothes.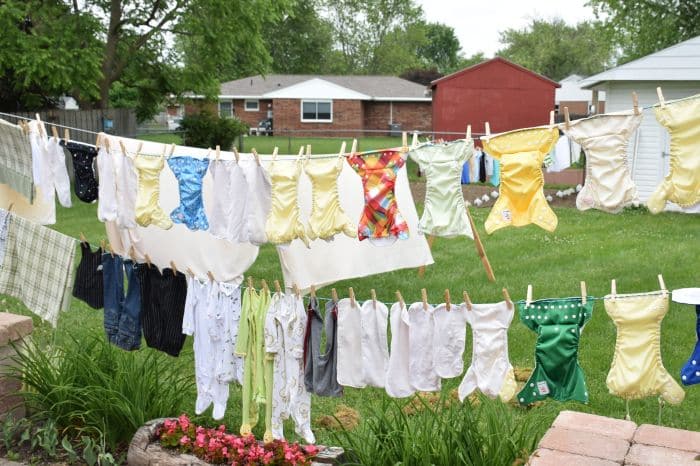 The sun bleaches your clothes. No need to buy oxi-clean or another type of whitening agent. Instead make sure your clothes are out during the hottest and sunniest part of the day.
My white bras have a nasty tendency to turn very yucky colors from sweat and the sun will turn them white again. Jason's pillow case always turns a nasty brown and has a thick greasy feel to it that washing won't remove. Sunning it removes the greasy feel and the stain.
Cloth diapers really benefit from line drying. The sun removes the stain and the stink. I can always tell if the soiled diaper I'm removing from my child's bum was sun-dried. A sun-dried diaper will have a slightly wet smell, while a diaper that was last dried in the drier smells like an ammonia factory.
No dryer sheets needed. Sun-dried clothes do not create static which eliminates the need for fabric softener or dryer sheets.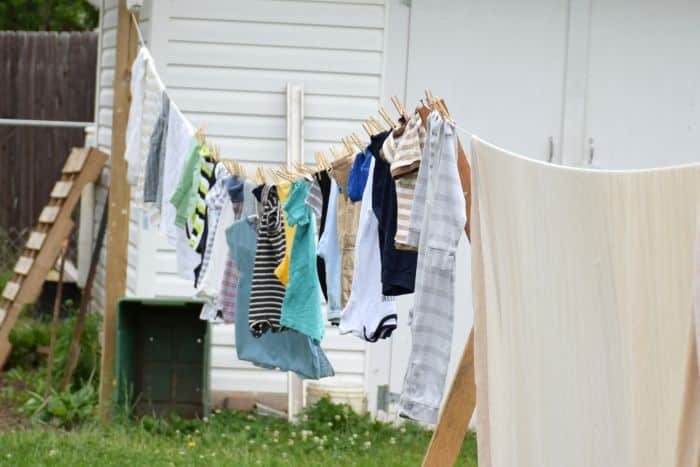 The sun also kills bacteria in your clothes. Imagine bacteria on your laundry that survived the washer (lots), now the clothes go into a dryer and become very warm while still wet.
I don't have numbers here, but if bacteria thrive in warm damp locations then I am assuming it's really growing in dryer. By eliminating some of that bacteria, you are helping your body stay healthy.
No Gym Membership Needed. So maybe that's a little extreme, but hanging laundry on the line is quite a work out. 🙂 Lifting baskets of heavy wet clothing, squatting to remove laundry from basket and stretching to hang it on the line. I for one have no need to visit the gym after hanging my clothes on the line!
Keeps your house cooler. Not running your dryer in the summer time can keep your laundry room 5-10 degrees cooler meaning your AC won't need to work as hard.
"Snap" out shirts and other things you typically iron before hanging them on the line. If I line dry shirts and slacks, I don't need to iron them. Just one more way to keep the house cool.
Little Start-up Cost. 
Set up your clothes line for well under $50 and it will last you for years. I have a retractable line that runs from our shed to our house that I found on Amazon for $10. I also ran a simple cord between posts on our patio that I use for diapers.
In the winter I like my drying rack for diapers because I can sit it right outside the door on a sunny day and let the sunshine do its lovely bleaching and bacteria killing work for a couple of hours before tossing them in the dryer to thaw and finish drying. 🙂
Now that you know How Line Drying Clothes Saves Money, will you line dry more often?
Psst. If you dislike how stiff line dried clothes sometimes are, toss them in the dryer with a couple dryer balls for 5-10 minutes on fluff.