The Ultimate Harry Potter Baby Shower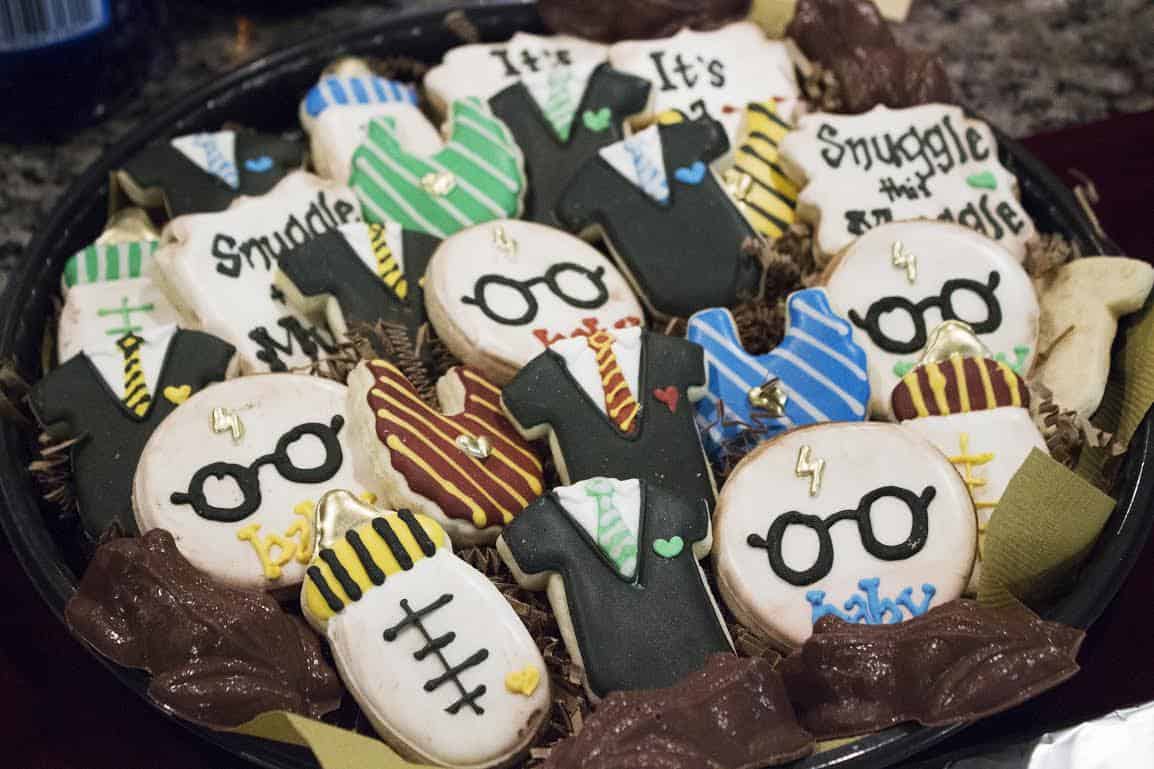 Attention wizards and muggles alike – this Harry Potter baby shower is sure to be right up your (Diagon) Alley!
My husband and I had baby #3 in December.  We weren't expecting a shower, but we have some pretty incredible friends and family that wanted to celebrate our little guy.  He's our first boy, and we had already gotten rid of our baby stuff, so they jumped at the chance to throw us the most "us" shower they could think of – straight out of Hogwarts.
The Decor
I am so impressed by everything that they managed to pull together, and how many details they squeezed in.  Especially considering no Potterheads were involved in the planning process.  The details were perfect, from the Hogwarts Express and Little Muggle signs, to the diaper cake, onesies, and floating candles from the Great Hall.  A lot of it ended up in his nursery, which I will be posting about soon.

The Food
The guests all ate pizza (my biggest craving), fruit, veggies, and mini quiche, but I couldn't get over the adorable custom cookies.  There were also snitch truffles, chocolate frogs, Olivander's pretzel wands, and a potion station, complete with Butter Beer.  It was like I died and went to Hogsmeade.
The Fun
For activities, we had [non-alcoholic] quidditch pong, Harry Potter bingo, and make-your-own snitch ornaments.  We also each got sorted into our own Hogwarts houses (see me being sorted into Hufflepuff, below).  Once we were sorted, we each got a house color-coded clothespin.  We then spent the rest of the shower playing the baby game – the one where you can't say the B word.
This was honestly the best way to celebrate our "boy who lived," that I could have asked for.  It was made even better by the friends and family we got to share it with.