Make Your Own Pumpkin Puree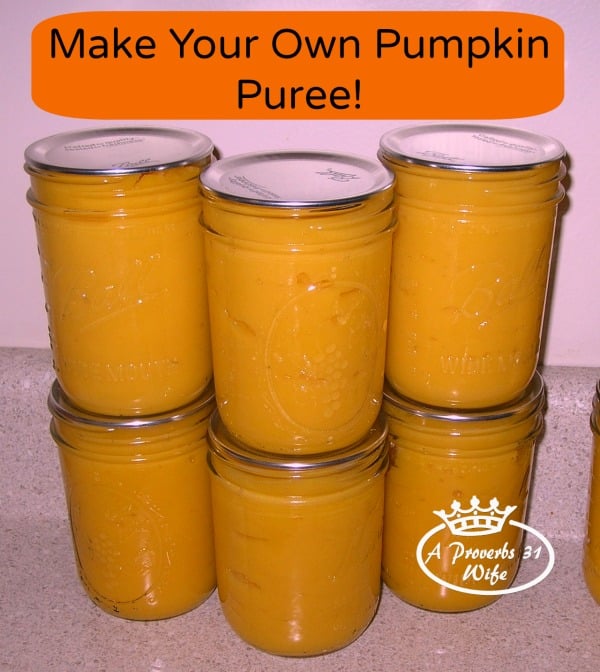 Why go to the store and buy canned pumpkin when you can make your own pumpkin puree? I mean after all, didn't you just go and buy pumpkins to sit on your front porch, that normally get tossed in a month? And don't you think the stores charge way too much for a tiny can of that orange stuff?
It's really easy to make your own pumpkin puree and about the only way I can justify buying one of those big orange fruits. 🙂  They make for cheery fall decor and later on they make amazing pumpkin puree for pies!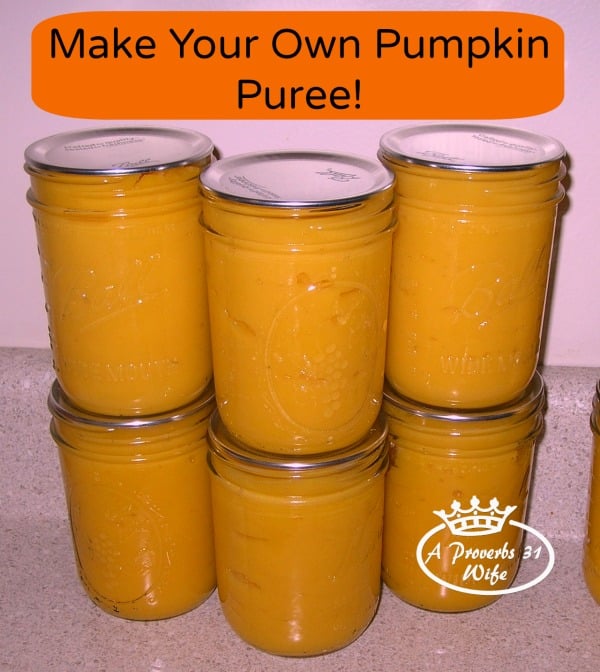 Note: Not all pumpkins are created equal. The pie pumpkins work the absolute best, but I buy the big ones because… Well, because like big ones! Anyway on with what I was saying…
How to Make Your Own Pumpkin Puree: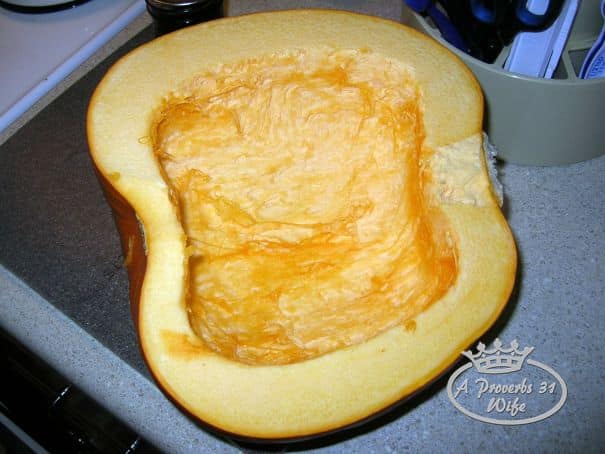 I started with a big yellow beauty that took up residence on our front porch for awhile. And using my biggest and sharpest knife, I managed to cut that baby in half and scoop out all the seeds. If you like pumpkin seeds, then by all means, save them for roasting later.
I laid each half with the cut side down on a cookie sheet and baked them for an hour and a half at 350. Depending on the size of your pumpkin you may want to adjust the time a bit. Basically you want your pumpkin to be fork-tender. Once your pumpkin is done. Let it cool a bit and then peel off the the skin.
Cut your pumpkin into smaller pieces and use a food processor to puree. Some pumpkins are much more watery than others. If you think your pumpkin is too watery, put cheesecloth in a strainer and let the pieces drain there a bit before you puree them.
Once my puree cooled I poured it into glass jars and then used my vacuum sealer (amazon affiliate link) to seal them. Turns out this wasn't the best idea since the expanding of the puree as they froze ended up breaking the seal, and in some cases my jars. 
Pour your puree into freezer bags to avoid potentially breaking your jars.
You may notice that your pumpkin puree is not as orange as what you buy in the store. There is a reason for this. Most of what you buy in the store is not pumpkin, but squash that has most likely been colored. 🙂 However if you want more color for your pumpkin pies, just cook and puree a few carrots and mix in. Or add in a bit of natural yellow food coloring. I don't mind the pale color so I don't add in anything.
Do you make your own pumpkin puree in the fall?
NOTE: please do not attempt to can your pumpkin puree. It is low acid and far to dense to get properly cooked through while in the canner and puts you at risk for food poisoning. Pumpkin puree should only be frozen.
Want more information on preserving foods? Check out Food Preservation Made Simple.