Are you a Mary or a Martha?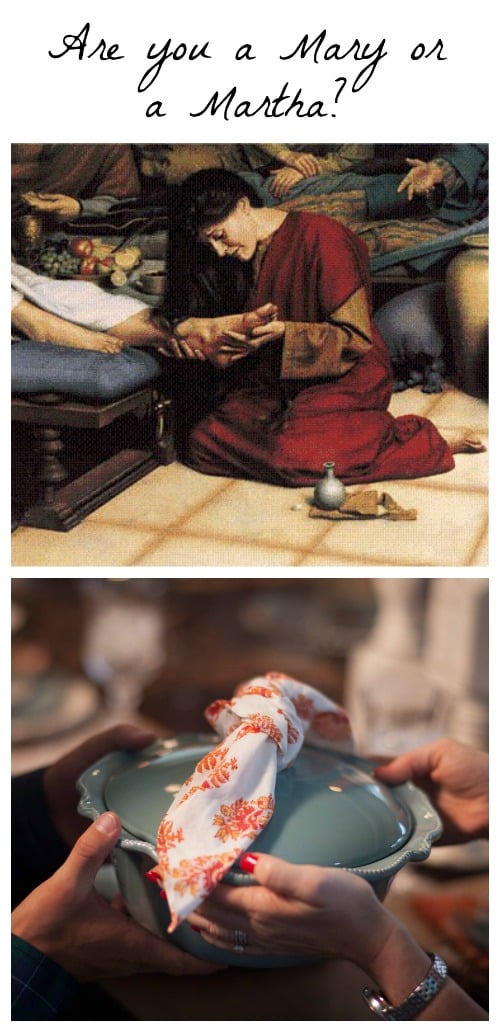 Our sponsor Jane Martin is here today with a thought provoking quiz for us.  She's asking "are you a Mary or a Martha?"
I think it's a good thing to consider, Martha was a wonderful hostess, and did everything she could to make her guests happy. Yet Jasus said that Mary had chosen the better thing.
He didn't say Mary was better, he simply said she had chosen the better. Martha knew it was important to meet her guests needs, but she forgot to enjoy them as well.

I think you will enjoy Jane's post below.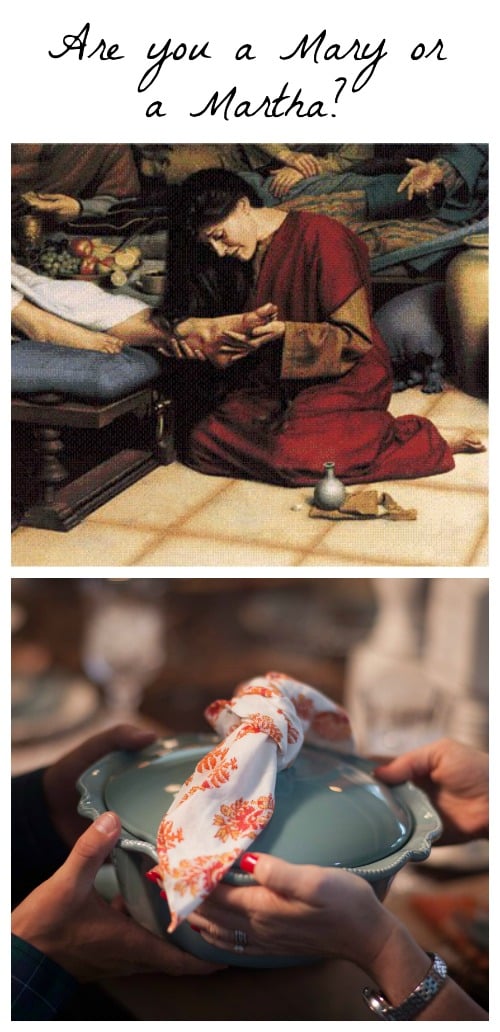 Since I've become a Mary & Martha consultant, I've thought alot about our sisters in the faith, Mary & Martha from the Bible.  Granted, the people who lived in Bethany were not much different than you and I!  
Our Passage:  Luke 10: 38-42  
MARTHA
 was in the kitchen doing her best to make sure everything was perfect for her guests.  My assumption would be that it was unexpected company?
However it was, Martha was in the kitchen working hard when she noticed that Mary was not helping.  Where was Mary?  Scripture tells us that she was sitting at the feet of Jesus soaking in every word He said, bless her dear heart.
Martha became so agitated that Mary was not helping her that she took it to the Lord and she was surprised when He did not say much.  His response was one of loving correction.  "My dear Martha, you are so upset over these details.  There is really only one thing worth being concerned about.  Mary has already discovered it.
Who are you Mary or Martha?   Let me ask you a few questions and then answer me in the comments and let me know who you are more like, Mary or Martha?
 When life gets busy, does your time with God tend to get pushed aside?
Overall, would you say that you tend to be a worrier? 
Do you find at times that you are easily angered by others?
Would you say that it's easy for you to see others faults?
At times, do you find yourself questioning if God really cares about you?

HERE IS A MODERN DAY Mary & Martha Quiz:
Are You a Mary or a Martha:
Mary writes poetry

Martha writes to-do lists

Mary sings in the rain

Martha sings in the choir

Mary goes to amusement parks

Mary drives a convertible

Mary throws a fiesta

Martha throws a tea party




 

Mary dyes her hair fun colors

Martha dyes hers to cover the gray

Mary loves tiger lilies

Martha loves daisies

But they are better together . . .Somehow we need to be a little bit Mary and a little bit Martha!   Don't forget to comment and let me know who you are like!
 How many times in our lives do we get so caught up in  trying to do God's work that we forget that it's all about the relationships – our relationships with others, but more importantly, our relationship with God. 

To build good relationships, we need to spend time together.  It's no different with Jesus, we need to spend time in prayer and in God's Word, to spend time in quiet, listening for the message God has for us.  

The company, Mary & Martha teaches women how to SERVE SIMPLY in their homes, so that they have time to LOVE ON others in their homes.   Would you like to know more?   Follow me on Pinterest, Twitter or Facebook!