Medishare Review: Everything Christian Families Need To Know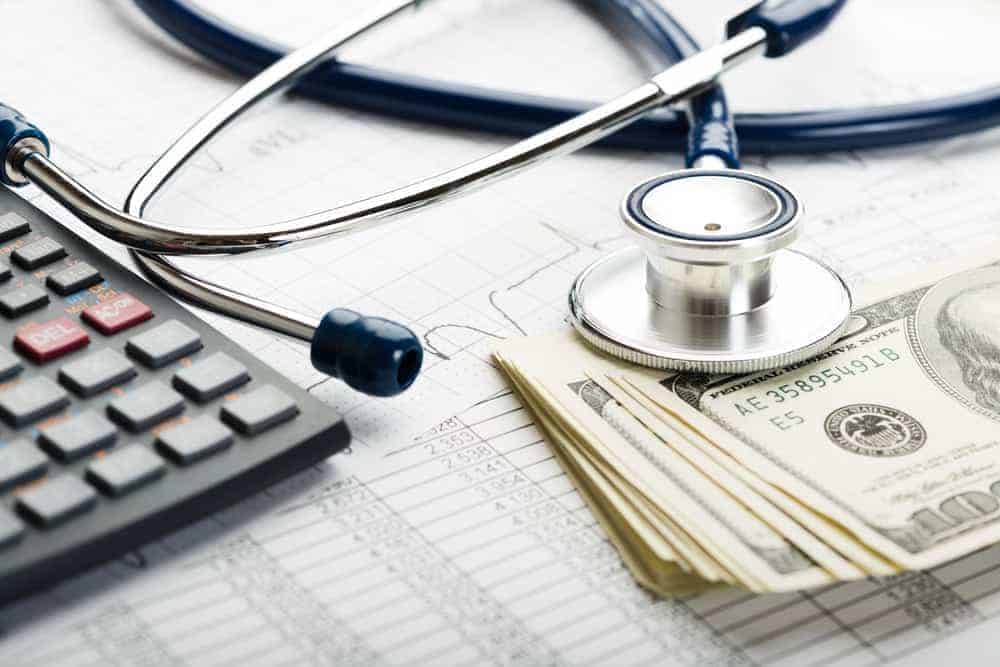 In September 2017, at the age of 29, I left the comfort of my full-time job (which paid a fair salary and included fringe benefits) to step into a new role as a self-employed, work-at-home mom.
When I left, our affordable health care benefits went out the window.
Changing health insurance plans to accommodate our entire family of four on my husband's insurance policy would cost us nearly $1,700 per month.
This was my reaction…
So our search for more affordable health insurance options began.
After weeks of research and gathering quotes for individual health insurance plans, we decided on Medishare. Since then, I've received a lot of questions about the health share company and our experience that I want to answer for you here in this post.
Before we dive into the review, I want to candidly state that Medishare is not right for everyone. You should do your own research, taking your specific health conditions, finances, faith, and other important factors into consideration before deciding to become a member.
In my opinion, Medishare could be a great alternative if you believe in the gospel of Jesus Christ and you or your spouse…
Find yourself recently self-employed (like I was)
Changed or left a job and lost insurance coverage
Have health insurance through your job but want to save money
Want medical benefits that align with your Christian values and beliefs
Without further adieu, let's get into the review and answer your top questions.
1. Is Medishare Christian Health Insurance?
No. Medishare is not health insurance.
Medishare a 501(c)3 not-for-profit Christian healthcare sharing ministry in which members share in the costs of each other's medical bills.
While the program has been around since 1993, it has gained recent popularity as an alternative to traditional health insurance and Obamacare's Affordable Care Act because…
You can give up your insurance policy but still have peace of mind about unexpected healthcare costs
You have the potential to save hundreds of dollars every month
You get access to a network of nation-wide doctors with no state borders and no bill too big to be shared
2. How Does Medishare Work?
Each member gets a "monthly share amount" that is deposited into your share account month after month (similar to that of an insurance premium). That money isn't used for your own medical bills. Rather, it's what you share with other members in need.
Your monthly share amount depends on how many household members are on your plan, the age of the oldest applicant and the Annual Household Portion (AHP) you choose.
The AHP is the amount you pay on your medical bills before other members share with you. (This is similar to paying out of pocket until you meet a traditional insurance deductible.)
There are several different AHP plans to choose from giving you the flexibility to pick one that best fits your budget.
When you have a medical event, you'll select a network provider, show your medishare ID card at your visit, pay a small copay (usually $35 for primary care visits) and get the care you need.
Your doctor or hospital will send and notify Medishare of your bill. Then Medishare will negotiate discounts on the bill amount. If you've met your AHP, your bill is paid with funds received directly from another member. If you haven't met your AHP, you'll receive a discounted bill to pay out of pocket.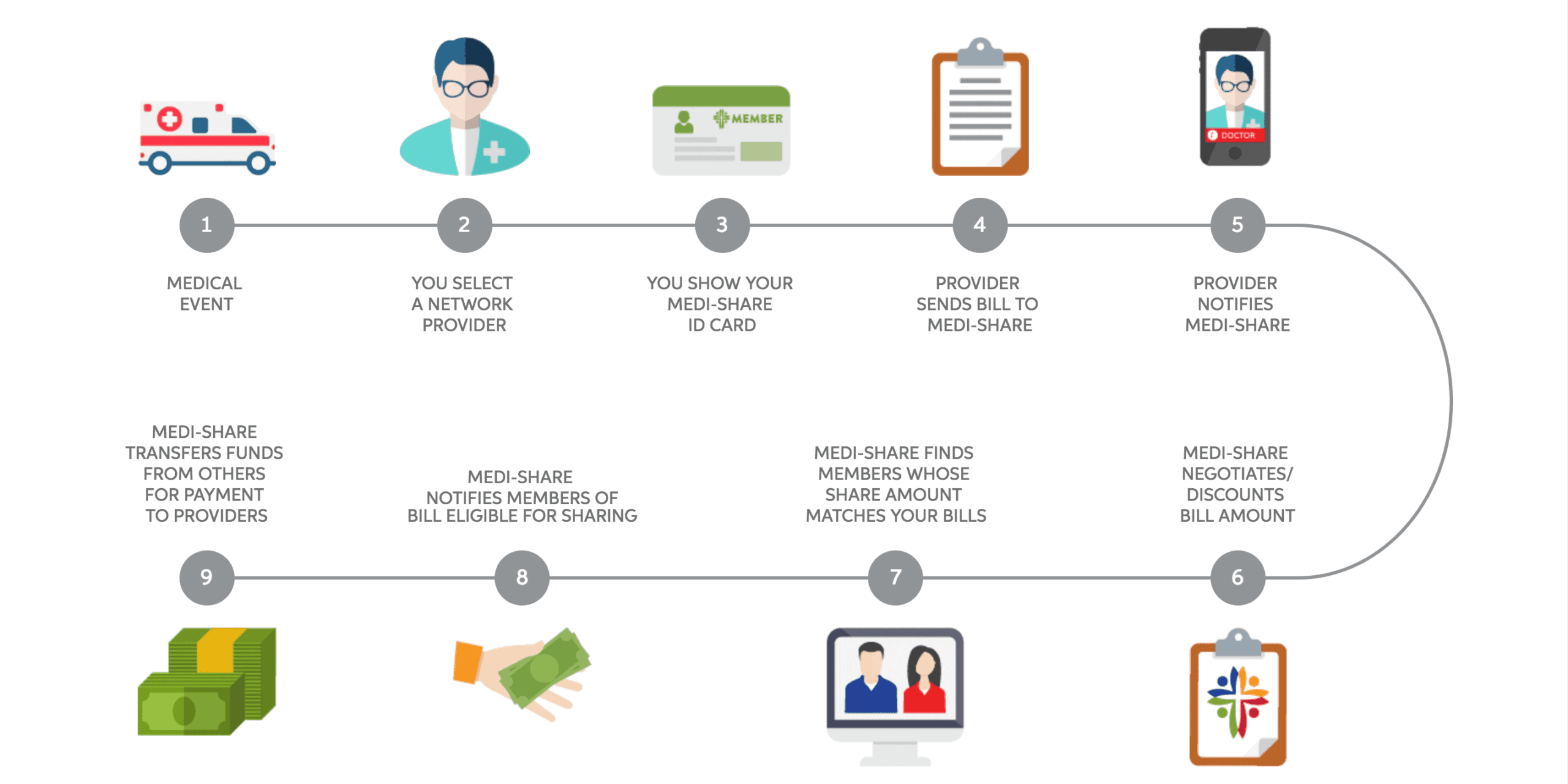 3. Is Medishare Exempt From the Affordable Care Act?
While Medishare is not insurance, members are exempt from the individual mandate requirement and federal tax penalties.
It is recommended that you complete the IRS form 8965 to claim your exemption. Of course, you should always consult your tax professional about ensuring compliance with the law.
You can also reference Medishare's certificate of exemption.
4. Who Is Eligible for Medishare?
Medishare is available to all individual and family Christian believers, both young and old, who are United States Citizens or legal aliens. They also offer a group program for churches and Christian employers.
5. Why Do I Have To Be a Christian?
Medishare is a Christian ministry deeply rooted in Biblical faith. The Ministry's mission and beliefs come directly from the Book of Acts in the Bible where the early church prayed together, broke bread together, covered each other's needs, and shared in that burden.
As a member, you're not only cared for medically, you're also cared for spiritually. From the Medi-share app, you can send prayer requests and encourage other members. At the end of every customer support call, they ask if you have anything you'd like to pray about. If you say yes, they'll pray on the spot for you and your request.
Your coverage depends on it
Because Medishare is built on a community of like-minded believers in Christ, each member must agree to live by their Statement of Faith and the following Biblical lifestyle standards.
If you plan on joining Medishare, agreeing to and following those God-honoring standards is critical for medical bills to be shared. In addition, members 18 years or older who do not follow the Christian lifestyle may have their membership canceled.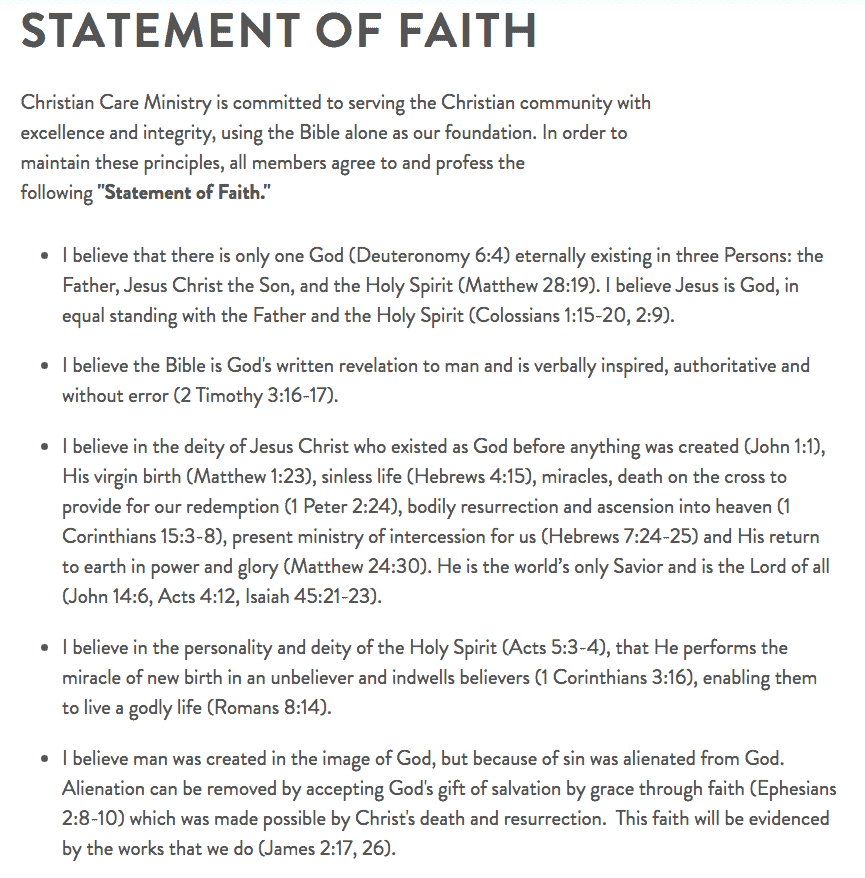 If you do not agree with the Statement of Faith and the Lifestyle statement, I wouldn't advise joining Medishare. It's best to find a health share or insurance company who will share or cover your lifestyle-based medical expenses.
6. How Much Does It Cost?
Monthly costs
The cost for Medishare depends on the number of people applying and the age of the oldest person applying. There are other cost factors that depend on the AHP amount you choose and whether or not you qualify for the health incentive.
Since Millennials were born between 1996 and 1981, I'll give you some cost examples I pulled from Medishare's calculator.
Oldest Born in 1981
Single – $119 to $351 per month
Two People – $157 to $588 per month
Three or More – $224 to $893 per month
Oldest Born in 1988
Single – $90 to $281 per month
Two People – $110 to $471 per month
Three or More – $191 to $807 per month
Oldest Born in 1996
Single – $51 to $198 per month
Two People – $54 to $351 per month
Three or More – $173 to $788 per month
Other one-time costs
Application Fee – $50 (non-refundable)
Membership Fee – $120 paid with your 1st month's share payment for new members
Account Setup Fee – $2 to set up your sharing account
If you'd like to see what it would cost for you click the button below, fill out the form and then it will redirect you to their price calculator.
7. What Is the Health Incentive? How Do I Qualify?
The health incentive encourages members to live a healthy lifestyle. If you qualify, you can save up to 20% per month. To qualify, you have to fill out an online health form and ensure your numbers fall within these ranges:
Blood pressure: ≤121/81
Abdominal circumference: less than 38″ for men and less than 35″ for women
BMI: greater than 17.5 and less than 25
8. Can My Monthly Share Amount Change?
Something to consider is that your monthly share amount is subject to change at any time. Share adjustments may be necessary if the amount of medical bills exceeds the monthly shares coming in.
When we first joined in September 2017 our monthly share amount was $470 through May 2018. Then we received a notice that our share amount was increasing to $531 the following month. We didn't expect or plan for the extra $61 monthly charge, but thanks to our budgeting skills with YNAB, we made it work.
9. What Are My Health Care Options as a Member?
Virtual care
As a Medishare member, you can set up a phone call or video chat with a board-certified doctor for your minor health concerns in just minutes. This Teledoc program is included and requires no co-pays.
This is how we primarily seek care 90% of the time.
We've called in for strep throat, rashes, sinus infections, and other small issues that we know a doctor could help us diagnose virtually without running tests in an office.
Within 30 minutes of scheduling the appointment, we can get assessed and have a prescription called into our local pharmacy if that's needed.
In office visits & emergency room
For more significant health concerns where you would need to see a doctor in their office or visit an emergency room, you can select from one of Medishare's "in-network" providers and pay a small copay. Costs are usually $35 for primary physician visits and $200 for emergency room visits.
Preventative care & well visits
Preventative care and well visits are not shared except for well-child care for children until their 6th birthday.
Well care visits aren't considered "burdens". If you can remember, the Ministry's purpose is to help Christians share in each other's medical burdens. Well visits and routine checkups are things you can plan for and budget in advance.
While those expenses aren't shared, by using an in-network physician, you'll still receive member discounts on your well-visit bill.
Pregnancy care
Pregnancy expenses are eligible for sharing if your pregnancy occurs on or after the date of your marriage.
That means if you're pregnant out of wedlock, it's not eligible to be shared. The only exception to this rule is pregnancy as a result of rape that's reported to law enforcement officials.
Again, this is why it's important to believe and live out Medishare's statement of faith. It has a direct effect on your coverage and finances.
Assuming you're married and pregnant, Medishare will allow up to $125,000 to be shared for a single pregnancy event include postpartum care and any complications.
Read pages 36 through 38 to learn about all of the details related to pregnancy coverage with Medishare.
10. Can I Use an Out of Network Provider?
It is recommended to use "in-network" providers because they have agreed to provide Medishare members with discounts. When you use a preferred provider organization (PPO), it helps save you money and the network with the monthly share amounts.
That said, you can go to an "out-of-network" provider, but you should be aware of the added financial responsibility on your part.
Here's what Medishare's guidelines say, according to Page 25 & 26:
Using non-ppo providers

Physicians and Other Professionals
If a Member uses a non-PPO professional service provider, bills eligible for sharing are limited to the usual and customary (U&C) charge for that service based on independent norms. Charges above that amount are the Member's responsibility.

Hospitals and Other Facilities
If a Member uses a non-PPO hospital or other facility, the Member has an additional responsibility of either 20% of total charges or $500 per eligible bill, whichever is lower. This additional responsibility is over and above any other MediShare program element, such as the AHP.

Non-PPO Waivers
The additional responsibility associated with out-of-network costs may be waived in cases where there was a life-threatening emergency.

Some additional responsibility may be waived when the travel distance to the nearest PPO qualified provider is more than 25 miles.

If pre-notification, as described in Section III E, is not met, the additional responsibility may not be waived. Waivers can be requested by contacting Member Services. Waivers will be given after a balance bill has been issued by the provider. The request for the waiver must be received within 90 days from the date the Explanation of Sharing (EOS) was issued or within 12 months from the date of service, whichever is greater.
11. How Are Pre-existing Conditions Handled?
If you have a history of illness, you need to research how Medishare will share in your expenses related to your "pre-existing condition".
The good news is that membership is not denied due to pre-existing conditions, however, the program limits bills that are shared as a result of those pre-existing conditions.
Here's a quick summary of their guideline (pg 29):
Medishare will share up to $100,000 per year if your medical records prove that you've gone 36 months without signs, symptoms, treatment or medication or if a member has been sharing faithfully for over 36 months.
Members will share up to $500,000 per year if your medical records prove that you've gone 60 months without signs, symptoms, treatment or medication or if a member has been sharing faithfully for over 60 months.
If you have high blood pressure or cholesterol that's controlled with medication or lifestyle will not be considered pre-existing for future vascular events.
If you do have an ongoing medical condition, Medishare may not be the best solution financially, but every situation is unique. You can elect to receive a preliminary determination to understand whether or not a proposed treatment is eligible for sharing.
12. Can You Tell Me About Filling Prescriptions?
With your Medishare membership, you'll get a discount card to hand to the pharmacist when you go. By using this card you can save anywhere from 10% to 85% across more than 60,000 pharmacies.
Holy anxiety
When I went to get a prescription filled the first time, my anxiety soared.
We needed a prescription filled before we got our cards in the mail. So at the pharmacy, with a line of customers behind me, I had to fumble through emails on my phone to get Medishare's customer support information.
The pharmacist told me they'd never seen the Medishare card that I pulled up digitally and I needed to call for customer support since I was the member. Somehow I called the after hours hotline designated for pharmacists only. They couldn't help me, so the pharmacist had to call instead.
I was hot with embarrassment as the line grew longer. I felt an overwhelming sense of anxiety and tears well up in my eyes. I just wanted to get the medicine my daughter needed to feel better.
That day I actually walked away without the prescription in hand. I went home and told my husband Medishare may not be the right thing for us.
But, we stuck with it and have learned that the issue was really with the pharmacy, not with our healthshare. We've since become familiar with the local pharmacies who are pleasant to work with and seamlessly work with Medishare.
Now, we encourage Members to call around and make sure the pharmacy is familiar with the Medishare discount card before sending the prescription.
Prescription price comparisons
Another feature I didn't find out about until later is Medishare's price comparison tool. You can go to myrxprice.com and enter the drug name, your zip code and the recommended dose to find a list of prices. It will show you the best price available within a 5 or 10-mile radius.
Alternatively, you cansearch goodrx.com to see if there are better discounts outside of the Medishare network. Here's how GoodRX works:
Some other free discount cards sell your personal and prescription information to third parties, but fortunately, both discount options I just shared with you do not sell your medical data.
13. What Are Other Benefits Included With Medishare?
Adoptions – If your family decides to adopt a child, up to two adoption events are eligible to be shared. You could receive between $1,100 to $4,100 per adoption depending on your AHP and you do not have to meet your AHP to share in adoption expenses.
Funerals – If a family member dies, Medishare will share in the burden of up to $5,000 of the funeral expenses.
Dental, Vision, Lasik, and Hearing – Members can access up to a 60% discount on dental, vision Lasik, and hearing.
Benefits not included but available:
Disability Sharing – Medishare members can also participate in Manna Disability Sharing.
This is a separate sharing program you can join. If you are looking for "paycheck insurance", so-to-speak, Manna can help share in your burden if you experience a disabling event.
The cost per month ranges from $24 to $94 per month.
14. Is Medishare Right for Me?
That is for you to decide.
You should carefully consider your faith, your lifestyle, your family, your medical history and finances, among other things, before deciding to join Medishare.
Medishare May not be a good solution if…
You don't believe in the gospel of Jesus Christ
You can't commit to living a Biblical-based lifestyle (no sex outside of marriage, no tobacco, no illegal drugs, and no abuse of legal substances)
You have one or more pre-existing conditions that require ongoing medical treatment. (Those bills may not be shared)
If you have a medical issue that requires expensive prescriptions.
Here's why medishare makes sense for our family:
My husband and I believe in the gospel of Jesus Christ
Medishare provided substantial savings.
Our family members are healthy without pre-existing conditions.
15. How Can I Join Medishare?
If you're interested in learning more about Medishare for yourself or your family, visit this link & fill out the form to request information.
After you submit the form, you'll be able to use their pricing calculator and view rates for you and your family.
If you decide the price is right, among all of the other factors we previously discussed, apply to become a member after you get your pricing information.
Final Thoughts on Medishare
My husband, Bobby, and I have been members since September 2017. Aside from our first pharmacy experience, which technically wasn't Medishare's fault, we've had a very smooth experience.
During the signup process, I remember feeling a bit confronted by the statement of faith and lifestyle guidelines even as a Christian.
While I do my best to live according to God's word, I still fall short. We all do. Romans 3:23 says "for all have sinned and fall short of the Glory of God."
I remember thinking, where is the grace for our brothers and sisters in Christ when we stumble?
But Medishare's rules are in place to encourage members to live like Christ. It's not that Medishare isn't graceful, but rather, we have to face the reality and the consequences of our sin. In some cases that means medical bills aren't eligible for sharing. Without these rules, the program wouldn't be able to maintain low costs.
If you share the same concerns, I encourage you to pray about it. Maybe the reason I felt confronted was that the Holy Spirit was convicting me. My hope is that the Lord would speak to you about making the right decision for yourself and your family.
Again, if you would like to request more information, you can do that here.
I would love to hear other Medishare reviews from other members – so if you have had experience with Medi-Share, please share about it in the comments.