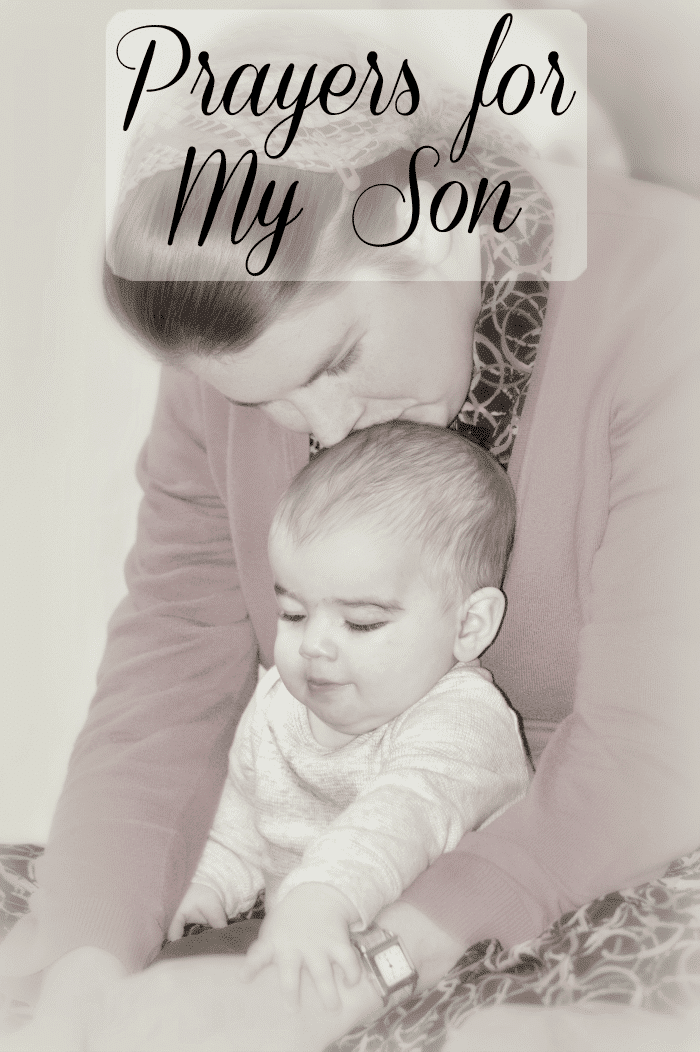 I think every parent feels this way, the overwhelm of realizing that you are raising a child in a far different world than the one you grew up in. I find myself crying out to God daily, inundating him with my prayers for my son.
I feel these prayers are important. That they keep me at the feet of God, that the tempter may know who protects my son, and that my son may know the source of mine (and his) strength.
My Prayers for My Son:
I pray that God will place a hedge of protection around my son. That the Lord will stand guard over his soul and protect him from the wiles of the devil. (Eph 6:11)
I pray that God will use my words and actions to teach and train my son to follow God. (Pro 1:8)
I pray that God will be very real to my son as he is growing up, that from an early age he will learn to recognize the voice of God and to listen. (1Sam 3:10)
I pray that God will gift my son with discernment that he will not be deceived by the watered down, feel-good gospel the world teaches. (1John 4:1)
I pray that God will help Jason and I to build a strong fountain for our son's faith that he may stand on it as a man to proclaim the word of God. (1Cor 2:5)
I pray that God will light a flame in my son's heart that he may be on fire for the Lord. (Acts 6:8)
I pray that God will use him mightily even in the small things. (1Cor 1:27)
I don't pray that my son will be the next Billy Graham; but I do pray that my son will be a God fearing young man, who becomes a strong leader of a Godly home, who raises up another generation for the glory of God. (Psalms 145:4)
I pray that he will lay aside every weight, and the sin which doth so easily beset us, that he will run with patience the race that is set before him. (Heb 12:1)

Most of all, I pray that my son will see his overwhelming need for a savior, that he will daily cry out to God, the source of his strength and power. (1Sam 22:33)
If you wish to join me in praying for your son, feel free to download the list of prayers. Just click, it will open in a new window, right-click and select "save".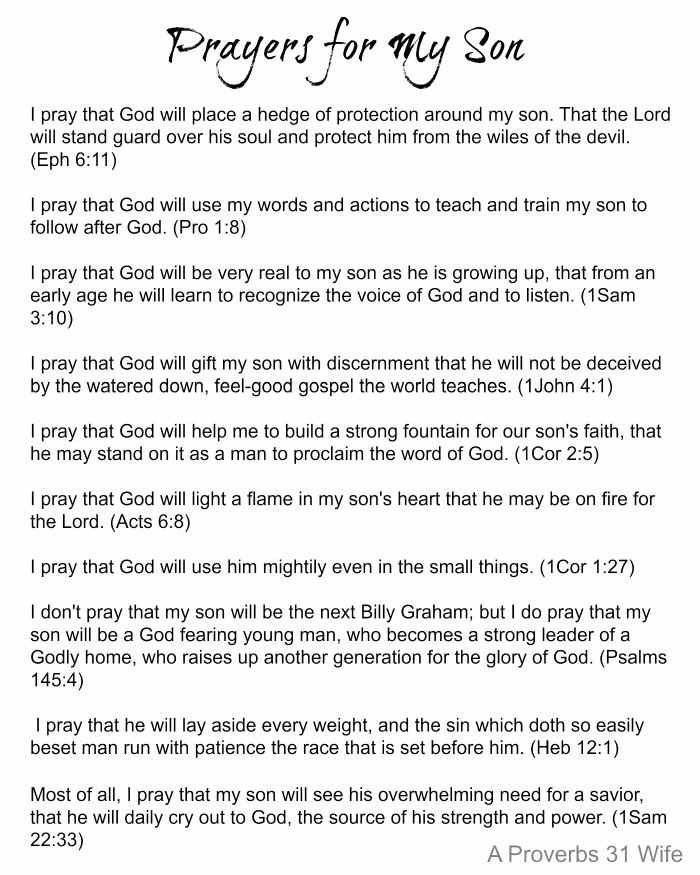 Tweet this: @aproverbs31wife is sharing her heart, and her prayers for her son.
Did I miss anything? What prayers would you add to this list?