Old Photos, Letters, Kid's Papers and More ~Organizing 101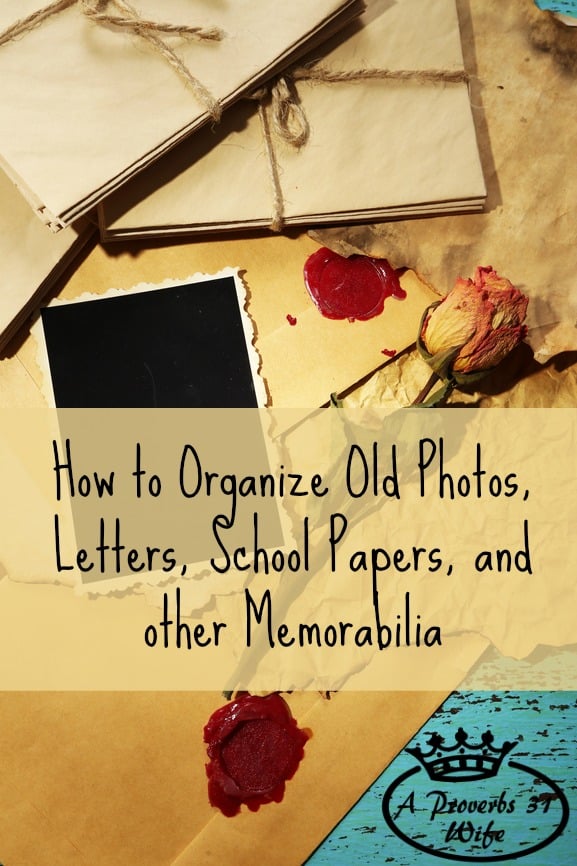 If you read Monday's post, you will know that we are on a bit of an organizing, spring cleaning kick around here. You could call it spring fever, in my case maybe it's called nesting. But no matter what you call it, it's happening.
Disclaimer: The post "Old Photos, Letters, Kid's Papers and more" contains affiliate links that help support this site. Thanks!
What to do with Old Photos, Letters, Kid's Papers and Other Stuff:
Do you have a drawer full of old photos? How about letters and cards from loved ones? Maybe your kid's artwork and papers from school seem to be taking over your kitchen counter. What about souvenirs? Trinkets belonging to deceased family members? Awards? Ribbons?  What do you do with it all????
One thought is to box it all up and add to the pile of fire hazards in your garage or attic. Another thought is to just throw it all away. (But we know you will regret it later)
I have a box of things that I saved from our dating days, and from our wedding. There are a couple of drawers in the office filled with random photos, tickets and pamphlets from places we have visited, even old airline tickets. They take up space and really don't seem to have any value, but I don't hardly want to throw them away.
I purchased an Organized E-book bundle and The title: 10 Steps to Organized Photos & Memorabilia totally caught my eye. Um yes, I have both and they are NOT organized well. Not to mention I love anything that can be spelled out in easy steps!!!
Easily turned into a 10 step system, here are some of the ideas you will find in this e-book.
A letter box
Shadow boxes
Using 3-ring binders
Taking photos of children's artwork
Photo gifts
Heritage album
Photo displays
What are some things that I took away from the book and plan on doing?
I love the heritage album idea. Old photos, mean nothing without stories, and if I'm the only one that knows the stories, what is the point in keeping the photos?
Photo displays, I want to do more of them. They don't have to be fancy like my gallery wall, in fact some of the simpler ideas really appealed to me as well.
Photos of children's artwork. Brilliant, just brilliant. I can hardly bring myself to toss the artwork that kids I watch give me, what am I going to do when my own children start giving me stuff?
I think this post has given you an idea of what to do with old photos, letters, kid's papers and all that stuff. I know it's pretty brief, but hey, I cannot possibly fit into one post all that I learned from this 64 page e-book.
So go grab your copy of  10 Steps to Organized, and tackle those paper piles!