Pillar Candles ~Turn Boring into Fun!
A while back I picked up some white pillar candles for really cheap. I had thought I would use them to make some decorated candles; and after being chosen for a PlaidCraft campaign using Folk Art Multi Surface Paint and Handmade Charlotte Stencils, I came up with a fun idea!
If you want to see what came in the box of goodies that I used for this craft, you can watch this video. But please be nice, it was my first time trying a video like that, and it's a bit rough. I also look and sound a bit dorky. (if you know of any good video editing software I can use online for free, please let me know!)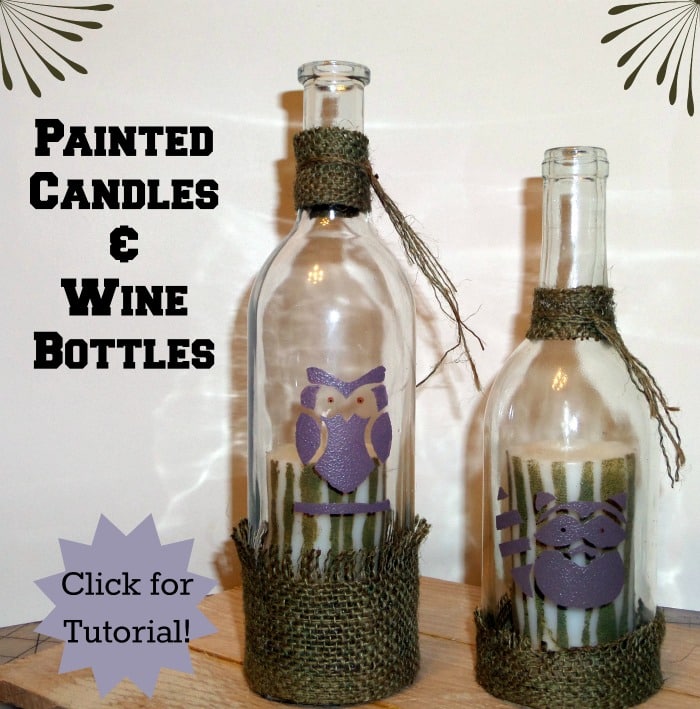 Painted Pillar Candles and Wine Bottles.
What you will need for this whimsey craft:
Pillar candles
Wine bottles
FolkArt Multisurface paint
Charlotte handmade Stencils
Hot glue
Burlap
I started with my wine bottles.  If you do a search on YouTube on how to cut wine bottles you will find that it's very easy to do. It would be a great science project for kids to help with as well.
 The set of stencils that I was sent to try, had a fall and camping theme to them. At first I was going to put leaves on my wine bottles, but the little raccoon and the owl were so cute I used them instead.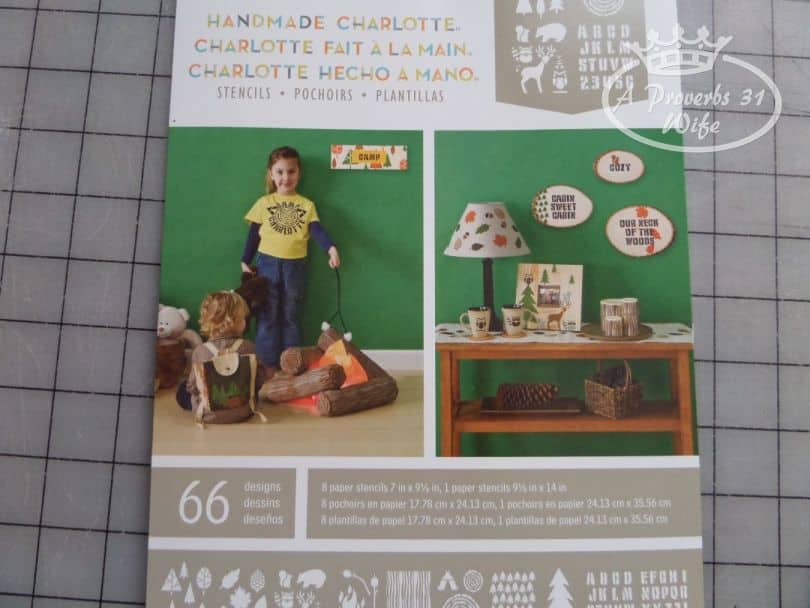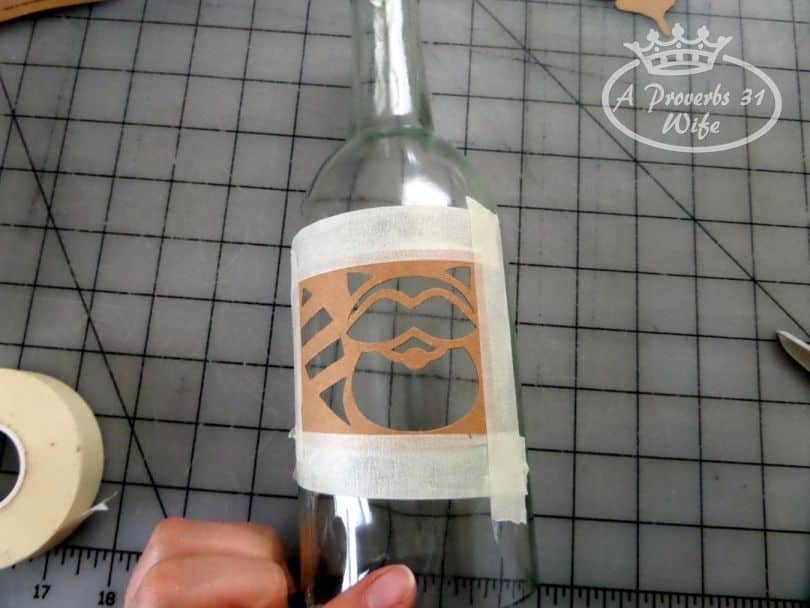 Tips for using cardboard stencils. Use masking tape and put your stencil firmly in place. Use your paint sparingly, and sponge pouncers work better than brushes. Paint quickly and remove your stencil just as soon as you are done painting.  Cardboard stencils cannot be washed, so you will want to lightly wipe over them with a wet wipe to clean.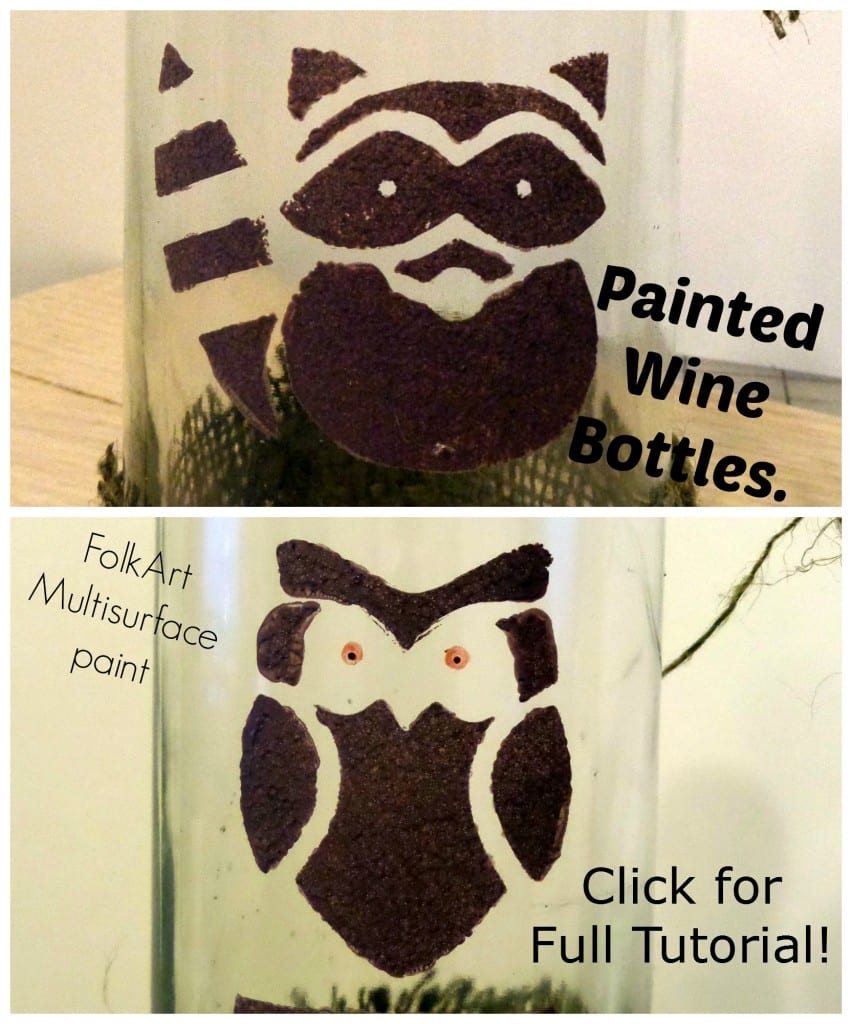 The colors of FolkArt paint that I was sent were really pretty, but I had to mix a lot to get the colors I needed.  Since you can buy both FolkArt paint and Charlotte handmade stencils at Micheal's,  I suggest you make it easy on yourself and make sure you get the exact colors you need. 🙂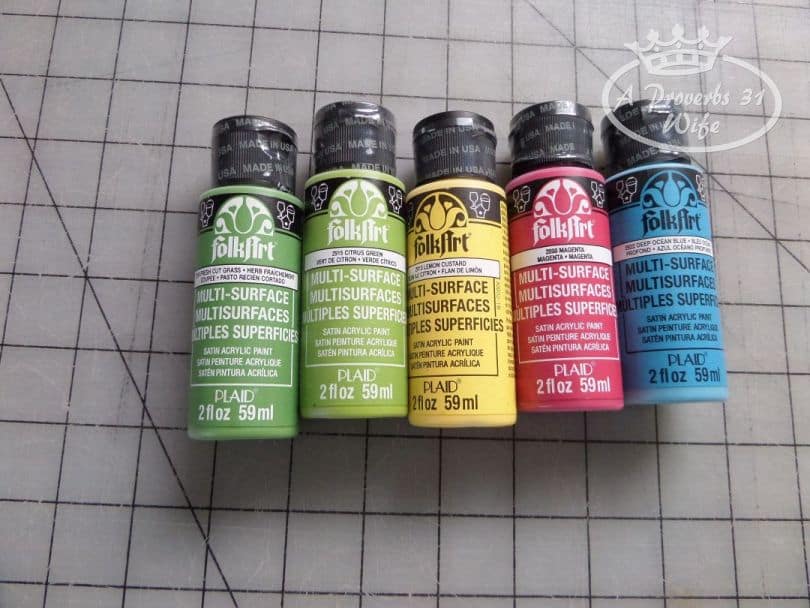 The paint went onto the wine bottles very nicely. Next, it was time to paint the pillar candles. Using the same method I used to paint the bottles, I used a stencil that looked a bit like a log, and painted them with a dark green color.
Next I cut two wide strips of burlap, pulled the top 4 strings out, giving it a fringed look, and hot glued a strip around the bottoms of my wine bottles. 2 more much thinner strips of burlap went around the necks of the bottles and were also hot glued. The strings that I pulled from the bottom strips were used to also tie around the necks.
Finally, once everything was glued, I set my bottles over the pillar candles and voila! A whimsey bit of decor that I stuck with my fall stuff. 🙂
You can follow PlaidCrafts on Facebook, Twitter, & Pinterest.
Disclaimer: I was sent these crafting supplies with the understanding that I would create a project to share with you my readers, and will also receive some form of monetary compensation for my work.