Proper Use and Care of Ceramic Knives ~ Dalstrong Review
Disclaimer: this post – Proper Use and Care of Ceramic Knives is sponsored by Dalstrong and I was sent the product in exchange for a fair and honest review. All thoughts are mine alone.
If you spend any amount of time in your kitchen, it is likely you will agree with me when I say a good knife makes everything just a little bit easier.
I've used steel knives my entire life, mostly cheep things that are always needing sharpened; but Jason did buy me a very nice chef's knife for my birthday a few years ago. It stands to reason then, that I knew very little about ceramic knives.
Dalstrong graciously sent me their 8″ infinity blade ceramic knife to review and since I knew very little about them, I started researching the proper use and care of ceramic knives. It is important to me that I use my knives properly and take good care of them so they last.
Proper Use and Care of Ceramic Knives:
Hard surfaces like glass, tile, and granite, are all hard on the blade; stick to wood or plastic cutting boards.
Never place ceramic (or steel) knives in the dishwasher. The blades will vibrate against stuff and quickly dull.
Never drop into your sink as it can cause damage to the blade.
Hand-wash and wipe dry before placing knife inside its sheath for storage.
Never toss into a drawer for storage without a sheath.
A wooden or bamboo block is also acceptable for storing knives.
Never try cutting through bones, nuts or frozen fruits.
Never use steel or a stone to sharpen ceramic. Use only diamond dust sharpeners intended for ceramic.
My take-away? The proper use and care of ceramic knives is nearly the same as steel knives.
So why do I now prefer my Dalstrong ceramic knife over the steel?
Unlike steel, ceramic does not rust.
Made from Zirconium oxide, the blade reaches near diamond hardness and holds a sharp edge up to 15x longer than steel!
The blade is boasted to be 2x sharper than steel.
Germ resistant, nonporous blackened ceramic blade, with a stunning mirror finish.
A soft, perfectly formed handle, with the light-weight ceramic blade makes cutting very easy on the hand and wrist.
I know I was being sent a knife to try and review, but quite frankly I was blown away from the moment I opened the package.
Clearly, this is gift material right here: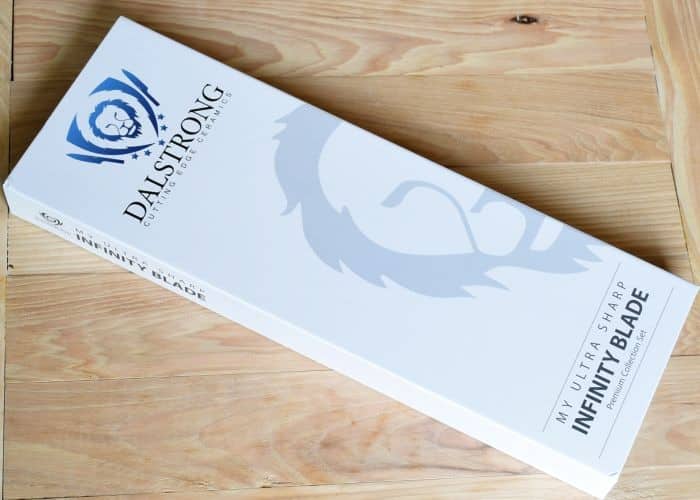 The first thing I saw was a very nice, sturdy box, clearly marked as a Dalstrong knife. When I opened the box? Wow!
The set contains the 8″ infinity blade, ceramic knife, case, diamond dust sharpener, the knife rest to maintain best angle and edge for sharpening, and a microfiber cloth for wiping down the blade.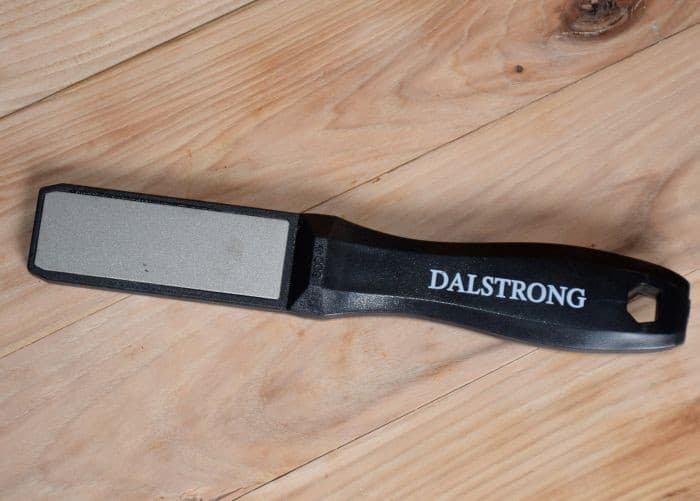 The diamond dust sharpener is dual sided: #600 for repair of minor nicks, and regular sharpening. And #1000 for honing that edge to precision quality.
This is a stunning knife that any cook – professional, or hobbiest – would be thrilled to have in their kitchen. I definitely am. In fact, would you believe it spends more time on my drying towel than in the drawer? I use it nearly every night while making dinner.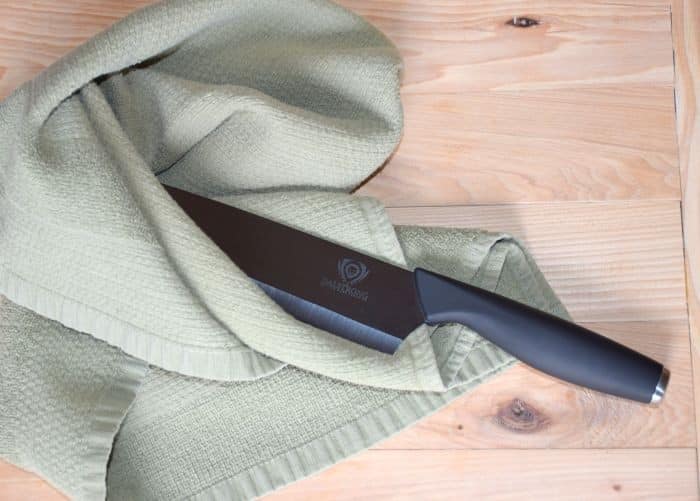 As already mentioned; I never place my knives in the dishwasher. A simple rinse and wipe with a towel is what it needs.
The Dalstrong ceramic, 8″ infinity blade is currently available for purchase on Amazon only.
For some chopping fun, check out my video below. 🙂