Recipe for Creamy Alfredo sauce with Chicken
I know I've mentioned my love for Italian meals here before. I'm pretty sure the cheese is more than half the reason we all love it though! Today I want to (re)share my recipe for Creamy Alfredo Sauce with Chicken.
This is a recipe I shared way back in 2012. One of the first recipes I ever shared here come to think of it. Anyway, as all good recipes do, this one has changed a bit over the years and I wanted to update it. As well, the original photography, was pretty poor…
How about it? Do you enjoy Italian? My recipe for creamy Alfredo sauce is below!
We fix mostly gluten free meals due to Kolton being allergic and the fact that we aren't introducing gluten to Malachi until he's at least 18 months. This meant no pasta and basically no Italian meals for awhile.
Fortunately we discovered a brand of gluten free pasta we all like at Aldi and we are back to enjoying our favorite Italian cuisine!
There is no cooking needed for making this sauce. Mix butter, parmesan cheese, and whipping cream together and add in fresh basil or basil pesto when fresh isn't available. Add a little garlic, salt and pepper and you are good to go.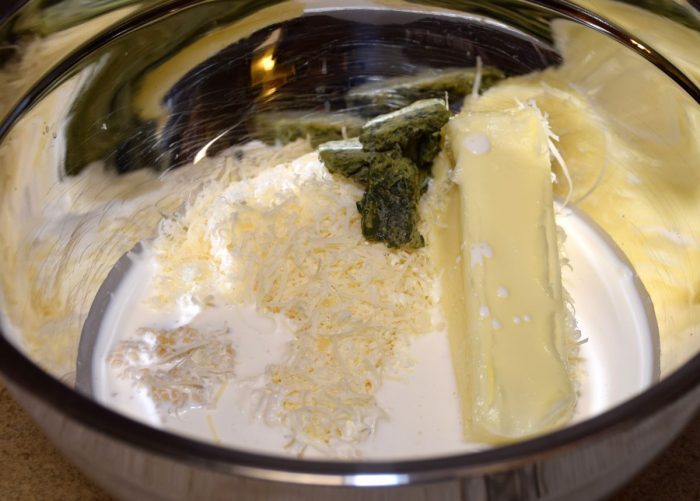 The butter should be softened to room temp for best results while the whipping cream should still be cold. Mix all ingredients together until it becomes stiff and almost crumbly.
Keep this sauce cold until ready to use. I typically have the hot pasta and meat together and then mix in the sauce. The hot meat and pasta will melt the sauce and be ready to eat right away!
We love a peppery chicken Alfredo. To make peppery chicken, dice 2 chicken breasts into cubes. Sprinkle salt and pepper over the bottom of a plate, lay the diced chicken over top and sprinkle more salt, pepper and if desired, granulated garlic over the top.
Let sit for 10-20 minutes then cook in oil over medium high heat until until a pretty brown.

Recipe for Creamy Alfredo Sauce with Chicken
Recipe for Creamy Alfredo sauce with Chicken
This quick and easy creamy alfredo sauce is sure to become a family favorite!
Author:
Kendra ~A Proverbs 31 Wife
Ingredients
1 stick of butter softened
1 cup of whipping cream
1.5 cups grated Parmesan cheese (I use a mix of hard Italian cheeses)
1 tablespoon minced garlic (optional)
¼ tsp salt
⅛ tsp pepper
1 Tablespoon minced fresh basil (or 2 tablespoons basil pesto)
1 lb. pasta
2 chicken breasts - diced
Salt, pepper, garlic - as desired
2 tablespoons olive oil
Instructions
Sprinkle desired amounts of salt and pepper on the bottom of a dinner plate. Lay diced chicken over top. Sprinkle with additional salt and pepper, and garlic if desired.
Sit meat in fridge for 10-20 minutes.
Mix butter, cream, cheese, basil, garlic, salt and pepper together until mixture is dry and crumbly looking - this is your alfredo sauce.
Set alfredo sauce aside.
Cook pasta according to package directions.
Heat oil in a skillet on med/hi and cook chicken pieces until browned.
Drain pasta, add in meat and sauce and stir.
Serve immediately.
This recipe for creamy Alfredo sauce does not make a good leftover meal. When you go to reheat it, the butter melts and gives it a very greasy texture.
If you know you will not be able to eat it all in one meal, only mix up what you can eat at one time. Refrigerate the sauce separate from the pasta and meat and only heat the pasta and meat for the next meal.