Removing Yeast from Cloth Diapers and my Disposable Choice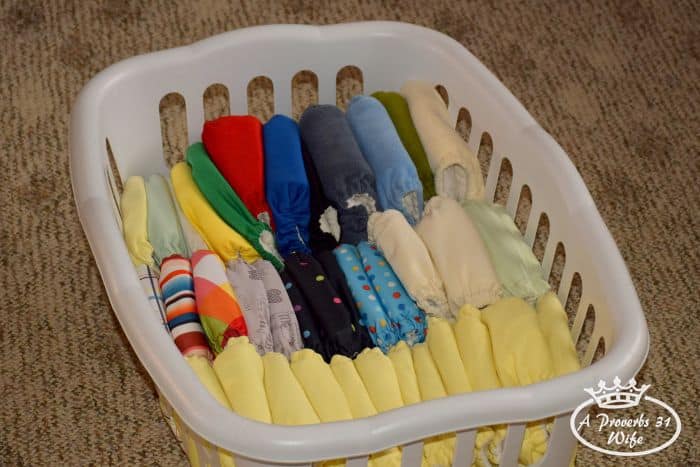 This is a sponsored post written by me on behalf of Huggies®. All opinions are 100% mine.
When baby has a diaper rash that lasts for days, or even weeks, it's a sign that something not good is going on. Such was the case with Kolton. A little research revealed that he probably had yeast.
The thing with yeast is if you cloth diaper, then not only does your baby have yeast, but your diapers do as well. Not only did I need to cure my son's yeast issues, removing yeast from cloth diapers was also a must.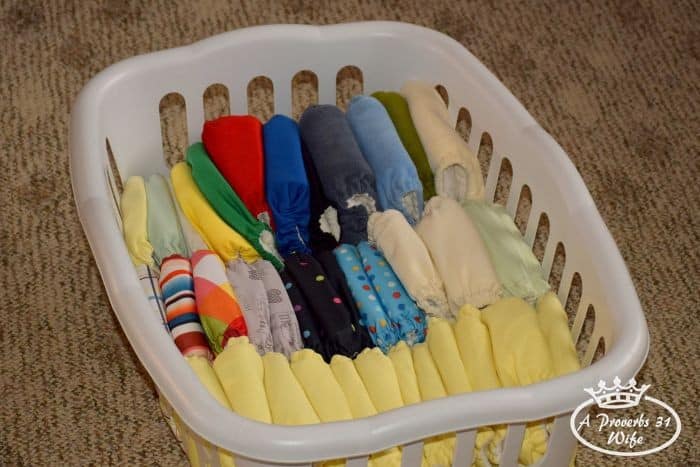 Removing Yeast From Cloth Diapers
I did a quick search on removing yeast from cloth diapers and a hundred different posts popped up, all recommending something a little different. Everything from the totally crunchy way to strip yeast from cloth, to the hard-core proven ways.
While I'm on the crunchy side of the line, I went with the hard-core way. I wanted that yeast out and gone for good!
I started by putting my son in Huggies® Snug and Dry Ultra Diapers (more on that in a bit). Disposables are honestly the best option at this point because most yeast creams are not cloth diaper safe and you run the risk of passing the yeast back and forth between the baby and diaper again.
Then I gathered every single thing from my cloth diaper stash included including my cloth wipes, to be washed. The dirties were washed first, then everything got sanitized and stripped (in multiple loads of course).
The sanitizing is done by washing with chlorine bleach.
I have a front loader machine with a bleach slot. Diapers were washed in the hottest water possible with 1/3 cup of bleach in the bleach slot. If you don't have a slot for bleach, be sure to mix the bleach with water before adding it to your diapers.
Some say oxygen bleach is good enough, but others said it had to be chlorine.
Other recommendations were to add grapefruit seed oil and tea tree oil. Yet again, the sides were divided; one said they were necessary to remove the spores, the other side said oils caused repelling and you would need to use at least 2 cups of the oil for it to have any affect.
I decided against either of the oils and used only chlorine bleach in a hot wash.
This was followed by another hot wash to rinse all the remaining bleach out. Finally, I hung them in the sun for an entire day. (And night because I forgot about them! oops!)
I did go the natural route with curing Kolton's yeast rash. A good probiotic, and the silver shield cream from Nature's Sunshine products were enough to kick the rash. We also used this coconut oil and eo blend at night. Without the diapers constantly reinfecting him, the rash cleared up really quick.
Now I'm just waiting a full 2 weeks before going back to cloth. This way I can be sure all the yeast is gone. And I have a whole stash of stripped and sunned diapers waiting to be used again.
Now, back to why I chose the Huggies® Snug and Dry Ultra Diapers.
Fellow cloth diapering mommies understand how it's hard to go from cloth to disposables. We get used to the cloth diaper's nice snug fit, and the ability to really absorb moisture.
Kolton is a heavy wetter, so I really stuff his pocket diapers, and and use large inserts for the all-in-2's. When I first put him in disposables, he would easily wet out overnight. That's not fun at all so I looked for a different brand.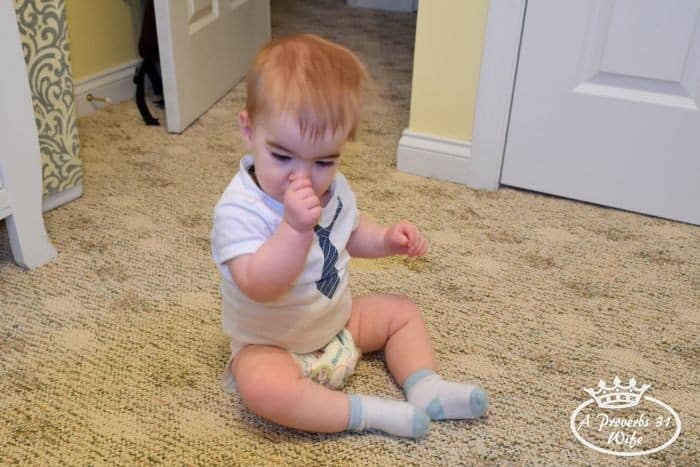 The Huggies® Snug and Dry Ultra Diapers haven't leaked yet. They are nice and soggy in the mornings, but his sleepers are dry and so is his bed.
Huggies® Snug and Dry Ultra Diapers claim this is due to the "Trusted Leak Lock System with quick-absorbing layers for up to 12 hours of protection and the Unique quilted liner that locks away wetness better"
These diapers also stay on very well.
I had tried another popular brand from Walmart and when I would let him scoot around with just a diaper on, the diaper did some really weird stuff. The front would roll way down and the entire diaper threatened to come off.
The Huggies® Snug and Dry Ultra Diapers do much better. I have noticed the front still rolls down, but the diaper stays in place, nicely living up the "snug" part of it's name.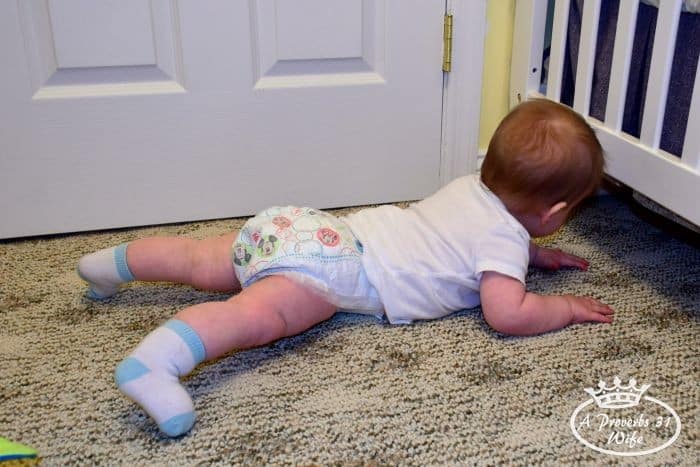 The Huggies® Snug & Dry Ultra Diapers come in an adorable Mickey Mouse design. The toddler that I nanny, found these diapers in my bag and was super excited, he wanted to wear them. 😉
Available exclusively at Walmart the Huggies® Snug & Dry Ultra Diapers are a good value for your money. At .21 per diaper, they are only .03 more than the other brand that I previously tried and didn't care for. Sounds good to me!
Available in sizes 1-6 and found online: Huggies® Snug & Dry Ultra Diapers at Walmart.com
What do you think? Would you choose this brand if you couldn't/didn't cloth diaper?