Roasted Butternut Chicken Recipe – One Dish Dinner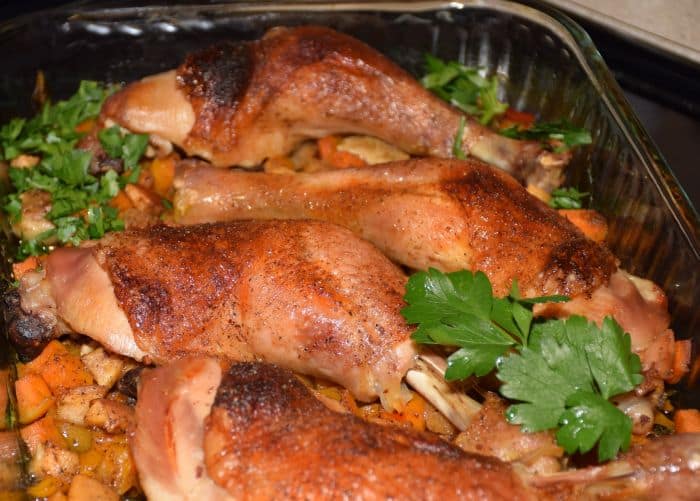 I should've taken a photo. This plant randomly popped up in our garden last spring and we let it grow… into a butternut squash that took over a good 1/3 of the garden and produced dozens of squash. So let's just say my roasted butternut chicken recipe is a result of a bumper crop of squash!
Even after giving tons of squash away, I still have a lot left in the garage and was trying to figure out how to use it. We don't really care for the typical soup, and only the boys and I like it roasted plain and buttered.
So I did what I normally do and found several recipes that looked kinda good, decided that chicken would be the meat part of our meal and started putting ingredients together. I tried taking a photo of all the ingredients, but since my recipe evolved as I went, a few things are still missing.
Roasted Butternut Chicken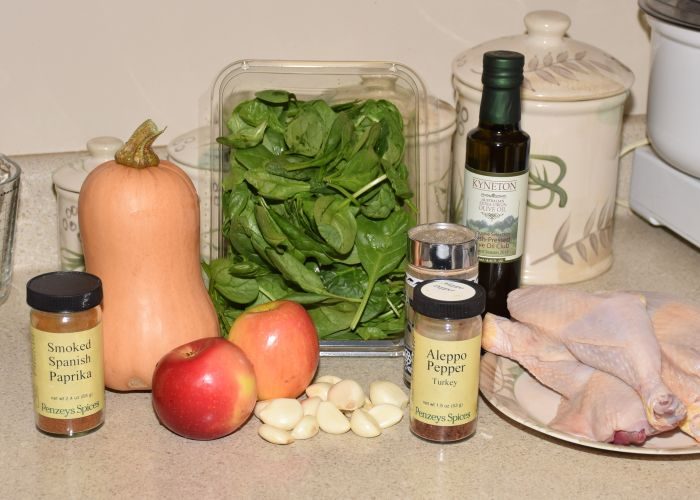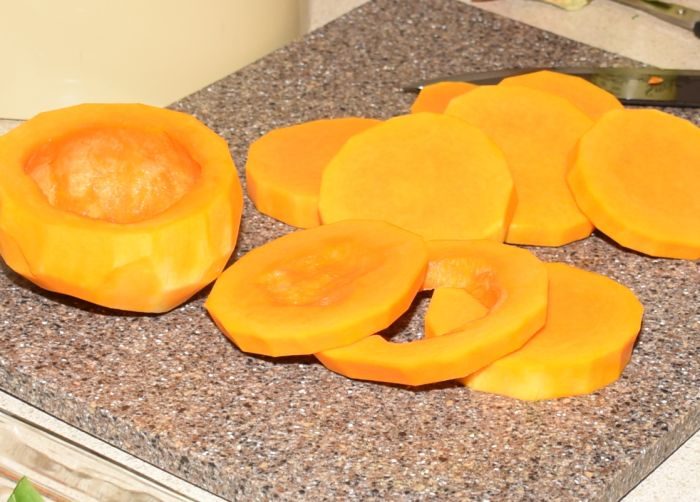 Butternut squash can be intimidating to cut. I suggest peeling it first, cutting off the ends, and then begin slicing it. Once you reach the seeded end, scoop out the seeds and continue slicing.
This roasted butternut chicken recipe is a one dish meal but it still dirtied up two dishes. While I wanted the veggie flavor to cook up into the chicken, I simply couldn't imagine all the chicken grease in my veggies.
I compromised and baked both dishes alone for 45 minutes, enough time for the chicken grease to cook mostly out. Then transferred the chicken to the veggies to finish baking. Very tasty!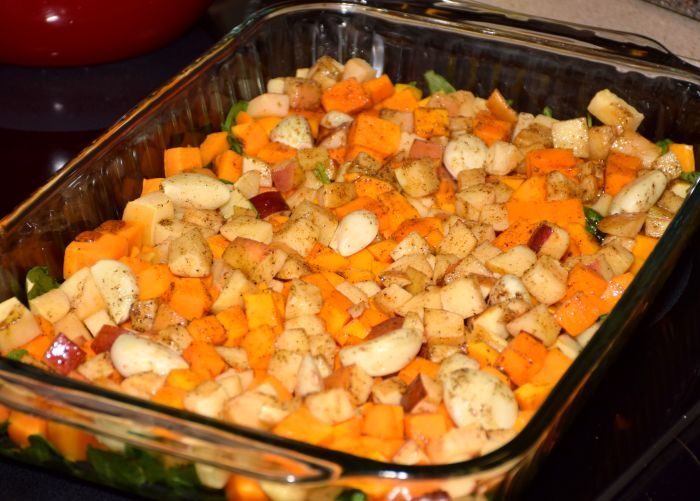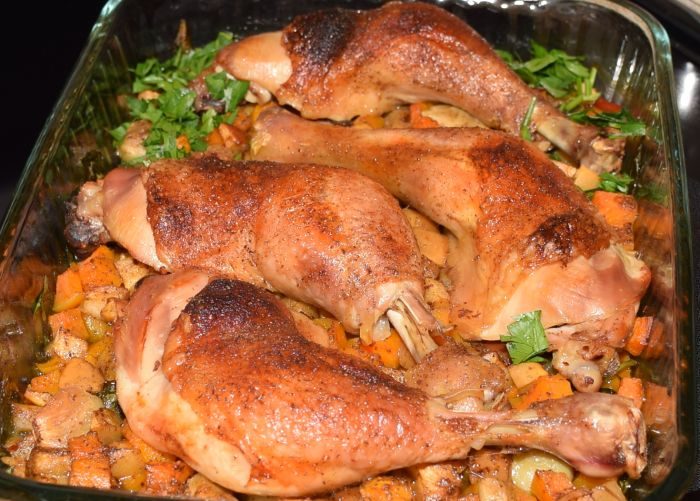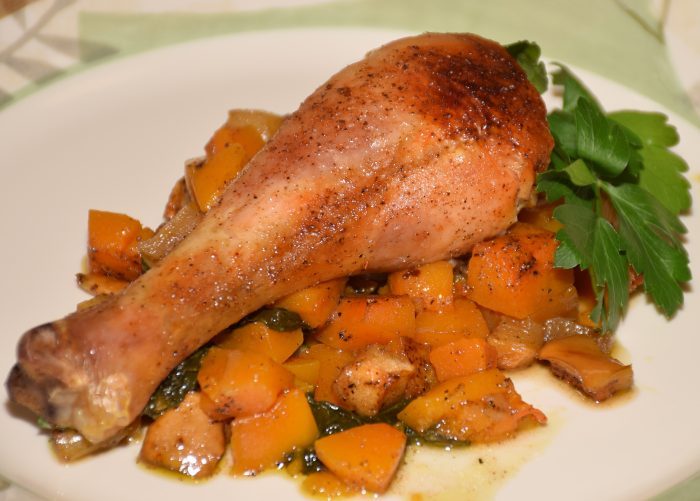 Roasted Butternut Chicken Recipe - One Dish Dinner
The perfect fall dinner, this roasted butternut squash chicken recipe will quickly become your new fall fave!
Author:
Kendra ~A Proverbs 31 Wife
Ingredients
4 chicken leg and thighs or 8 chicken thighs
1 butternut squash - peeled and cubed
2 apples, cored and cubed
6-12 garlic cloves (based on personal taste)
5 ounces of baby spinach and kale mix
3 tablespoons olive oil
3 tablespoons maple syrup
1 teaspoon salt
½ teaspoon black pepper
½ teaspoon paprika
¼ teaspoon each of ground thyme, ground rosemary and rubbed sage
Aleppo pepper flakes (optional)
Parsley for garnish (optional)
Instructions
Preheat oven to 350
Coarsely cut greens into the bottom of a 9x13 baking dish
Layer chopped butternut and apples over the greens
Sprinkle in whole garlic cloves (you will remove these before serving)
Mix oil, maple syrup and spices together
Place pieces of chicken in a separate baking dish and brush with the oil, spice mixture
Spoon remaining oil mix over the veggies and place both pans in the oven.
Bake at for 45 minutes, then remove chicken pieces from their pan and transfer to the top of the veggies.
Bake for another 30 minutes at 375
Sprinkle with pepper flakes and garnish with parsley if desired
Remove and toss out garlic cloves before serving.