Save Money at Christmas by Getting Creative with Your Gift Wrap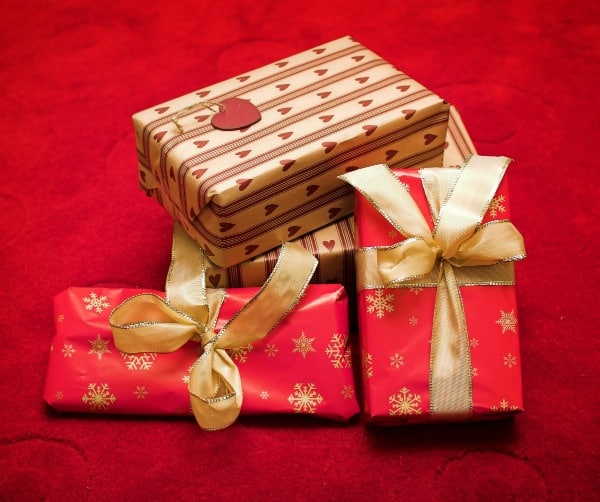 Okay, all those pretty gifts, you know, the ones that are perfectly wrapped and sporting beautiful bows? Yeah those gifts, well, they sure aren't the gifts I wrapped!
So maybe I'm a bit tired or maybe it's laziness due to the little one zapping away all of my energy, but my gifts look anything but picture perfect this year. However, they do have a certain charm all of their own.
After all, how many times does a person receive their gift wrapped in a brown paper lunch bag with pretty ribbon tied through punched holes at the top? And how fun will it be to open your gift and discover that news from a year ago is used instead of tissue paper to keep your gift from rattling around? I'm sure that we will all be reading old news on Christmas morning after we unwrap gifts!
I've decided to go with it though. This year I am going to save money at Christmas by getting gift wrap creative!
Now, I do have a few rolls that I bought last year on the day after Christmas, so I do have paper. I also have odds and ends for ribbons from clearanced items from last year as well as salvaged ribbons from gifts that we have received.
We don't have gift bags and since I needed several of the smaller sizes, I just used lunch bags and they turned out pretty cute.
Other fun wrapping ideas:
Turn paper grocery bags inside out and use as wrapping paper. Use markers to draw trees, snowmen or anything else like that on it.
Use Christmas colored yarn for ribbons.
Pine cones and sprigs of greenery make pretty toppers as well.
Put out your old Christmas cards and cut them up to make pretty name tags, or just write on the bottom of the package.
My aunt did something really cute with old wallpaper from a thrift shop and red twine.
Really small gifts can be wrapped in a square of tissue paper and tied with a ribbon.
You can easily save money at Christmas and still give nicely wrapped packages, even if they are a little different. 🙂
And of course, my best tip: It is truly worth your time and money to go shopping after Christmas. 75% off gift wrap stuff really cannot be beat. I usually buy 2-3 rolls and plenty of tissue paper. I bought quite a bit last year, but ran out, which is why I'm using old news paper. 🙂