36 Simple Chores for 2 and 3 Year Olds
36 Simple Chores for 2 and 3 year olds to do around the house.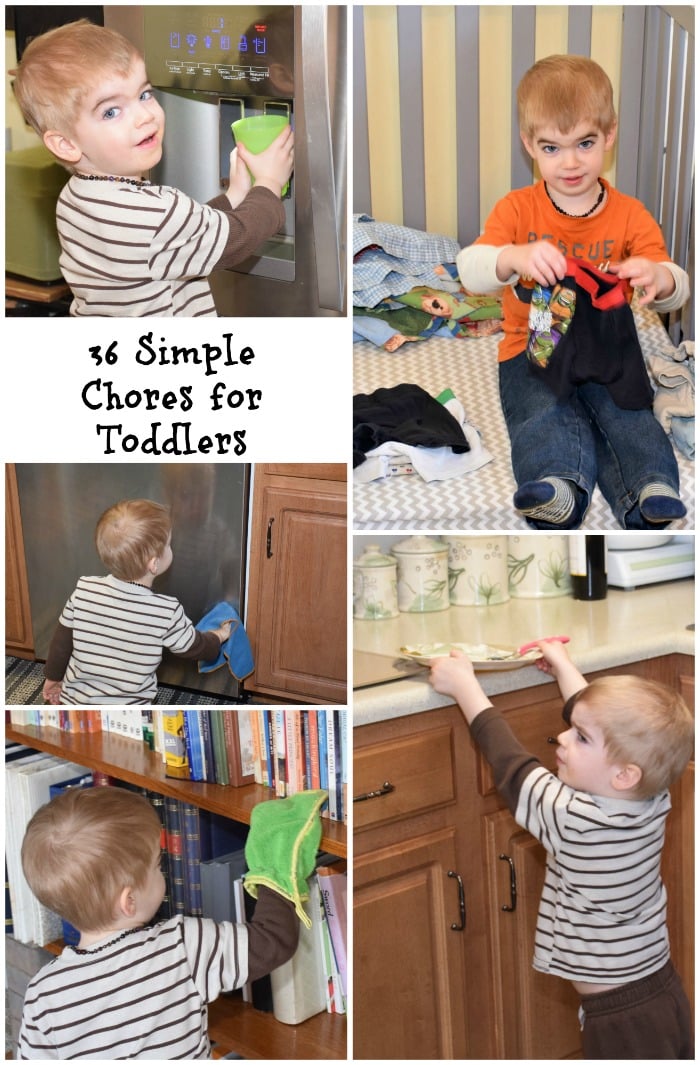 All kids are different. My 1 year old is content to play for hours, my almost 3 year old has never been one to play for long. He likes to be right with me and some days I'm hard pressed to keep him entertained. 
As a result, I've discovered simple chores that he can do with me as a way to keep him busy . Having a child take part in the daily home activities is an important part of helping him/her to feel like a valued member of the family.
In addition to that, kids can actually be a huge help. Training them young takes time and effort, but it pays off. The payoff for me started clear back right before Malachi was born. Kolton loved helping with laundry and just him pulling it of the machines for me was awesome!
Yes, we still have occasional broken dishes, wet clothes pulled out of the dryer, and rugs tossed outside when I'm not wanting to sweep. But the thought is there. 🙂
36 Simple Chores for 2 and 3 Year Olds
Meal prep and mealtimes.
Help run hand mixer.
Pour ingredients.
Pull appropriate pots, or baking pans from lower cupboards.
Get requested food from pantry and bring to counter.
Put ingredients away.
Put empty containers in the trash or recycling bins.
Put soap in dishwasher and push appropriate buttons to run it (only allow if using nontoxic soap).
Empty silverware from dishwasher baskets into drawer. (good sorting activity for older toddlers)
Get own water and put on the table.
Put plates on the table.
Remove own plate and take to counter.
Wipe down table (if given a cloth).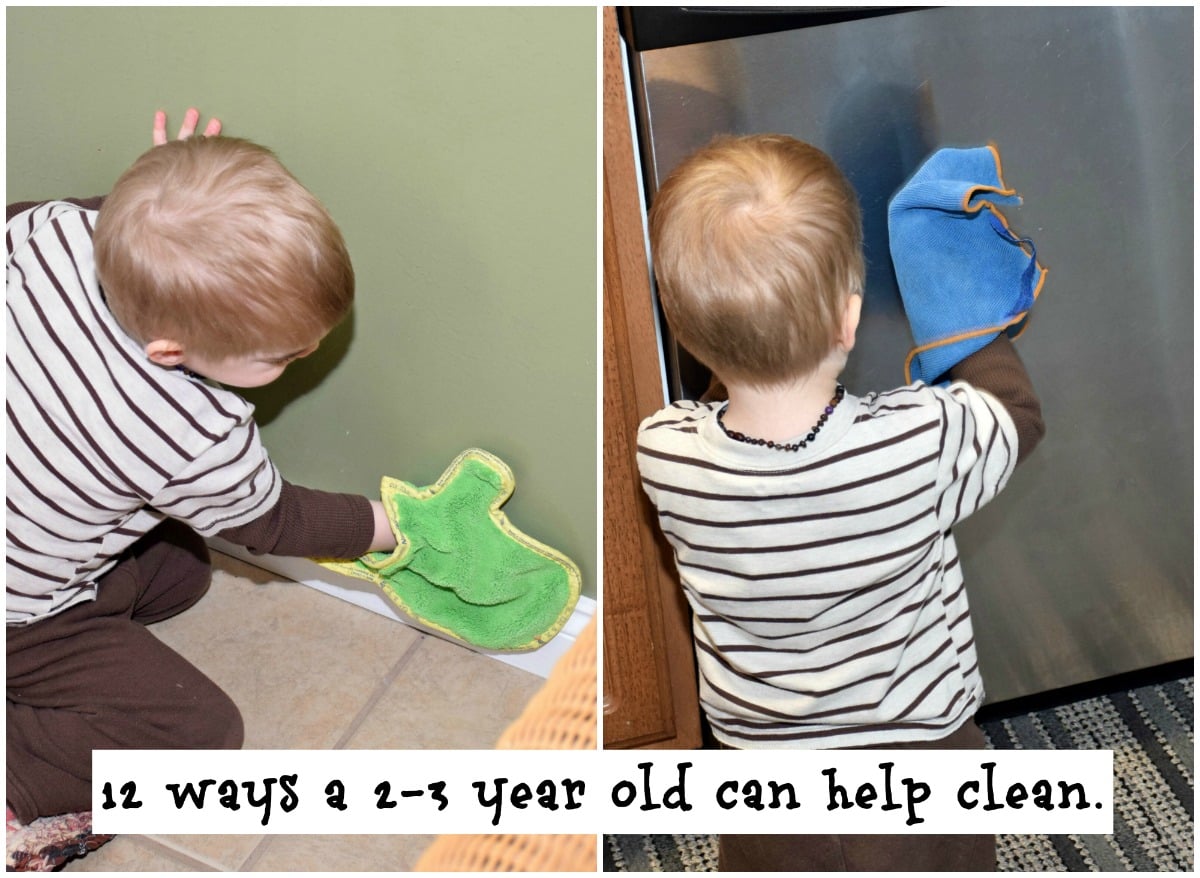 Cleaning Around the House
Pick up toys.
Put books away.
Place clothes into hamper.
Hang coats and jackets on hooks.
Put shoes away.
Help dust baseboards and other low surfaces (He is using the child's dusting mitt from Norwex).
Wipe down fronts of cupboards and dishwasher etc. (do not expect perfection but rather that the child works alongside you).
Take rugs outside to be shook.
Hold dustpan while you sweep the dirt in.
Empty trash cans and replace liners.
Pick up bones (if you own a dog) and twigs from yard.
Broom off patio.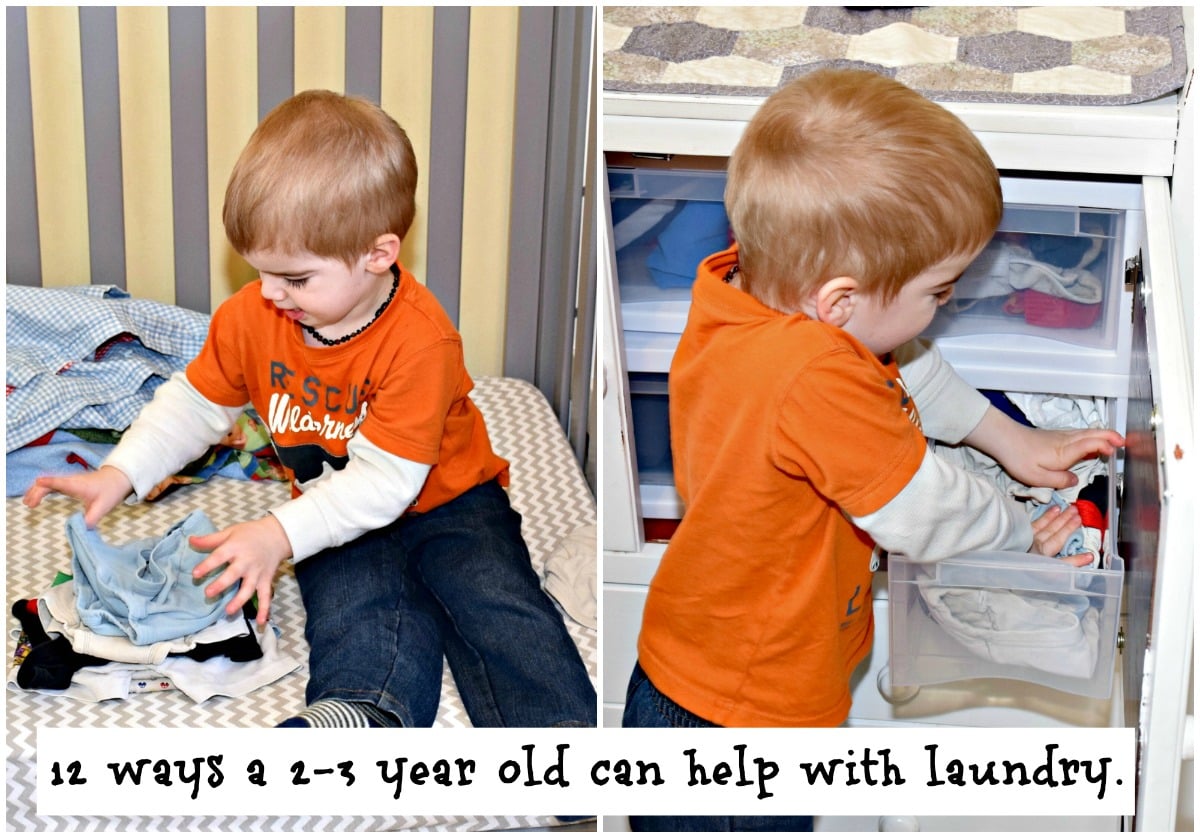 Laundry
Bring Laundry basket from room.
Strip bed sheets (if in a toddler bed).
Put clothes into washing machine (front load).
Remove clothes from washing machine.
Put clothes into dryer.
Pull clothes from dryer into laundry basket.
Pull laundry basket into living room or bedrooms.
Fold wash cloths.
Fold hand towels.
Stack and put underwear away.
Pair or match socks.
Put folded clothes into drawers.
What do you think? Is my list of 36 simple chores for 2 and 3 year olds something your toddler can do? What would you add to the list?