Simple Lessons for Toddlers at Christmas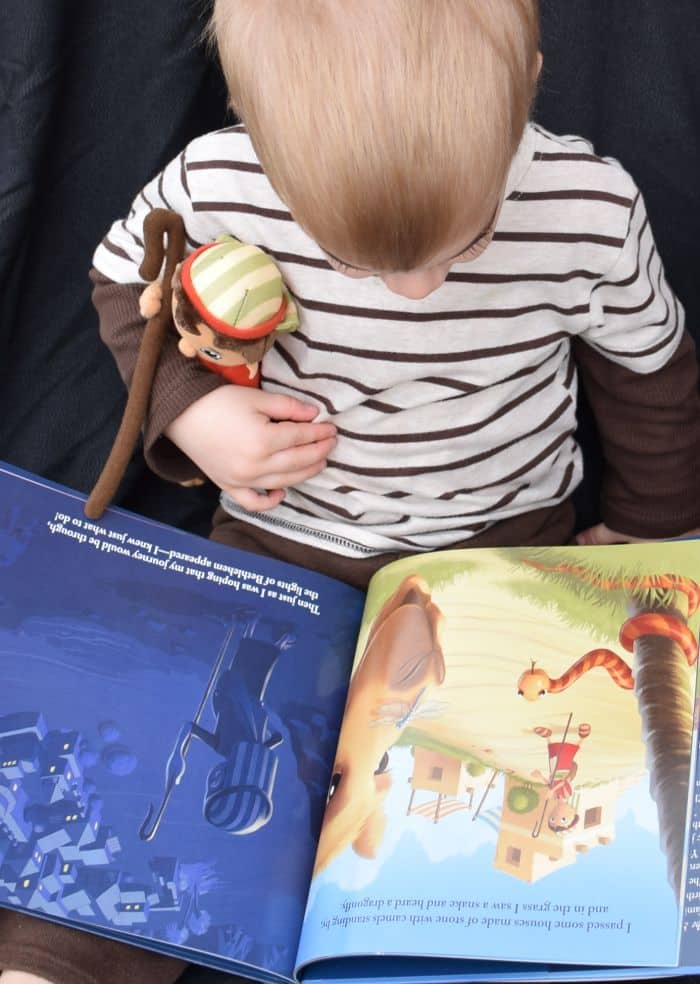 This shop has been compensated by Collective Bias, Inc. and its advertiser. All opinions are mine alone. #JoinTheSearch #CollectiveBias
Teaching children through play games, singing songs, and reading books is something I've always enjoyed. While we've read bible stories to Kolton since he was tiny, I wanted to do something with him that taught more about the birth of Christ. I've drawn up 3 simple lessons for toddlers at Christmas and thought I would share them here too.
I was inspired to plan a couple lessons for my toddler after learning about Shepherd on the Search, a darling child's story book and a little plush Shepherd who goes looking for the baby Jesus. The parent may also choose to hide the shepherd and allow the child to find him, discussing why the Shepherd would be looking for Jesus in those places.
Years ago shepherds heard the good news of a baby being born who would save the world and they set off to find their king. Using the Shepherd on the Search story book, you can bring the tale alive for your little ones as they help the shepherd find the baby.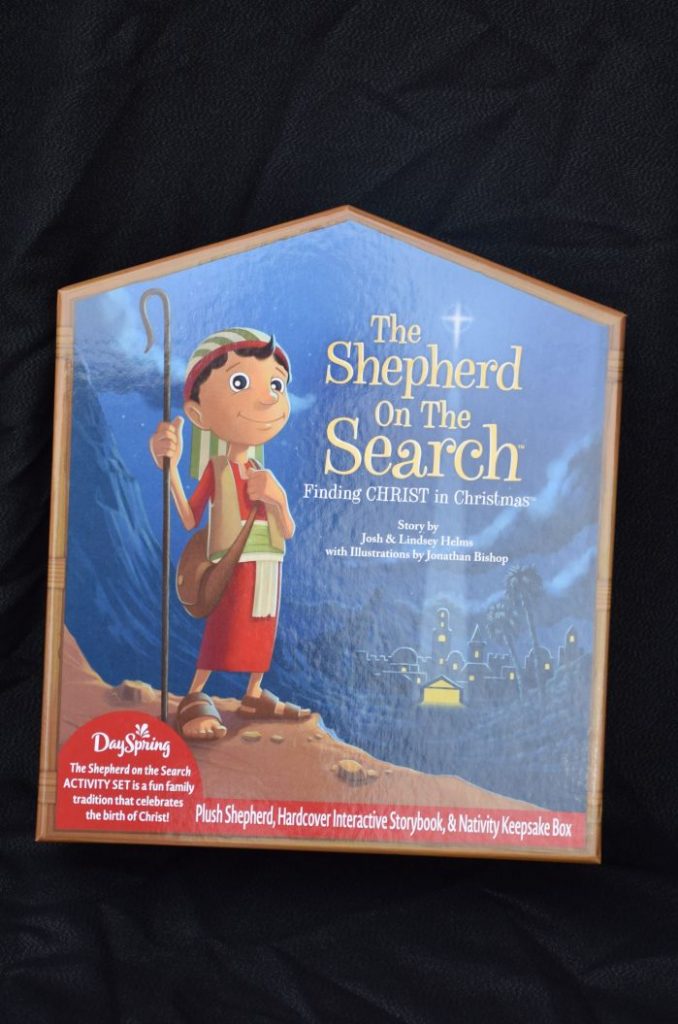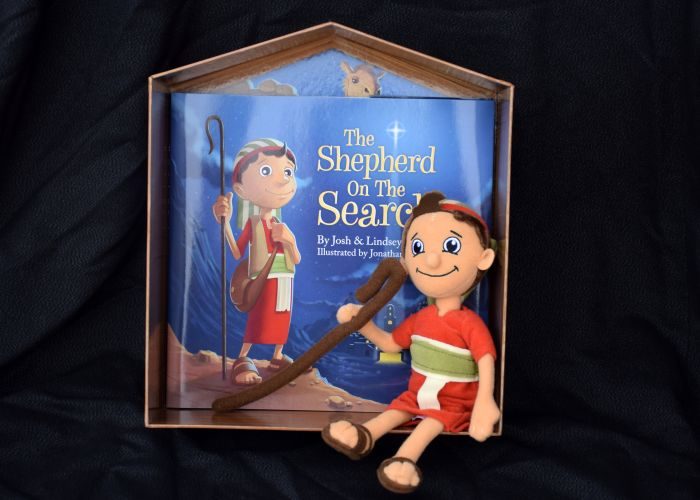 Last year after Thanksgiving we let Kolton help put up our nativity and we read the Christmas story together. He played with it some but was young enough he really didn't grasp the significance of it.
This year we figure he's old enough to understand simple lessons for toddlers so I drew up these 3 different lessons complete with stories, songs and activities for each lesson. Knowing him, we will likely go over them several times, since he had so much fun going over them now so I could take photos and stuff. 🙂
I've put these simple lessons for toddlers in a downloadable format so you can easily print them off for use in your own family. These lessons are drawn up with a 2 year old in mind but would easily work for children up to 5 years old as well. Simply expand upon the discussion part as fitting to your child's age.
3 Simple Lessons for Toddlers at Christmas
Lesson 1. Jesus is our Gift
Bible verse: For the wages of sin is death; but the gift of God is eternal life through Jesus Christ our Lord. Romans 6:23
Discussion: When we do wrong, we deserve punishment.
Ask child about different punishments they get, eg. "what happens when you throw a fit?" "go to my room".
Use simple terms to explain what Jesus gives us: "When we do naughty things, it makes God sad and he has to send us away from him. But God loves us so much that he gave us Jesus and when we believe in Jesus we can live with him forever."   
Reading: read the Christmas story to your child.
Song: Jesus Loves Me
Activity: Give your toddler a box, glue, and paper. Encourage them to choose something small to stick in the box as a "gift" for a family member and let them "wrap" the gift.
Lesson 2. Angels Brought the Good News
Bible verse: And the angel said unto them, Fear not: for, behold, I bring you good tidings of great joy, which shall be to all people. Luke 2:10
Discussion: What are angels?
Angels are God's helpers. They look out for us, carry our prayers to God and sometimes bring us messages from God. When Jesus was born, angels brought the good news of God's gift to us to the shepherds.
Read: The Christmas Story, the same book as lesson 1, or a different book if you have more than one Christmas storybook.
Song: Angels We Have Heard on High
Activity: Make paper bag angels.
Supplies: Small white paper bag, 5 white coffee filters, white paper crinkles, gold ribbon, and markers.
Instructions: Fold 2 of the coffee filters in fourths and glue them to the sides of the bag to make wings.

Fold the other 3 coffee filters in fourths and fold the center point down. Glue to the front of the bag to make skirts.

Glue paper crinkles to the top of the bag for hair, and wrap the ribbon around the top for a halo.

Use markers to draw a face on your angel.
Lesson 3: Searching for Jesus
Bible verse: As the angels were gone away from them into heaven, the shepherds said one to another, Let us now go even unto Bethlehem, and see this thing which is come to pass, which the Lord hath made known unto us.
And they came with haste and found Mary, and Joseph, and the babe lying in a manger. Luke 2:15-16
Discussion: What does "with haste" mean? It means, quickly or fast. Why do you think the shepherds went quickly? Maybe because they were excited?
The shepherds knew that Jesus is our gift and they wanted to see this gift so they went to find him. What about us? Do we want to find Jesus? Where can we find him? (In our hearts, God's word, etc)
Read: Shepherd on the Search
Song: Away in a Manger
Activity: Play a little game of hide and seek with your child.
Tell your child that the shepherd (from Shepherd on the Search book) is going to look for Jesus. Then hide the shepherd in strategic places and have your child find him. When your child finds the shepherd, discuss why the shepherd was looking in that spot for baby Jesus.
Example Hiding Spots:
The Bible – We find Jesus when we read God's word.

Near gifts – Jesus was our perfect gift.

Inside your shirt near your heart – Jesus lives in your heart.

Near a baby or your child – Jesus loves little children

Near a plant or flower – Jesus (God) created all things.

In a favorite blankie – Jesus's love is like a warm blanket wrapped around us.

End the game with the Shepherd by your nativity scene and finding the baby Jesus.
The Shepherd on the Search is a fun tool to use when teaching your child about Jesus. The book is full of beautiful photos and the plush Shepherd is sturdy and well-able to handle adventures with your child as they look for Jesus!
Your child can give their shepherd a name and help him "find the baby Jesus" in their play. The inside of the special box your shepherd and book come in is beautifully printed with a manger scene as well for a lovely place to sit the shepherd when your child is playing.
Download the 3 simple lessons for toddlers here, and you can order your own Shepherd on the Search at ShepherdOnTheSearch.com. It will also be available at LifeWay Christian stores, Family Christian stores, select Hallmark Gold Crown stores, and select Christian bookstores.
Sign up at ShepherdOnTheSearch.com on the 27th of November and Dayspring will be providing fun daily activities, recipes, printable downloads, and more to take your children through the advent season!

Also, check out Shepherd on the Search on Facebook and discover more!