Spicy Burgers with a Cool Surprise
Disclaimer: My spicy burgers with a cool surprise post is part of the #SayCheeseburger campaign from Kraft and #CollectiveBias. A sponsored post yes, but all thoughts and opinions are my own. I do not share brands or products that we do not personally use.
With this warm weather, I'm pretty sure you have gotten the grill out at least once.  We love to grill in the summer and I honestly do not believe that anything can beat the flavor of a grilled cut of meat. The other night I made some spicy burgers with a cool surprise and they were amazing.
So amazing in fact, that I want to share them with you. Well, how I made them that is.  🙂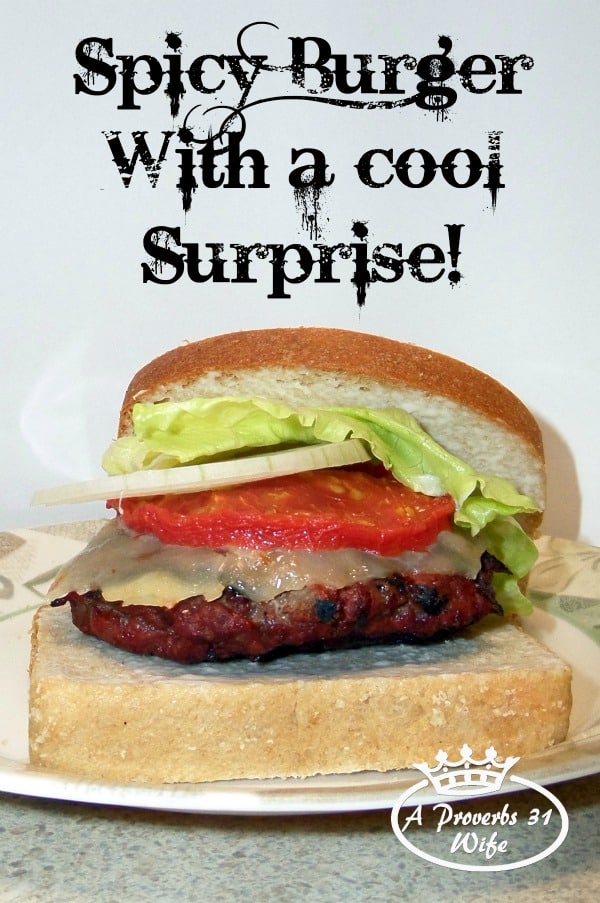 Grilled hamburgers just sounded good to me. I've never had a weird craving while pregnant, but there will be times when suddenly something sounds sooo good and I think I must have it right away! When applying for this campaign, I was asked how I would make a better cheese burger. Right away I had the idea of spicy burgers with a cool surprise. It sounded so good that I determined to make them even if I didn't get accepted into the campaign.
Fortunately I got an email saying I was in, and it was time to go shopping!
I was already going to Walmart because I needed to gather up the rest of my homebirth supplies, so I just added a few things to my list and off we went.
Kraft Naturals Slices and Philly Cream cheese were the two items I needed. I was going to just get the white cheddar natural slices, but hubby spotted the chipotle slices and wanted them. After a quick check to make sure there were no hidden ingredients (like "natural flavorings which usually is a form of msg) I agreed to buy that too. I was really pleased to find that the Kraft Naturals slices contained real foods only.
What you will need for your Spicy Burgers with a Cool Surprise:
1 pound Hamburger
Spicy seasonings of your choice
Salt
Philly Cream Cheese
Sliced cheese for the top
I used 1 teaspoon of a Southwest Seasoning blend, 1/2 teaspoon of Aleppo Pepper flakes, and 1/4 teaspoon salt for my seasoning. Jason said I need to add more next time, but they were plenty spicy already. 🙂
Once you add your seasonings to the meat, be sure to mix well. Sometimes hamburger has a fresh ground look and really needs to be worked. The better you work the hamburger, the better they stay together.
I decided that one pound would make 3 burgers so I started off by dividing my meat into two parts.
Now, I did take photos of the next part of the process, but my camera must have ate them. At any rate, when I went to take photos off of my camera, they were gone.
I started with the first section of meat. I divided it into three parts and I made 3 hamburger patties just as thin as I could.
Next I cut thin slices of the Philly cream cheese and laid the slices over top of the meat. I made sure to leave at least a half inch around the edges free of cream cheese.
Finally I took the second half of hamburger and made three more thin patties. I laid those patties on top of the cheese and then used my fingers to work the two patties together making one larger patty with cheese in the center.
Grill time!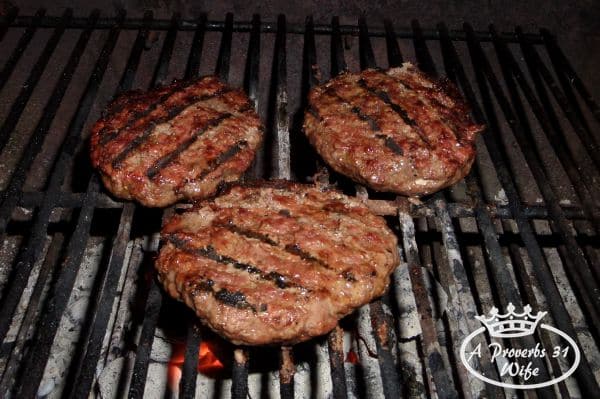 When Jason went out to turn the patties the first time he came in laughing. Apparently the cheesy center had caused the hamburgers to puff up a little. Once he turned them over though, they were nice and flat again.
Grill tip: Do not smash hamburgers while grilling them. You do nothing more than squish all the juice out and end up with dry burgers. Same for my spicy burgers with a cool surprise, if you squish them, you will lose all the cheese inside. Instead, use a thermometer to determine if they are cooked enough.
Hot off the grill and we added Kraft naturals sliced cheese. The chipotle for Jason and white cheddar for me.
Now, in all honesty, I think these burgers would be amazing if you put them on buns with BB-Q sauce, onions, bacon and lettuce. However, we just made them up as traditional burgers.
So, how did they turn out? Well my spicy burgers with a cool surprise were just that. You are eating and your mouth starts to burn a little. Then you get that next bite where all the cream cheese is and it's this nice cooling effect that also make for a super moist burger.
So, my final thoughts are as follows: Spicy burgers with a cool surprise were a success. We really liked them and you can be sure I will make them again. Just as soon as I can convince Jason the fire up the grill again. 😉