Sweet and Smoky Barbeque Sauce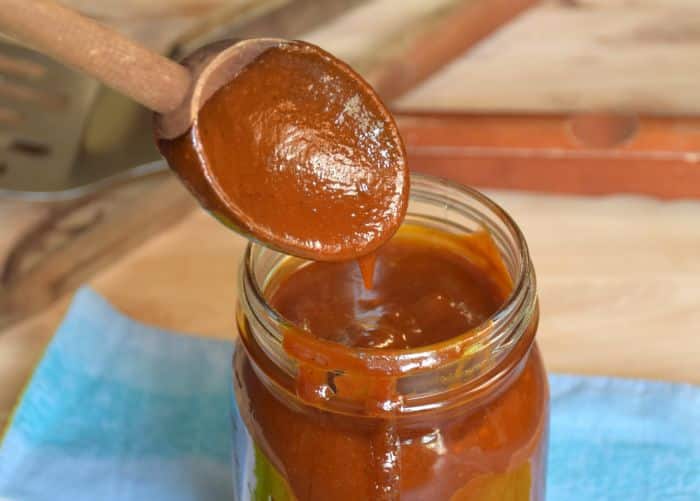 Sweet and Smoky Barbeque Sauce Recipe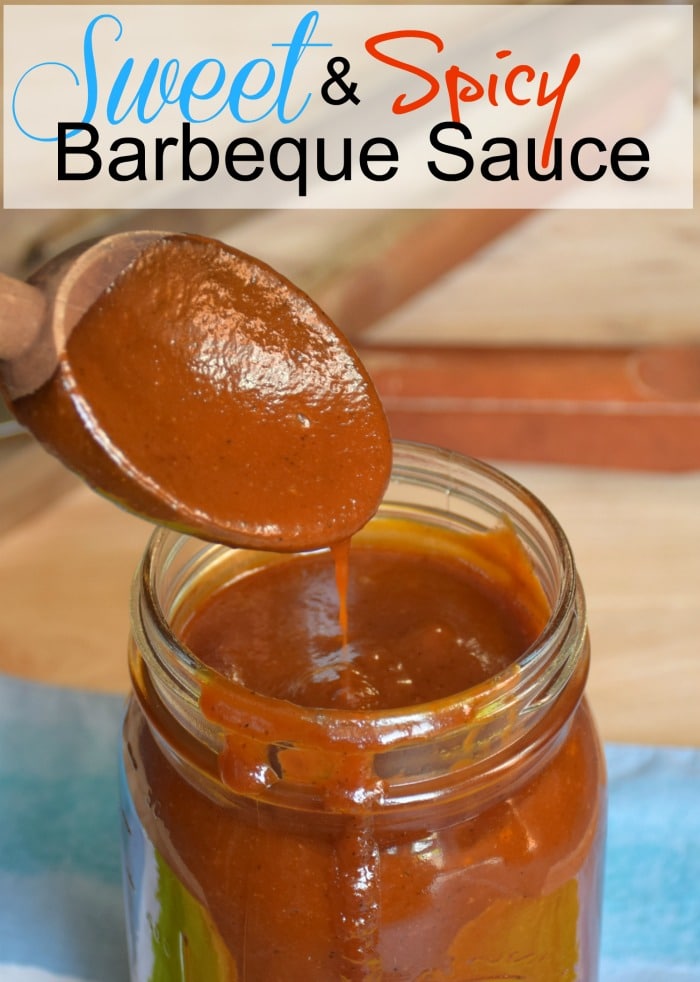 Sweet and Smoky Barbeque Sauce
This sweet and smoky barbeque sauce is bound to be a winner. Add the chipotle in for an extra kick, or hold it out for sauce the entire family is bound to love!
Author:
Kendra ~A Proverbs 31 Wife
Ingredients
1½ cups of tomato sauce
¾ cup of ketchup
1 cup turbinado sugar
½ cup molasses
½ cup of butter
3 tbls Braggs Apple Cider Vinegar
1 tbls liquid smoke
2 tsp dry mustard
2 tsp paprika
1½ tsp salt
1½ tsp pepper
½ tsp chilli powder
½ tsp onion powder
½ tsp garlic powder
¼ ground cloves
1 tsp ground chipotle pepper (optional)
Instructions
On med/hi heat, melt the butter
Add all other ing and bring to a boil
Reduce heat to low and simmer 15 minutes
Pull off of burner and let cool 30 minutes.
Pour over into a blender and puree 30 seconds until smooth and creamy
Makes approximately 1 quart bbq sauce.
(keep in mind, the chipotle will make your sauce very spicy!)
I must make a confession. Miracle Whip, BBQ sauce… I buy them, the junk laden condiments that they are. I used to make BBQ sauce but didn't care for it, and I've never been able to create a Miracle Whip that was even palatable to me.
But I've been wanting to try again. Can I make a BBQ sauce that we actually really like?
The answer ended up being yes!
Sweet and Smoky Barbeque Sauce
I started by doing what I always do when I want to try something new. I looked up other recipes in books and online. Reading the ingredients and considering what each ingredient would bring to the finished flavor.
I knew which ingredients I wanted to avoid, Worcestershire sauce was one of them. I wanted a sauce that was made with real ingredients and not a bunch of stuff I couldn't pronounce.
I came across a lot of recipes. Recipes that ranged from nasty sounding (to me), way too sweet, way too tomato-y, too this, or too that. A couple sounded really good, but then called for ingredients that I didn't want to use.
I did end up using a small amount of ketchup, but I buy an organic brand that is pretty good, so I felt like I kept the purity of my ingredients.
Some of the recipes called for ingredients that seemed strange to me. Butter, cloves, cinnamon, horseradish, ginger, and many others. But as I considered the flavor each one of them had, I decided to add in a few different ingredients.
I started with my base of tomato sauce, ketchup and sugar. Then I began adding in the other flavors. A little here and a little there. Each ingredient bringing something different.
The butter gave it a smooth, creamy flavor and texture. The molasses and clove added to the smoky flavor, along with a small amount of liquid smoke. ACV gives it "tang", while other spices give it bite.
I will warn you though, adding in the chipotle makes it VERY spicy! The toddler has his daddy and I's tolerance for hot stuff so he ate it fine, and drank lots of water lol. Hold it out or add more according to your family's taste.
To get your sauce super smooth and creamy, let it cool and blend it for 30 seconds in a food processor. Works like a charm!
Surprisingly, I'm happy with the way this came out the very first time. Typically I need a few trials, but we love this. And those pork chops last night were just heavenly!!!