Tooth Powder Recipe ~ Rethinking How You Brush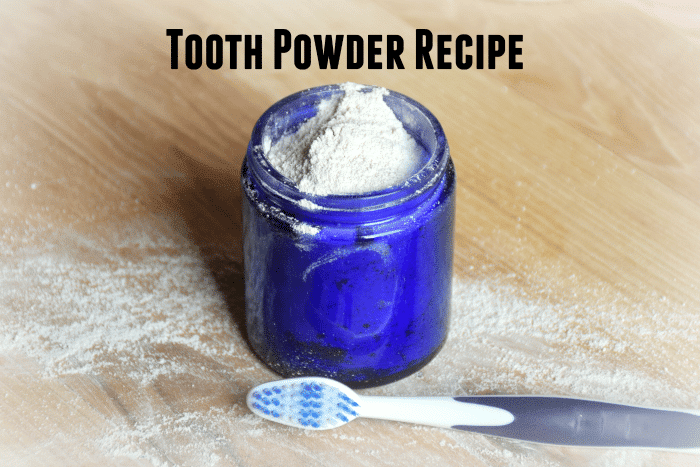 Have you been rethinking how you brush? Are you looking for a natural tooth powder or tooth past you can use that will kill germs and possibly help remineralize your teeth? Try this tooth powder recipe and see what you think!
Over the years my tooth brushing habits have changed a lot. Like every other American child, I brushed with Fluoride toothpaste, flossed and was taken to the dentist for regular cleanings. Yet I still had cavities in my baby teeth.
I was doing everything right including a decently healthy diet, because even back then my mom was somewhat health conscious and limited our sugar intake. But I still had cavities.
By the time I hit my teen years, mother removed all the Fluoride toothpaste from our home and we tried many different brands of natural toothpaste; eliminating them one by one as we learned more and more about the ingredients listed in each one.
A couple of years after we were married, I switched to earth paste and used it all the time. It was pure and the ingredients were safe.
What happened after years of using natural toothpaste? Nothing, no cavities just pretty white teeth. Clearly I was doing something right.
Pregnancy though was rough. After my last pregnancy I had quite a few holes in my teeth. I'm nervous about what the next pregnancy will do and decided to try changing up my brushing routine.
I'm now brushing with a mineral rich powder. Our teeth are porous and it my hopes that they can absorb the minerals and grow stronger. I'm not overly concerned about the existing holes as they are not bothering me, not are they "rot" but rather a result of being weak.
And of course, I'm upping my mineral intake via real foods and supplements as well. 🙂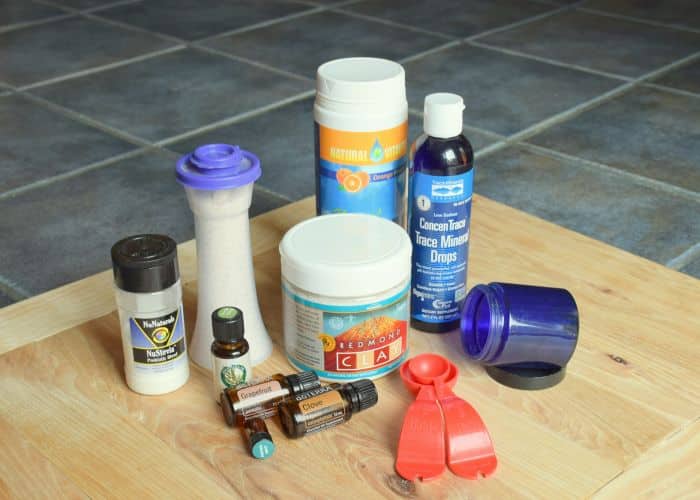 Tooth Powder Recipe
4 tablespoons Redmond Clay
3 tablespoons Nutri-Calm
1 tablespoon Stevia Powder
1 teaspoon Real Salt
25 drops Trace Minerals
15 drops Clove Bud essential oil
15 drops Peppermint essential oil
10 drops Grapefruit essential oil
10 drops Melaleuca essential oil
Mix the dry ingredients together first, then stir in the trace minerals and essential oils. Store in a glass jar. When you are ready to use, dampen your brush and dip it into the powder.
You will likely need to make a separate jar for each family member. Baby food jars work great!
I would call this a remineralizing tooth powder recipe, but that is making health claims which the FDA don't like. 😉
Curious about the ingredients in my tooth powder recipe? Read on and I will try to explain.
Redmond clay is a great base, brushing with clay alone will leave your teeth and mouth feeling clean.
Nutri-Calm is a great source of magnesium. Magnesium is absorbed best through the skin and the mucus membranes in your mouth are idea for absorbing this as well. The idea is that your teeth will absorb some of these minerals as well.
Stevia gives the tooth powder a pleasant taste, you can omit or replace with xylitol if you wish.
Real Salt is loaded with minerals from the Dead Sea. It also causes you to salivate and saliva is said to create an antibacterial effect for your teeth. (Do not use salt if you have metal fillings as it is said to be corrosive)
Trace Minerals are used with the intent that teeth will absorb the minerals, and again your mouth will as well.
Essential oils help fight bacteria, and freshen your mouth. Clove is great for sensitive teeth.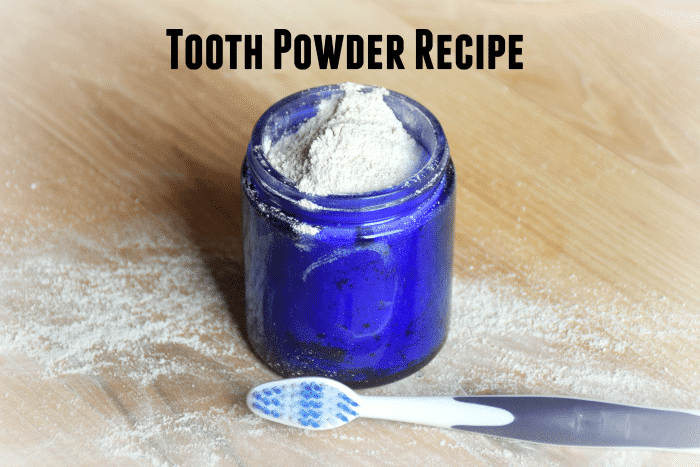 Does this tooth powder recipe work?
Yes! I have used this tooth powder recipe for close to a year now and it leaves my mouth feeling incredibly fresh and clean. It has also helped with my sensitive teeth.
Has it repaired the holes in my teeth? No, they are still there. However they are not getting larger and they are just clean white holes. The next pregnancy will likely be the proof of whether or not it has strengthened my teeth.
Will you be trying this Tooth Powder Recipe?