Do you have a special woman in your life who lives for Jesus, like your mom, grandma, aunt, daughter or sister? Honor her with a thoughtful gift that empowers her to grow in her faith.
Here, you'll find a comprehensive list of unique Christian gifts for women. Whether you're shopping for the perfect Christmas present, Mother's Day gift, birthday surprise, teacher appreciation gift or for any other occasion, you're sure to find something she'll adore!
Faith-Based Monthly Subscription Box: Faithbox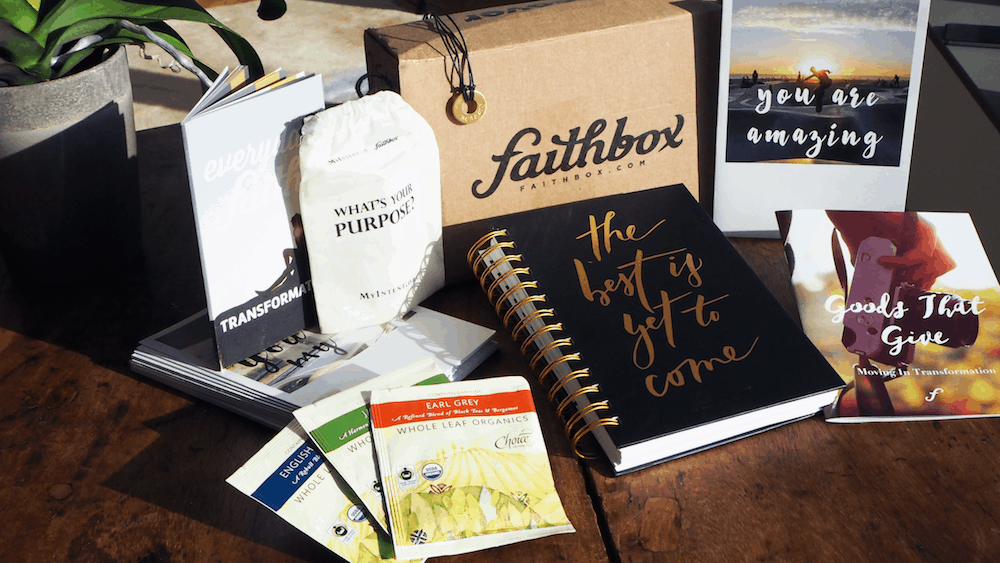 The Faithbox is a monthly subscription box that comes with a devotional, inspired content, and hand-picked products to empower your walk with God. Since each box is different every month, that special woman in your life won't know what's in the box until it arrives at her front door.
This is the perfect way to give a gift that keeps on going long after the occasion has passed! If you don't want to worry about an on-going monthly payment, you can purchase a 3-month or one-year package ahead of time.
---
Drinkware & Mugs With Bible Verses
Bible verse mugs & water bottles are some of my favorite gift ideas because it's something she'll use every day. She can sip a hot cup of coffee or tea during her morning quiet time or enjoy her take her favorite drink on the run. Either way, she'll have a beautiful reminder of Christ's love for her.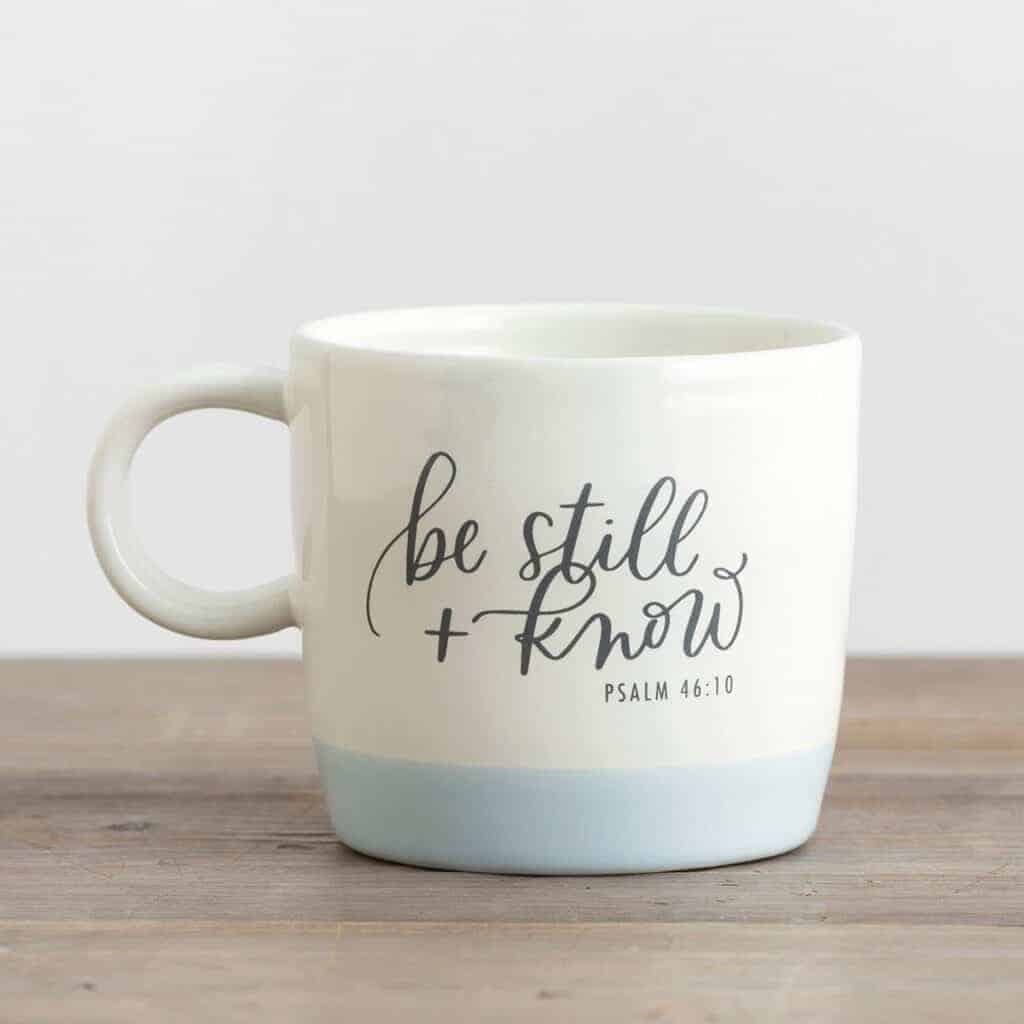 Christian T-Shirts & Totes For Women
Another cute gift idea is to buy her a Christian t-shirt or tote bag that she can wear or use often. Here are a few of my affordable favorites:
Faith-Inspired Jewelry
I know many Christian women like to wear costume jewelry. Gifts like her favorite bible verse adorned on a necklace, or the symbol of Jesus on a pair of earrings always make a great gift!
Christian Gifts For Moms with Newborns
For the new moms who are welcoming a brand new baby into their home, consider a sweet, sentimental gift that will encourage her to raise her child to love and follow Jesus.
Religious Throw Pillows & Blankets
Have you thought about buying a throw pillow or cozy blanket that includes encouraging Bible verses?
Faith-Inspired Gifts For Her Kitchen
If your friend loves to be in the kitchen, consider buying her a linen table runner for her dining room, or a set of wooden kitchen utensils that will encourage her as she cooks. If she loves coffee, you could also get her a cute dishtowel or buy her a bag of fair trade coffee from a. company who shares the gospel with children from around the world!
Christian Wall Art & Decor
Consider giving her some faith-filled wall art that she can hang in her home. This is definitely a gift idea that she'll see often and will use time and time again.
Journals & Notebooks With Bible Verses
Another classic gift idea is a prayer journal or a blank biblically-inspired notebook that she can use to take weekly sermon notes or write her thoughts and prayers during her quiet time.
Bible Journaling
If you have an artistic woman in your life, consider buying her a new bible with wide margins and a set of pens to inspire her to begin the art of Bible journaling.
Christian Adult Coloring Books
Another creative gift idea is a Christian adult coloring book. It's a relaxing activity that will allow her to meditate on scripture as she colors the pages.
Inspirational Phone Cases & Accessories
If that special woman in your life uses her cell phone often, consider buying her a pop socket or a phone case that reminds her of Christ's love. It's also a great way to share the gospel with others who happen to see the words on her phone.
Small Gifts/ Christian Stocking Stuffers
If you're looking for something small, or some items to fill her Christmas stocking, check out these simple trinkets. While the car coasters, prayer cards, keychain and magnets are small gifts, they'll definitely be useful!
Christian Books & Devotionals
Help her grow deeper in her walk with Christ by purchasing a Christ-centered devotional or book. Here are four recommendations from authors with sound theology.
Give The Women You Love The Perfect Gift
One thing is certain – with a gift like one of these biblically-inspired gifts, your gift that will stand out above the rest! If you love these ideas, please comment below with your favorite gift ideas and if you have some other ideas about other gifts I can include in this post, please leave a comment as well!