A Guide to Visiting Ko Olina: Oahu's Upscale, Back to Nature Resort Community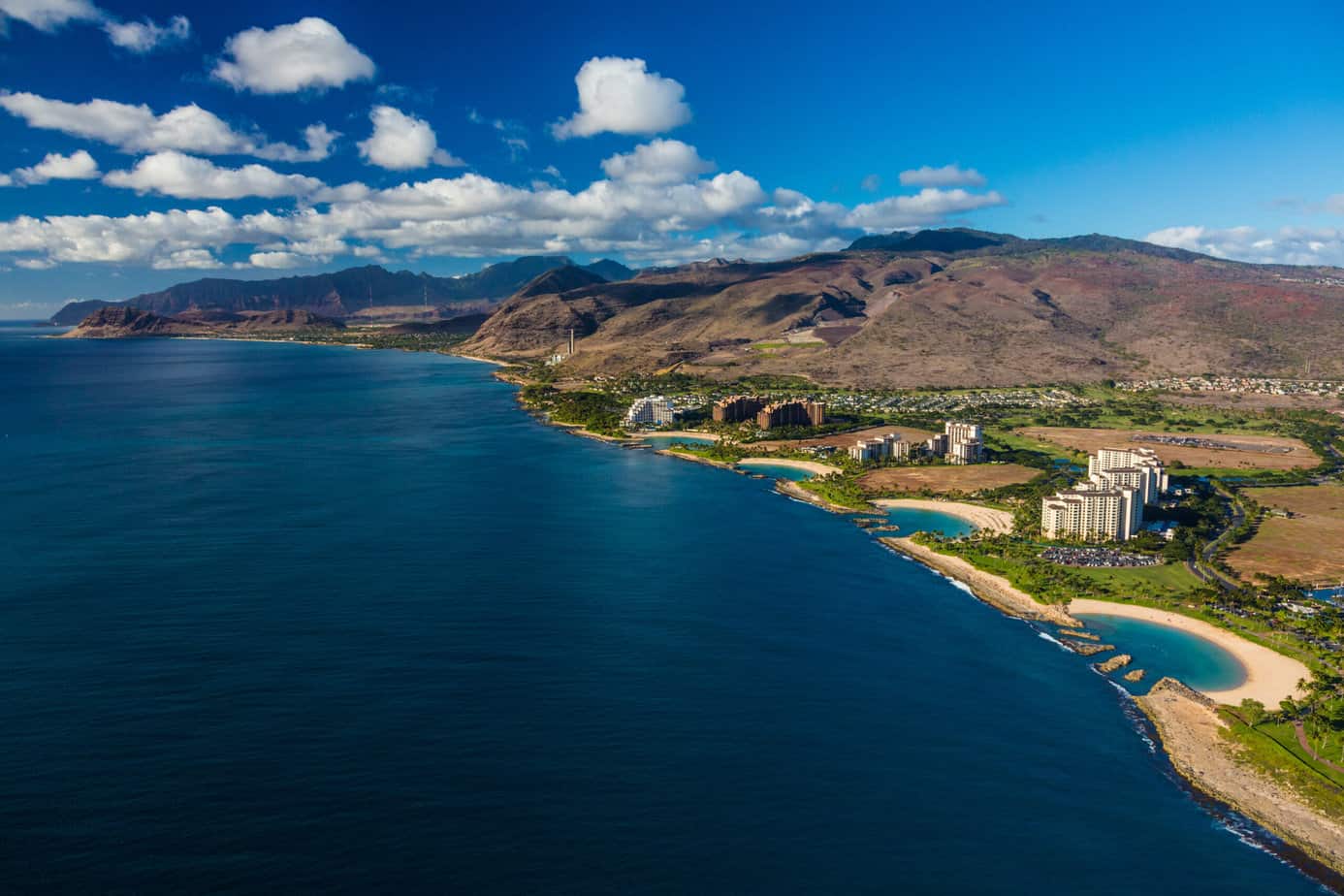 If you like the convenience, or price, of flights into Honolulu, but are looking for a quieter experience than Waikiki Beach, take a look at Ko Olina, outside of the hustle and bustle of the city.
Located on the island of O'ahu, otherwise known as "The Gathering Place," Ko Olina is a pristine, 640-acre gated, planned community that embraces the philosophy of "living pono," or living in harmony with the unique nature and wildlife that inhabits the surrounding area of Ko Olina. The resort is within Wai'anae, the oceanfront retreat on the southwest, leeward, shores of O'ahu.
Visitors can find premium resorts, including Aulani, a Disney Resort & Spa, Marriott's Ko Olina Beach Club, the Four Seasons Resort O'ahu at Ko Olina, and the Beach Villas at Ko Olina. In addition, there are multiple lagoons to explore, scuba dive, surf, and snorkel within to see the beautiful marine life that inhabits the shores of O'ahu. It is also home to the Ko Olina Golf Club and the Ko Olina Marina, Hawaii's only deep-draft marina.
Ko Olina encompasses high standards for resort guests while upholding the integrity and rich culture of the environment it inhabits, all while offering activities to enjoy and explore this stunning piece of the Aloha State.
Know Before You Go to Ko Olina
Ko Olina is a premium resort and condo community, offering multiple experiences and opportunities for families or couples to unwind and rejuvenate in a calmer part of the island.
There are four resorts to choose from in Ko Olina, each luxurious, offering accommodations, amenities, and experiences. Each lodge also has access to one of the four lagoons that Ko Olina encompasses.
Like most visitors to Hawaii, the odds are that you're flying into the Honolulu Airpot, 17 miles away from Ko Olina. Renting a car is recommended, so you don't miss out on any sightseeing excursions, can run to the store, and you won't need to rely on the local shuttles or Ubers.
While Ko Olina is a perfect spot to retreat, you might want to make plans to explore Honolulu and Waikiki, each only about a 35-minute drive away or the rest of the island.
Weather in Ko Olina
They say that O'ahu has two seasons rather than four. Most tropical climates skip spring and fall, although O'ahu winters are incredibly mild. Winter lasts from November to March and holds average temperatures of 76 to 79 degrees. At nightfall, this can drop between 10 to 15 degrees. The coldest you can expect may be as low as 60 degrees. Due to its location, Ko Olina is also customary to experience more rain and overcast days during winter.
The best time to visit for supreme weather would be in the summer season, which lasts from April to October. The climate ranges from 78 to the mid-80s, although evenings can be more relaxed. It's best to visit during this time because the ocean temperature also rises to about 81 degrees, making it easier to splash in the water and explore. If you're looking to avoid peak crowds and peak prices during these summer months, travel when a majority of U.S. kids are still in school.
9 Things to Do in Ko Olina
The Ko Olina community has many activities for couples, families, adults, and kids. Practice your swing and take in the incredible views at the award-winning Ko Olina Golf Club. Walk the mile-and-a-half seaside pathways or explore the Lanikuhonua nature preserve, the northern neighbor of Ko Olina, to see for yourself "where heaven meets the earth." And end your day with rejuvenation at one of the many resort spas with massages, facial treatments, and more.
1. Attend the Interactive Fia Fia-Polynesian Dinner Show
Head to Marriott's Ko Olina Beach Club resort to experience an interactive show while indulging in traditional Hawaiian plates. In addition, guests enjoy live fire-knife dancing accompanied by Polynesian music and some comedy.
2. Go Whale Watching For an Unforgettable Sight
Join experts on a catamaran to get up close and see Alaska humpback whales in the ocean. It's best to go between December to March when the whales have migrated to the shores of Ko Olina.
However, you can go snorkeling and see marine wildlife on a catamaran anytime! Ko Olina Ocean Adventures offers daily morning and afternoon sunset sail and snorkel trips. You can also book a sunset sail (no snorkeling) complete with light bites to eat and complimentary beverages (plus a gorgeous Pacific Ocean sunset) for a more romantic setting.
3. Receive Traditional Spa Treatments at the Four Seasons Resort O'ahu
The Four Season Resort O'ahu at Ko Olina Spa offers a unique spa experience. Select from a menu of services inspired by local indigenous healing practices and traditions. The facility is six levels and over 35,000 square feet, with indoor and outdoor treatment areas and exercise facilities. Schedule a massage for serene views of the perfectly landscaped gardens in a private cabana.
4. Go On a Wellness Retreat Under the Moonlight
Besides rejuvenating spa treatments, the Four Seasons Resort O'ahu spa also has a unique wellness retreat with Dana Childs, author, and energy healer. The retreat gathers in the evening on top of the roof of the spa facility. Participants can expect an evening of spiritual and physical healing with crystals, zero-gravity chairs, meditation, and more.
5. Sip on a Cocktail at Happy Hour
At Mekiko Cantina, you will find an elevated full-service restaurant and cantina offering Mexican cuisine. Happy hour is from 3 p.m. to 5 p.m. Order an Aloha Margarita, Mekiko Mai Tai, Sunday Sunrise, or Chabela, one of the four most popular cocktails Mekiko Cantina offers, and get it at a discounted price. Or, sip on a $5 bottled beer and $8 a glass of wine.
6. Look At the Stars With an Astronomer
Using a giant telescope, go on a guided universe tour with an astronomer. During this hour-guided tour, you will learn about Polynesian star voyaging, Hawaii star lines, constellations, and more. Additionally, learn about the latest NASA findings of space, astronomical discoveries, and cultural mythologies of constellations worldwide. Whether on a romantic date night or with the whole family, this excursion is bound to be an unforgettable memory.
7. Experience a Luau
Known as one of the best luau experiences in Hawaii, Paradise Cove Luau gives each guest the whole Hawaiian experience. You'll receive a tropical Mai Tai greeting and traditional Hawaiian music to set the festive mood at the entrance.
Come with an empty stomach because they offer an extensive menu that combines the best of traditional Hawaiian dishes, local favorites, and continental cuisine. In addition, you will be entertained and amazed by the impressive display of songs and dances from Hawaii and Polynesian culture.
8. Try Out Water Sports
Enjoy the water from a new perspective at Four Oceans. Watch the sunset of O'ahu while paddle boarding on a glow-up paddle board. The glow paddle session allows you to explore the water even in the darkness. Or, catch some sun rays and go paddle boarding during the day. Lagoon two is a quiet calm area that is great for beginners. But, for those who feel comfortable on a paddle board, lagoon four is the one for you. In addition, Four Oceans offers kayaking, surfing, yoga, and fitness.
9. Golf Right at Ko Olina
The Ko Olina Golf Club is an award-winning, 18-hole course by Ted Robinson with picturesque views suited for all skill levels. In addition, there are over 20 unique boutiques and shops and almost 30 restaurants or lounges at Ko Olina Station and Ko Olina Center.
The 4 Ko Olina Resorts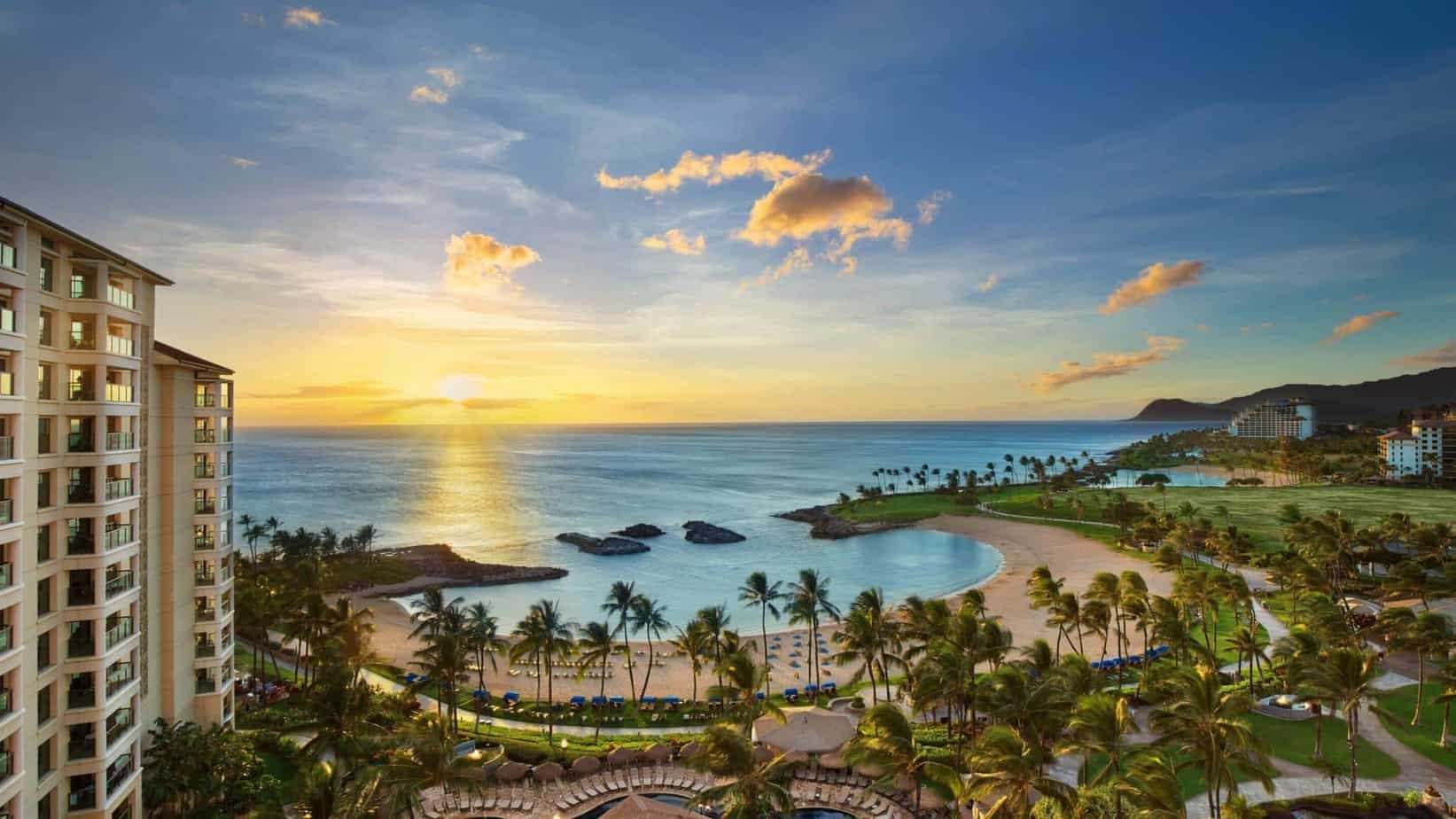 There are four luxurious resort properties in this premier Hawaii community. No matter which Ko Olina resort you stay at, you'll be pleased with outstanding amenities, spas, dining options, on-site pools, and access to the beautiful aqua lagoons.
Stay at Disney Vacation Club's only resort in Hawaii. Or lapse in luxury with the Four Seasons. Marriott's Ko Olina Beach Club provides exemplary customer service to all guests. Or, the Beach Villas at Ko Olina accommodations have floor-to-ceiling windows that give guests panoramic views of the lagoons.
1. Aulani, a Disney Resort & Spa
Disney's Aulani resort offers a Hawaiian family paradise infused with that special Disney magic. In addition to the spectacular lava rock formations that blend with the architecture, the resort features themed recreation areas, such as the Waikolohe Stream and Menehune Bridge, and a stunning lobby art installation. Disney's iconic service, luxurious rooms, and enchanting entertainment make this Hawaii resort the perfect destination for families of all ages.
Disney Vacation Club owners often opt for staying at the Aulani, but they can also exchange their points with Interval International to stay at Marriott's Ko Olina Beach Club instead. Don't worry. You don't have to be an owner to stay at these resorts! Trusted timeshare rental websites make it easy to rent a room from another owner.
2. Marriott's Ko Olina Beach Club
Marriott's Ko Olina Beach Club offers the perfect blend of Hawaii's natural beauty and world-class amenities and services. Choose from one, two, and three-bedroom condo villas that provide stunning views of the crystal blue lagoon waters and sandy beach. There are also a variety of family-friendly amenities to choose from, such as heated outdoor pools with whirlpool spas, a children's outdoor pool, a play area, an activity center, and restaurants.
"My in-laws have been visiting Ko Olina since 2006. Since they are timeshare owners at the Marriott, they vacation there every other year, and sometimes we are blessed to come with them. We have taken both our children there once they turned two years old, and by far, it is one of my favorite locations in Oahu," said Jasmine, Co-founder of Hello Sensible.
3. Four Seasons Resort O'ahu at Ko Olina
Four Seasons Resort O'ahu at Ko Olina offers luxurious accommodations in a classic Hawaiian style. The 17-story hotel stands next to the historic Lanikuhonua estate on a tropical landscape of sand beaches and tropical gardens.
Five restaurants can be found on-site, including a spa with 370 rooms and a 360-degree ocean view. In addition, the property offers a five-court tennis facility, a custom-built wedding chapel, and four pools, including an adult-only pool and luxury cabanas.
4. Beach Villas at Ko Olina
A world-class level of hospitality and service accompanies the amenities and location of Beach Villas at Ko Olina. Each two and three-bedroom villas are spacious, and air-conditioned, and includes separate living and dining areas.
Guests will love the amenities offered. This consists of the Makai Hale Beach Bar, a fully-equipped fitness center, swimming pools, spa tubs, and spa tubs. Not to mention, multilingual staff is available to provide information and assistance to guests.
Ko Olina Vacation Rentals
Staying in Ko Olina is an outstanding experience, a chance to make memories and explore the island's beauty. With exceptional resorts in the community, it can be tempting to come back year after year.
Vacation owners at Ko Olina resorts often rent out their units if they aren't using them, and you can find incredible deals to stay in condo-style villas for much less. Vacation rentals make it simple to search, book, and go without the commitment of owning.
Featured Image Courtesy: Hawaii Tourism Authority (HTA) / Tor Johnson.