Vitamin C Gummy Recipe for Kids & Toddlers
This post- Vitamin C Gummy Recipe has been compensated by Collective Bias, Inc. and its advertiser. All opinions are mine alone. #MeAndMyTea #CollectiveBias
One thing Jason and I have always reached for at the first sign of a cold is VitC. As an immune booster it's one of our go-tos every-time.
Last winter Kolton still received most of his nutrients through my milk so I counted my VitC dosage for him too. Now he's a toddler and needs his own VitC.
But yipes! Finding a toddler VitC without corn syrup, and coloring, and ingredients that I cannot even pronounce was a bigger challenge than I expected.
I cannot give him citrus fruits as he takes after a few of my siblings and even an orange slice will do really nasty things to his digestive system. Time for momma to get creative!
I discovered that Bigelow Tea has a blend called I Love Lemon that contains herbs for natural VitC and extra VitC. Enough that one bag of I Love Lemon tea contains 100% recommended daily dosage VitC!
Psst! Find Bigelow teas at Walmart for less than $3 a box!
What if I used the I Love Lemon tea to make a vitamin c gummy recipe!?!
So I tried it.
I grabbed my ingredients. Not a huge lot, just tea, honey and gelatin (this is the brand I prefer).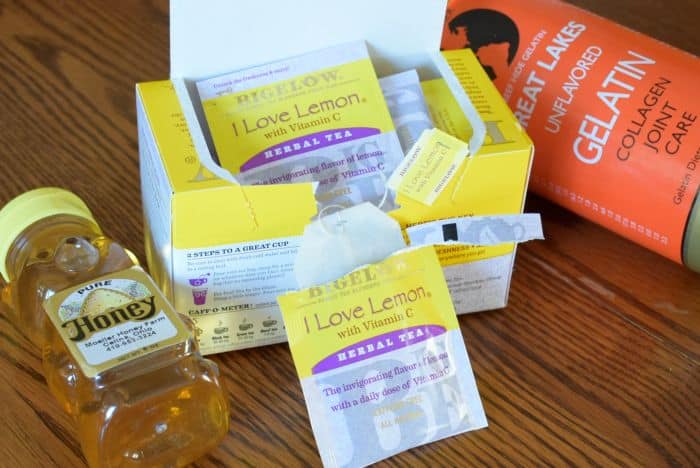 The I Love Lemon tea has a light, lemony taste, probably something I would really like to sip while feeling under the weather. I wanted to make my gummies a little more concentrated so I used two tea bags for my recipe. (update after making a couple batches: 4 tea bags is about the best as it gives more flavor)
The honey gives it a bit of sweetness and the gelatin… well you know what gelatin does! As the tea is steeping I add the honey. After I've removed the tea bags, I mix the gelatin with a little cold water before mixing it into the tea.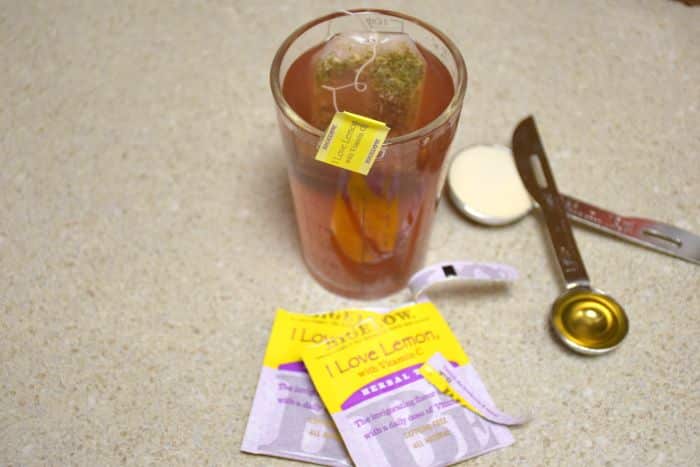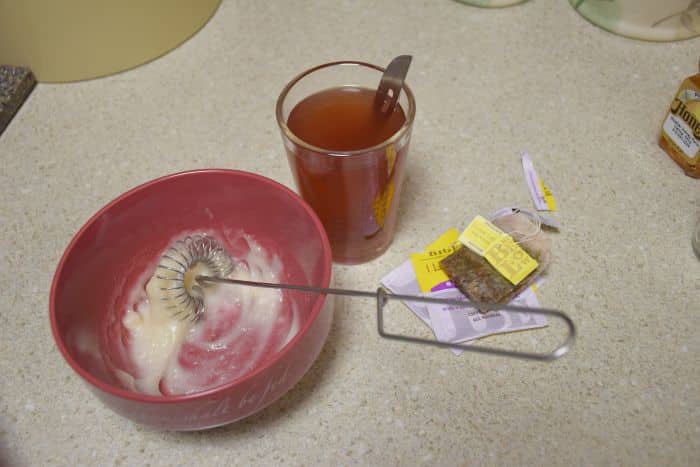 I then poured the tea into the gelatin mixture and whisked for a minute or so. Time to fill my molds!
I used gummy bear molds I found on Amazon. This set is the better deal as you get 2 trays. But I recommend this set first because it has a syringe filler with it that makes filling your molds super easy!
Each tray holds about 2 ounces worth of gummy bears.
Fill your molds and place in the fridge for 30 minutes or so. If you are having troubles removing the gummies from your molds, put them in the freezer for 15-20 minutes, at which point they will pop right out.
Let your gummies thaw (if you froze them) before placing them into an airtight container (I used a jar) and store them in the fridge. One recipe makes about 8 ounces of gummies. 1 ounce of vitamin c recipe gummies is approx. a daily serving for a toddler. (update: if you use 4 bags for stronger flavor, .5 oz is a serving)
The gummies have a faint lemon taste and nothing overpowering. Kolton would happily eat all of them in one sitting if I were to let him. Want more lemon flavor? Add a drop or two of organic lemon essential oil.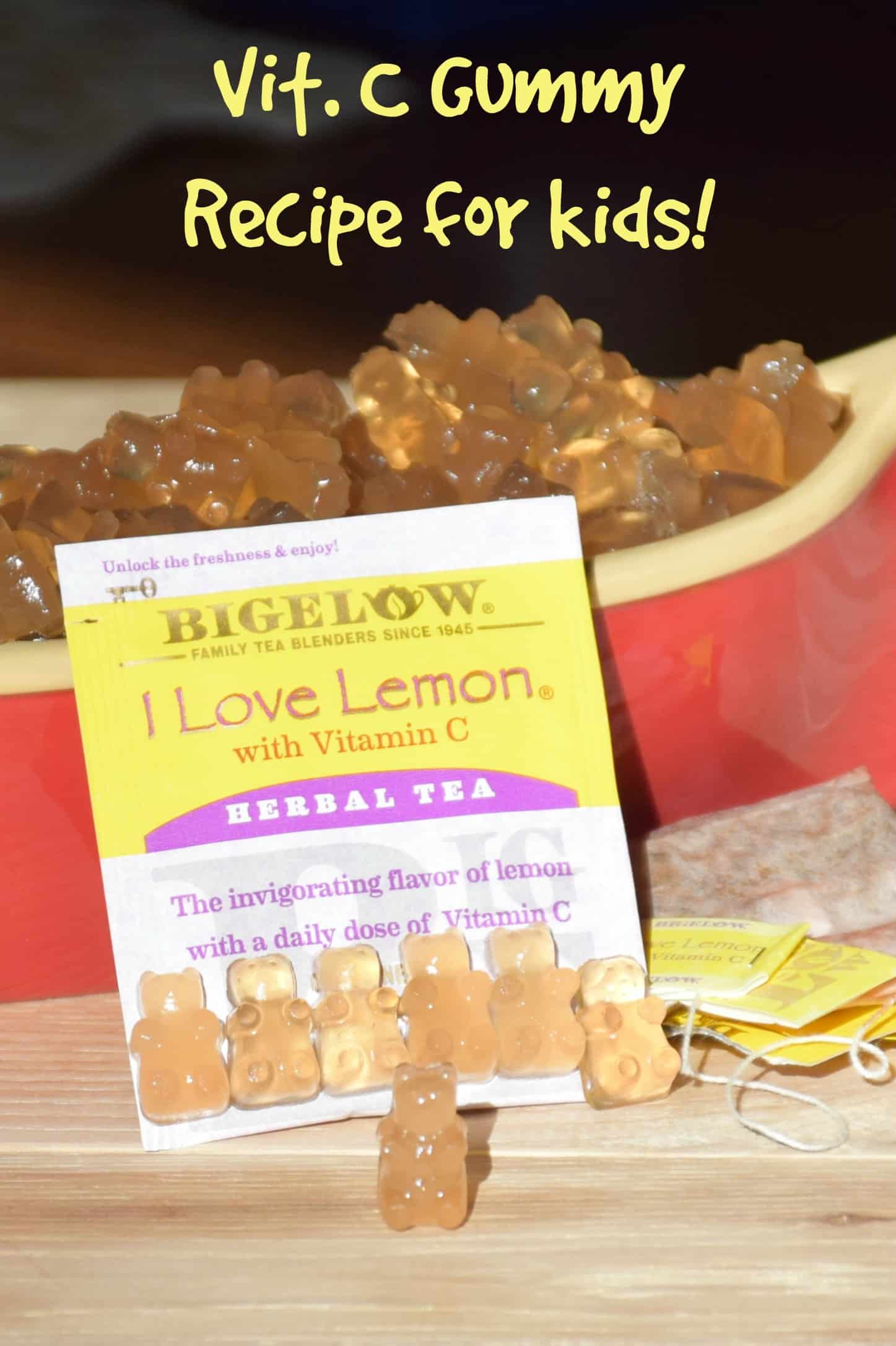 Vitamin C Gummy Recipe
Vitamin C Gummy Recipe for Kids & Toddlers
Easy gummy bear recipe that also contains a daily dose of Vitamin C for a toddler!
Author:
Kendra ~A Proverbs 31 Wife
Ingredients
4 bags Bigelow "I Love Lemon" tea
7 oz boiling water
2 teas honey
2 tbsp cold water
2 tbsp gelatin
Optional drop or two of organic essential oil of lemon.
Instructions
Boil water and pour over 4 tea bags, mix the honey in as well.
Let steep for 30 minutes.
Gently press bags and remove them.
Whisk cold water and gelatin together.
Pour tea mix over gelatin and whisk until blended.
Pour gelatin into molds and chill for 30 minutes.
Remove gummies from mold.
If gummies stick to the mold, place in freezer for 15-30 minutes then remove. Allow them to thaw before placing in an airtight container and storing in the fridge.
One half (.5) ounce is one daily serving for a toddler.
Since I don't quite have enough little bear molds yet, I also partially filled my flower mold. Either way, this vitamin c gummy recipe is sure to be a hit!
Hint: Don't want to buy molds for your gummies? Pour the mix into the bottom of a glass dish, allow to set then cut into squares. Works just as well and a toddler won't care. 🙂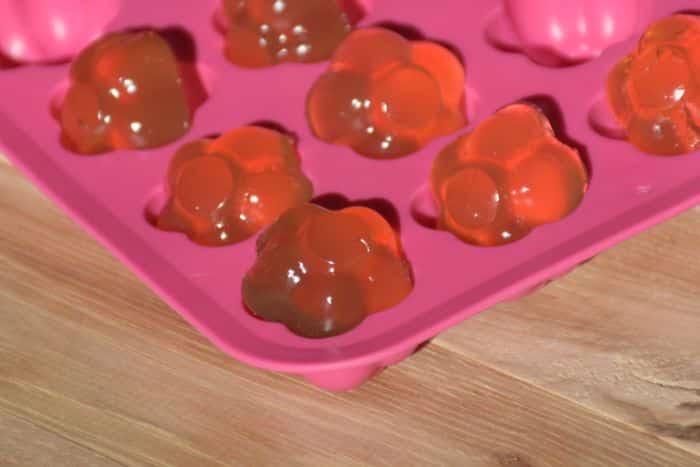 Have you ever tried making Gummy Vitamins? Check out BigelowTea.com and tell me what tea you would make into gummies!