What to do With Old Magazines

Have you ever wondered what to do with old magazines?
I mean there they are, on the shelf, in a basket, spilling off the coffee table, and when you went to the mail box today, there was another one to be added to the pile. We don't get very many now, but we use too.
I used to get cooking magazines, and better homes and gardens. Jason would get readers digest, outdoor life, hunting and fishing, handyman, and goodness know what all else. But the madness had to stop! We saved quite a bit of money by no longer subscribing, but what to do with old magazines from before?
I got an idea one day and decided to go with it. I could either throw away, recycle or organize my old magazines and so I went with organize.
My Idea of What to do with Old Magazines:

To do this I needed only 2 things. A 3-ring binder and plastic sleeves. The binders are cheap and you can find the protectors pretty cheap on Amazon (affiliate link).
I started out by going through all of my Better Homes and Gardens magazines with a sharp pair of sissors. When I found articles that I liked and felt like they would also be useful, I cut them out. I went through all of my magazines this way and kept only what was useful to me.
Next came the sorting. Depending on the magazines you organize like this, and on how you think, you may sort differently than I.
Basically I did this: recipes went into a different binder that I turned into a cookbook. Crafts, decor, party ideas and gardening, were divided into seasons. Now if I want a 4th of July party idea, I just look in the summer section. Or a Thanksgiving table setting idea would be found by looking in the fall section.
Other things, like organization, interior design and fitness each had their own spot.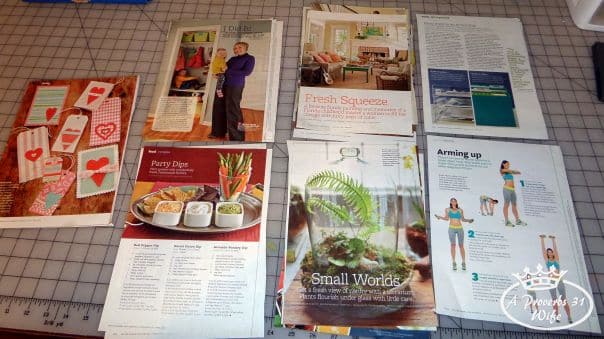 I love how I was able to fit 2 years worth of magazines into a 1″ 3-ring binder. It saved me so much space and now I can find what I want without looking through piles of magazines!
I actually used a different binder than the one pictured above and created a pretty front for it. You can get as creative as you like with this part. 🙂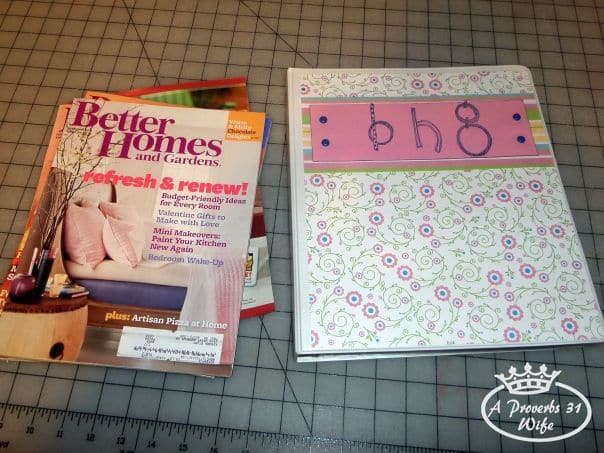 I was so tickled at how well that one turned out, that I went ahead and did one for Jason's hunting magazines and also one for recipes.
Let me tell you, that 3-ring binder in my recipe book cupboard is the one I grab most often. In fact, now that I'm blogging and online so much, I also print out recipes that I've blogged about, or found on other sites that I like and have added them to my binder. It's so much better than a book, or those little recipe cards that get stuffed into a box!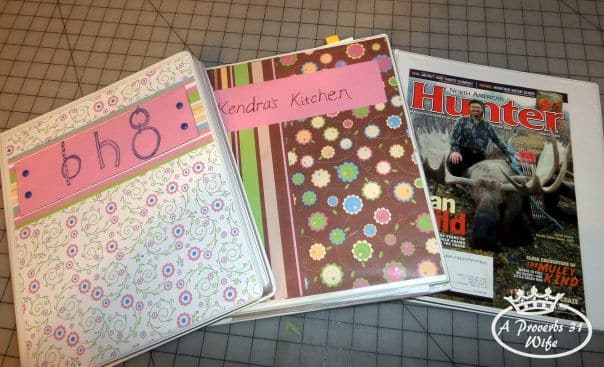 So here's my post in a nutshell. Keep what you can use, toss what you cannot. Easy-peasy right?
For more inspiration on organizing, why not check out 10 Steps to Organized paper? (affiliate link) This e-book is a great place to start when trying to eliminate paper clutter.