Which Reusable Straw is Best?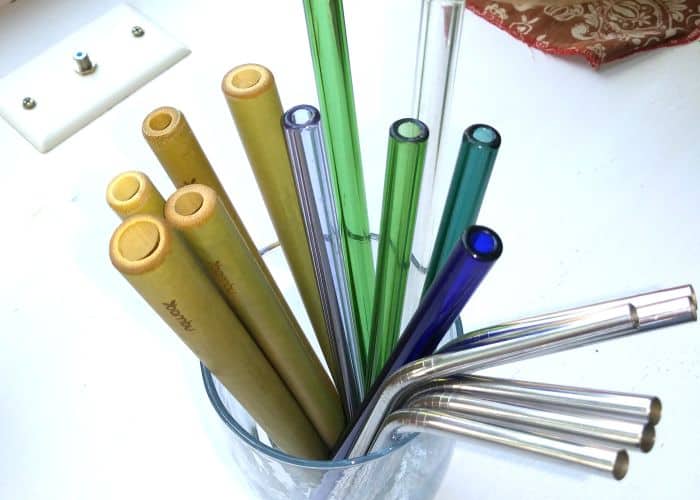 Glass, stainless, bamboo… So many choices, how do you know which reusable straw is best?
Perhaps though, we start by looking at WHY you should be considering reusable straws.
I've written a lot about stewardship here on the blog and I believe firmly in taking care of the blessings God has given us. Good stewardship goes FAR beyond simply managing money well.
We are to be good stewards of ALL our blessings. Taking care of our body(health), family, friends, money, animals, environment etc.
Plainly speaking, using plastic straws isn't good stewardship. Data collected from manufacturers has the US using 500 million straws EVERY SINGLE DAY. Which averages out to 1.6 straws per person, per day.
That's an insane amount of waste!
These straws can be recycled but most are tossed in the trash. Others are tossed out into the road ditches and into waterways and oceans. Put quite simply, plastic straws wreck havoc on our environment.
Plastic straws also wreck havoc on our health!
"How" you ask?
Let me explain.
Plastic straws are made with BPA's. If you ask me in person what BPA's are, my response will be something like this. "BPA stands for bisophenal-something-or-another that I cannot pronounce. But I can tell you what they do."
BPA's mess with our endocrine system. Our endocrine system controls our hormones and our hormones control everything else.
Cannot sleep? Could be hormones.
Cannot lose weight? Likely hormones.
Depressed? Hormones.
You get the picture right? Plastic straws are bad. Reusable straws are good.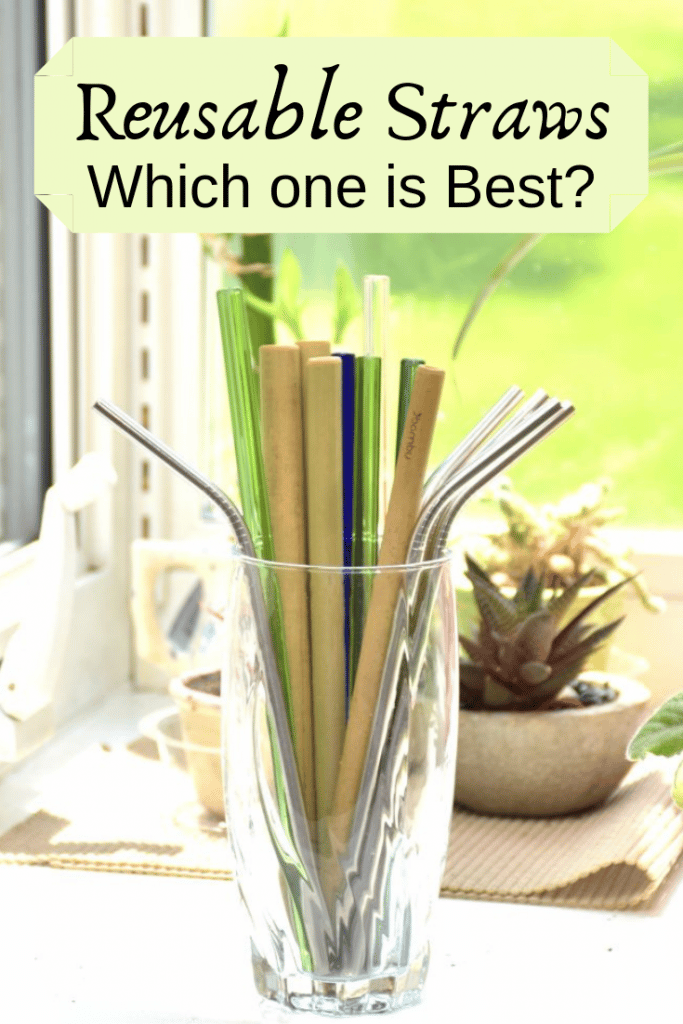 But Which Reusable Straw is Best?
Let's start with a few disclaimers and get them out of the way.

#1. I am a Norwex rep which is where I bought my stainless straws.
#2. I was sent bamboo straws from Bambu® with the understanding that I would use them and share my experiences as I saw fit.
#3. Um… I don't know how long I've had my glass straws. I bought them from Strawsome years ago. Probably don't need a disclaimer for them!
Which Reusable Straw is Best? Let's look at Glass
Let's talk about glass straws first since they were my first experience with reusable straws.
Made with borosilicate (think Pyrex baking dishes), these things are much harder to break than you would think. I've had these for over 5 years and only one has ever been broken in spite of the many times they've been dropped. The one that broke also didn't shatter, it simply snapped into about 5 pieces.
They definitely "clink" against my teeth which isn't the greatest feeling. The other thing I never really liked was how they were so smooth they felt slippery. As well if you are a straw chewer, you won't like these.
Now, they have a wider opening so I definitely liked the glass ones for smoothies and thicker drinks. As well, being glass, you can see the insides quite clearly so you can make sure they are completely clean.
The non-porous interior also makes it easy to ensure they are sanitary and not growing "gunk".
These were also my favorite for sipping hot drinks.
They will last a lifetime if not broken.
Pros:
Wider opening
Nonporous
Shatter-resistant – Almost unbreakable
Better for warm/hot drinks
Doesn't leach chemicals
Longest lasting
Easy to care for
Cons:
Can break
Feels funny against your teeth
Which Reusable Straw is Best? Let's look at Stainless.
I was happy with my glass straws but when I signed up to sell Norwex, I make it my goal to try everything as much as I could so I could share first hand with my customers what I liked/disliked about different products.
The first thing I noticed was the curve. These straws are curved perfectly for little people. Kids have this tendency to "tip" the cup, even when drinking from a straw. Of course, that never ends well.
I keep most of my stainless straws in the car or in my purse for the kids. The angle makes it easy for them and I'm not worrying about a spill.
Stainless straws do transfer temperature. I love my stainless for cold drinks as my water tastes even more refreshing and cool. I've found the opening of stainless straws a bit small for smoothies though.
Stainless straws can be sharp. The ones from Norwex have a rounded edge and don't feel sharp at all. However, just like a plastic straw, if a child were to trip and fall with a stainless straw in their mouth, it could cut them.
Pros:
Nice angle for drinking
Cold drinks are refreshing
Long lasting
Easy to clean
They don't break or bend
Doesn't leach chemicals
Easy to travel with and care for
Cons:
Could be sharp
Hot drinks will feel hotter
Not ideal for thick drinks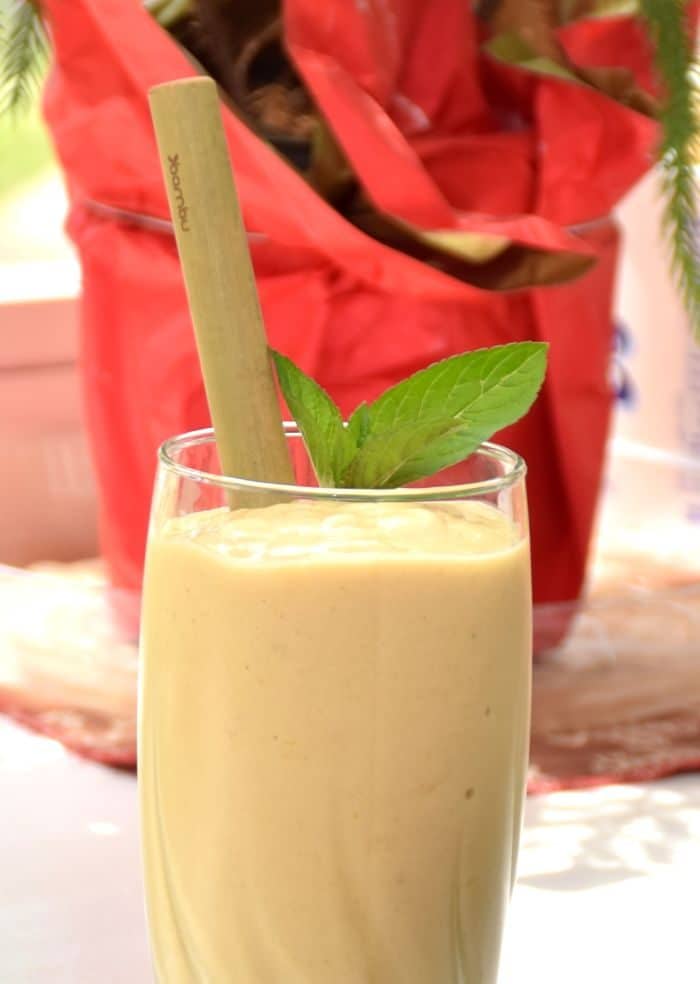 Which Reusable Straws are Best? Let's look at Bamboo
Not going to lie. When I opened my box from Bambu I was live on FB and the thoughts going through my head when I came upon the straws were a bit chaotic.
The idea of using bamboo straws seemed dirty. Bamboo is porous and surely had a flavor. They couldn't last very long could they? Everything would stick inside there and grow nasties right?
So here I am in a live video trying to think of SOMETHING to say that didn't convey my total skepticism. Well, from a friend's later comments. I failed! Haha!!!
Jokes on me though. I used the bamboo ones exclusively for several weeks and now they are the ones I reach for 9 out of 10 times!
So let's look at my bamboo straws from Bambu®.
They are nature's creation so no two straws are quite alike. They are thinner ones which I like for water, and fatter ones that are just perfect for smoothies.
I tried them first with room temp water, figuring I would learn real quick how much "bamboo flavor" transferred. The answer was NONE. I was shocked! I didn't detect any other flavor in my water. WOW
Next I tried them with coffee. Even going so far to leave the straw in my coffee for hours, testing to see if it would absorb any coffee flavor. The straw did darken some and you could see where the liquid line was. However, after a proper washing, I again detected no flavor from the straw!
I used the straws with smoothies and loved how easily I was able to suck up even a thick drink. My boys also loved the bamboo straws for that reason.
Most of the smoothie rinsed out, but when I used the straw brush I did find a little more in the straw. So the bamboo ones aren't quite as easy to clean.
These are also dishwasher safe, but like the other straws, if there's stuff (smoothie, food, etc.) inside, it won't come out. I did use one exclusively for coffee and ran it through the dishwasher multiple times and it hasn't affected it in any way.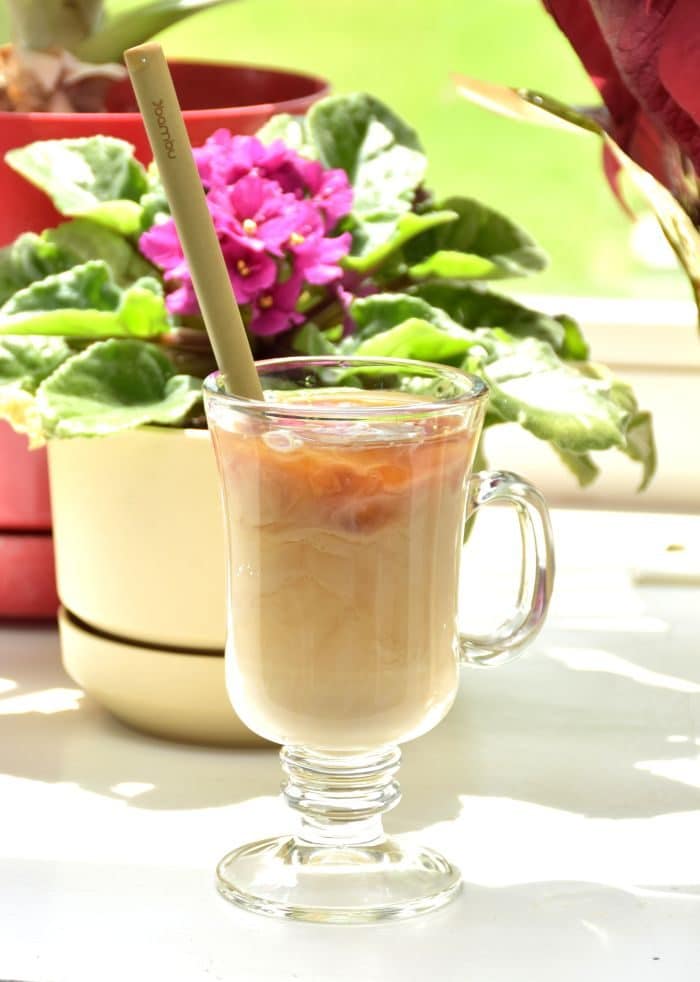 The bamboo straw is also my favorite now for hot drinks. The straw sort of draws away some of the heat… I'm not sure how to explain that one, but it's definitely my favorite for hot coffee, tea, and broth.
The glass straw also my favorite for how it feels in my mouth. Not slippery like glass, or sharpish like plastic and stainless. It has a more natural feel, although the large ones are a bit clunky and thick feeling.
If you are a straw-biter, these are the ones you will want. 😉
According to the Bambu® website, they are the only straws that are 100% USDA certified organic.
The main drawback with bamboo is they are a bit higher maintenance, especially if you want them to last years. The insert said you can revive them with an oil or Bambu®'s bamboo-goo.
Pros:
Nature creates a variety of thicknesses to choose from.
Ideal for smoothies
Best for hot drinks
Doesn't leach chemicals
Doesn't absorb or transfer "flavors"
Best feel for mouth
No sharp edges
Decomposes when it's usefulness is passed
Cons:
Needs a little more scrubbing to clean smoothies out
Can be clunky feeling
Shorter lifespan than stainless and glass
Which Reusable Straw is Best? You Decide!
I hope this helps you in your search for reusable straws! I will say, my glass ones are probably going to be placed in the back of my drawer since my straw from Bambu® will pretty much replace them for now.

My stainless are also being moved more to the car and my purse for travel now. We drink mostly water, coffee, and tea while on the go so keeping the straws clean is pretty easy.

When I order a "fancy coffee" the straw comes into the house with my cup to be cleaned and then it goes right back into my purse for the next time.
You may think "well, I'm just one person, how much difference does it really make if I use a reusable straw?" Well, it makes a difference to the tune of 580 straws a year on average! Even more if the entire family switches.
*Do I never use a plastic straw? Well, sometimes the straw is already in my drink when it comes or something weird like that. But otherwise, I stick to my reusable ones!
Want to buy your own reusable straws?
Stainless steel straws from Norwex
Glass straws from Strawsome
Bamboo straws from Bambu® (psst! while you are on the Bambu® site, check out their baby spoons!)