Ynab vs Mint – Which Is the Best Budgeting App?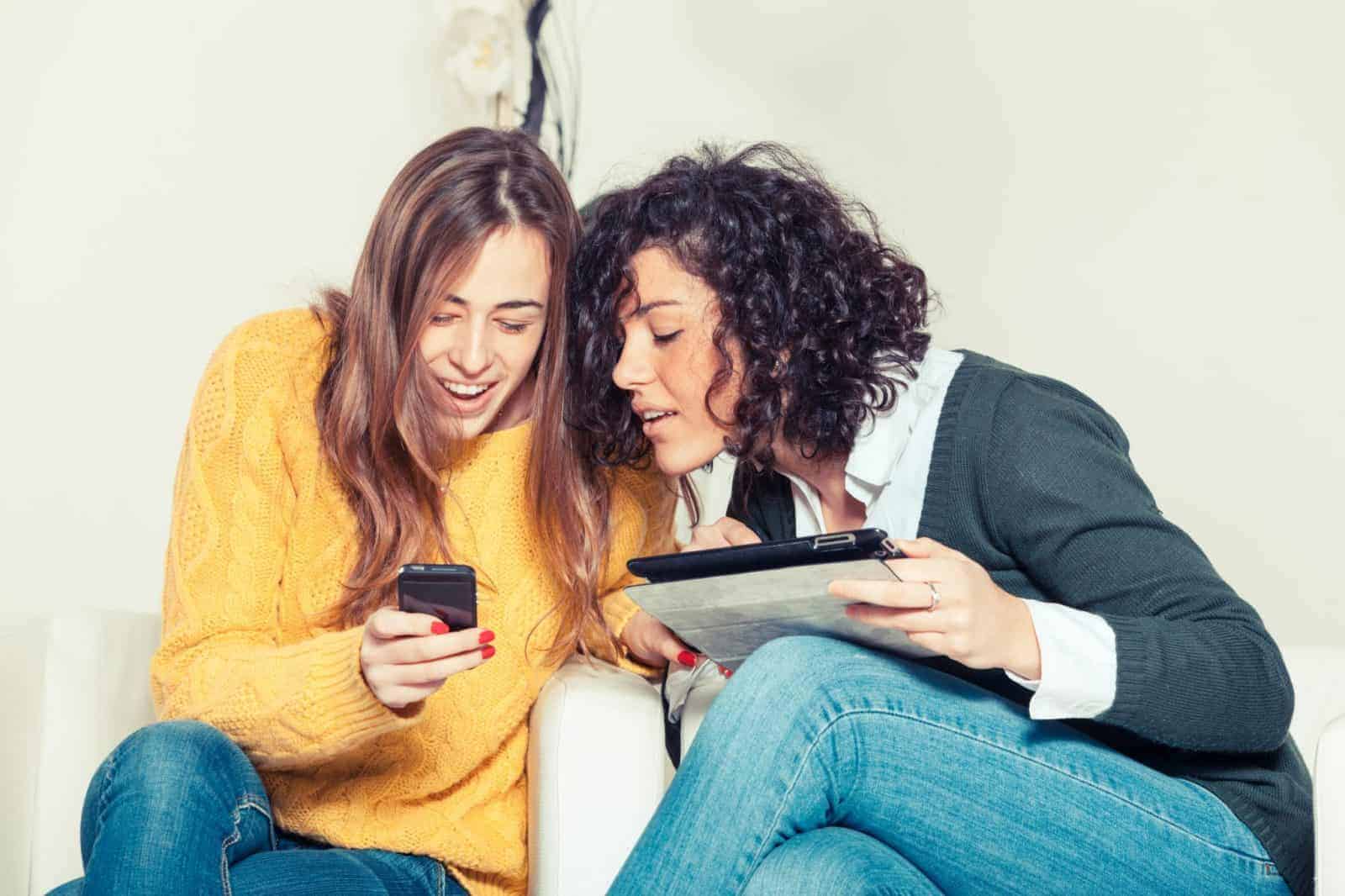 When it comes to keeping track of your personal finances, clunky spreadsheets and envelope systems are out. Instead, millennials are turning to easy-to-use budgeting apps to monitor and track their spending and savings. While there are dozens of budgeting apps available, there are two major players to consider: YNAB (which stands for You Need a Budget) and Mint.
Since both personal finance apps include a budgeting feature, they're often lumped into the same category, but as we take a closer look at both apps, you'll notice some distinct differences.
In this review, we're covering all of the bases of budgeting with both tools so that you can ultimately decide which budgeting app is right for your personal finances.
Overview of Ynab & Mint
Ynab – the proactive approach
YNAB is a budgeting tool created to help users proactively take control of their both their spending and saving.
The software stands out from the rest because it was developed around four unique money management principles which helps instill better money habits. Here are their four rules:
Give every dollar a job. Prioritize how you use your money as it comes in, then stick to your plan.
Embrace your true expenses. Never get surprised by another unexpected bill or life event again.
Roll with the punches. Be flexible and address overspending as it happens.
Age your money. Intentionally spend less and save more so that eventually, you'll be able to cover this month's expenses with dollars from the month before.
If you look at YNAB's success stories, you'll see that their users rave about how the software and methodology helped them gain control over their money, get out of debt, save for emergencies, and invest wisely.
Checkout YNAB's 1-minute overview:
Mint – the big picture
Mint is more than just a budgeting tool. It functions more like a personal finance monitoring tool, providing an overview of a user's entire financial landscape.
Mint's software stands out because you can view your checking accounts, savings accounts, credit cards, student loans, car loans, investments and more in one user-friendly dashboard.
Beyond budgeting, Mint can also monitor your credit score, and send user's text or email alerts when you get a late fee, overspend, make a large purchase or have an upcoming bill due.
If you look at Mint's customer reviews in the app store, you'll see their user's love the robust tracking and automation, and one-stop-shop view that the software provides.
Check out Mint's 1-minute overview:
Comparing the two apps
Even without comparing features, cost or customer service, it's clear that we're not exactly comparing apples to apples. You could say comparing YNAB vs. Mint is more like comparing apples and apricots.
At this point, consider the type of budgeting approach that interests you most.
Do you want to be very "hands-on" with your monthly budget or are you interested in monitoring your income and spending habits?
Start thinking about your financial goals. How do you want budgeting to improve your life?
Ynab vs. Mint – Budgeting Features
As mentioned above, Mint offers more features than just budgeting. You can track bill due dates, review your net worth, monitor your credit score and more.
Since this post is about choosing the best budgeting app, we're going to look at YNAB vs. Mint based solely on their budgeting features.
Feature comparison chart
1. Zero-based budgeting
Zero-Based Budgeting means you allocate 100% of your income to a budget category (like a virtual envelope system). For instance, if you receive $150, you'd give every one of those dollars a job:
$50 – Food
$25 – Clothing
$25 – Entertainment
$50 – Savings
If you overspend by $10 in clothing, you'd need to move $10 from another category, like entertainment. Budgeting using the zero-based method ensures no penny slips through the cracks.
Unfortunately, most traditional budgeting practices don't use the zero-based method. Instead, you'd forecast next month's income and create a budget for your expenses ensuring the expenses don't exceed the income.
What does this have to do with YNAB vs. Mint? Well, YNAB uses Zero-Based Budgeting and Mint uses forecasting.
YNAB & Zero-Based
When you use YNAB's software, you won't budget theoretical money that you expect to come in. Instead, you deal with the facts and only budget with money you have today.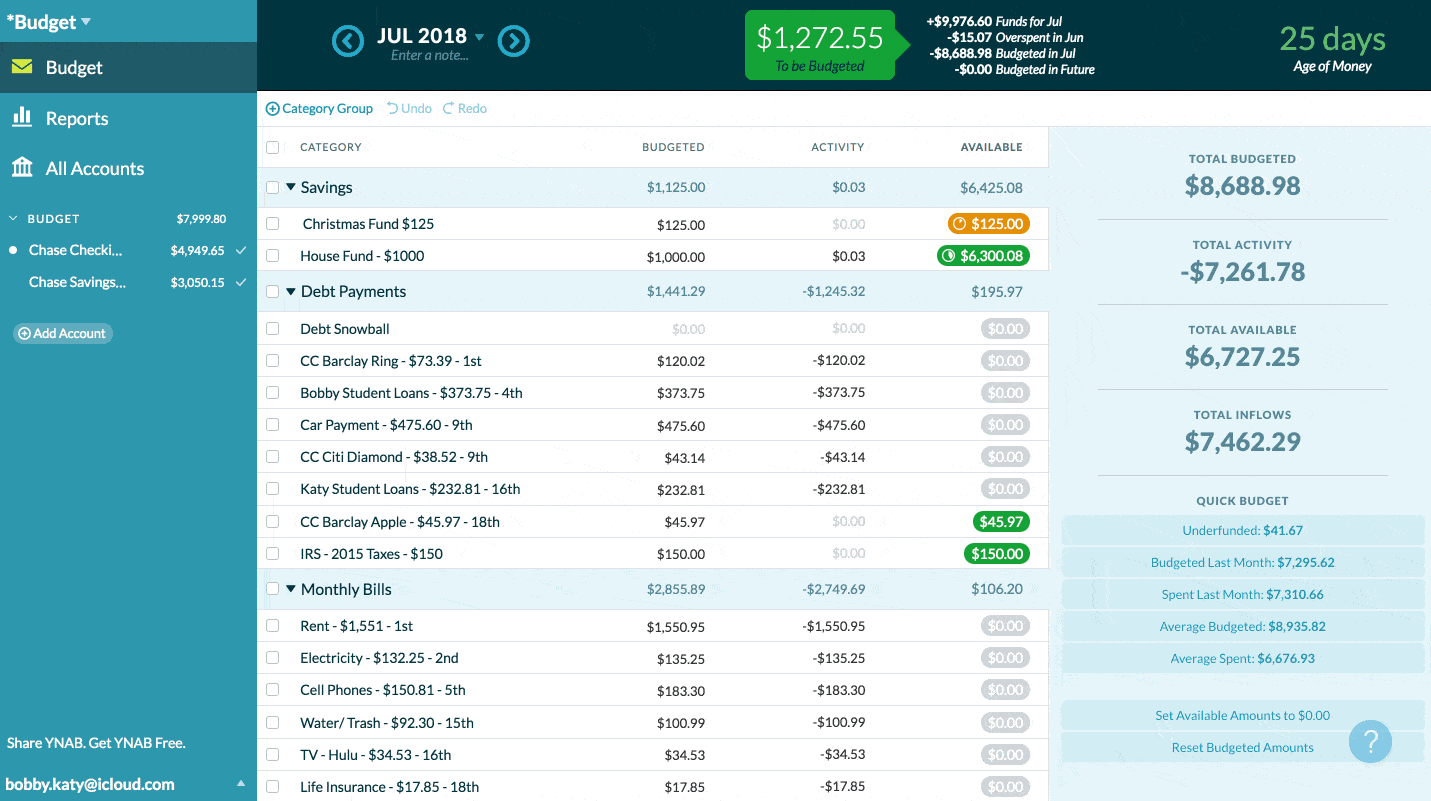 For example, when you start your free trial, you may have $1,000 in your bank account. When setting up your budget, you'll give those $1,000 a job and wait for your next paycheck. When your next paycheck comes in, let's say it's $1,500, you'd split up the $1,500 to appropriate categories, making sure you cover any upcoming bills and other expenses. You repeat that process every time you get paid until you have enough money in your account to cover an entire month's expenses with last month's income (YNAB's 4th rule).
Mint & Forecasting
Mint, on the other hand, budgets uses forecasting. For each month, you set your income based on what you expect to bring home that month. As your paychecks come in, a colored progress bar shows whether or not you're on track.
For expenses, you set up your categories and forecast how much you want to spend per category. Throughout the month, your progress bar will change colors based on your spending trends.
For example:
If you have $100 budgeted for entertainment and you've spent $50, you'll have a green progress bar that's half full indicating you still have money left over in that category.
Let's say you spend all of your allotted dollars for a particular category, then the progress bar will be yellow and filled 100%.
Finally, if you overspend in any category, the progress bar will turn red.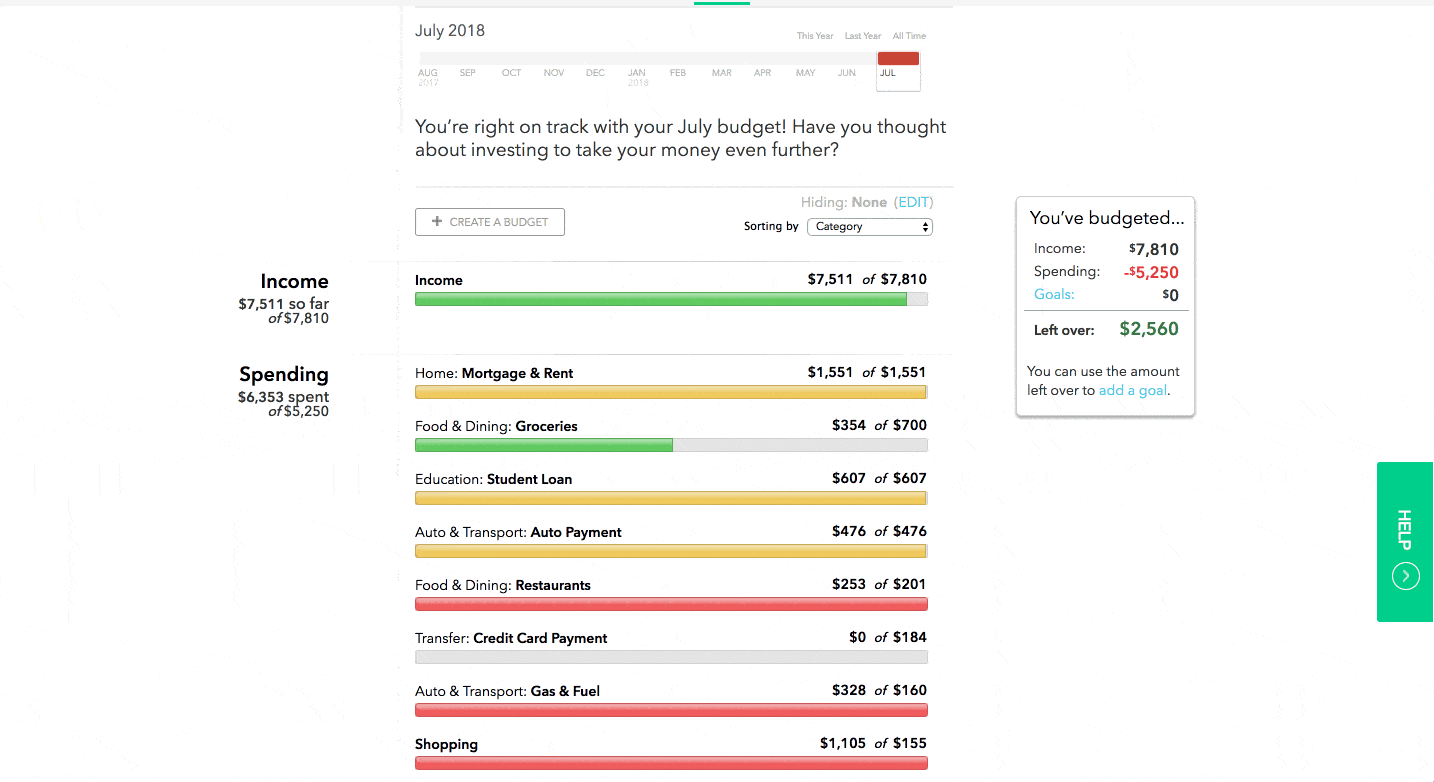 Does Budgeting Style Matter?
Hands-down, a zero-based budget is the most accurate way to ensure every penny gets accounted. If you want to make sure you're in charge of your money at all times, YNAB is a no-brainer.
However, some people don't want to track every nickel and dime. If you prefer to stick to a general budget, Mint would be a great solution.
2. Synchronization
When it comes to synchronization, there are two essential factors:
Syncing with your bank
The ability to import transactions
Both YNAB and Mint allow users to easily connect all of your bank accounts and credit cards as well as import transactions.
Syncing with Banks
YNAB advertises that they connect with over 12,000 banks. While the number of banks that sync with Mint isn't listed on their website, Mint seems to integrate with most financial institutions based on customer reviews in the app store.
As you're browsing reviews, you may also notice ongoing customer complaints from Mint users about the reliability of maintaining a connection with their accounts. I've had first-hand experience with this same complaint. Nearly every time I log in, at least one of my accounts needs to be reconnected. Usually, you need to add your username and password, and it will sync right back up.
Importing Transactions
As long as Mint can connect with your bank without issues, it will automatically import all transactions. If there's a break in connection, once it's resynced it will import from where it left off.
When you use YNAB, you'll have to press the import button to add transactions in your bank account. The reason it's not automatic is that the goal is to add the transaction to the app as you make purchases, then when you import they'll match up. If you forget a transaction along the way, it will automatically add it once you click that button.
3. Goal tracking
A primary reason to start a budget may be to pay off debt or save for a big purchase, but debt payments and saving can take quite a bit of time. To stay on track, you may want a budgeting tool to help you set up monthly, attainable goals.
YNAB – Five Goal Types
There are five goal types in YNAB. The first three tackle spending categories and the last two deal with credit card payment categories.
Target Category Balance Goal– Set aside money until you have a certain amount available without a specific timeline to get there. Since there isn't a way to be off track, there is no alert if you're short of your goal, but you'll see a progress bar when you select the category.
Target Category Balance by Date Goal – Does the same thing, but sets a target month as well. YNAB will give you a Goal Target each month and tell you how much more you need to budget to stay on track. Your category balance will be orange if you haven't budgeted enough, or if you need to budget more after spending from that category.
Monthly Funding Goal – Sets a target amount to budget for a category each month. There is no target category balance or date, so it goes indefinitely (well, unless you decide to delete the goal) and is not impacted by new spending.
Pay Off Balance by Date – Calculate a monthly amount to budget to pay off your credit card debt by a specific date. The amount will adjust if you are making slower or faster progress than your original plan!
Pay Specific Amount Each Month – help you budget a certain amount toward your debt each month, without having a target payoff date in mind.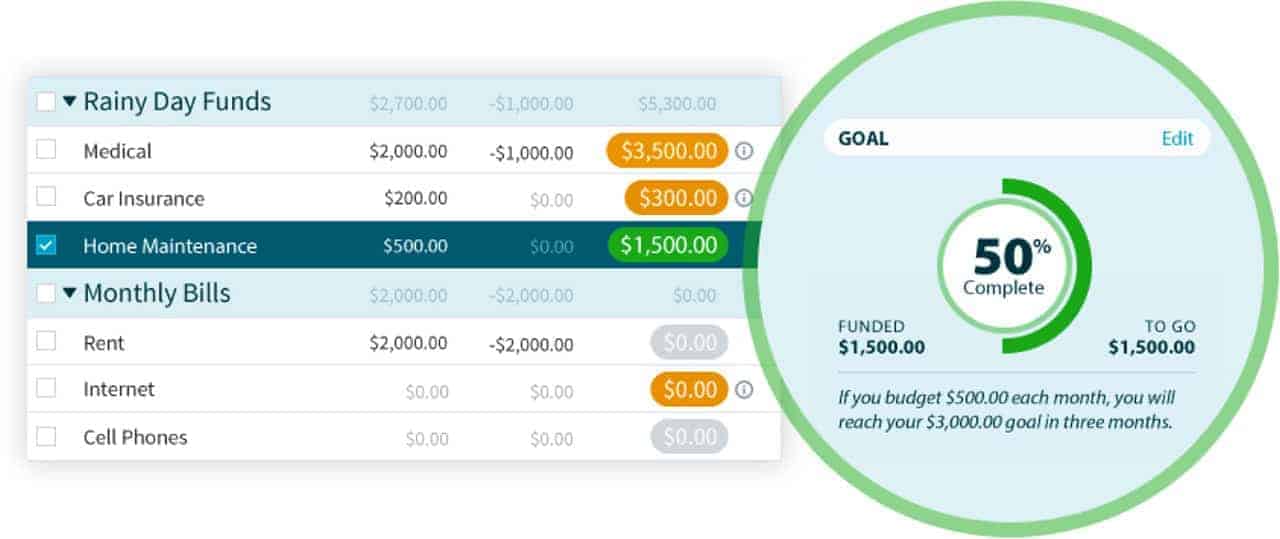 Mint – Ten Goal Types
In Mint, there are ten goal types. To create a goal, click on the icon and follow the setup wizard. These goals are pretty self-explanatory and don't need a definition quite like YNAB's.
Pay Off Credit Card Debt
Pay Off Loans
Save for an Emergency
Save for Retirement
Buy a Home
Buy a Car
Save for College
Take a Trip
Improve my Home
Create a Custom Goal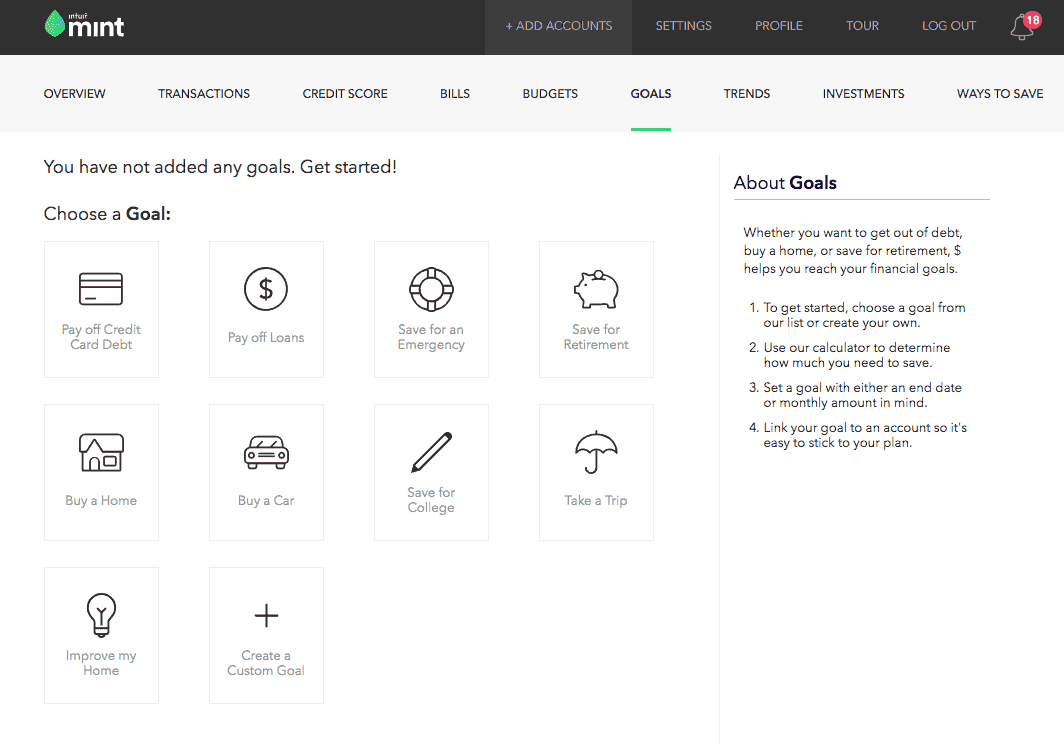 Goals Galore
At the end of the day, both apps do an excellent job with setting up goals. However, Mint accounts for interest rates through their wizards on loans and credit cards. YNAB does not consider your APR. You'd need to calculate that before setting up the proper goal end date.
It's also worth noting, setting up goals in Mint is foolproof thanks to their easy-to-use guided setup. In YNAB, there's a bit of a learning curve and you may need to take one of their free 20-minute classes to learn how to set up goals and customize them.
4. Trends & report
Both personal finance apps include trend visualization graphs and charts so you can isolate and focus on data that are most important to you. You can export your reports to a CSV file which will allow you to view it in an Excel spreadsheet. In an export, you'll only get raw data. Graphs won't be available.
YNAB Reports
YNAB offers three different reports to analyze your finances from different vantage points.
Spending report
Net worth report
Income vs. expense report
In all three reports, you can filter by categories, timeframe, and accounts to customize the data you want to view.
Here's an example of the spending by category report: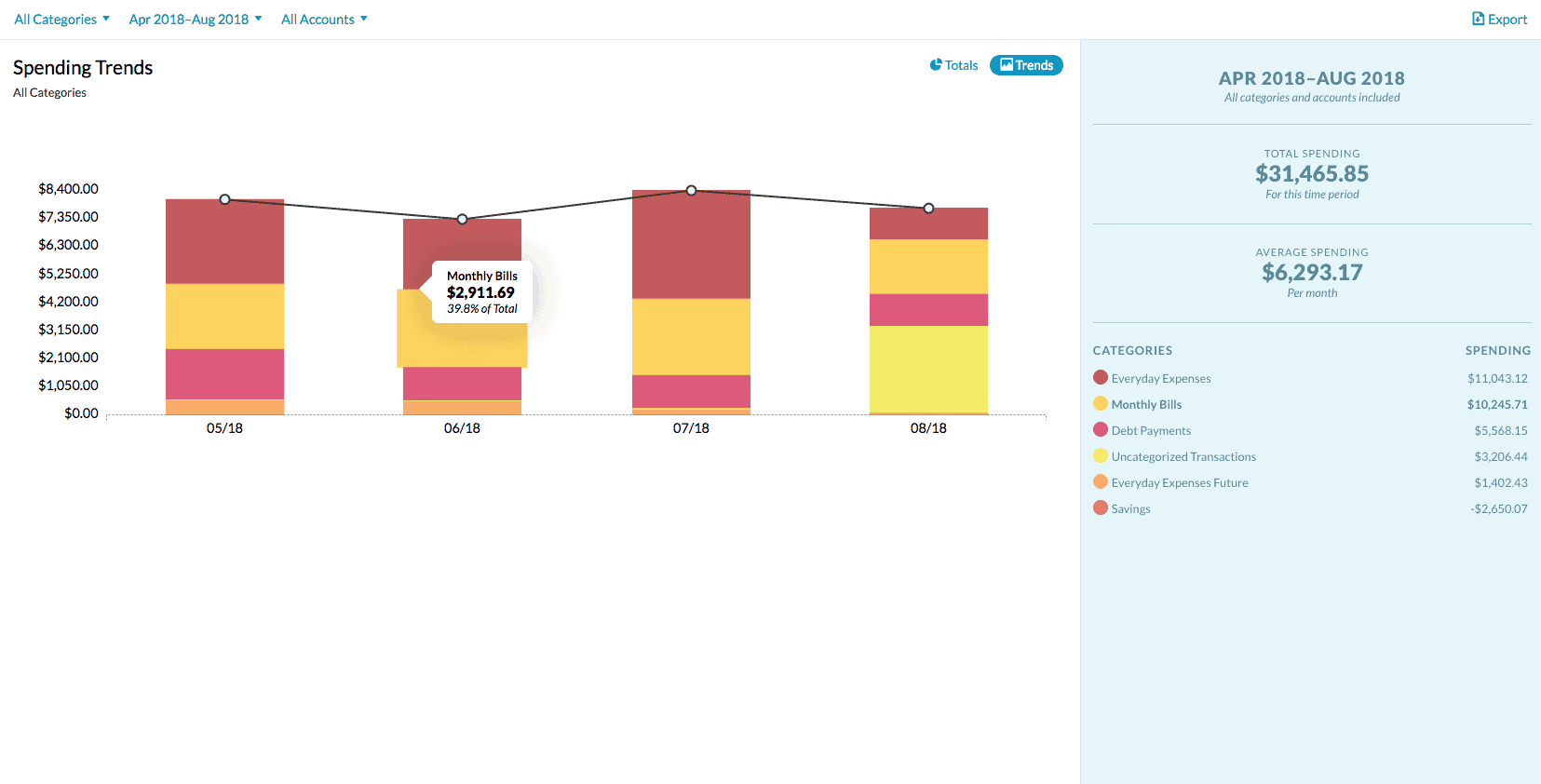 Mint Reports
Mint offers six various reports to view in the Trends tab.
Spending reports
Income reports
Net income reports
Asset reports
Debt reports
Net worth reports
You can customize your reports according to category, date, account, and transaction type. You can also try out specific graphs by clicking the different links under "Graphs to try" in the left-hand menu.
Here's an example of the spending by category report: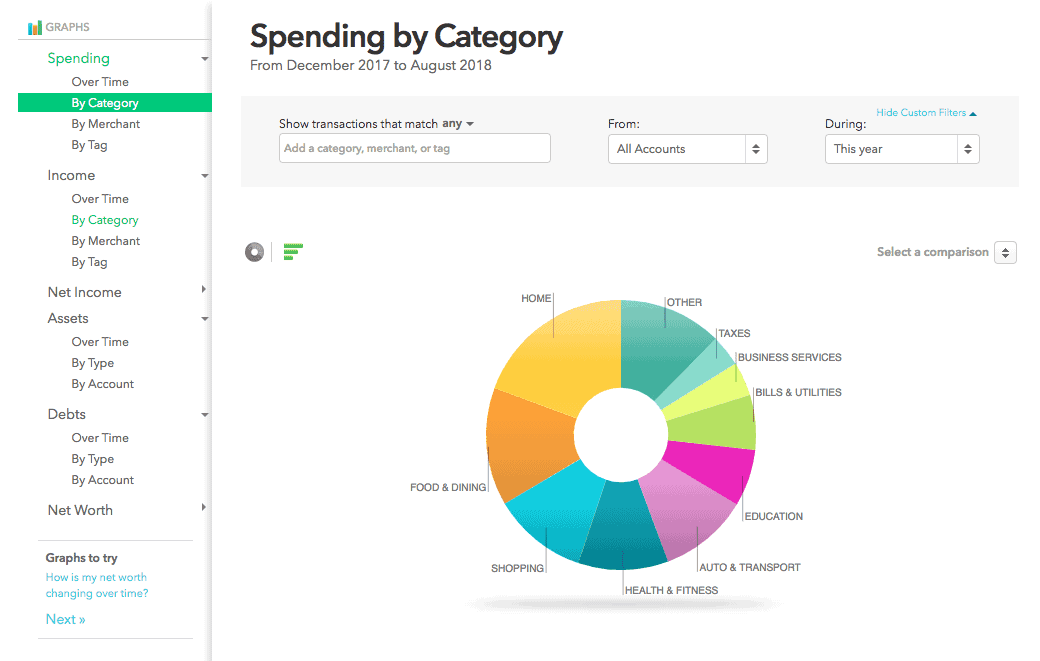 5. Reconcile transactions
Because YNAB uses the zero-based budgeting method, you'll reconcile transactions and your account each month. The goal, as previously mentioned, is to add transactions to the app as you make purchases and when it's time to import transactions, they'll match your bank records.
When transactions match they're considered to be "cleared". When all transactions match and the balance in your bank matches the balance in YNAB your account is considered reconciled.
Because Mint is forecasting based, you can't reconcile transactions.
If you want the nitty-gritty details and want a detailed view of your spending habits, transaction reconciliation is a valuable feature.
If you like viewing your finances from a 30,000-foot view, where you can see details of your transactions but not reconcile them, Mint would be a good tool for you.
6. Manual entries
Another important feature of budgeting includes having the ability to add manual entries. Fortunately, both budgeting apps allow you to do that.
Manual Entries in YNAB
Because YNAB wants you to know where you're spending your cash, it empowers you to enter your transactions manually. Then when you import your transactions, they'll "clear" when the two transactions match.
To add a new transaction, follow these steps below:
Select the account where the transaction happened
Click add a transaction
Use Payee to describe who the money went to
Select your category
Click save.
Manual Entries in Mint
In Mint, you can manually add cash, pending checks, and other transactions. It's important to note that although a "cash" transaction will appear like other transactions, it can't be associated with a bank account. That's why Mint suggests adding a tag or notes to the transaction indicating the name of the bank.
On the other hand, if you add it as "pending" or "check", it can be associated with a bank account. However, the system will only allow you to enter a transaction date which is 30 days before the current date and 90 days after.
To add a manual entry, follow these steps:
Click on the Transactions Tab in the top menu bar.
Click the "+ Transaction" button.
Enter the relevant details.
Click "I'm Done".
Bottom Line on Manual Entries
Since both apps offer manual entries, this particular feature doesn't make or break either option for most users. If Mint seamlessly syncs with your accounts on autopilot though, I can't see why you'd need to make very many manual entries.
7. Custom categories
Categorizing your budget is a very important feature because it helps you organize and understand where you spent your money. So, let's find out how YNAB vs. Mint stack up when it comes to custom categories.
Categories in YNAB
When you sign up for your free trial, you'll notice your budget comes with some default parent categories like "immediate obligations", "true expenses", and "debt payments". Underneath each main category, you'll find child categories like "medical", "home maintenance", "education", etc.
Although default categories exist when you start your first budget, you can customize every category to fit your needs.
As you enter a transaction into your budget, the app learns your behavior and auto-fills the category the next time you add another from the same store. For example, if you eat at Chic-Fil-A and classify it as "dining out", the next time you eat there again, the app will auto-fill that same category.
Categories in Mint
One of Mint's selling features includes "automatic categorization" of your expenses. When a transaction is imported from your bank account, Mint makes a smart guess and sorts your transactions into categories automatically.
In my personal experience when I used Mint exclusively for budgeting, I had to constantly monitor and edit the way transactions were categorized to get accurate reports.
For example, a trip to Target defaulted to the category "shopping", however, I'd have to change the category depending on the items I purchased, like groceries or household items, for example.
Now that example will always have to be monitored since Target is an all-in-one store that provides a number of products that I split across various budget categories.
However, if Mint categorizes other transactions incorrectly and you want them to always go in a particular category every month, you can create and manage transaction rules.
Mint would classify my health insurance transaction as "financial". Because I wanted to track all of my health expenses together, I created a rule that classified my health insurance to "health sharing ministry". Now, when the charge from Medi-share comes into Mint every six months, the app will always classify it as health sharing ministry.
The Category Champ
If you want full customization options inside of your family budget, YNAB offers the most flexibility for categories. If you prefer a more automated categorization approach, Mint will get the job done.
8. Alerts
Alerts are an important feature when monitoring your money. Historically, Mint's alerts capabilities have always surpassed YNAB's, however, YNAB recently rolled out a new public API. Let's take a look at what that means for alerts as it compares to YNAB vs. Mint.
YNAB Alerts
YNAB for mobile devices includes notification banners and alert badges anytime your budget needs some attention.
Before June 2018, YNAB didn't have an option to text alerts, or email goal tracking statuses. Technically those features still aren't a reality as of the time of writing this post, but thanks to their public API, more features will become a possibility in the near future.
The YNAB API (short for Application-Programming Interface) is a way for developers to write code to work with and enhance YNAB giving users more features than ever before. Imagine…
Getting blocked from visiting Amazon if you've used up all of your shopping cash for the month.
Turning your smart lightbulb red if your checking account dips below a certain amount.
While we wait in anticipation for those fun new features, it's worth noting they offer on-demand status updates through Alexa.
Mint Alerts
Since Mint's philosophy is all about keeping an eye on your money so you don't have to, they've always included robust alerts to their users.
In your notification settings, you're in control of the notifications you want to receive.
You can have weekly or monthly email summaries to find out what happened with your finances the previous week.
You can turn on advice emails sharing ideas to help you better manage your money.
Bill reminder alerts emailed or push notifications on your mobile device.
Send credit score updates
Monitor and send spending alerts, for the following events:

Low balance
Available credit dips below a particular amount
Credit usage is high enough to hurt your credit score
Spending in any category is above average by a set amount
Exceeded budget
Interest rate changes
Charged trade commissions
Bank charges any fees above a set amount
Purchase costs more than a set dollar amount
Large deposit
Paying too much for car insurance or health insurance
Home and mortgage notifications
401k rollover
Goal notifications
Winner Winner – Chicken Dinner
If I was writing this a few months ago, this wouldn't even be a question – Mint would win hands down in the alerts category. YNAB's public API and Alexa updates are giving Mint a run for their money.
Because the texting and email alerts aren't out just yet for YNAB, I'm still deeming Mint the winner in the alerts category for now. Although if you're using YNAB proactively, as it's intended, you should know the status of your money, spending, and goals at all times.
9. Bill management
Neither budgeting apps offer bill payment through their systems, however, both offer bill management solutions.
Managing Bills with YNAB
Unlike Mint, there isn't a Bills section inside of YNAB app. Instead, you manage your bills by scheduling recurring transactions.

I also like to include the due date within my budget category descriptions so that when a paycheck comes in, at a glance, I know where to allocate the money.
Monitoring Bills with Mint
Once upon a time, Mint did include the ability to pay bills inside of the systems, but that feature was removed in June 2018. Mint cites lack of people finding value in the feature to keep it going forward.
Although the pay feature no longer exists, you can still track your bills and get upcoming bill reminders.
Inside of their Bills area, it automatically pulls due dates from your credit cards and other loan accounts you have set up. You also have the ability to manually add another bill.
Bill Management Summary
There's a difference between managing your bills and monitoring your bills. I believe that YNAB helps proactively manage my bills, while Mint helps me monitor them.
Yes, Mint can notify me when a bill is due, unlike YNAB. But the bills and budgeting areas are separated. I have to manually add bills to Mint in order to be reminded about them.
With YNAB, I'm more on top of my bills than ever before.
In fact, the first month I got started, I budgeted $531 for our Medishare bill. I noticed the money was still set aside in my budget category after the due date had passed. So I called my health share company to investigate; I wanted to make sure I didn't miss something.
When I called, I found out that I double paid the month prior (before I started using YNAB) and didn't even know it. Had I used YNAB the month before, I would have known I double paid.
10. Tax reports
When it's time to handle your taxes, which personal finance app can help?
YNAB's Tax Report
The spending report is my favorite YNAB report because it looks like a profit and loss (P&L) report. If your accountant needs a report of your total inflows and expenses, you can print it off or download a .csv file and send it over to him/ her for your tax prep.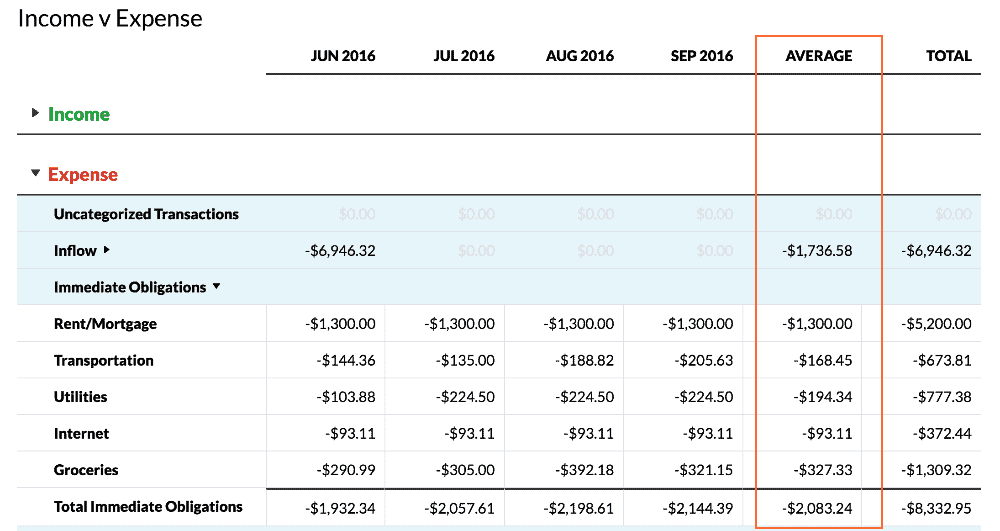 Mint Tax
Mint doesn't have a report that looks like a P&L. If you wanted to keep track of your tax-deductible expenses, you'd have to add a tag or categorize expenses as tax deductible. Mint (owned by Intuit) also offers recommendations to help with taxes like IRAs and TurboTax.
Want Easy Taxes?
If you're handing your taxes over to an accountant, YNAB is extremely helpful and the way to go. If you want to do them yourself, Mint is a fine solution.
Customer Support & Training
With any new piece of software, there's a learning curve. If you get stuck, you may need some tech support. Phone support is not available with YNAB or Mint. However, both budgeting apps offer self-help articles that answer frequently asked questions.
If the help articles don't answer your question, you have some options. On YNAB you can send a message and receive an email response within 24 hours. With Mint, you can start a live chat.
If you're interested in some helpful finance tips, both companies add new posts to their blog and new videos to their YouTube channels frequently.
YNAB shines and differentiates itself through their free live workshops. You don't have to be a customer to sign up for a class either. You can learn from one of their expert hosts about setting up your budget, mastering credit cards, creating a debt paydown plan, saving money on groceries and more.

---
Cost
Ynab: One-time fee
YNAB advertises that the budgeting tool costs $6.99 per month, but users get billed annually, so the actual price is $83.99 charged per year.
The good news is that you can try out the budgeting app with their free 34-day trial. The trial allows you to give it a shot to see if it's worth your time and money without assuming any risk.
Mint: Free
Mint, on the other hand, is free without any hidden fees. (Penny pinchers rejoice.)
There are several ways Mint gets paid for the subscription to remain free for their users:
Advertising – As you navigate the site, you'll notice a few banner advertisements. Mint makes money from these ads by selling the ad spot to various companies.
Referral Services – Mint recommends some financial products through it's "Ways to Save" service. When a Mint user signs up or uses that recommended product or service, Mint gets a referral fee. These offers can be useful as they can save you money.
Aggregate Consumer Info – While Mint doesn't sell your personal information, they do sell and distribute aggregate data. They're selling consumer trends like saving habits, banking fees, and average spending.
Free is better, right?
If you're a Frugal Francie, you might immediately write off YNAB as a budgeting option because of the expense. (Afterall, you are trying to save money, not spend more.) But, YNAB has a proven return on investment (ROI). According to their website, on average, new YNAB budgeters save $600 by month two and more than $6,000 per year.
If that statement is right, the budgeting app program would be more than worth your investment.
There's only one way to find out– give it a try (it's free for 34 days) .
---
Hello Sensible's Recommendation
Mint is an excellent start to budgeting and helps you become aware of your financial spending and saving trends, but YNAB cuts to the heart of the matter and enables you to transform your habits. That's why we recommend YNAB for budgeting.
Yes, the app costs money, but it's a total game-changer and worth every penny.