15 Rewards Programs that Every Mom Should Know About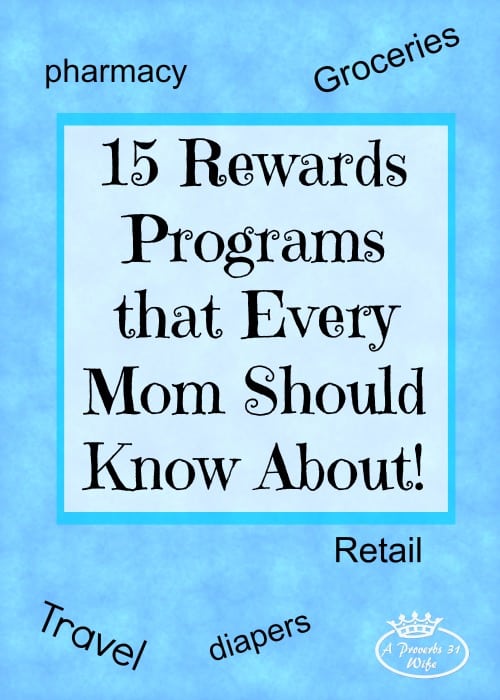 I have said it before and I will say it again. "I Love Rewards Programs!" Today I want to share 15 rewards programs that every mom should know about. I have used most of these for several years, some are newer to me but they are all great.
15 Rewards Programs Every Mom Should Know About: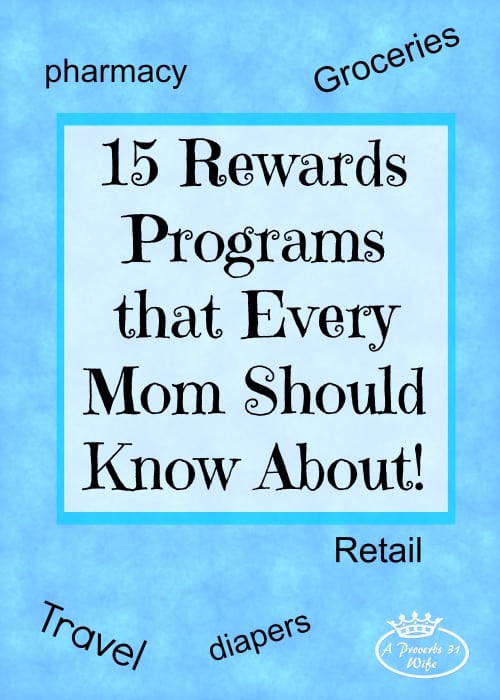 Slight disclaimer: due to the nature of this post, there are a couple referal links below.
Swagbucks: Earn "bucks" just for surfing the web and doing searches. If you print coupons to use, print them from swagbucks (same coupons as ones found on coupons.com) and earn rewards for using them. Your "bucks" can be redeemed for prizes, my favorite one being $5 Amazon gift cards.
Ebates: With Ebates you earn cash back from your purchases as various retailers. You don't change the stores you shop at, you just go through ebates first. They also show you all available coupons. To learn how to maximize your savings read this post on CardPool and Ebates.
Kellogs Rewards: Get exclusive Kellogs coupons, and earn points by entering codes from Kellogg's brand products that you buy for your family.  Points can be redeemed for various prizes. I working towards a free Shutter-fly photo book.
Walgreens Balance Rewards: Earn rewards just for shopping there. You can also take part in their healthy choices program and earn points for logging miles walked, daily weigh-ins and more. Points are redeemed in the form of Walgreen's credits.
Meijer MPerks: Not only can you clip digital coupons, you can earn rewards in Pharmacy and baby purchases, as well as personalized rewards too. All credits are toward future Meijer purchases in the form of dollar off coupons. It can really add up fast!
Kroger: Use your Kroger's app or sign in online and clip digital coupons to your card. Your grocery purchases earn you fuel points to make your gas purchase less.
Cardpool: Not a typical rewards program, but one of the best ways to save significant amounts of money. Buy discounted gift cards at Cardpool and save up to 35%, spend your gift cards through Ebates for maximum savings!
Costco: If you shop regularly at Costco this may be for you. Upgrade your membership to the Executive Membership (you will pay $55 to upgrade) and then receive 2% of your purchases back in cash. It is limited to $500 a year, but that's still a possible $445 in savings. Before you sign up, just make sure you spend enough there on a yearly basis to be worth it.
Tyndale Rewards: If you enjoy books this one is for you. There are lots of ways you can earn points and the points are then used to get free books!
Rewards "R" Us: For every $1 spent at Toys or Babies "R" Us, you earn 1 point. 125 points will earn you $5 to spend at either store.
Huggies and Pampers: Both brands have rewards programs where you earn points for prizes. I know little about them since I cloth diaper, but if you use either brand, you should look into it.
Shop Your Way Rewards: If you shop at Sears or K-Mart, you can become a Shop Your Way member. Earn points on purchases and use them towards future purchases. Sometimes you will even get a special coupon when you check out instore.
Speedway: If you buy gas at Speedway, or make purchases in their convenience store you earn points that can be redeemed for gift cards, free merchandise and up to 50 cents off a gallon on gas.
Auto Zone: Every time you make a $20 or more purchase, you earn 1 point. Earn 5 points and get $20 off your next purchase.
Nearly all Airlines offer rewards programs. If you fly one particular airline a lot make sure you look into their rewards program.
I've only listed 15 rewards programs. I know there are probably hundreds more out there, but these are the main ones I use or know about. Definitely check out the ones I've listed and then think about the stores you shop at and see if they have rewards programs. You don't need to spend a ton of time with any of them, but all together they can really add up!
Happy shopping 🙂