Best Christian Cartoons for Kids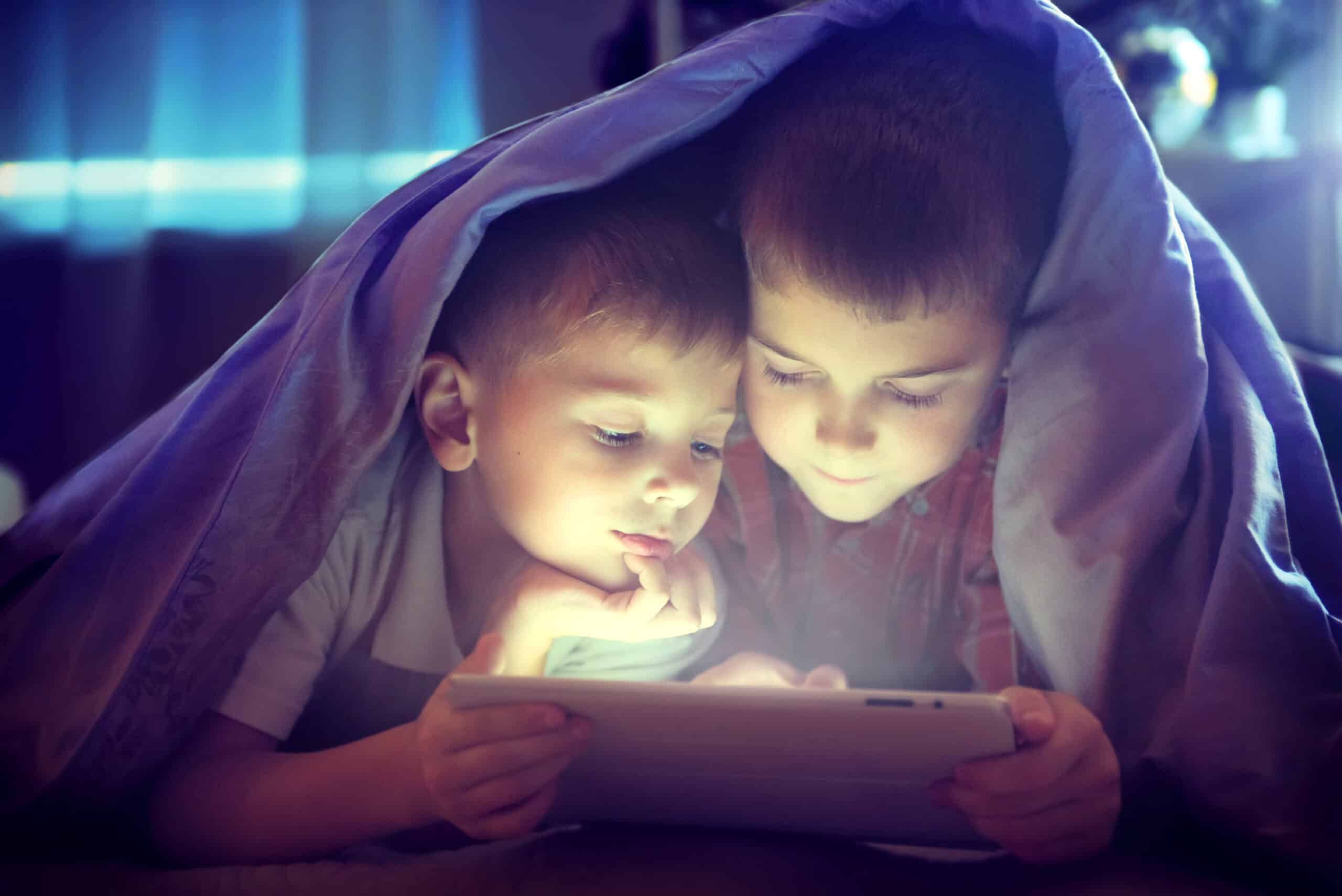 I always told myself that I didn't want to be the parent that just throws on the TV to get stuff done, but it happens…more often than I want to admit. I'm trying to put away the dishes or writing out a grocery list. Or maybe I just want 10 minutes on social media. No matter the reason, the TV comes on.
But finding the perfect thing for kids to watch can be its own struggle. I want something educational and appropriate for my 2-year-old daughter to watch. In our house, cartoons are our JAM—but sometimes you grow tired of Disney cartoons or throwing on another Netflix show. So, I started introducing her to clean Christian cartoons that she really enjoys.
And guess what—you can stream good Christian cartoons for toddlers, preschoolers, kids, and pre-teens!
Streaming Services for Christian TV & Movies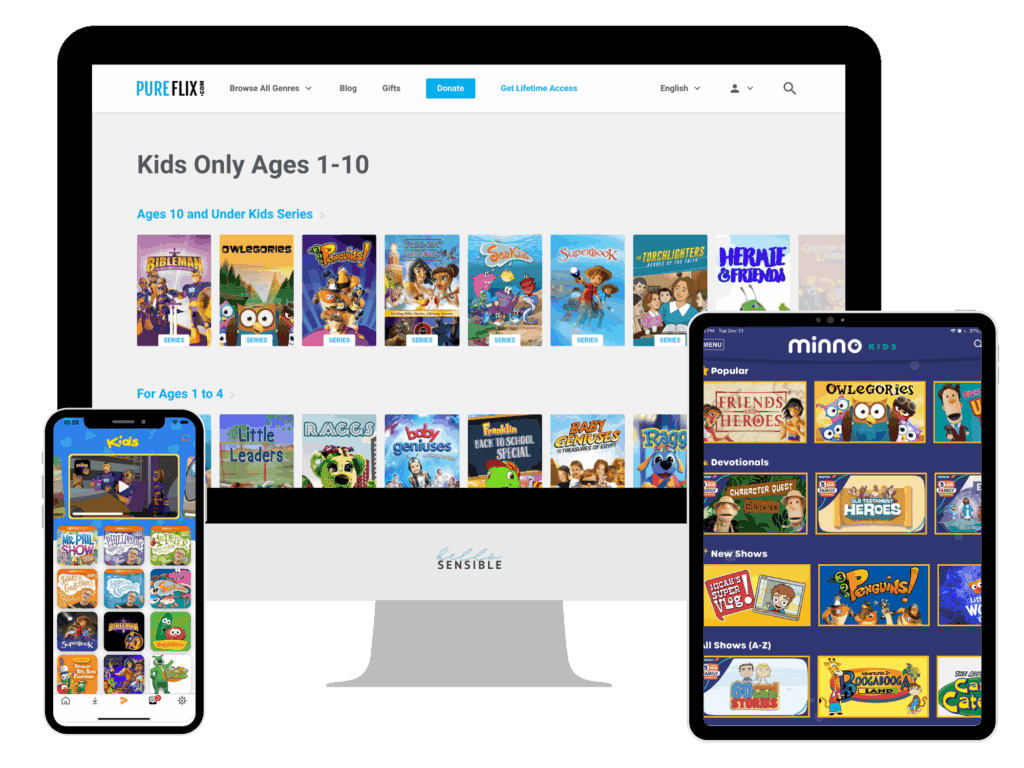 A lot of people use streaming services like Netflix or Hulu to find on-demand content, but it's not always easy to filter the good, clean cartoons for kids.
The good news is that there are Christian streaming services that provide a variety of Christian cartoons for kids and preschoolers, cartoon bible stories and more! Let's explore different Christian streaming services that we highly recommend.
Pureflix
Pureflix.com provides family-friendly movies & TV shows for the whole family.
Why we love this service:
PureFlix gives back to the community. With every paid membership, Pure Flix gives a portion of the funds to a variety of causes, including funding for family adoptions, military & veteran hope and healing programs, not-for-profits for at-risk youth, and other causes.
PureFlix has a monthly or annual subscription plan. For the monthly subscription, the cost is $12.99 per month. If you pre-pay for the entire year upfront, you can cut your expense in half! The annual plan breaks out to only $6.95 per month, which is $99.99 for the full year.
PureFlix also offers a FREE 1-week trial. Click here to start your free trial or sign up for your subscription now.
Minno kids (Formerly jelly telly)
Minno.com allows families to connect with God through stories, books, and resources.
Why we love this service:
On Minno.com you can filter shows by age, genre, and length of the show so you can control the content your child is watching.
Minno.com provides an option to gift an annual subscription to friends and family! You can choose a subscription gift of 1, 2 or 3 years. Give a subscription gift.
Minno has an e-commerce site for parents to purchase Bibles, picture books for young readers and board books for toddlers. This is a great way to bring bible stories into your home.
Minno has two payment plans available: monthly or yearly. For a monthly subscription, it costs $6.99 per month. For a yearly subscription, it costs $69.99 for a full year. Minno also offers a FREE 1-week trial. Start your free trial or sign up for your subscription now:
Rightnow media kids
RightNow Media provides a streaming library of bible study videos inspiring faith. The company has a branch called RightNow Media Kids filled with kid-friendly content, including Christian cartoons!
Why we love this service:
RightNow Media Kids filters their content by age, type of content like short stories and sing-alongs and more.
Along with all your kids' favorite Christian cartoons, RightNow Media Kids offers exclusive original videos you can't stream anywhere else!
RightNow Media offers a variety of payment plans based on average church attendance.
That means you can pay for a subscription that gives the entire church access to RightNow Media and RightNow Media Kids. Payment plans range from $79.99 per month for churches with under 100 members to $1299.99 per month for churches with more than 3500 members. Sign up for your churchs' subscription now.
Christian Cartoons for Toddlers & Preschoolers
Whether you're a stay-at-home mom, a working mom or something in between, hear me now: it's OKAY to let your child watch TV from time to time. If you're hesitant about where to start, here are a few Christian cartoon favorites that our kids enjoy!
Owlegories
Best for ages: 2-5
Owlegories is about an animated owl that teaches lessons about faith, scripture, and nature to kids. This gospel-centered series has shorter 15-minute episodes, perfect for the attention span of young children.
Watch the official trailer here:
You can stream Owlegories on Amazon Prime Video, PureFlix, Minno, or RightNowMedia Kids. You can also buy the Owlegories DVDs on Amazon.
Sea kids
Best for ages: 2-6
Sea Kids is about a group of fish friends that navigate through everyday challenges like fear, peer pressure, bullies and more. Each episode shows the characters praying to Jesus for guidance and wisdom.
Here's a small taste of the show:
Sea Kids is available to stream on PureFlix and RightNowMedia Kids.
Jesus storybook bible
Best for ages: 2-6
Based on the award-winning book, Jesus Storybook Bible paints a beautiful picture of Christian bible stories for young children learning about the bible for the very first time.
Here's a preview of the animated show:
The Jesus Storybook Bible is available to stream on Minno. You can also buy the mega pack book & DVD set on Amazon.
Christian Cartoons for Grade-school Kids
After a tiring school day or a day of running errands with you, you may want to reward those kids with some screen time. Give them some entertaining options that will also teach them valuable lessons (and stir up some much-needed laughter!)
Veggietales
Best for ages: 5-10
VeggieTales is a special rendition of Christian cartoon bible stories in the form of various vegetables. It's a classic Christian cartoon that will be nostalgic for parents who grew up with the series!
VeggieTales is available to stream on PureFlix, Minno, and RightNowMedia Kids. You can also purchase VeggieTales' 25th Anniversary 10-Movie DVD collection on Amazon if you want to watch a wholesome show on the go in your minivan DVD player.
Here's a preview of the classic kid's cartoon show:
3 2 1 Penguins (By VeggieTales)
Best for ages: 5-8
3 2 1 Penguins is about two kids and four penguins exploring space and learning bible-based lessons and values during their adventures.
3 2 1 Penguins is available to stream on PureFlix, Minno, and RightNowMedia Kids. You can also find full episodes on YouTube or buy the 3 2 1 Penguins Complete TV Series DVD on Amazon.
Adventures in odyssey
Best for ages: 8-12
Adventures in Odyssey features deeper Christian stories rooted in the well-known radio drama and comedy series.
Here's a short preview of the show:
Stream episodes now on Amazon Prime or RightNowMedia Kids. You can also order audio CDs which are great for screen-free entertainment on road trips!
Greatest heroes & legends of the bible
Best for ages: 6-10
Greatest Heroes & Legends of the Bible is about classic bible stories like Jonah & the Whale, The Garden of Eden and more, brought to life through Christian cartoons.
Check out a preview of the animated cartoon:
Available to stream on Amazon Prime, PureFlix, RightNowMedia Kids
Friends & heroes
Best for ages: 6-10
"Friends and Heroes" retells Christian cartoon bible stories while teaching important lessons about courage, faith, and hope.
Available to stream on Amazon Prime Video, PureFlix, Minno, RightNowMedia Kids
Free Christian Videos for Kids Online
Superbook Bible Stories
Best for ages: 8-10
Superbook is about a middle school boy named Chris, his friend Joy and his robot friend Gizmo. The trio travels through time to discover truths about the bible and the word of God.
Watch the full episodes here for free online. Note: You do have to register for a FREE account to watch the episodes. Here's a sample episode:
If you have an Amazon Prime membership, you can also stream Superbook on Prime Video.
The beginners bible
Best for ages: 2-6
The Beginners Bible brings a childhood favorite book to life through colorful animation. This is a great way to introduce young children to the bible for the first time.
Click here to watch full episodes. Check out the video clips below to see if you think your kids would like it:
(Note: Since these free Christian cartoons are available via YouTube, you may be served ads at the beginning of the content.)
Clean TV Shows on Netflix for Kids
As mentioned before, these aren't necessarily categorized as Christian-based television, but they're clean, wholesome shows you can feel good about letting your kids watch. Click here to sign up for a free trial on Netflix if you don't already have one.
The magic school bus rides again
Best for ages: 5-12
That's right, Ms. Frizzle is back, but now it's her little sister at the wheel. The classic cartoon is revamped and continues to provide STEM-induced content your kids will want to watch again and again.
Check out a preview of one of the newer episodes:
Beat bugs
Best for ages: 4-8
Five friendly bugs navigate the world around them—all from the safety of their backyard. The best part? All of the songs in the series are from the Beatles. A win for kids, a win for parents.
Word party
Best for ages: 2-5
The Jim Henson Company is behind this toddler-friendly cartoon featuring four baby animals. Each episode features a character trying to learn a new word around topics like colors, opposites, jobs and more. The animals refer to the audience as "big kids" and ask for their help learning the new words.
No matter which streaming service you choose, you'll rest easy knowing the content is faith-based, clean and age-appropriate for your kids. Once you pick your favorite, you already have a list of mom-approved and kid-favorite options to start streaming!
Your Turn…
We're always looking for new, family-friendly entertainment for movie night! Did we miss any of your favorite Christian streaming services or cartoons? Tell us in the comments below!

Related Posts: