Easy White Chicken Chili Soup Supreme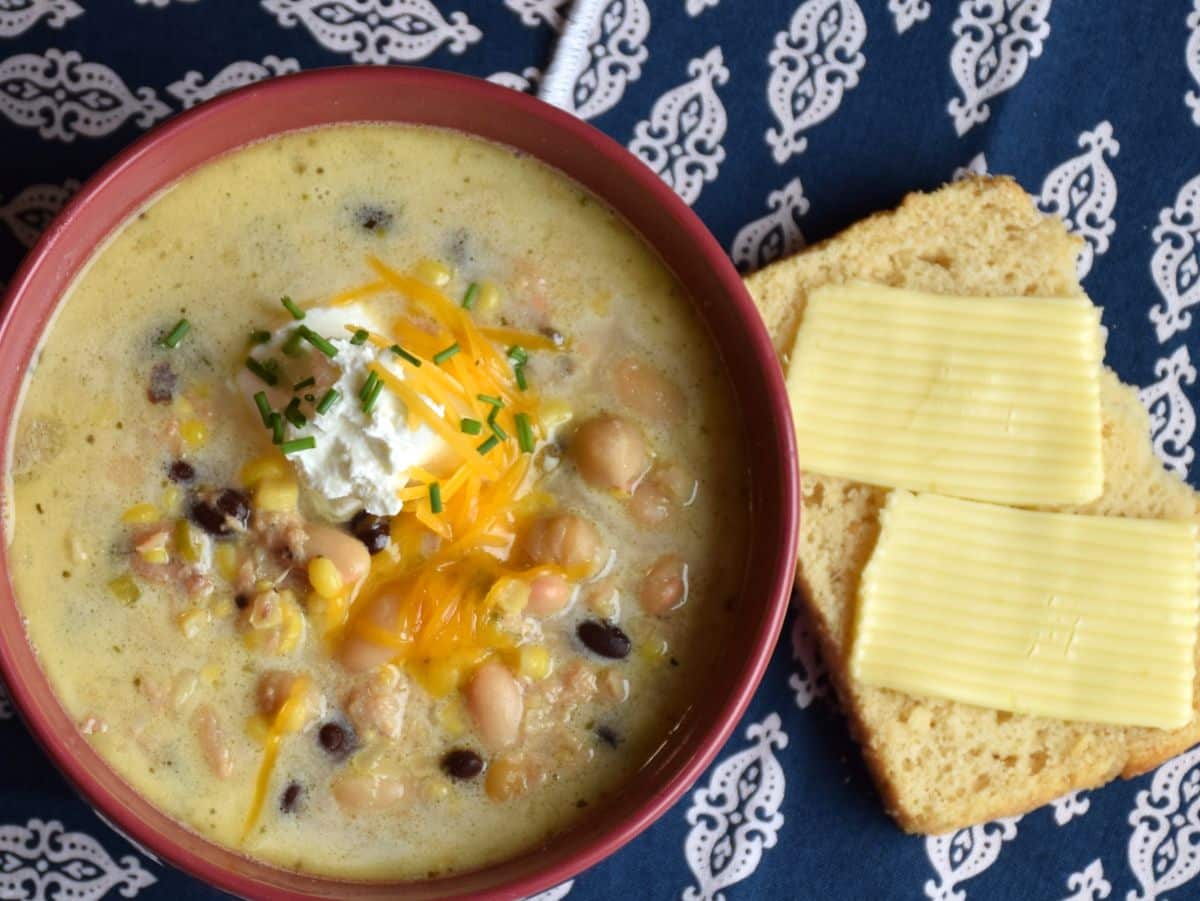 Growing up, cornbread and chili was a staple. A pound of hamburger could feed a family with 6 kids thanks to all the beans. We may have ran each other out of the house and singed nose hairs once the beans "came calling" but we all loved chili!
Oddly enough, it hasn't been until recent years that I even heard of white chicken chili. But now, we almost prefer this easy white chicken chili over regular chili.
Ever been in a hurry, rushing around to make dinner, and suddenly realize you are missing ingredients? At this point you have three choices; Make something else, run to the store, or substitute.
One night I was making white chicken chili and realized I only had half the white beans needed. After looking through my pantry, I decided to substitute rather than ask Jason to run to the store. What did I use? A can of black beans and a can of chick peas.
The result? It was fantastic! In fact, I decided to change my easy white chicken chili recipe and always add in black beans and chick peas.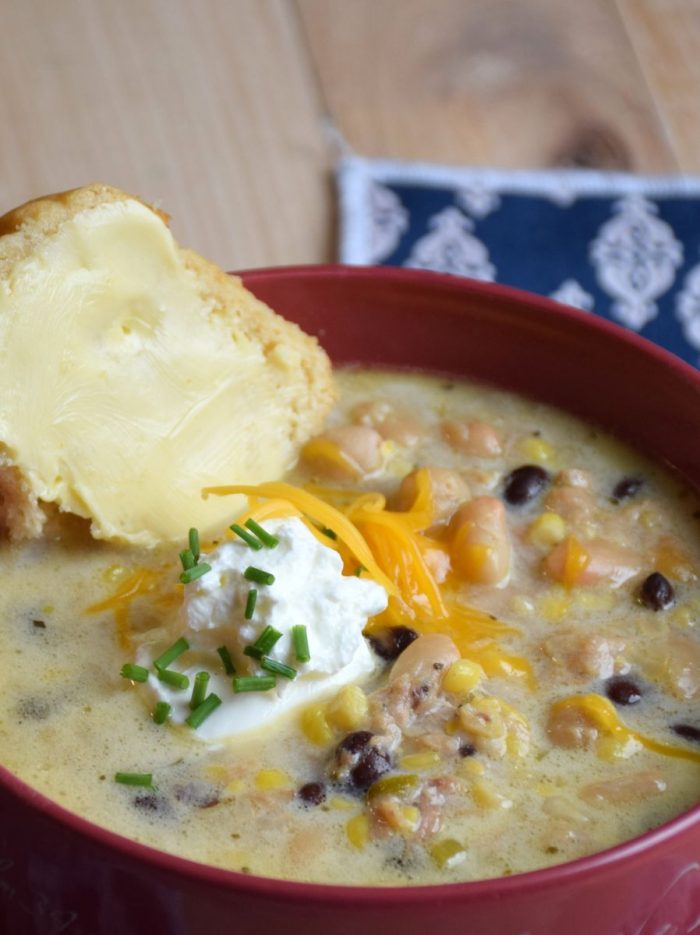 You see, sometimes life throws curve balls. You have everything all planned out and ready to go, then "swoosh!" out of nowhere something changes.
That's when you get to make a choice. You can stress and fight to fix things, or you can let go. Let go of your plans, think outside the box, get creative. You may discover the end result is far better than what your plans would've ever given.
So how about this recipe for easy white chicken chili supreme? It's easy, less than an hour start to finish and because the pot needs to simmer awhile, you have plenty of time to wash up the meal prep dishes and set the table!
Easy White Chicken Chili Supreme
Easy White Chicken Chili Soup Supreme
This easy white chicken chili supreme is popular with our family. The veggies hide nicely in it, and even my onion hater likes this chili!
Author:
Kendra ~A Proverbs 31 Wife
Ingredients
2 tablespoons butter
5 green onions thinely sliced
2 stalks celery sliced
5 mini bella mushrooms diced
3 gloves garlic minced

5 cups chicken broth (I prefer bone broth)
2 cups shredded chicken
2 cans Great Northern Beans
1 can chick peas
1 can black beans
16 ounces corn (I use frozen)
1 small can diced grean chilies
1⅕ teaspoons cumin
½ teaspoon oregano
½ teaspoon pepper
1½ cups sour cream
2 cups shredded cheese (Monterrey Jack or Mexican blend)
Chives for garnish (optional)
Instructions
Saute the onions, celery, mushrooms and garlic in butter for 3-5 minutes.
Add broth, chicken, beans, corn, chilies, cumin, oregano and pepper.
Simmer on Med-Lo heat for 30 minutes.
Right before serving, stir in the cheese and sour cream.
Do you prefer beef or chicken chili?
Related posts that you may enjoy!