Food Dehydrator Review ~Why I Chose Excalibur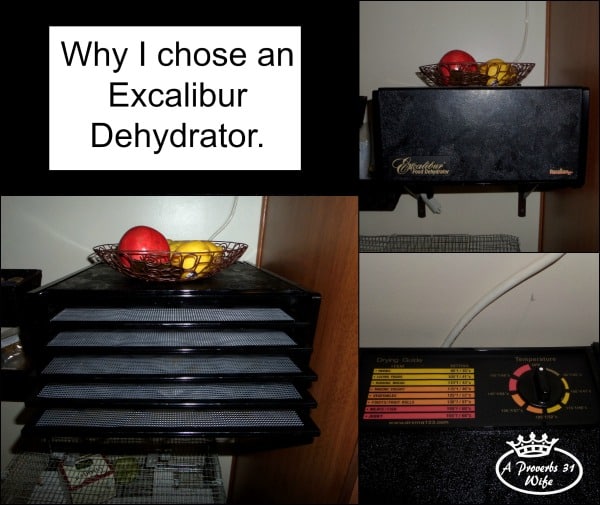 A month or two ago I bought a dehydrator and have been using it a lot. So today I thought I would share my food dehydrator review.  I had been wanting a dehydrator for a long time and had been saving for one; although I had hopes of finding a nice one at a garage sale.
My mom had bought a 9 tray Excalibur dehydrator and while I found it nice, I thought it was more than I could afford and also too big for my small kitchen.
Then right before I shared this post, I asked some natural bloggers in a Facebook group I am part of, how they got their yogurt to turn out. I didn't want to buy a yogurt maker, but I was ending up with less than desirable results. One of the gals said she used her Excalibur Food dehydrator to make yogurt! That surprised me. I never considered yogurt making a good use for the dehydrator.
End of story: I decided that if the Excaliber could be used for yogurt making too, then I should probably look into that brand a little more. I love the dehydrator that I chose.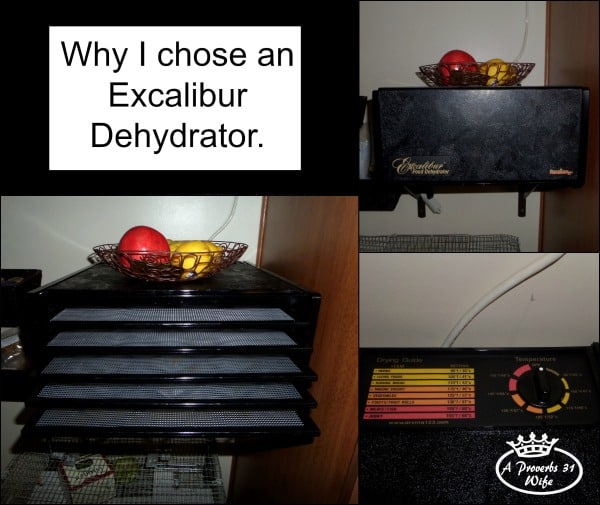 So Here's my Food Dehydrator Review:
I needed adjustable heat. The Excalibur has adjustments from 95degrees to 155degrees. Each temperature difference clearly identified it's use, with settings for living foods, raising bread dough, yogurt, fruits, vegetables and more.
I needed it to be tall enough inside that my quart jars of yogurt would be able to stand upright inside. I do have to tilt my jars over just a bit to get them in, but once inside, they stand up with plenty of room. It's also tall enough that my mixing bowl fits inside when I am raising my bread dough.
I wanted enough trays that it wouldn't be a problem for me to dry larger batches of stuff. 5 Trays work great for me, sometimes I fill them all, and other times I do not.
While I didn't want my dehydrator to be small, it did need to effectively use the space it took up. Square is the perfect shape for my kitchen. It was also important that my dehydrator not be to tall. Where I had to put it still requires me to stand on a stool so I can see the temperatures when I am turning it on.
What is my favorite thing about my Excalibur Dehydrator?  The fact that it is multifunctional. Besides using it to dehydrate stuff such as my tomatoes. I have also used it to warm my tortilla dough while it's sitting, raise my bread dough, make yogurt, and I also plan to make kale chips with it soon. Although I guess kale chips are dehydrated. 🙂
I was not sent this product to review, nor am I receiving any type of monetary reward for writing this post. This is one of the product that I bought for myself and love so much I am sharing it with you. 🙂 That being said, the links below are affiliate links and if you make a purchase through them you help support this site at no extra cost to you… and all that jaz 😉
My Excalibur is a 5 tray economy dehydrator. They currently sell on Amazon for $169.99.
What I would change on my Excalibur:
I do wish mine had a timer, but I didn't want to pay the extra to buy one with a timer. (my issue, not the company's)
The temperature control in on top, at the back. Because of where my dehydrator is located, I actually have to stand on a small stool to read the numbers when I turn it on. But having it in the back, also means I can store a couple things on top. So you win some, and you lose some. 🙂
All in all I love my Excalibur and I hope this food dehydrator review can help you decide on the right dehydrator for your family!