Gluten Free Gingerbread Men for the Holidays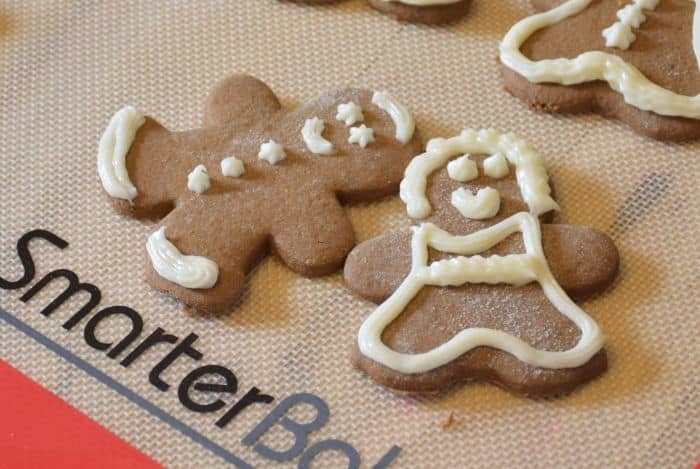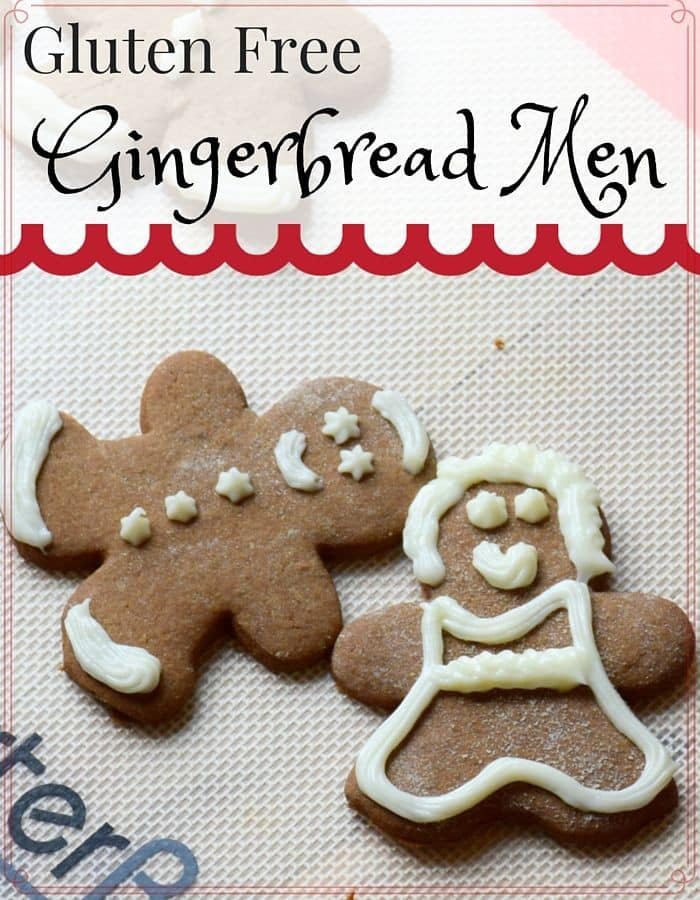 I don't know about you, but there is just something about gingerbread that says Christmas. Mother has a lovely thick and gooey gingerbread cake that she often makes and it disappears quickly.
However, it's the little gingerbread men that hold the greatest appeal to a child.
A few months ago my son ended up with a nasty rash that only went away after removing gluten from his diet. Of course this made me sad as I thought of all the Christmas foods he would miss out on.
So I started experimenting with non-wheat flour. This gingerbread man recipe is made with rice flour and quite yummy!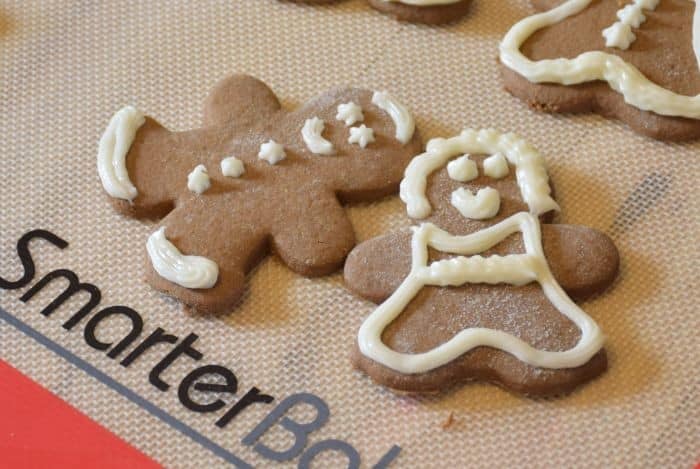 "Run, run, run, just as fast as you can, you can't catch me; I'm the gingerbread man!"
This dough is really soft and easy to work with. After it chilled I pulled just enough dough out of the bowl to work with leaving the rest in the fridge. I rolled it out, cut the little men, tossed the scraps back into the fridge and pulled out another chunk to work with.
Because I was making these for little man, I decided it was only fair that he got to help. Of course he mostly ate the dough and begged for more, but it kept him out of trouble and these aren't all that sugary so I just let him have fun (and make a huge mess!).
After I rolled out the first batch I figured he should get to help me cut out at least one little man. So I positioned the cutter and took a photo of us cutting out his first gingerbread man.
We didn't get to bake that little man though. Kolton's little fingers dug right down into the dough as we were cutting and when we lifted our hands, half of poor Mr Gingerbread was already headed to Kolton's mouth!!!
All the same, I have good memories of holiday baking as a little girl and I hope our children will also have good memories of baking Christmas cookies with mommy. 🙂
Since I have old cookie sheets (I asked mom for hers when she bought new because I didn't have any lol), they are pretty nasty looking and I have to really grease them or use parchment paper when baking.
But!
Smarter Baking sent me one of their silicone baking sheets (similar to Silpat but more affordable) to review and sponsored this post. So I didn't bother with buttering my pan like I normally would. I just laid the baking sheet right down inside my pan.
If you look at the photo you can see just how nasty my cookie sheet is, the stains show through. The Smarter Baking sheet fits perfectly into a half sheet pan, but I don't have one of those…
I've read great things about silicone baking sheets, and this one has great reviews on Amazon so my expectations were high and I really hoped my gluten free gingerbread men wouldn't stick.
Filled the baking sheet, popped them in the oven for the recommended amount of time and…
My gluten free gingerbread men slid right off onto the counter! Just look at all those cute little gingerbread boys and girls. 🙂
I did a little research on these mats (before I agreed to review them!) and here's what I found:
They fit a half sheet size pan
They work in temperatures from -40f to 480f
FDA approved food grade silicone
Nothing sticks to them and they are easy to clean (this is true, I baked chops one night and the juices burned onto the mat, yet wiped right off)
The heat evenly distributes through the mat for perfect baking
They offer a 100% satisfaction guarantee
It's great for kneading pastries as a non stick surface and you don't have to worry about getting too much flour in your dough (I was wishing I had two when cutting out my gingerbread men!)
Buy on Amazon and get free Prime Shipping!
Before I share my gingerbread man recipe, I wanted to point out two more things. 🙂
The Normal list price for these mats on Amazon is $19.50. Right now it's marked down to $15.90 but will likely go back up in December.
I can also get you another 20% off code making the total price for one sheet just $12.48.
Share a photo on IG of why you NEED one of these baking sheets with the following text: "This is why I need a #SmarterBaking baking sheet from Amazon @aproverbswife!" PM me after sharing and I will get you your code!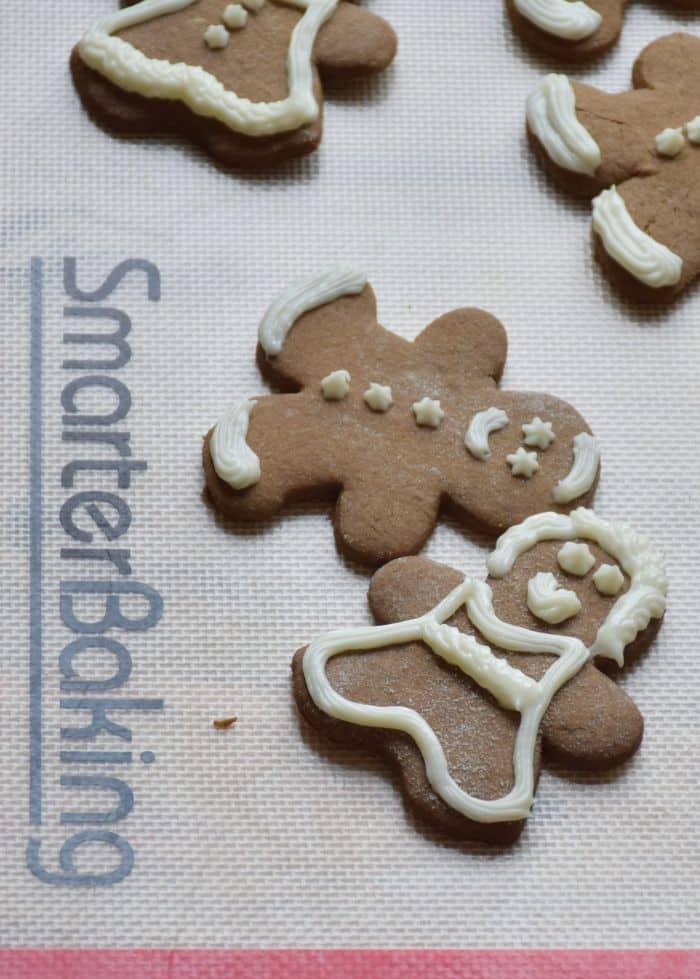 Gluten Free Gingerbread Men Recipe:
Gluten Free Gingerbread Men for the Holidays
Gingerbread men are popular with the kids, so my son and I made these gluten free gingerbread men. He loves them and so do I!
Author:
Kendra ~A Proverbs 31 Wife
Ingredients
1 cup soft butter
¼ molasses
¾ cup organic cane sugar
2 eggs
1½ cups tapioca flour
2 cups rice flour
2 tsp cinnamon
1 tsp ginger
½ tsp cloves
½ tsp nutmeg
½ tsp real salt
2 tsp baking soda
2 tsp xanthan gum
Instructions
Cream the first 3 ing. together, then add in the eggs.
Mix remaining ing in another bowl, then slowly add it to the first mixture while mixing.
Chill at least 2 hours.
Working with small batches at a time, roll out your dough on a silicone baking sheet or rice floured surface to ¼" thick and cut your cookies.
Bake on a Smarter Baking mat for 8-10 minutes at 375
Makes about 4 dozen 3" gingerbread men
With any type of spice cake, I prefer a cream cheese icing. This one is great!
Gluten Free Gingerbread Men for the Holidays
Easy-Peasy cream cheese icing for gingerbread man cookies
Author:
Kendra ~A Proverbs 31 Wife
Ingredients
4 oz soft cream cheese
4 tbsp soft butter
½ cup organic powdered sugar
¼ tsp vanilla
Instructions
Cream butter and cheese together.
Add Vanilla.
Add powdered sugar.
I hope you enjoy your gingerbread men as much as we did, and don't let him run away!!!
Psst! Don't forget to share a selfie on IG for your promo code, and definitely check out the Smarter Baking pin board for more great ideas!