Guilt Free Chocolate Strawberry Desert Crepes
Disclaimer: I received free supplies to make my guilt free chocolate strawberry desert crepes thanks to NuNaturals. All thoughts and opinions are my own.
Crepes.
A French style pancake that is extremely versatile. From savory to sweet, crepes are my newest obsession.
When Ron from NuNaturals emailed me with an offer to try/review their newest non-bitter stevia products I knew exactly what I was going to do.
Today I give you a recipe for Guilt Free Chocolate Strawberry Desert Crepes!
I have experimented with desert crepes and tried to make chocolate crepes. Adding the cocoa caused the batter to become too thick and when I tried substituting cocoa for the flour and that didn't seem to work right either.
In addition, it took a lot of sugar to sweeten the cocoa and I just wasn't happy with the results.
So as you can imagine, I was really excited to try making desert crepes sweetened with stevia in the form of the NuNaturals chocolate syrup!
They turned out amazing, so I went ahead and created the rest of this desert with stevia as well, for a complete guilt-free treat. I love the NuNaturals stevia because it adds a natural sweetness to my food without the bitter aftertaste of most stevia brands.
Because strawberries are in season now, it only made sense to use them in my sugar-free desert crepes. Greek yogurt, vanilla stevia, and strawberries, all rolled up for a guilt free treat!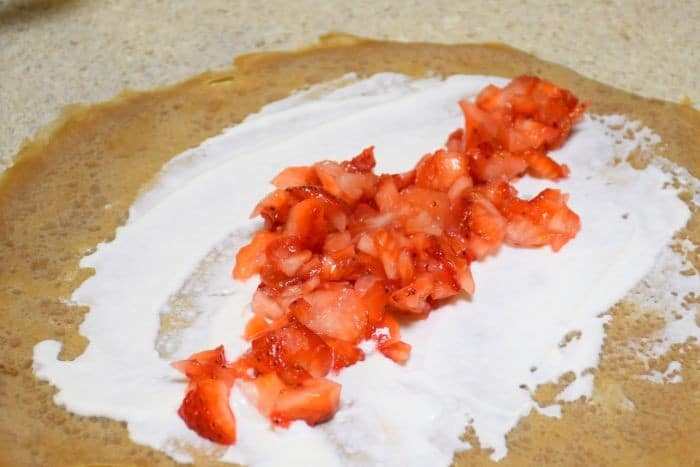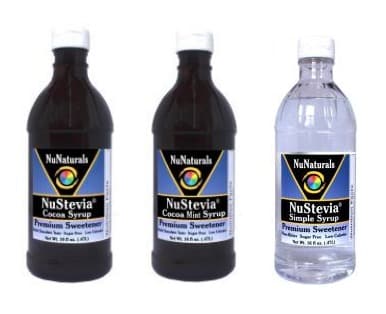 Guilt Free Chocolate Strawberry Desert Crepes
Guilt Free Chocolate Strawberry Desert Crepes
These chocolate strawberry desert crepes are the perfect guilt free treat. Sweetened with a non-bitter stevia, they are the perfect way to enjoy fresh strawberries and decadent chocolate.
Author:
Kendra ~A Proverbs 31 Wife
Ingredients
Crepes
1 cup all purpose flour
2 eggs
½ cup milk
½ cup water
¼ teas. salt
2 tbs melted butter
1 tbs chocolate stevia syrup
Filling
6-8 ounces Greek yogurt
10-15 drops of Vanilla stevia
1 quart fresh strawberries
Optional Chocolate Drizzle
1 tbs Greek yogurt
1 tbs chocolate stevia syrup
Instructions
Crepes
Whisk together flour and eggs.
Add milk and water 1 tbs at a time, stirring continuously.
Mix in salt, butter, and syrup.
Heat a large skillet over med/hi heat.
Scoop ¼ cup of the batter and pour it into the skillet.
Quickly tilt and shake to pan to evenly coat the surface of the pan.
Cook for 1-2 minutes then flip the crepe and cook the other side.
Remove crepe from pan and allow to cool.
Makes about 8 crepes.
Filling
If chocolate drizzle is desired, pull out one tablespoon of the yogurt and mix the remaining yogurt with vanilla stevia.
Spread yogurt mixture over cooled crepes.
Wash, stem, and finely chop strawberries, spread them over the yogurt mixture.
Roll crepes. Stack for a center piece desert, or lay on plates for single serve deserts.
Spread extra yogurt on top.
Optional Chocolate Drizzle
Mix the yogurt and syrup together and drizzle over your desert.
My Thoughts on the NuNaturals brand of stevia:
I've used this brand for 2+ years now.
Ingredients in their products are simple and pure. The syrups contain stevia extract, glycerine and water, plus mint and/or cocoa.
Non-chemical processing for purity of products.
All products made from non-gmo ingredients.
True non-bitter stevia sweetness.
There is a different taste to stevia sweetened foods, but it isn't at all unpleasant. Just different.
Check out the NuNaturals website here, and be sure to follow them on Twitter or like them on Facebook.
Have You Tried NuNaturals Stevia?