Herbal Rose Tea ~Review of November's Herb Box
Last month I shared my ginger tea recipe. This month I'm talking tea again with an herbal rose tea. 🙂
Let's back up a bit though. In my post last month I shared how I had learned so much about ginger in the October issue of Herbal Living Magazine. I also shared my plans to subscribe to both the herbal magazine, and the herb box that goes along side of it.
You can image how excited I was to get my herb box! I received the e-magazine with the shipping receipt of my box so I had a few days to look through it and learn lots about roses. Seriously, I am amazed at the uses for the beautiful rose.
I knew that rose water was good for the complexion, but didn't really know why. I did not know that rose tincture, rose vinegar and rose essence were so good on a natural medical level. Depression, anxiety, insomnia, support immune functions and so much more. I am in awe at how our creator took a simple flower and gave it so many different properties for his children to discover!
Disclaimer: This post Herbal Rose Tea, contains affiliate links which help support this site at no extra cost to you. Regardless of the affiliate links, I only share products and brands that I personally love and recommend.
So, what came in my herb box?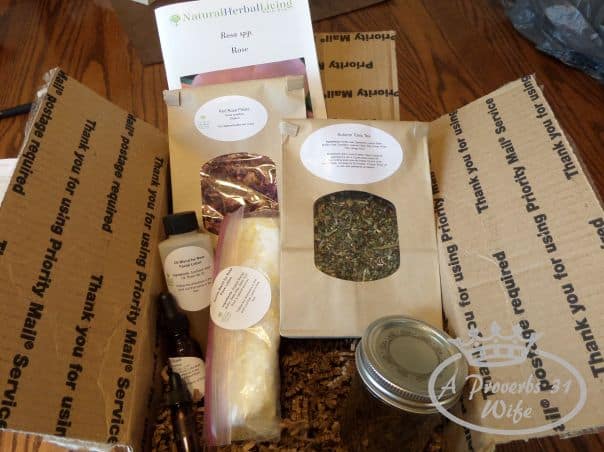 Dried Rose Petals
Winter Tonic Tea
Rose Essence
Ingredients to make Rose Facial Cream
Information booklet with recipes
The winter tonic tea is amazing, with far more than rose in it (in case you didn't already guess 😉 ) And the essence just has so many uses, it's on and on.
I promptly got to work and make the facial cream. I loved how the ingredients for this were pre-measured and ready to melt and mix. Another thing that was really nice is a jar for the cream was included in this box. Now, I can, so I have plenty of jars to choose from But I realize I may be the exception there. Many of you may not have the jars. So it was really cool she included the jar.
I also mixed some of the rose petals with my Bath Salts Plus from Real Salt and added a few drops of lavender. If I wasn't falling asleep in the tub before, I just may now! But my bath salts smell soooo good and I can be assured that there are no chemical fragrances in them
My facial cream is tinged with pink from the rose petals, and the bath salts are just pretty! Either one of these would make awesome gifts!
Now, for the herbal rose tea. It's pretty simple but not something I had ever thought to do.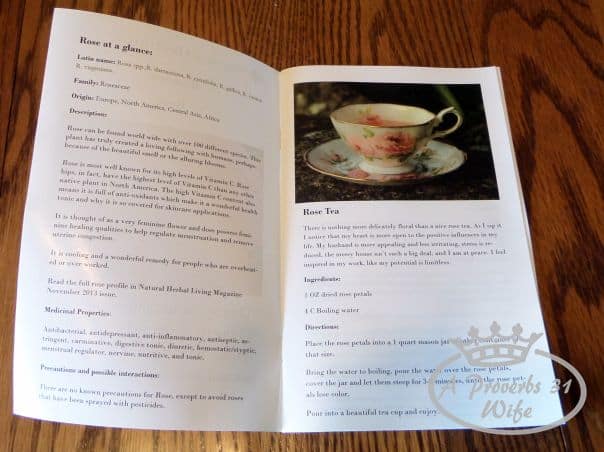 Steep one ounce of dried rose petals in 4 cups of boiling hot water for a few minutes until the petals lose their color. Pour into a tea cup and enjoy. (pour through a coffee filter so you are not drinking leaves) This tea is slightly pink and has such a heavenly smell; I can promise you will feel like a fine lady while sipping your herbal rose tea. 🙂
Besides an elegant way to unwind a bit, rose tea contains a high content of vitamin c making it wonderful for anytime but especially winter months.
Sadly, you will be unable to get the Rose issue of the e-magazine, but if you are interested in learning more about roses, may I suggest an e-book from the Nerdy Farmwife: Things to Do with Roses.  (Correction: You may still purchase the Rose issue of the e-magazine until the end of the month!) Magazine found here.
December's Herbal Living Magazine is focused on Echinacea; However, due to the owner being only one woman and her desire for the freshest ingredients possible for the herb box, the cut off date for ordering the herb box was the 15th. You can still order the e-magazine and I highly recommend that you do. By ordering the magazine, you get a good idea of the quality that Herbal living Magazine offers and can then decide whether or not the box is the right fit for you.
Prices are very reasonable. If you subscribe for more than one issue/box, you will even save a bit more. For what I am learning and the items I have received, I feel that their prices are very reasonable. You can find all of that info here.