Making Pon Haus~ A Family Favorite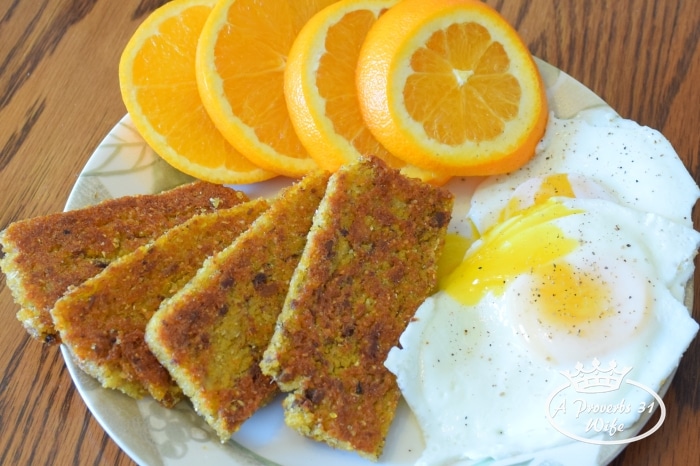 German recipes: pon haus and scrapple are considered the same thing by many. After doing a quick pon haus and scrapple recipe search on Google, I disagree. In fact, my pon haus recipe isn't much like the recipes I found online either. My method of making pon haus is pretty simple compared to some.
Scrapple and pon haus do have one thing in common. They use broth from bones and other parts of a pig, that would otherwise be considered unusable. Some of the things people add to the broth making process make me shudder, each to their own I suppose.
Pon haus and scrapple are often made after butchering a hog. Into a pan goes things like the bones, pork skin, pork heart, pork liver, pork tongue—even pork brains. Gross right? Everything is cooked and then the broth is strained out and used.
While I can see the nutritious benefits to adding all of that into your pot, let me be clear and say I do not!
Making Pon Haus ~ My Way
I take all the bones that we cut the meat from and cut off the joints. I toss the joints and add the bones to my pan. I cover them with water and add 1/4 cup of apple cider vinegar, then simmer for several hours.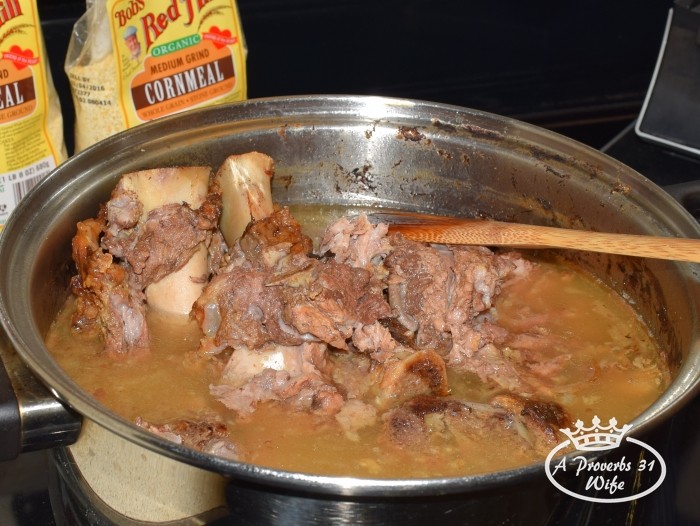 The vinegar draws the nutrients from the bones and the result is a highly nutritious bone broth.
Because I use just bones and not all the other stuff, I choose to separate the meat from the fat, bone and gristle. After picking out the meat, I strain the broth and remove the grease. The oxo fat separator you see in the photo below is amazing! (affiliate link)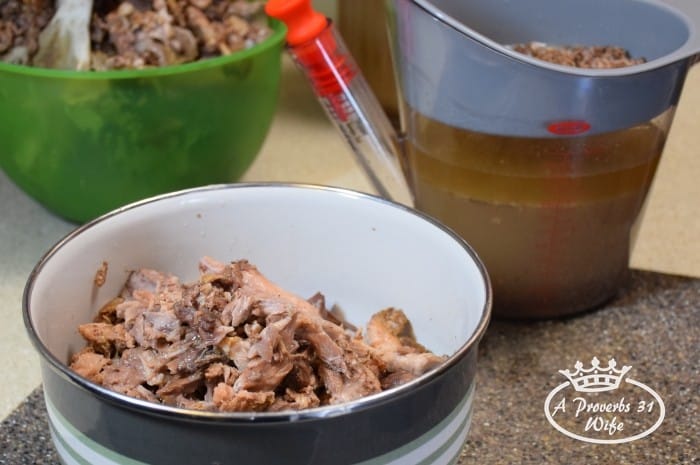 I cut the longer pieces of meat into small pieces and set it aside for later.
One recipe makes a loaf pan of prepared pon haus and each recipe calls for 5 cups of broth. Now I have 9 cups of broth so I just add another cup of water and make two recipes.
Here is where my pon haus recipe is different from most. I use corn meal (fine ground is best, trust me on this lol), broth, meat, and salt. Very simple and easy to make.
At this point pon haus may be eaten like corn grits, but I prefer it fried. I pour my prepared pon haus into a loaf pan for chilling.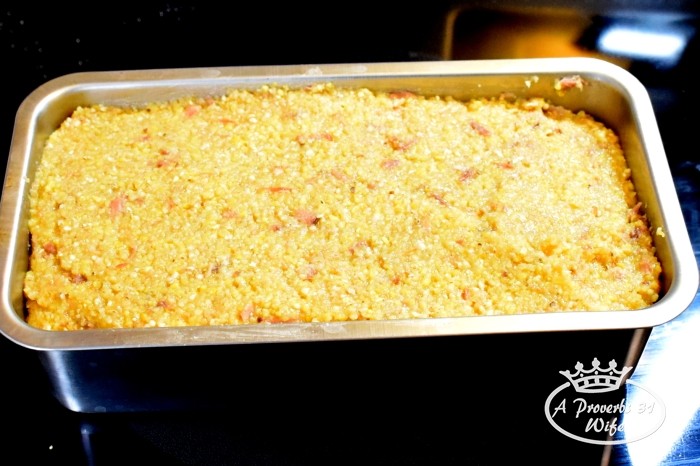 I place the pans into the fridge for at 3-5 hours. When I'm ready to fry it, I dump the pon haus from my pans and slice 1/4″ thick.
I fry my pon haus with a mix of coconut oil and butter until a crunchy golden brown. My bit of research shows that traditionally this is served with maple syrup. While I'm sure that would be good, I grew up dipping fried pon haus into egg yolks.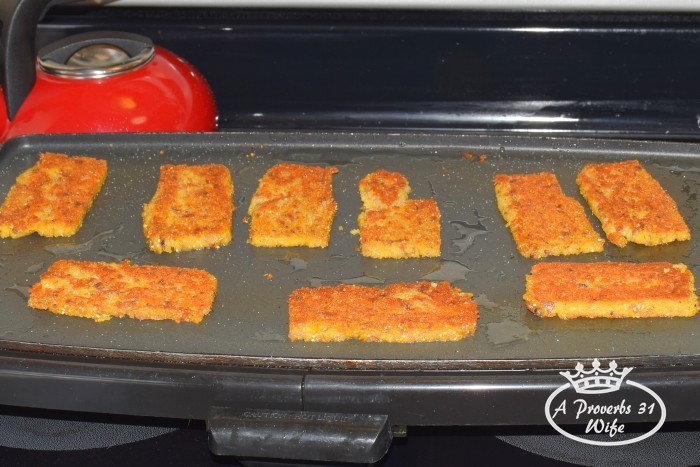 Making Pan Haus~ A Family Favorite
Pon Haus and scrapple are often considered the same thing. I rather disagree and consider my pon haus recipe far superior to anything else out there.
Author:
Kendra ~A Proverbs 31 Wife
Ingredients
5 cups broth from pork bones (add water if needed)
2 teas. salt
1 cup finely cut and shredded pork meat if desired
2½ cups fine-ground cornmeal
butter and/or coconut oil
Instructions
Bring broth (and water) to a boil
Add salt and meat
Whisking briskly, slowly add in your cornmeal
Remove pan from heat and pour into a regular-sized loaf pan
Chill for 3-5 hours
Turn pon haus out of pan and slice into ¼ thick slices
Fry in butter and/or coconut oil until golden brown and crispy
Pon haus is an incredibly good-for-you meal. The bone broth and then egg yolks make it high in iron as well. Best of all? My only cost is the corn meal since the bones would've been tossed otherwise.
My advise would be to give it a try sometime. See if a local butcher shop would give you pork bones and then make your own pon haus. 🙂 Or if you buy your meat from farmers the way we do and butcher your own, DON'T toss those bones!
Share this inexpensive meal idea with your friends: This nutrious meal cost almost nothing to make! Visit @aproverbs 31 wife to learn more.