Monthly Shopping list for Sam's Club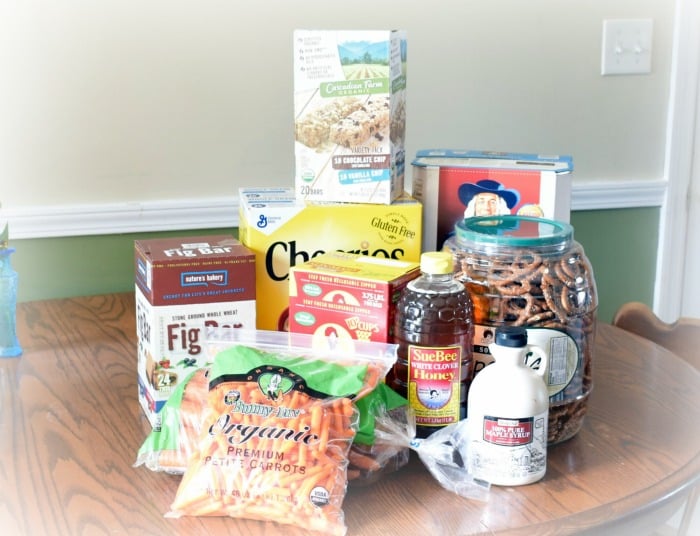 Okay ya'll, we went 3 full weeks in the shop my pantry challenge and while hubby is running out of snacks (and I'm running out of ingredients to make them) we've done really well. I've worked on an overall plan and part one includes a monthly shopping list for Sam's Club and Aldi.
I want to visit Aldi and make sure of the pricings for stuff before I make that monthly list. In the past we've went to Sam's once a month and Aldi on occasion. However, the prices are good enough at Aldi, that I need to simply make a list and go once a month as well. I'll share that list next week.
The list below is what I've found to be the best in pricing for our area.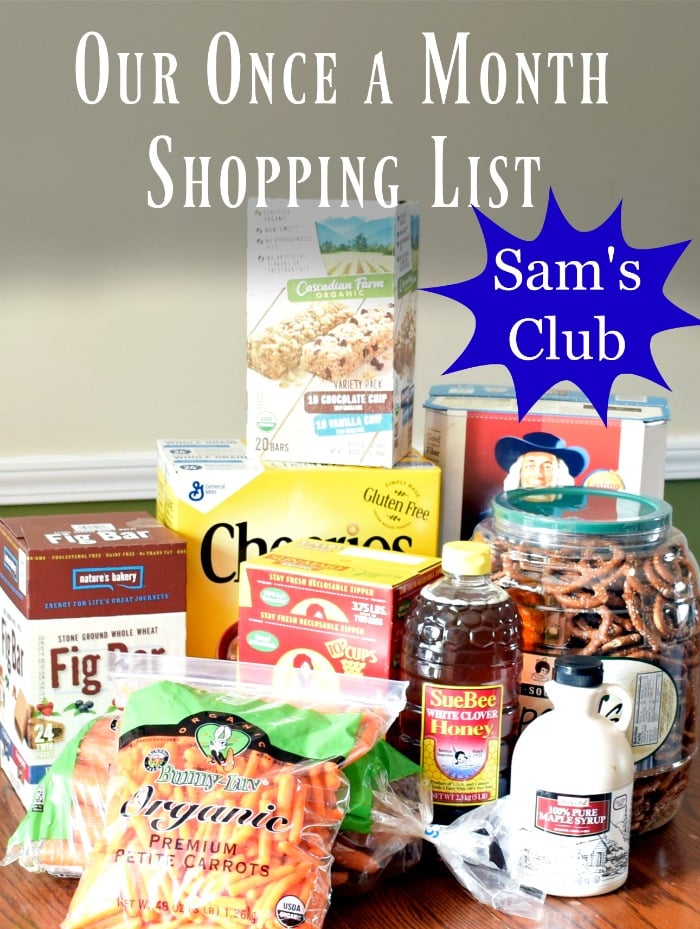 Snacks:
Large tub of Pretzels $5.78
Box organic granola bars $7.28
Box fig bars $7.88
Breakfast:
Double box Cheerios $5.88
Granola  $7.28
Quaker Oats  $8.78
Honey $16.48
Fruit/Veggies:
Lg bag organic carrots $3.28
Large bag organic baby carrots  $3.98
Raisins  $7.68
Other items bought on an as needed basis:
Quinoa
Chia seeds
Bucket of sunflower seeds
Maple Syrup
This list was the easy one to create, since I did the homework on it a year or so ago when I did a grocery saving challenge. I just went back through my items and made sure I Sam's club was still the best place to buy each of these items.
Having a set list when I go into Sam's is great. Typically a shopping trip there takes less than 20 minutes in and out, we get what we need and we leave.
How to Make a Monthly Shopping List for Sam's Club
If you visit the club website, you can choose your local store and select "shop online". Then begin searching for the items you use a lot of on a monthly basis.
Either write those prices down and compare them against your regular grocery the next time you shop; or if you're like me, compare them against the prices you already have in your head.
Once you've identified the the best value items, it's time to identify how often you need them. The first 3 groups of items are needed by us most every month. Every 3 to 4 months we will have enough honey or raisins to skip buying that month.
I decided to share my Sam's list first because that's the one that has changed little in the past year or two. One trip around the first of the month and we are good to go!
What items have you found to be the cheapest at Sam's. Or do you prefer Costco? Sam's is a lot closer for us at this point.