The Power of Hope in the Darkness
Power of Hope in Darkness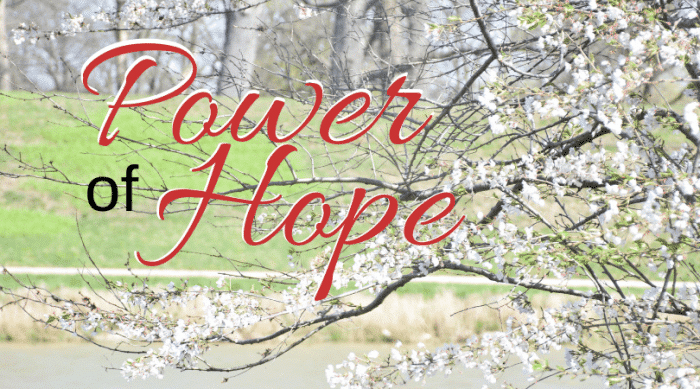 Have you ever considered the power of hope when you're in the dark? Whether your current darkness is an illness, lost job, overwhelm from life, whatever, it's likely that hope is the only thing keeping you going.
I'm not going to sugarcoat the truth. I think most of us struggle with depression and darkness at least once in our lifetime.
For some, the darkness is there more than the light, but you just hang on. Hoping, praying that someday things will get better.
Common causes of depression
Many people who have no issues with feeling down any other time of the year often struggle with January through March. The cold keeps us inside more, and if kids are involved, when you do go out, they seem to get sick which keeps you inside again.
Certain foods, lack of good nutrition, or lack of exercise can make one feel dull and depressed. In general, poor health rarely leads to feeling happy and light.
Even ingredients in household and personal care products can contribute widely to depression. "Propylene Glycol" is found in many personal care products and is an endocrine disrupter, meaning it messes with your hormones. In particular, it messes with my "happy" hormones so I am careful about what goes on my skin for that purpose.
How about "baby blues" often called postpartum depression? It should be the happiest time of your life, with a new little one to love But thanks to some seriously jacked up hormones, you hardly recognize the person you've become.
So this is my story…
A sweet baby who had lots of tummy aches and cried more than he didn't some days. Who also loved his mommy very much and wouldn't be happy with anyone else.
Months of broken sleep. Andre rarely slept longer than 2 or 3 hours at a time and eating often took at least 30 minutes or more.
With my other boys, right around the 4 or 5-month mark, my hormones did some changing, resulting in a month or so of overall dullness and slight depression.
I was ready for it this time and not so surprised at postpartum depression showing up later. (PPD can show up even 12 months later for some)
I typically struggle a bit with weather-related dullness/depression in Feb and March as well.
So guess what all coincided for me?
Andre hit 4 months in Jan, then we hit Feb and March. With Jason not having full-time work, all the tasks that needed doing around here, and illnesses of the boys keeping me home more, it felt like I hit a brick wall.
Every-day became a struggle. Sleep deprivation, dark winter days and messed up hormones pulled me down.
I purposely put things on my calendar, knowing that it's not my nature to back out of commitments. Thus I had to get out of the house some and getting out always helped a bit.
I would find something I could do that would at least LOOK good and give me a small feeling of accomplishment even if for a short time.

I spent quality time with the boys, sitting and reading to the older ones and just holding my (often) grumpy baby. Hugs and cuddles often boost happy hormones, so kids are handy for that. 😉
I've long dreamed of owning a piano and with our larger house, that's now possible! We were given an older one that plays beautifully so I would go in and plink around on it (I'm self-taught so pretty sure it's only beautiful to myself and the boys lol). Music is uplifting to the soul.
I would go outside and swing a hammer and use a pry bar to break down pallets for a basement project. Exercise also helps with "happy" hormones.
There were other things I would do as well, just trying my hardest to keep going. Keep my head above water so to say.
But it was the Power of Hope that really kept me going…
All the stuff I did, helped I'm sure. But it was hope that kept me going. It was hope that had me planning reasons to leave the house. Hope had me spending extra snuggle time with my boys. Hope had me plinking on the piano. Hope had me swinging a hammer for an odd form of exercise.
I knew that once my baby hormones leveled out, things would look brighter. Once the time changed and the days were light longer, the mental darkness would start fading.
And experience told me that babies grow up. They won't always cry all the time. They won't always wake up multiple times a night.
Hope. The dictionary gives the following definition: A desire or expectation of things to come.
I both desired and expected things to get better. The power of hope brought me through a very rough time.
Today I have a very happy and fun 7-month-old who only wakes up once a night to eat. Spring is here, I'm getting my energy back and hormones are playing nicely again. My hope wasn't in vain. We made it through and I'm stronger for it.
The Bible also talks about the power of hope. In fact, that seems to be one of its underlying themes. The entirety of the Old Testament is the anticipation of or hoping for the promised Messiah, while the New Testament is the anticipation of the second coming of Christ!
Today, if you are needing the power of hope in your life. If you are needing a reason to go on, grab your bible and go on an "egg hunt".
Here are some verses and references to get you started.
Blessed be the God and Father of our Lord Jesus Christ, which according to his abundant mercy hath begotten us again unto a lively hope by the resurrection of Jesus Christ from the dead,
To an inheritance incorruptible, and undefiled, and that fadeth not away, reserved in heaven for you.
Ref: 1 Peter 1
Beloved, now are we the sons of God, and it doth not yet appear what we shall be: but we know that, when he shall appear, we shall be like him; for we shall see him as he is.
And every man that hath this hope in him purifieth himself, even as he is pure.
Ref: 1 John 3
To whom God would make known what is the riches of the glory of this mystery among the Gentiles; which is Christ in you, the hope of glory:
Ref: Colossians 1
Is your hope fading? Renew the Power of Hope in your life by reading the following.


Isaiah 43:1-2
Lamentations 3:22
Deuteronomy 31:6
Titus 3:4-7
Isaiah 40:31
Jeremiah 17:7-8
If you are in a dark place right now, I don't have all the answers for you. I can, however, pray for you and encourage you to cling to the hope you have in Jesus and to remember this last verse I want to share with you.
For his anger endureth but a moment; in his favour is life: weeping may endure for a night, but joy cometh in the morning. Psalms 30:5
Do you have a story of hope in your life to share?
I would love to hear it!
*One more thing: let someone you trust, know that you are feeling dull and depressed. Ask them to check in on you from time to time. Depression can lead to thoughts of suicide and your life is precious. Don't give up, seek professional help if you need it.