Recipe for Fried Dandelions
After writing my post on useful lawns the other week, I developed an odd craving for fried dandelions. In case you've never tried them, you should! Here's my recipe for fried dandelions.
If you are wondering what fried dandelions taste like, I would say they have a southern tang. Something like fried okra perhaps but not as slimy. Of course, anything truly fried makes me think of the south lol.
When you are picking the dandelions, keep in mind that you don't want any of the stems since they are bitter. If your toddler helps you pick the dandelion flowers, make sure you go through and remove the stems… not that I would know anything about that!
Wash the flowers by briefly soaking them in a bowl of water and then draining. Drain in a strainer or lay out on a towel. You don't want the flower super wet as water will make your grease really pop and snap when you are frying them.
The batter is 4 simple ing. milk, flour, egg and salt.  I mix them all together, dip the flowers in and then drop into the frying pan.
If you have a deep fryer, use that for frying dandelions, I don't have one so I just fry them in my skillet.
These are delicious just by themselves, but I also enjoy them in a good honey-mustard dip.

Recipe for Fried Dandelions
Simple and delicious fried dandelion recipe. Fried dandelions are easy to make and a delicious spring-time appetizer.
Author:
Kendra ~A Proverbs 31 Wife
Ingredients
2 cups of dandelion flowers
1 egg
½ cup flour (all-purpose GF flour works too)
½ cup milk
⅛ tsp salt
Oil for frying
Instructions
Pick large dandelion flowers being sure to remove all of the stem.
Wash and drain flowers.
Mix egg, flour, milk and salt together in a bowl.
Dip flowers into batter and coat thoroughly.
Fry until golden brown.
Serves 4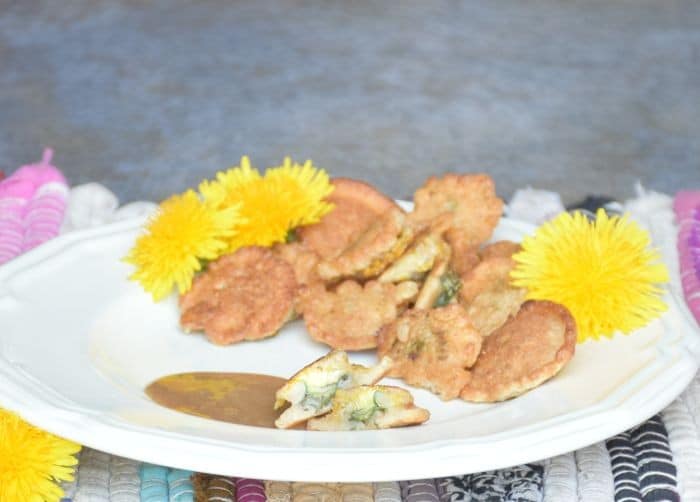 Other Posts Similar to Recipe for Fried Dandelions