Save Money Growing Food ~In Small Spaces and Patios too!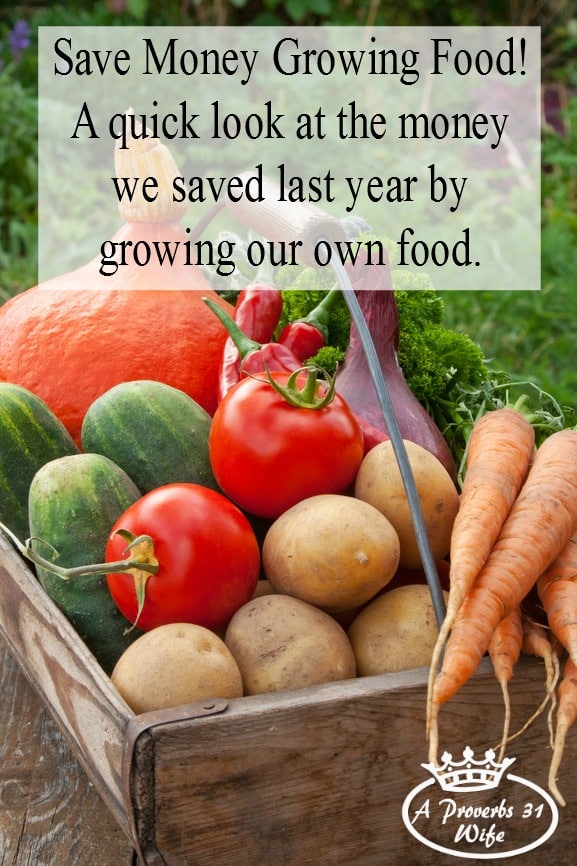 Whether you have a huge backyard with lots of space for a garden, or a small deck with just a limited amount of space, you can save money growing food.
The other week I shared how we make a small garden work for us. How we make sure to plant things like tomatoes, green beans, cabbage, and other plants that don't take up a lot of room but still produce nicely.
Disclaimer: This post contains affiliate links which help support this site at no cost to you.
I wanted to break that down into how gardening saves us money.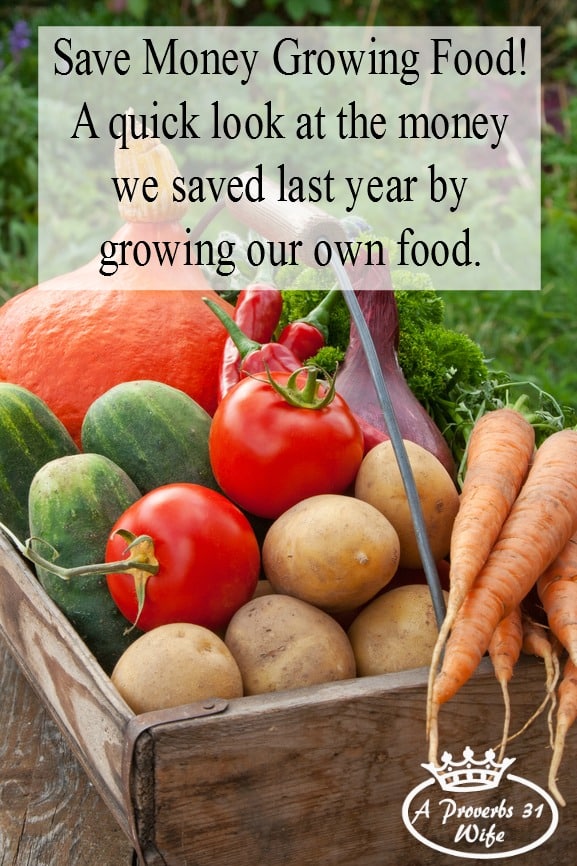 Save Money Growing Food
Tomatoes:
We manage to fit 16+ plants in a small section of our garden. From those plants I can enough of the following to make it through the year.
Whole tomatoes (I also use these in place of diced tomatoes)
Tomato Sauce (I use this to make my own pasta and pizza sauce)
Salsa
Diced or whole tomatoes can be found around $1 each for 10 oz cans. I can them by the quart (32 oz) and use an average of 15 quarts yearly.  Saved at least $30
Pasta sauce is usually a $1 or more a jar. Far more if you want something organic or even natural. I would guess we eat an average of 25+ meals that would use pasta sauce yearly. Saved at least $25
Salsa is at least $2 a pint no matter where you look. Often it's far more than that, and we do not like the taste of canned store salsa, so we may end up spending even more buying the fresh. Salsa and chips are a huge favorite around here. I can at least 50 pint a year or more. Saved at least $100
Peppers:
We don't like raw peppers, but love them in recipes. So we grow a few hot peppers for the salsa, and the rest are Bells. I freeze them for recipes.
Last year I froze over 40 bell peppers. I also froze a dozen or so Banana peppers. If you buy peppers in the store you will pay at least $1 per pepper, if you buy the colored ones you will pay a lot more. Saved at least $40
Green Beans:
I both can and freeze our green beans. Generally we run out of at least one or the other by the time the next year rolls around. However, I never buy canned green beans and only rarely buy the frozen kind.
Frozen green beans are at least $1 a pound. I froze 20+ pounds last year and they are all.  Saved at least $20
Canned green beans can be found as cheap as 50 cents a can. I can at least 30 quarts a year. Saved at least $15
Strawberries:
I usually have to buy strawberries to supplement what we grow. However, I freeze many of our strawberries for wintertime smoothies, and other strawberry deserts. As well I make strawberry freezer jam.
While in season you can buy strawberries at good prices, usually $1 – $1.50 a quart. But if you buy them frozen in the freezer section when they are not in season, you will usually pay an average of $2 a pound. I freeze around 20 pounds or more, with at least 10 being our own. Saved an average of $30
I have no way of knowing how much I save by making freezer jam. But it's the best!
Raspberries:
I don't buy raspberries at all, so what we have are the ones we grow. What we freeze from our plants are usually all we use in a year. I froze around 12 pounds last year. Frozen raspberries are at least $3 a pound. Saved: $36
Everything Else:
There is no way of knowing how much we save by growing the rest of the stuff we grow, since we don't have enough room to grow more than we can eat. However, I know our overall grocery bill is an average of $50 less a month while our garden is producing.  Saved an average of $150 a summer.
The totals listed here add up to a whooping $446!
There is no way for that to be an accurate figure though. I used all sale prices for my store quotes, and there is no way to compare the quality of home-grown foods to store-bought.
In addition of course, are expenses to gardening. Our expenses are pretty low, but we still have them, all the same, we definitely save money growing food.
Even if I couldn't grow more than what we would eat, I would still have a garden. The benefits are huge, even if the savings cannot be that big.
Want to Learn More about Preserving Foods?
Check out my recently published e-book that walks you through the basics of freezing, canning and dehydrating. Learn which method is best for your family and how to get started.
It's possible to save money growing food when patio gardening too.
It's a new trend called container gardening. We actually container garden a bit as well. The chart below is a great help on deciding what to grow.
As well, vertical gardening can really help you make the best use of your space.
You could try a Topsy Turvy Tomato planter.  We had one and it definitely worked!
This Urban Garden Vertical planter looks amazing and I am going to talk to the "head gardener" about getting one. 🙂
And this 5 Tiered Planter can be set on the patio or hung. I can just imagine how pretty it would be all filled with strawberries!
Even if you can only plant a small area and cannot really save money growing food, I would still suggest that you grow what you can. Gardening is very calming, helps you feel closer to your creator and is a wonderful experience for children!