Make Your Own Seasoning for Breakfast Sausage
I don't know when I last purchased breakfast sausage. Most of the breakfast sausage that is found in the stores makes me feel yuck. One brand in particular really affects me, and NOT in a good way. That's why we make our own seasoning for breakfast sausage.
The summer I turned 5 (I think), my grandpa discovered a small piglet in the ditch. I believe he managed to track down the farmer who had lost her, and was told he could keep the piglet if he wished.
The night he found "Miss Piggy" as we called her, Grandpa brought her to our house to show my brother and I. She was a scrawny little mite whose squeal was bigger than she was.
Then Grandpa took Miss Piggy into the bathroom where little brother was enjoying his bath. I'm not sure who squealed the loudest, my brother or Miss Piggy! He was soooo scared of her. 🙂
That winter we butchered her. My grandparents, parents, aunt, uncles and cousins all helped cut, grind and package the meat. I imagine the families then split the meat; being only 5 at the time though, I do not remember.
A tradition was born that winter. Each year following that first one, we would purchase hogs to butcher. The only difference is we didn't raise any more, preferring to buy them already filled out instead.
The memories I have from that time and the winters following, are good ones. Now it's just my family, but there are 13 of us, so still more than that first time we butchered.
My mom, siblings and I butchered and cut up two hogs last week. It was a long day and cutting up cold meat can be miserable, but oh we have so much fun!  All the guys think they are just soooo smart and funny, and the rest of us go between laughing at them, and wishing they would just shut up!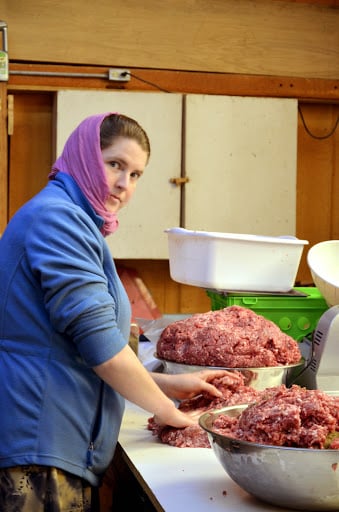 Originally we simply put salt, pepper and sage in our sausage; but when my mom created the best seasoning for breakfast sausage we began using that most of the time. If I recall right, mother said she made 5 pounds of breakfast seasoning, and we used it all!
The recipe below makes a pound of seasoning for breakfast sausage, which will season approximately 36 pounds of sausage. Just use 1 tablespoon of seasoning for 1 pound of sausage.
 Seasoning for Breakfast Sausage
Seasoning for Breakfast Sausage Recipe
If you prefer to season your own sausage, this seasoning for breakfast sausage is perfect. Mix up a large batch and season up to 36 pounds of sausage at a time.
Author:
Kendra ~A Proverbs 31 Wife
Ingredients
16 tablespoons Salt
10 tablespoons Brown Sugar
8 tablespoons Ground Sage
5 tablespoons Black Pepper
2½ teaspoons Paprika
¾ teaspoon Nutmeg
¾ teaspoon Thyme
½ teaspoon Cayenne
½ teaspoon Celery Powder
½ teaspoon Ground Cloves
⅛ teaspoon Onion Powder
Instructions
Measure out all spices into a bowl and blend together well.
Use 1 tablespoon of breakfast seasoning per pound of sausage.