Small Kitchen Ideas: How to Make the Most of The Space You've Got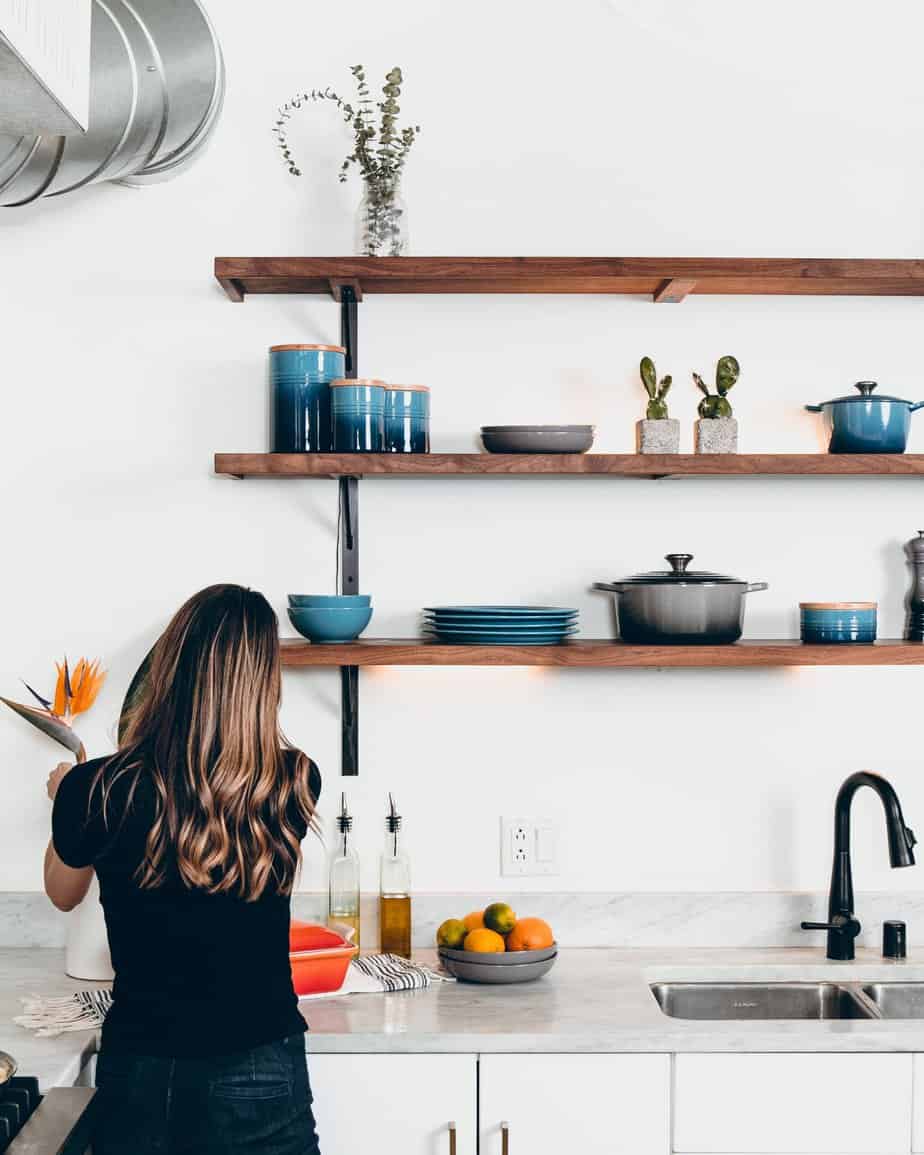 If you're like most people, you probably don't have a lot of space in your kitchen; this can be frustrating when you're making dinner every night or baking with your kids. Don't worry. We've got some small kitchen ideas to help you make the most of your space!
This post will discuss ways to organize your kitchen, use every inch of storage space, and make the most the appliances you have. So read on for some helpful, but always real, advice!
Smart Storage
When it comes to small kitchen ideas, one of the best ways to make the most of your space is to use smart storage. Smart storage doesn't just mean throwing everything into a cupboard and forgetting about it – it's about being strategic with your storage solutions so that you can easily access what you need when you need it.
An excellent place to start is by decluttering your kitchen and getting rid of any unnecessary items. Once you've done that, you can start thinking about how to best use your space. For example, consider installing shelves or racks on the walls to free up floor space.
Conceal Your Dishwasher
Your dishwasher is probably one of the most used appliances in your kitchen. But let's be honest: it's not exactly the most attractive appliance in the world. Fortunately, you can use a few easy tricks to disguise your dishwasher and make it blend in with the rest of your kitchen. One popular option is to install a false panel in front of the dishwasher door; this can be made from various materials, including wood, veneer, or even tile. Some of them are as easy as peel and stick.
If you're dishwasher is not functioning, just go ahead and hide it! If covering it up means you'll enjoy your space more than go for it. For example, you could place a sideboard or cabinet in front of the appliance. If you're short on space, you could try hiding the dishwasher behind a fun patterned curtain.
Integrate Your Appliances
The kitchen is often the heart of the home, but it can feel more like a crammed closet than a cozy gathering place for those with limited space. If you are constantly jostling for counter space or bumping into the fridge door, it might be time to rethink your kitchen layout.
Integrating your appliances is one way to make the most of a small kitchen. Fridges and washing machines are available in a variety of colors and styles, so it's easy to find one that fits your aesthetic. Plus, built-in appliances take up less visual space, giving the illusion of a larger kitchen. If you're not ready to commit to built-ins, consider hiding your fridge behind a stylish screen or protecting your microwave or air fryer by cabinet doors. By making the most of your space, you can turn your small kitchen into a comfortable and inviting gathering place for family and friends.
Vertical Space
When it comes to small kitchen ideas, one of the best ways to make the most of your space is to go vertical. You can free up valuable floor space for other purposes by utilizing all available vertical space. One way to do this is to install shelves or cupboards along the walls, giving you additional storage space for dishes, cookware, and other kitchen items.
Another great way to take advantage of vertical space is to hang pots and pans from a pot rack. Not only will this keep them within easy reach, but it will also add a touch of style to your kitchen. Finally, hanging fruit baskets is another excellent way to maximize your small kitchen space; this is an easy way to store fruits and vegetables while keeping them within easy reach. You can easily make the most of your small kitchen space by utilizing all of the available vertical space in your kitchen.
Kitchen Island
A kitchen island is a great way to make the most of your small kitchen space. Adding an island can create additional counter and storage space without sacrificing floor space. Islands also provide a place to sit, eat, or prep meals without using the main counter. And, if you choose one with wheels, you can even move it around to create different workstations when you're doing activities with your kids.
When choosing a kitchen island, look for one that fits your needs and style. If you entertain often, look for an island with extra prep space and room for guests to sit. If you're short on storage, look for one with built-in shelving or cabinets. And if you want to add a touch of luxury, look for an island with a marble or granite countertop. Whatever your needs, there's a kitchen island out there that's perfect for you.
Color Use
In a small kitchen, every inch of space counts. That's why making the most of your space using colors is essential. Choosing the right colors allows you to create a visually appealing and functional kitchen that feels spacious and welcoming.
Light and bright colors are always a good choice for a small kitchen. White is a classic choice to make your kitchen feel more prominent and radiant. But don't be afraid to experiment with other light colors like pale blue or green. These colors can help to create a feeling of openness and airiness. If you want to add a pop of color, consider using accent colors on the walls or in accessories. However, use accent colors sparingly not to overwhelm the space.
In addition to using light colors, another great way to make your small kitchen feel more spacious is to use mirrors. Mirrors reflect light and create the illusion of more space. You can use mirrors in several ways in your kitchen: on the backsplash, on cabinet doors, or even on the ceiling!
Work Your Ceiling
Hanging kitchen cabinets from the ceiling can give you extra storage space for items you don't use daily. Or, try installing a pot rack to free up space on your countertops. You can also add visual interest to your kitchen by painting the ceiling a bold color or using decorative tiles. Adding a skylight or Solatube can also help brighten the space and make it feel more open. If you're looking for small kitchen ideas that will significantly impact you, start by looking up.
Final Thoughts
There are endless possibilities when it comes to small kitchen ideas. By utilizing the available space in your kitchen and choosing the right colors, you can create a stylish and functional kitchen that feels spacious and welcoming. So get creative with your color choices and make the most of your small kitchen!
More From Simply Real Moms