Remember the NuNaturals review? Where I promised to share the recipe for that amazing looking raspberry pie? Well, I'm keeping my promise and here is the recipe!
Sugar Free Raspberry Pie

What You Need
Baked Pie Crust.
Cream Cheese Bottom
Raspberries Fillings
Whipped Topping
Either buy or make your crust. Poke the bottom and bake at 350 for 15 minutes. A deep dish is not recommended, but that's all I have.  Cool or even chill.
Mix the ingredients for the bottom together until smooth with no lumps. Letting your cream cheese get a little warm helps a lot. Once smooth, set aside.
Thaw your raspberries and strain the juices into a small saucepan. Mix the cornstarch into the juice and stir briskly. Add the lemon and orange stevia. Turn the heat on to Med-Hi.  Cook and stir until thickened. Remove from heat and add berries. Set aside.
Pour the whipping cream and vanilla stevia into a mixing bowl. Whip until soft peaks form. You can also use any type of topping, but I prefer to use only whole foods.
Once your crust is cooled or chilled, you can begin putting your pie together.
Pour the cream cheese mixture onto the bottom and carefully spread around to completely cover the bottom of the crust. Be careful that you only slide your spreader around instead of pressing it down and picking it straight up. That way you don't pull the crust up with your spreader.
Next you gently pour and spread the raspberries around on top of the cream cheese. Oh! Raspberries are so pretty, one of my favorite colors.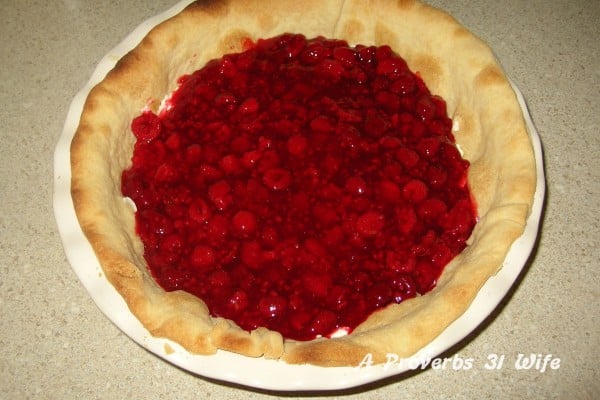 Finally, put your whipped topping on the very top. You can see why I don't recommend using a deep dish pan for this, a tart pan would work much better. 🙂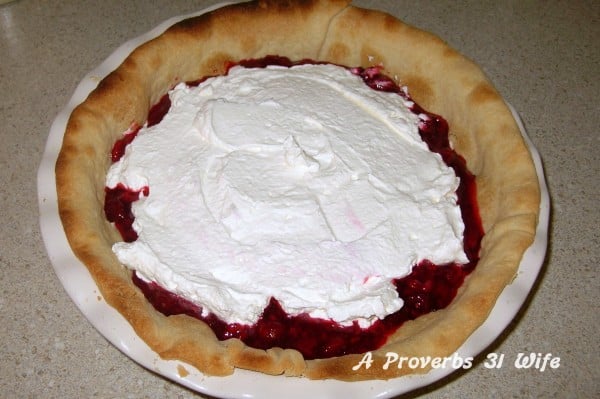 Put your pie back into the fridge and chill for at least two hours. Longer would be even better. The pie below didn't chill long enough and it's not so picture perfectly pretty. But oh well. 🙂
And just because I can, here is that cut piece, right before it enters my mouth!
I made a sugar free raspberry pie, one day when my family was here. It did a pretty good job of disappearing, my sis kept saying how it tasted just like fresh berries, she couldn't believe they had been frozen and that it was the perfect mix of tart and sweet. Definitely a big hit!
There is still time to enter for your chance to win 3 bottles of the NuNaturals Stevia! Giveaway ends12/07/12.