Why Should you, and What can You do to Detox, even When Pregnant?
Why should you detox?
How can you detox?
Pregnancy safe ways to detox.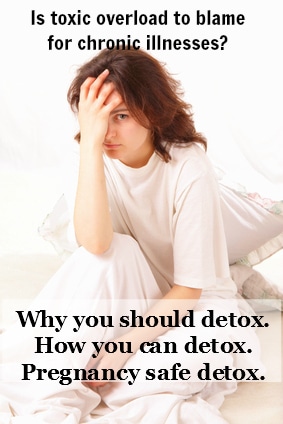 Why should you Detox?
I once heard that if the liver isn't healthy, then nothing else in the body can work right. The liver's job is to filter toxins from your blood, but when there are so many toxins being put into your body, at some point the liver itself becomes toxic. When your liver is toxic, it is no longer able to filter toxins from your blood and so the toxins spread to other parts of your body.
When you take steps to detox your body, you are helping out your liver and your own health.  A toxic liver, often causes chronic pain, fatigue, hormone problems and more (source). Another thing that a toxic liver can contribute to, is the inability to lose weight or to keep the weight off.
Toxins can build up all through your your body, when that happens, every thing is affected.
How can you detox?
The very first thing to do is determine which toxins in your life can be eliminated. Highly processed flours and sugars, fast food, otc drugs (try natural remedies instead), preservatives, ect. Take a look at your cleaning cabinets and try to get rid of toxic chemicals. Personal care products should also get a close look as well.  For a start on making your own stuff, check out this post with the top 40 DIY projects for natural living.
Last spring I detoxed by doing a 21 day juice fast. This not only enabled me to lose weight, but to also gain back my energy and feel better.
Mother detoxed by having her mercury fillings (in her teeth) removed and replacing them with something better. She also used a Ion Cleanse detox that drew out toxins by reverse osmosis. While she still has occasional symptoms of Fibromalgia, those two things helped greatly in reducing her pain, getting her out of bed and giving her energy to do her work. Would you believe this woman who 10 years ago spent her days in severe pain, was actually out moving 5o+ pound bales of hay around for her sheep last week?
Lately Mother and the kids have also been using Japanese Red Pine Needle Oil, this oil is really amazing and if you can get past the smell (my brothers don't mind the taste) your body will greatly thank you for helping it rid itself of, and protect against many different toxins.
If you want to focus on directly detoxing your liver, why not try a coffee enema? Sounds horrible I know, but they are actually amazing and leave your feeling so much better.  We tried to conceive for a while with no luck. For nearly a month before I finally did conceive I focused really hard on detoxing my liver and body. Part of this focus was a coffee enema every 2-3 days. I feel that we were able to conceive once I had cleared my body of many of those toxins.
All of the methods mentioned above are not considered safe for pregnancy.  A juice fast stirs up to many toxins and they can be passed to the fetus, or to the baby if you are nursing, before being expelled.  The foot detox machine works by small electrical waves and could cause a risk to the pregnancy. Red pine needle oil can cause abortions, and enemas can start contractions.
Real Salt and Epsom salt detox baths +Other Pregnancy safe ways to detox:
Epsom salt detox baths work by the Magnesium chloride using reverse osmosis to bind to toxins in your body and get rid of them. Now, mother and I haven't really felt any different after a Epsom salt detox bath, maybe you're not supposed to. But if I'm going to take a bath, I would like to feel a difference. Real Salt from the Redmond Clay company does make a difference. (affiliate link ->) Real Salt bath salts contains over 60 trace minerals that aid in detoxing and they also work via reverse osmosis, also replenishing your body with much needed minerals.
Why not get a massage? A therapeutic massage releases toxins from the muscles. Be sure to drink lots of water, preferably lemon water to flush out those toxins that have been released from the muscles.
Lastly, the simplest way to help your body detox is to cut the sugary drinks and guzzle that water. This is the simplest thing to do and can go a long ways.
Do you think it's important to detox your body?
Disclaimer: I am not a doctor, nor licensed to give any sort of medical advice. Please consult your medical professional before putting any of these practices to use. A Proverbs 31 Wife is not liable for results from these methods, I only share what has worked for me or my family personally.